Kayangan Lake is probably the most famous lake in Coron and definitely one of the most beautiful spots in the region. Coron is generally dominated by steep cliffs and limestone formations that date back to the Jurassic period, and has what is known nationwide as the cleanest lake in the Philippines (some even say in all of Asia), Kayangan Lake.
Pictures from the lake's vantage point are the most photographed in all of Coron and probably the Philippines. Almost certainly, you have seen photos of this lake as well. How to get to Kayangan Lake, how to avoid the tourist crowds and what else you should pay attention to, we tell you now.
We are Sabrina and Andreas, two adventurous travelers who never miss an opportunity to discover the world. Whether by plane to distant countries or with our campervan Bruno, we just love to travel. We hope to give you helpful tips for your next trip on our blog.
Sabrina & Andreas
Globetrotters, Travelers, Adventurers
Instagram
Youtube
Kayangan Lake | How to get there?
Kayangan Lake is located in the island world off Coron and is not far away from the capital Coron Town. But of course you can only get there by boat and the best way is to take an organized boat tour*. Where you should book this best you can read below.
Super Ultimate Tour at Coron | Check Prices*
Kayangan Lake | What to Expect
If you have booked a tour you will probably go to this special lake as your first destination because it is close to Coron. You will first take the boat into a small bay, which looks beautiful in itself. There is a large boat dock that illustrates how many boats can dock here at high season. Under pandemic conditions in March 2022 we were mostly alone.
At the jetty you have to pay the entrance fee of 300 pesos. If you take a guided tour (whether in a group or privately), the tour guide will pay the entrance fee for you and you can simply continue walking. The trail goes up a steep staircase, where the famous viewpoint awaits you, from which most of the photos are made, which are known from this place.
Funnily enough, the famous photos of Kayangan Lake are not of the lake itself, but of the bay where you arrive by boat. The actual lake is located on the other side of the rocks, but there is unfortunately not such a nice viewpoint.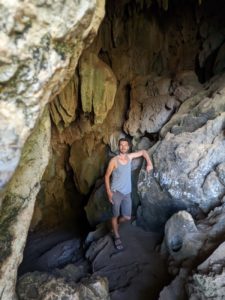 On top, right next to the small viewpoint, there is a small cave that you can climb into.
Your guide will probably point it out to you and take some photos of you there. After that you go down the stairs to the actual Kayangan Lake. There is a large footbridge that gives you a view of the really crystal clear greenish shimmering water. You can see almost to the bottom here.
By the way, the water here is freshwater and the lake has really impressive underwater rock formations to offer. You can see them while snorkeling or free diving.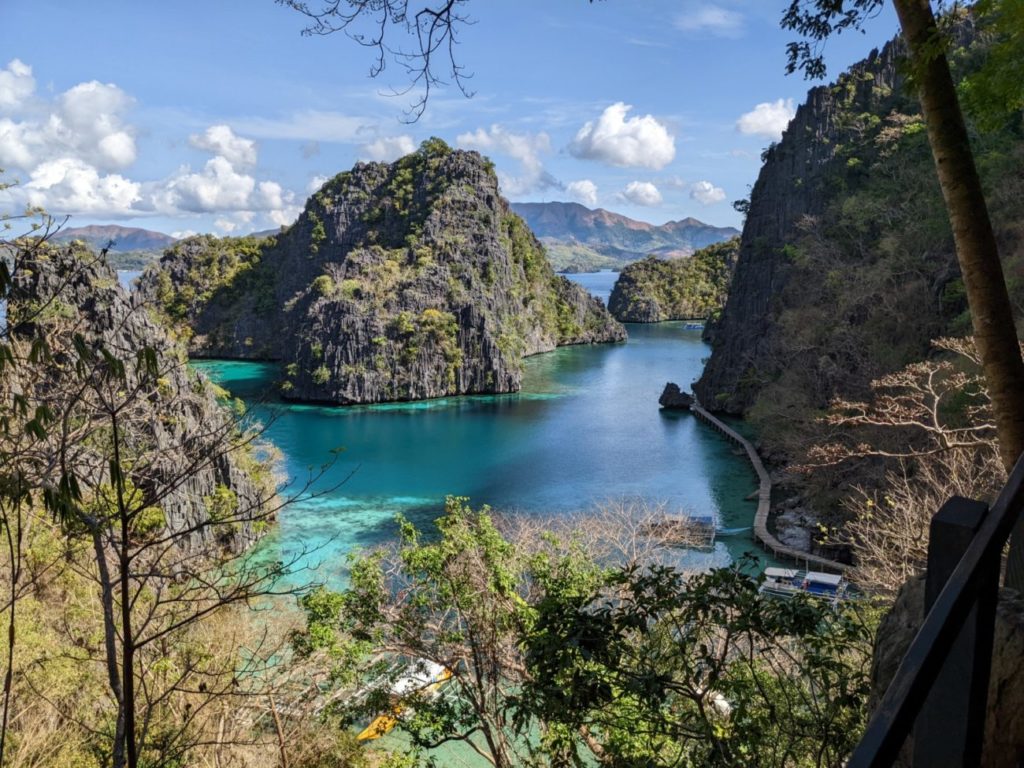 For safety reasons, you have to wear a life jacket all the time when swimming. This makes swimming easier, but of course submerging a bit more difficult. If you ask your guide, it should be no problem to take off the life jacket for a short time, for example, to take beautiful underwater pictures.
When you have swum and snorkeled enough, you go back up the stairs and back to the boat. Here you should take the opportunity to fly with your drone, if you have one. We'll tell you what to look out for in the next chapter.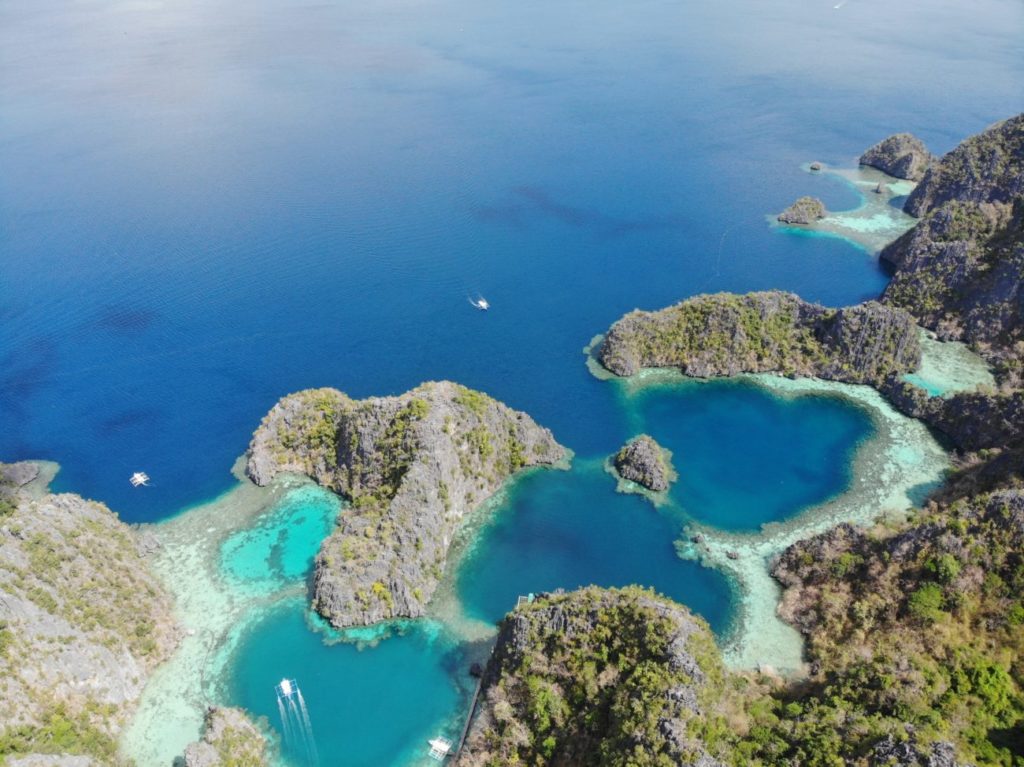 Tips for Visiting Kayangan Lake
Hotel Recommendation for Coron
La Natura Resort 
La Natura Resort in Coron consists of a beautiful garden-like complex located a bit away from the hustle and bustle of Coron Town. You are in the middle of nature and far away from other tourists or the noise of the city. You wouldn't expect it, but the owners have built a wonderful resort here that you can't even imagine from the outside. 
There is a large pool, a lovingly landscaped garden and the spacious cabins are equipped with large bed and ceiling fan.
large pool with whirlpool
lovingly landscaped garden
away from the noisy hustle and bustle of the city
WLAN & breakfast included
La Natura Resort | Check Availability*
Where To Book a Tour To Kayangan Lake?
Because of COVID, in March 2022 we had to book a tour to even enter Coron. Therefore, you have to book a tour oniine before you even get to the island. We can highly recommend the Provider El Nido Paradise*.
With this tour we also experienced the highlight of our Philippines round trip, the 3 day boat tour from Coron to El Nido. Read more about it here: 3 Day Boat Trip from Coron to El Nido I An unforgettable Trip *
El Nido Paradise Boat Tour Coron-El Nido | Check Prices*
This provider also offers all kinds of excursions on Coron and among others the Super Ultimate Tour on which you also visit Kayangan Lake. It doesn't make sense to only go to Kayangan Lake, because there are far too many other beautiful destinations nearby. Therefore, you should definitely book a complete tour.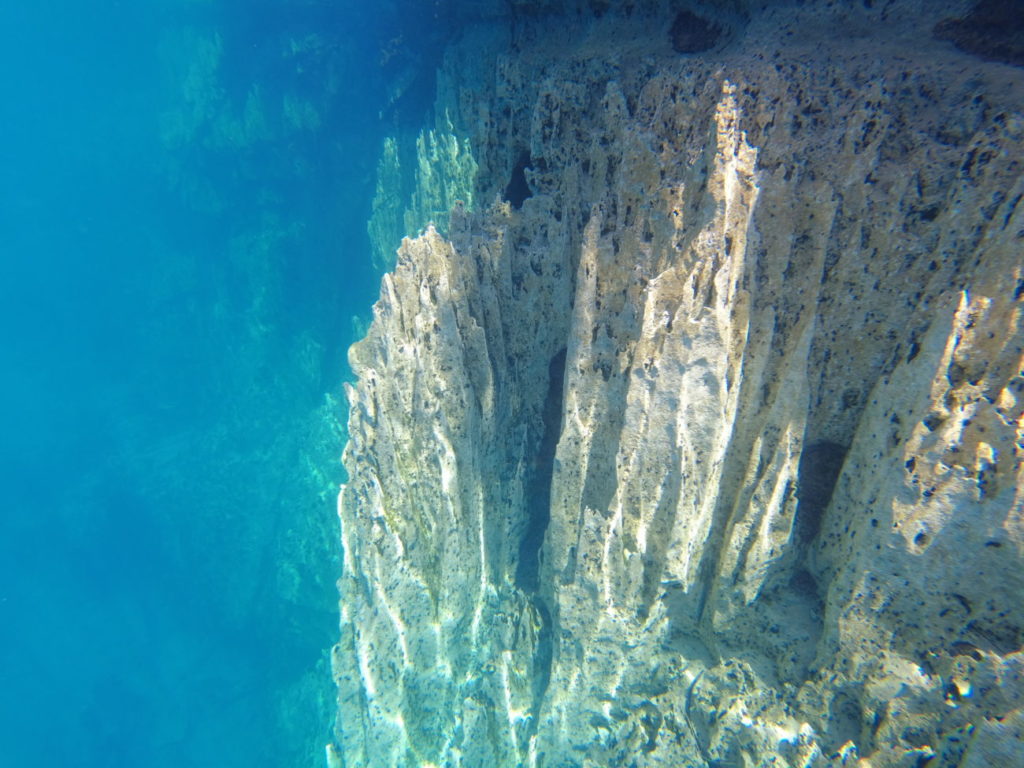 Flying a Drone at Kayangan Lake
Hardly any other destination in Coron is so predestined to be experience with a drone. According to our tour guide, it is unfortunately forbidden to fly a drone directly at the lake. This is due to the many birds that breed in the limestone rocks around the lake.
However, it is allowed on the other side of the lake, where the boats dock. But there I had a lot of problems to get a GPS signal. Since I didn't want to launch the drone without a valid GPS signal (I only dared to do that once in the jungle of Sumatra ), we took the boat a few meters out to sea. Then I started the drone from the boat and flew over the bay and also the lake.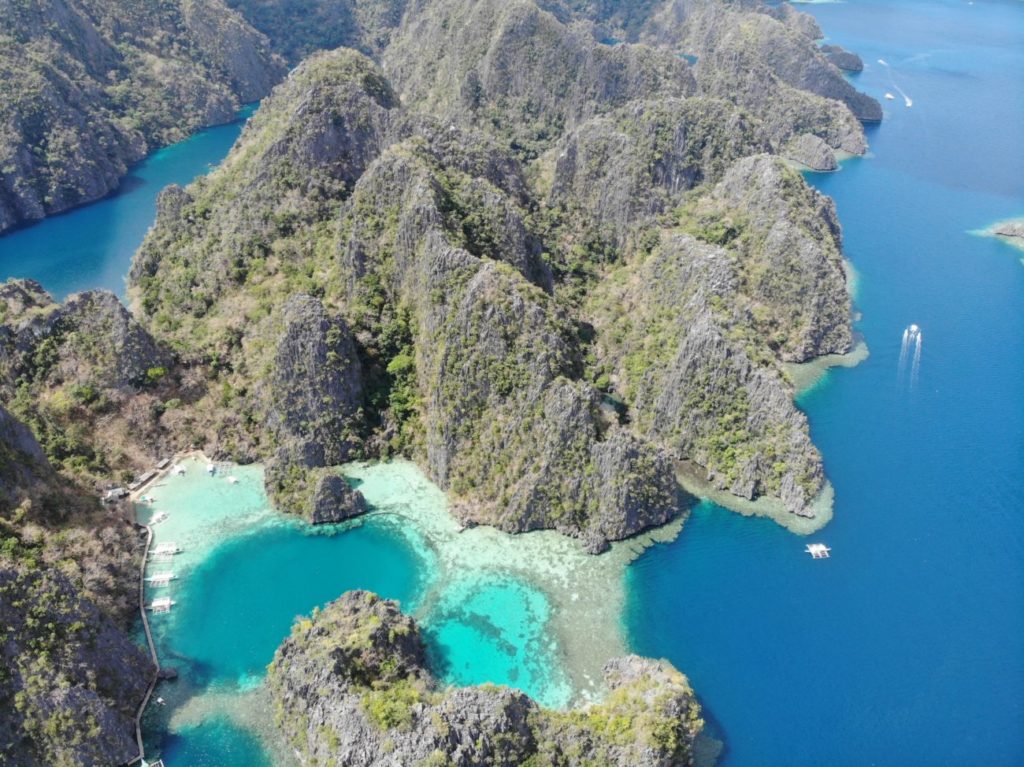 You should also pay attention to the rocks surrounding the lake and the bay in general. These are supposed to have negative effects on the connection to the drone and can also confuse the compass. So be careful when flying in any case.
Experience Kayangan Lake Without Other Tourists
Usually, you will unfortunately not experience Kayangan Lake without other tourists. We were lucky because we were in Coron right after the Philippines opened.
In March 2022, we were lucky enough to have the lake completely to ourselves. This was probably not only due to COVID, but also because we booked a private tour and so we were the first and completely alone to the lake.
This is also our tip to you if you want to share Kayangan Lake with as few other tourists as possible. Take a private tour and leave as early as possible so you don't have to experience the lake with a mass of other travelers.
Hey, wie hat Dir unser Beitrag gefallen?