What to expect on a Costa Rica Itinerary 7 days up to 2 weeks? You close your eyes and see the lush green jungle in front of you, hear the howler monkeys and macaws. You feel the sand between your toes and hear the ocean rushing. A 7 days to 2 week road trip through Costa Rica is a great opportunity to explore this wonderful country with its wild rainforest and tropical beaches. There is so much to discover that you can easily spend several weeks here. This is because Costa Rica is so laid back that you are almost bound to adjust your travel pace and slow down.
What is the best Costa Rica itinerary for 7 days up to 2 weeks? We spent almost a month on our Costa Rica road trip in the Central American country and circumnavigated it almost once during that time. On our round trip we saw the relaxed Caribbean coast, the jungle, the surf beaches on the Pacific coast, volcanoes and numerous national parks. How you can pack the coolest sights and highlights of Costa Rica into a 7 day or 2 week Costa Rica itinerary we want to tell you now.
We are Sabrina and Andreas, two adventurous travelers who never miss an opportunity to discover the world. Whether by plane to distant countries or with our campervan Bruno, we just love to travel. We hope to give you helpful tips for your next trip on our blog.
Sabrina & Andreas
Globetrotters, Travelers, Adventurers
Instagram
Youtube
Costa Rica Itinerary 7 Days to 2 Weeks & Travel Tips
Costa Rica has a lot of sights to offer, of which you can only see a small part on a 7 day to 2 week road trip. Our itinerary is designed for 14 days through Costa Rica but you can easily adjust it to 7 days and e.g. only visit the caribbean cost.
Best Time to Travel to Costa Rica?
What is the best time to travel to Costa Rica depends on what you want to do in this beautiful country. Generally, the dry season lasts from December to April, which is why this time is quite popular with tourists. If you want to visit the lush green, dense rainforests, the rainy season between May and November is the best time to travel to Costa Rica.
During this time you can also surf on the Pacific coast. We ourselves visited Costa Rica in June. We had some days where it rained all the time, but most of the time we had good weather. We can therefore also recommend the European summer months as travel months for Costa Rica.
Is it Safe to Travel to Costa Rica?
Costa Rica is generally considered a safe country to travel and is even one of the safest destinations in Central America. However, it is best to find out about the current situation on an official website.
What Vaccinations do I Need for Costa Rica (Covid19 Update)?
When entering from Germany, there are no mandatory vaccinations (except against Covid19). If you enter Costa Rica from a yellow fever area, you must provide proof of an appropriate yellow fever vaccination. Again, it is best to check an official website or ask your family doctor for advice.
Travel by Bus or Rental Car? What is the best way to get around Costa Rica?
Whether it is better to travel through Costa Rica by rental car or by bus is a legitimate question. In our opinion both is possible. Costa Rica is a predestined road trip country. The roads are well developed, there is a car rental agency in every major town and there are plenty of parking lots everywhere.
At the same time there is a very well developed bus network that connects the most remote corners of Costa Rica. Traveling by bus is not super cheap, but it definitely stands up to the comparison with a rental car. We think it's great to combine both types of travel. If you want to stay in one place for several days, then it makes no sense to pay for the (parked) rental car for that time.
On the other hand, you are much more flexible with a rental car and with 4 people even often cheaper than with the bus. During our round trip through Costa Rica we also only booked a rental car for a part of the trip and used the bus for the rest of the trip, e.g. when we were in one place for several days.
Entering Costa Rica | Do I need a visa?
As a German citizen only a valid passport is needed for entry. A visa is only needed for a stay of 90 days or more. So for a Costa Rica itinerary 7 days or 2 weeks you don't need a visa! Again, you can find the latest information on the pages of your Foreign Office or a similar page of your home country.
Costa Rica Itinerary 7 Day to 2 Weeks
Our 2 weeks itinerary through Costa Rica included the following popular places or regions:
San Jose
Corcovado National Park
Dominical
Monteverde
La Fortuna
Tortuguero
All of the above stops on our Costa Rica itinerary are described in detail in the following chapters. On a Google Maps we have entered the individual route points. On this map you can see our exact 14 days route through Costa Rica. If you only plan a 7 day Costa Rica Itinerary we would recommend to only visit the pacific or the caribbean cost.
If you have more time and want to see even more highlights of Costa Rica, we also have a 4 weeks Costa Rica itinerary for you, in which you can really experience the most beautiful places of Costa Rica:
Costa Rica | Pacific Coast vs. Caribbean Coast
We were worried before our trip that Costa Rica might be too touristy. And partly this is true. When we arrived in the capital San Jose, we were shocked by the numerous American fast food places (Taco Bell, McDonalds, etc.) and by the generally very US style of the streets, buildings and stores. Of course, it also plays a role here that we generally don't like big cities as much as nature, but San Jose is of course also a very blatant example in terms of noise, stench and traffic.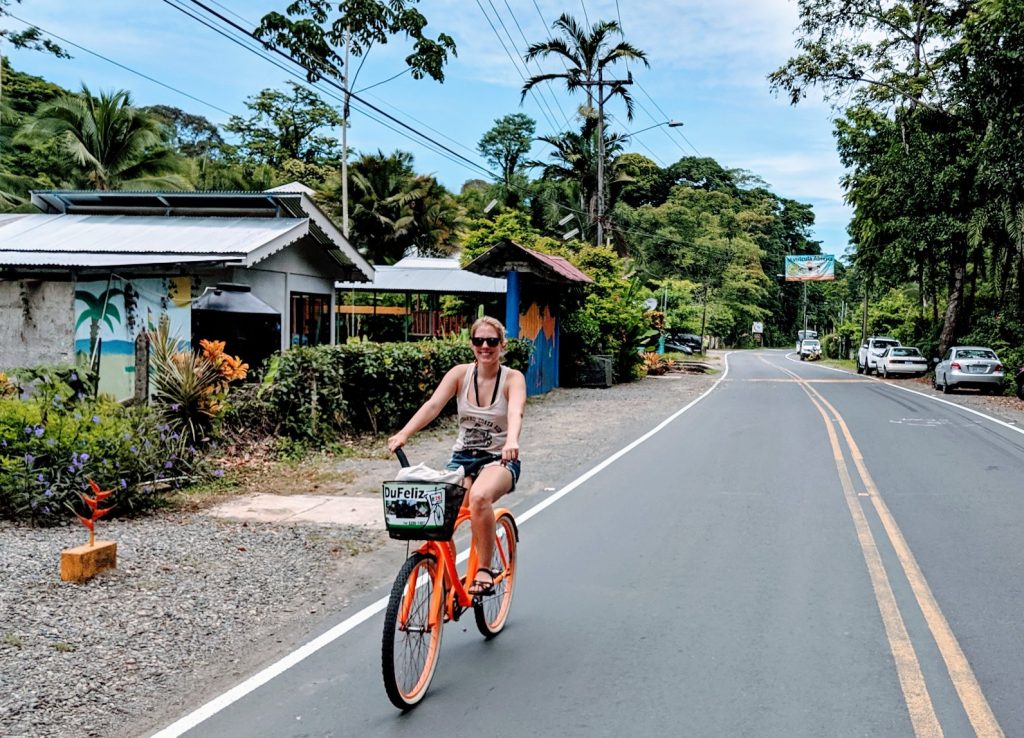 But it is also due to the general difference between southern Costa Rica, where I now also include the capital, and northern Costa Rica with its Caribbean coast. In the south or on the Atlantic coast, Costa Rica is generally more western and perhaps also more tourist oriented.
Quite the opposite to the Caribbean coast in the north of Costa Rica. There one can feel more of the Caribbean influence. In the Caribbean places like Tortuguero, Puerto Viejo or Cahuita the lifestyle and the atmosphere is totally different than for example in the southern places Dominical or Tamarindo. Everything here is casual, relaxed, easy. No one is in a hurry. Pura Vida is valid in all of Costa Rica, but on the Caribbean coast this is really lived out in our opinion. This is also the reason why we liked the Caribbean coast in Costa Rica much more than the Pacific coast.
Day 1: San José
Arrival is via San José's huge international airport. San José is pretty much in the middle of Costa Rica, so it's a good starting point for heading to the various destinations on your trip. San José itself is a huge big city, which in our opinion has rather little to offer, even if this impression has changed into the positive during our multiple visits.
Since we had planned to travel to Corcovado National Park in the jungle on the second day, we used our stay in San José to replenish our supplies and buy all the necessary food. If instead you want to check out some sights on your first day in San Jose then here are a few tips for you.
You could also take a guided tour* in San Jose to see the highlights in one day.
Guided Tour in San Jose | Check Prices*
Sights in San Jose
Mercado Central
The Mercado Central is not a magnificent building, but it offers everything you could wish for. There you can find fruits and vegetables, pasta, meat and also spices and souvenirs.
National Theater
The National Theater at the Plaza de la Cultura is, in contrast to the Mercado, a true architectural gem, both from the outside and the inside. Opened in 1897 with a performance of Goethe's Faust, it is now one of Costa Rica's most beautiful historic buildings. Performances are still held here and you can also visit the theater daily as a tourist on your own. The entrance fee is $10 per person.
Gold Museum
The Pre-Columbian Gold Museum (Museo del Oro Precolombino) is one of the most important museums in Costa Rica and is located in the basement of the Central Bank of Costa Rica (how appropriate, right!). In the museum, which opened in 1950, you will find gold statues and other exhibits, some of which are thousands of years old, as well as interesting information about the indigenous people of Costa Rica.
Tips for Supermarkets in Costa Rica (and San Jose):
If you need to stock up on groceries before your onward journey, here are a few tips for good and inexpensive supermarkets in Costa Rica's capital.
Cheap supermarkets: Pali or Maxipali
The "Aldi" of Costa Rica. These are large supermarkets with a full range of products. They are located on the outskirts of the city, but you will find everything you need.
More expensive, but central: AM/PM
Here you can find good & tasty ready-made salads and ready-made meals (-> perfect for the onward journey). The AM/PM supermarkets are smaller and fancier and more like Rewe City in Germany. They are spread all over the city and offer the most important things for daily needs.
Day 2: Arrival Bolita Rainforest Hotel
Today, if you are traveling by bus like we did, you will have to make the trip towards Corcovado National Park very early in the morning. If you want to stay at the Bolita Rainforest Hostel*, which we highly recommend, you have to arrive in the afternoon. So you'll have to make your way to the bus station early in the morning.
First you take the bus from San Jose to Golfito. There you take the ferry to get over to Puerto Jimenez. Unfortunately you will have to take an expensive cab to get to the office of the Bolita Rainforest Hostel. You should be there by 4 pm at the latest.
At the office you can leave your big backpacks, so you can make the 30 minute hike to your accommodation with hand luggage only. But already the short hike through the rainforest to the hostel is great and you get a foretaste of what awaits you the next days.
From San José by Tracopa Bus (Google Maps Link) at 7am to Golfito (12 Euro pP)
By ferry at 3 pm from Golfito to Puerto Jimenez (5 Euro pP)
By cab to the Bolita Rainforest Hostel Office in Don Brazos (22 Euro)
If you want to arrive by rental car, then you will need at least 6 hours from San Jose. You can park your car at the office of the hostel. It is best to call or email the hostel beforehand to make sure everything is arranged.
Day 3-4: Bolita Rainforest Hostel | Corcovado National Park
At Bolita you can spend a few days away from civilization in the middle of the jungle, relaxing and hiking. The Bolita Rainforest Hostel is exactly the right address for this and at the same time a cheap alternative to the Corcovado National Park. You should spend at least 2 days here (rather more) to experience the numerous hiking trails and the incredibly beautiful nature.
The Corcovado National Park is clearly one of the most beautiful national parks in Costa Rica. However, we were deterred by the horrendous prices of about 100 Euro per person per day. That's about how much the entrance fee plus (obligatory) guide costs per person. But we did not want to spend this money. After our experiences in the jungle of Sumatra we knew that it is much cooler to walk alone through the jungle. So after some research we found the Bolita.
If you prefer a guided tour through the Corcovado National Park you can book it at Get Your Guide*. The advantage of a guide is that you will not miss any animal and the guides usually have good telescopes and can tell you a lot of interesting facts about flora and fauna.
Adventurous Tour at Corcovado | Check Prices*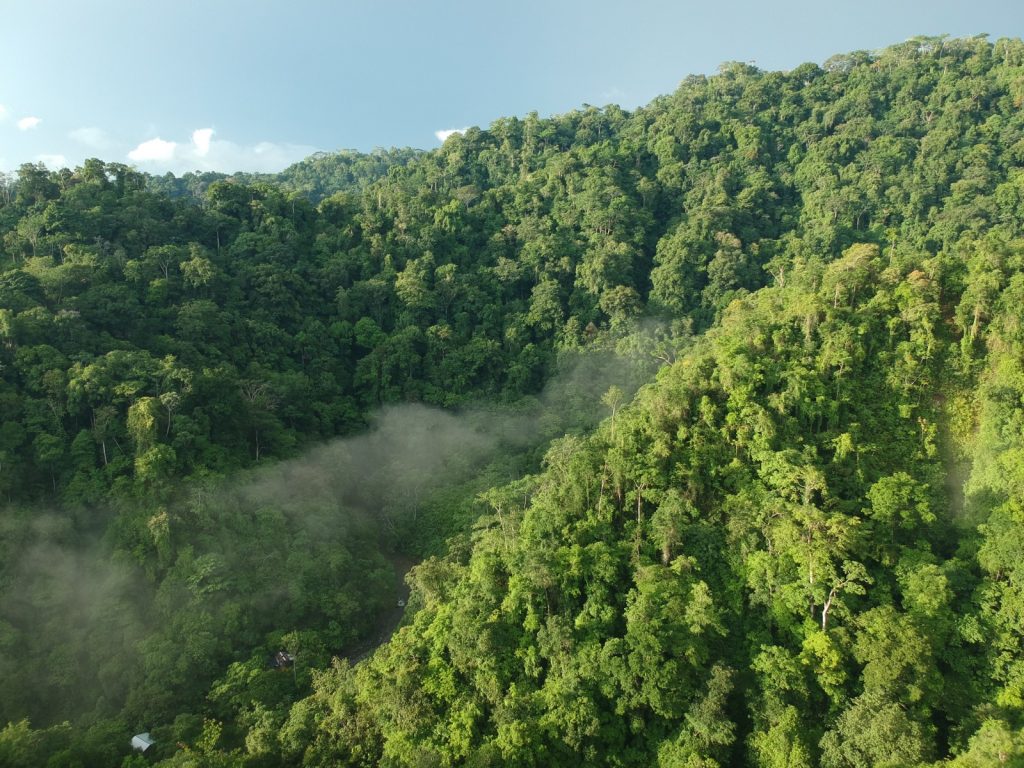 The Bolita Hostel* is located directly on the border to the Corcovado National Park, although one cannot speak of a border here. There is of course no fence that separates the park and the hostel area. Theoretically, you could also walk into the park. But you don't have to, because the nature and the wildlife are of course almost identical.
Here you will also find snakes, frogs, parrots, but also mango and avocado trees and experience the complete jungle feeling. The Bolita is located in the middle of the rainforest and miles away from civilization. From your rooms you look directly into the jungle and in the morning howler monkeys get you out of your sleep (don't worry: of course only acoustically!). Definitely the best hostel we've ever stayed in.
Read our Bolita Hostel trip report:
★ Travel Report: The Cheap Alternative to Corcovado National Park ★
Bolita Rainforest Hostel in Costa Rica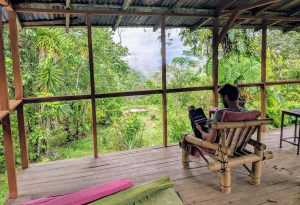 borders directly on the Corcovado National Park
you will experience the flora & fauna of the park without the entrance fees
hostel is located in the middle of the jungle
from your rooms you look directly into the rainforest
there are no other buildings or streets for miles around
there are mango and avocado trees everywhere
Bolita Rainforest Hostel
* is located 30 minutes walk from the nearest road and can be reached only after a walk. The annoying sounds of civilization are not to be heard here, only the sounds of nature like howler monkeys and parrots can be heard here. From your room you look directly into the jungle and the many free hiking trails in the immediate vicinity of the Corcovado National Park give you a real rainforest feeling.
Bolita Hostel | Check Availability*
Day 5: Drive to Dominical
After our wonderful stay in the jungle, we headed back to civilization and thus on to Dominical on the Pacific coast of Costa Rica. Even though Costa Rica has a well developed bus network, we noticed how time-consuming and actually cost-intensive traveling by bus is. Thereby the consideration arose in us to book a rental car for the further travel route through Costa Rica.
However, we still had a major bus trip ahead of us before we were going to look for a rental car. From our jungle paradise near Corcovado National Park, we continued about 170 kilometers along the Pacific coast to the surf town of Dominical.
Bus journey from Don Brazos (near Corcovado NP) to Dominical:
Take a cab to the bus terminal in Puerto Jimenez at 8am within about 30 minutes. Cost: 13.000 Colones (about 20 Euro)
Take the bus at 9 o'clock from Puerto Jimenez within approx. 2.5 hours to Palma Norte. Cost: 4,030 colones (about 6 euros)
From the bus stop in Palma Norte you have to walk about 300 m to the next bus station and take the bus to Dominical at 12.45 pm. The trip took about 1,5 hours and cost 2.200 Colon pP (about 3,50 Euro).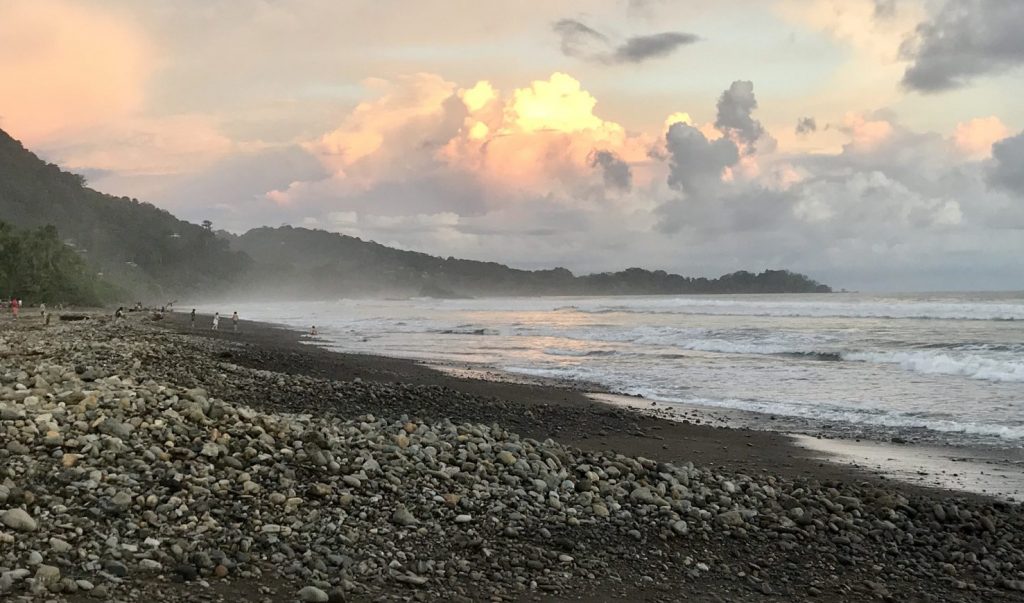 The Decision for a Rental Car
In the end, the journey to Dominical cost us just under 7 hours and a total of 39 Euro for 2 people. In addition, there are the costs for the onward journey from the bus station to the hotel, the national park or wherever else you want to go. Since our next destinations were each further away from each other and we wanted to be more flexible, the rental car prices were researched without further ado.
And a rental car with good insurance package you get already for about 30 Euro a day. So we didn't had to think twice and rented a small Suzuki SUV with four-wheel drive for the next day. In Dominical as well as most of the other tourist places on our Costa Rica itinerary there are Alamo stations where you can pick up the cars.
Sunset in Dominical
After everything was arranged for the rental car we spent the rest of the evening at the beach, which is one of the best surf beaches in the area, and researched our next destinations. Dominical actually consists only of a long main street with many stores, tour providers and hotels. The mood here is pretty chilled, the proximity to the beach (with a damn great sunset, by the way) creates a great atmosphere.
The proximity to some sights, like the Manuel Antonio National Park or the Rainmaker Forest, make Dominical a good starting point for further tours. Especially surfers will have a lot of fun here.
Hotel Recommendation Dominical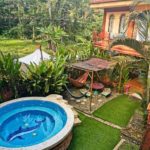 We spent the night in the highly recommended Cool Vibes Hostel* within walking distance of the beach. A real surfer hotel with the right clientele and a cool and relaxed vibe.
– big common kitchen
– only a few meters to the beach
– very relaxed atmosphere
Hostel Cool Vibes in Dominical*
Day 6: Manuel Antonio National Park
On day 6 of our Costa Rica itinerary, we headed to the famous Manuel Antonio National Park. Manuel Antonio National Park is one of the most popular and most visited national parks in all of Costa Rica. Here, the rainforest with its colorful wildlife combines with the pleasure of swimming on paradisiacal white sand beaches.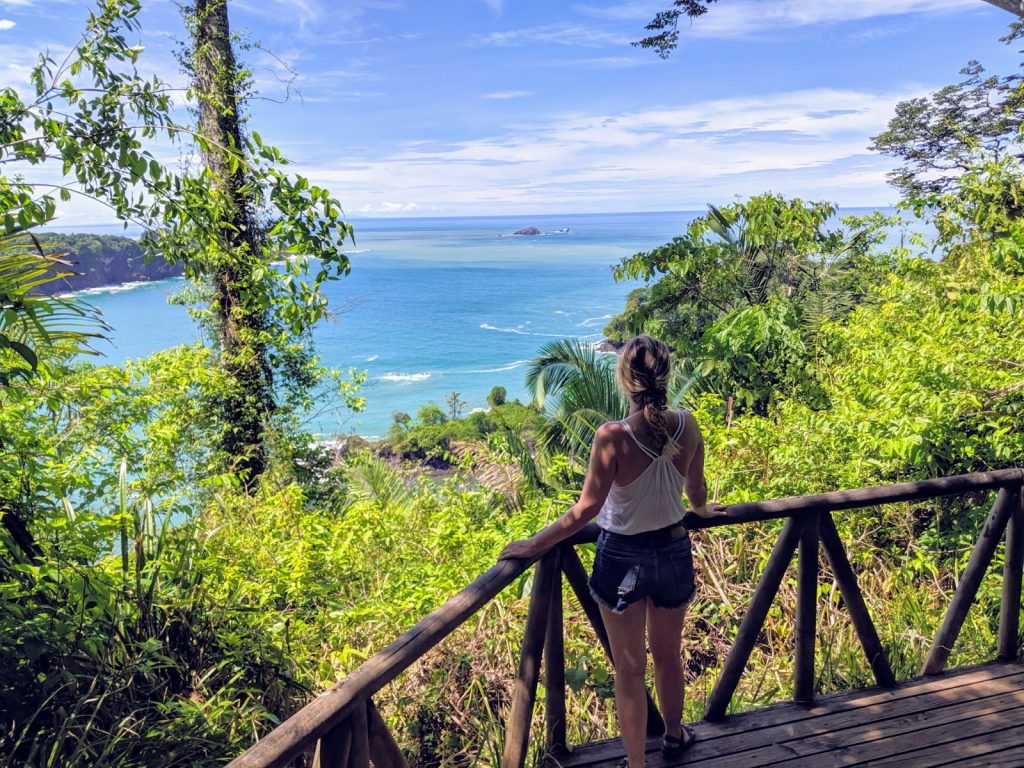 The park is very touristy, because pretty much every tourist in Costa Rica passes by here. But still the park is extremely worth seeing in our opinion. Because nowhere have we seen more animals so close in front of us on our Costa Rica itinerary.
In Manuel Antonio you also have the possibility to do a guided tour at night*. Here you get to see some other inhabitants of the parks and an insight into how a night in the jungle must feel.
Night Tour at Manuel Antonio | Check Prices*
You can find all information about our visit in our detailed travel report about Manuel Antonio National Park
Hotel Recommendation close to Manuel Antonio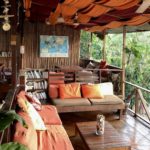 We spent the evening in the recommendable Hostel Plinio*, enjoyed the view of the sea on the horizon and took a short swim in the pool. The hotel is located just a few kilometers from the park entrance and has a typical hostel atmosphere.
– great breakfast
– feels like a huge tree house
– amazing pool
Our Hostel Plinio close Manuel Antonio Park*
Day 7: Rainmaker Forest
Today we will go to a little insider tip in the south of Costa Rica, the Rainmaker Forest Park. It is located very close to Manuel Antonio National Park and is visited by much less tourists than its big brother just a few kilometers away. The Rainmaker Forest is about 30 km away from the Manuel Antonio National Park.
In the reviews you always read that Rainmaker is a good alternative to Manuel Antonio. However, we can absolutely not agree with that, because both parks are completely different. We are therefore glad to have visited both, even if the entrance fees are very expensive in each case.
The Rainmaker Forest costs $20 entrance fee per person, the parking lot can be used for free. The approach leads from the main road about 7 kilometers over a very bumpy road, which can be driven shortly before the destination almost only at walking pace. The special thing about Rainmaker Park is not only the many frogs you will see here.
But also the suspension bridges, which are stretched here on the various trails between the jungle trees. The hike over these bridges is really spectacular and super fun. Also, you'll probably be walking around here all by yourself, since most Costa Rica visitors strangely skip this park.
If you want to know more about Rainmaker Park, read our detailed trip report: Rainmaker Forest Park I Costa Rica
After our visit to the park, we continued on for about 1 hour to make some distance on our Costa Rica itinerary and get to our next overnight stop.
Overnight Stop
We drove to the small town of Jaco where we checked into the Buddha House Hostel*. The hostel is located right on the beach and is highly recommended for an overnight stay.
The nice Hotel Buddha House in Jaco*
Day 8 + 9 of the Costa Rica Road Trip: Monteverde
On day 8 of the total 2 weeks of Costa Rica we continued to Monteverde in the central region of Costa Rica. The cloud forests in this region are a very special experience and differ strongly from the other rain forests of Costa Rica. Also you can find the famous, colorful Quetzal here, but of course you have to observe the surroundings extensively to spot one.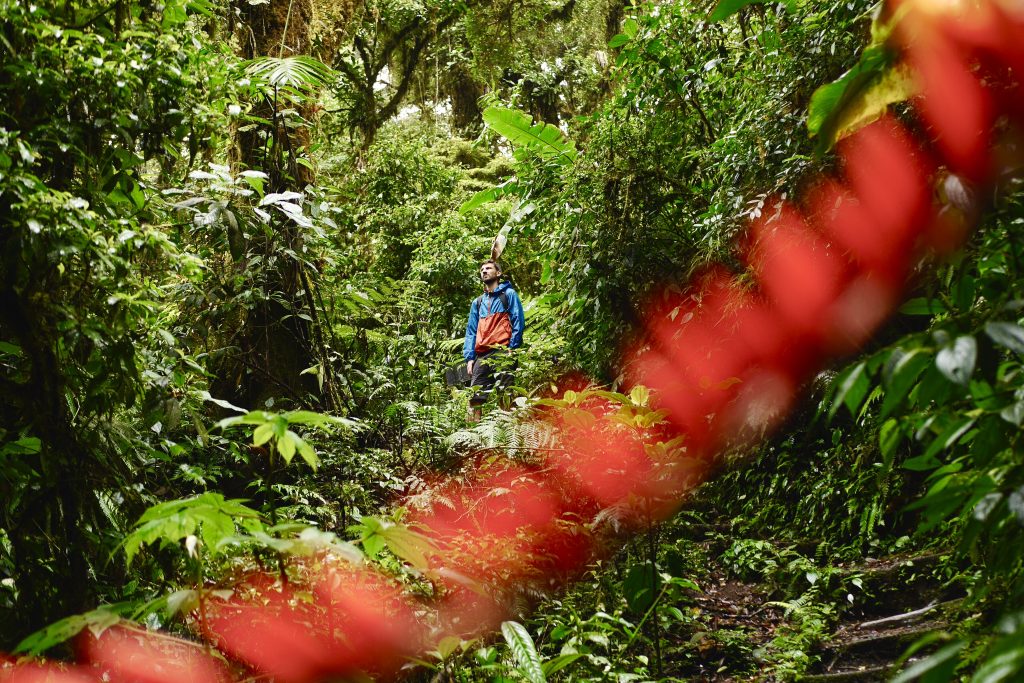 Monteverde is located at an altitude of just under 1500 meters and these must be overcome on the way with the rental car. At what felt like walking speed, our little Suzuki SUV spiraled up the switchbacks. Unfortunately, there was no great view for us. Because as the name cloud forest already says, expected us exactly that… a lot of fog. Also, the temperatures here are much lower than on the coast, so unpack your long clothes already.
The Cloud Forests of Monteverde
There is a lot to do in the Monteverde region, so 2 days can be almost too short for this area. First, there are 2 large cloud forests that you can hike: Monteverde Biological Reserve and Santa Elena Park. Both are equally worth seeing. We have summarized the differences in our travel report on Monteverde.
In the parks you can experience the rainforest up close, see the famous Quetzal bird and experience nature on miles of hiking trails.
Action Sports in Monteverde
In addition, you can do a lot of action sports here. In particular, there are numerous opportunities to go ziplining. Thereby one races on long wire ropes through the nature. For us, this was too expensive at just under $50, and besides, we had already done something like this in Croatia. But if you also like action-packed leisure activities, then this is definitely the right place for you.
Ziplining in Monteverde | Check Prices*
Insider Tip: The Ficus Tree in Monteverde
After visiting the Santa Elena National Park, we went to another highlight of the Monteverde region, the Ficus Tree, through which you can climb. You heard right: You don't climb on the tree, but inside the tree. This is possible because of the special shape of the trunk. The tree looks like a climbing facility in an adventure park. But it is real and completely natural.
At the bottom the tree is still quite wide and it is easy to get inside. The trunk is hollow inside and it looks like it is surrounded by huge wooden creepers. So it is also quite easy to climb up. You can read more about the climbing tree in our travel report on Monteverde.
Update January 2022: We have heard from other travelers that the Ficus Tree is currently no longer accessible. It is probably now on private property and is secured with a fence and cameras. We think this is a real pity!
Hotel Recommendation in Monteverde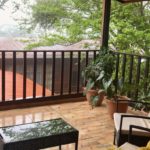 For a small extra charge, we were able to move into the penthouse room in the Montefresco Hotel, which is really very large, has its own bathroom and even its own, terrace with a great view. We really felt very comfortable there. In the morning there was always a delicious breakfast and in the evening we could cook ourselves something to eat in the large communal kitchen.
Montefresco Boutique Hotel | Check Availability*
Day 10 + 11: La Fortuna & Arenal
In the north of Costa Rica is the town of La Fortuna, which is one of Costa Rica's most famous destinations. Over 1 million tourists are drawn here each year to see the many sights of this area. The most striking highlight is certainly the large and perfectly cone-shaped Arenal volcano, which can be seen from almost everywhere in the area.
In addition, there is the large Arenal Lake (the largest in Costa Rica, by the way), waterfalls and very many hot springs. Enough to do to spend several days here.
Insider tip: If you are traveling by bus, there is a super cool way to get from La Fortuna to Monteverde. Namely by boat across the huge Arenal Lake. You can book this trip for example at GetYourGuide*.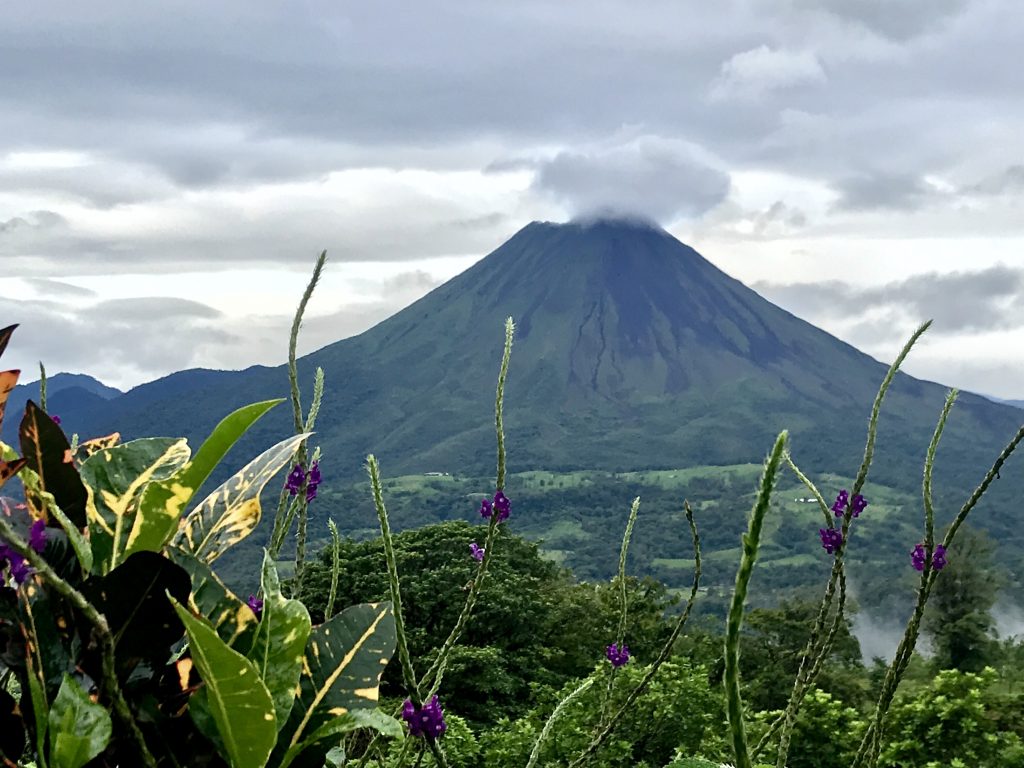 The Arenal Volcano National Park
We would recommend you to do a hike near the volcano. For this, the Arenal Volcano National Park offers itself to the old eruption site of the volcano belongs. You can walk over cooled lava here!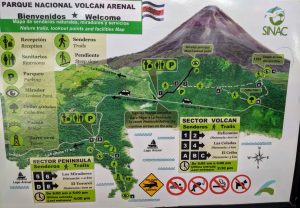 The Arenal Volcano Park offers a small but nice selection of marked hiking trails. The Arenal volcano itself has not erupted since 2010, but it is still forbidden to climb it.
But there are enough possibilities to admire the volcano itself and the old lava fields. This, by the way, also outside the national park. The national park itself consists of two parts: one part near the volcano, where the highlight is the old lava field from 1993 over which you can walk. The other part of the national park is located directly at the Arenal lake and is in our opinion much more beautiful.
There is, among other things, an observation tower from which you have a great view of the big lake and the rainforest. In itself, the national park has little to do with the volcano itself, because you can see it only from a few places in the park. But there are still a lot of hiking trails outside the national park, from which you have a great view of the volcano and the surrounding rainforest. The park itself is perhaps not the most spectacular in Costa Rica, but still worth a visit, we think.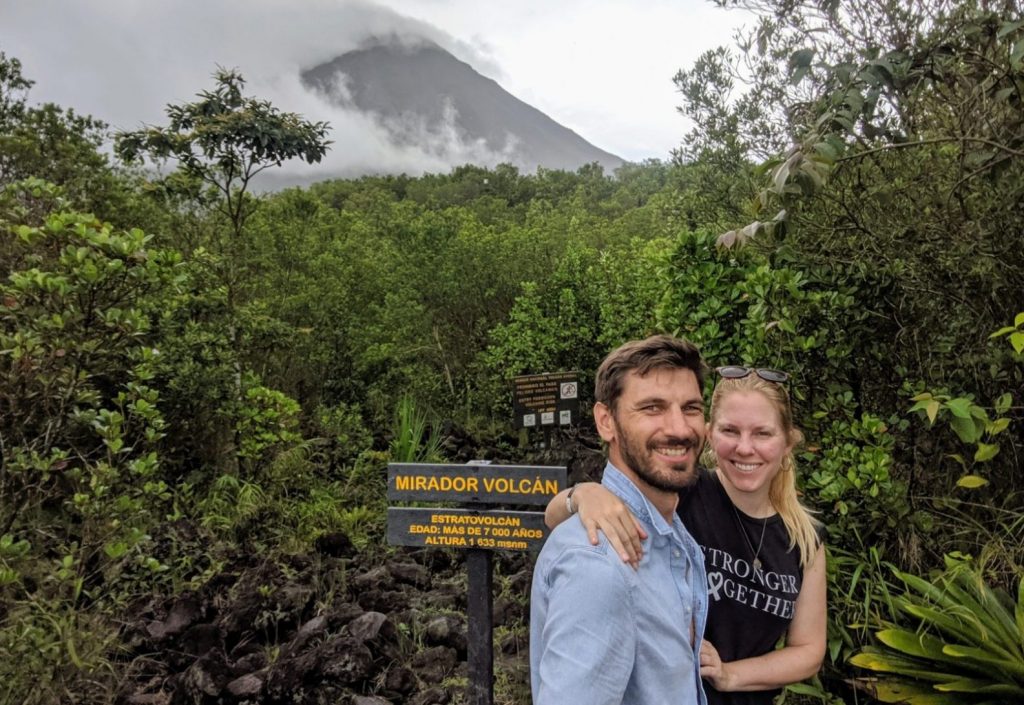 Hot Springs in La Fortuna
Another special feature of this area and definitely very cool are the many hot springs. Due to the volcanic activity water bubbles in many different places from the earth. Therefore, there are many thermal baths where you can relax and unwind.
Most of them are chargeable and also relatively expensive. So we searched a bit and found a very cheap hot spring in La Fortuna, which was also really cool. For only $17, you can relax all day in the hot water at Los Lagos and even use various slides and whirlpools.
Cheap Hot Springs in La Fortuna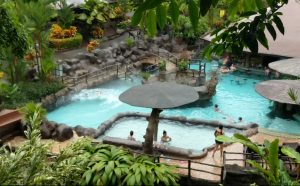 Do you want to go to a thermal spa (Hot Springs) in Fortuna for cheap money? Then go to the Hotel Los Lagos. You will find it here at Google Maps. We had a whole day of fun and could relax in the mix of thermal and fun pools.
Detailed information
Where?
You won't find any info online about this price or the day admission for 17 USD. You just drive to the entrance of the hotel (Google Maps link), park your car and go to the reception. There you say that you want to go to the Hot Springs, pay the 17 USD per person and get a small wristband.
How?
Then you drive in, park, and go to the changing room in a separate building. A locker or towel costs extra. Therefore, it is best to take your own and leave your things in the car. You then only have to walk a few meters to the other side of the street to slide down the water slides into the thermal world.
What?
There are several slides and many (cold and hot) pools. In addition, whirlpools, sun loungers and everything is really very tastefully and stylishly decorated. It's a really great facility. You can also look at the butterfly house with poisonous frogs, a crocodile (a bit sad in its small enclosure) and hummingbirds in the garden for free. It's definitely worth it. Overall, you can spend a great day here!
If the 17$ is too much for you, there is also a free alternative. Beside the Tabacon Hot Springs there are the hot springs directly in the river, in which one can take a pleasant bath. Directly at the road there are also some parking lots, because the free Hot Springs are also very popular with the locals. You can find the free Hot Springs in Fortuna here at Google Maps. But we didn't visit this place, because it was very crowded and it was already hard to find a parking place at the roadside.
Overnight tip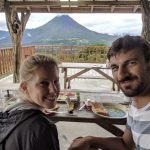 During our two nights in La Fortuna we stayed at the Eco Torre Lodge. From the quite simple rooms and wooden huts one has a terrific view of the volcano. Also the beautiful large terrace and the small, sweet dog of the owners have contributed to our great stay.
Eco Torre Lodge with great volcano view*
Day 12-13: Tortuguero National Park
Today you will go to Tortuguero National Park, the turtle hotspot of Costa Rica. Since you will spend at least 2 days here, it can also make sense from a financial point of view to return the rental car in La Fortuna and take the bus to Tortuguero. You are then longer on the road but saves money.
If this is not important for you, then you drive in just under 3 hours by car to La Pavona (Google Map Link) and park the car on the paid parking lot. The parking is 10 $ per day on the guarded parking lot. From there you can continue by boat.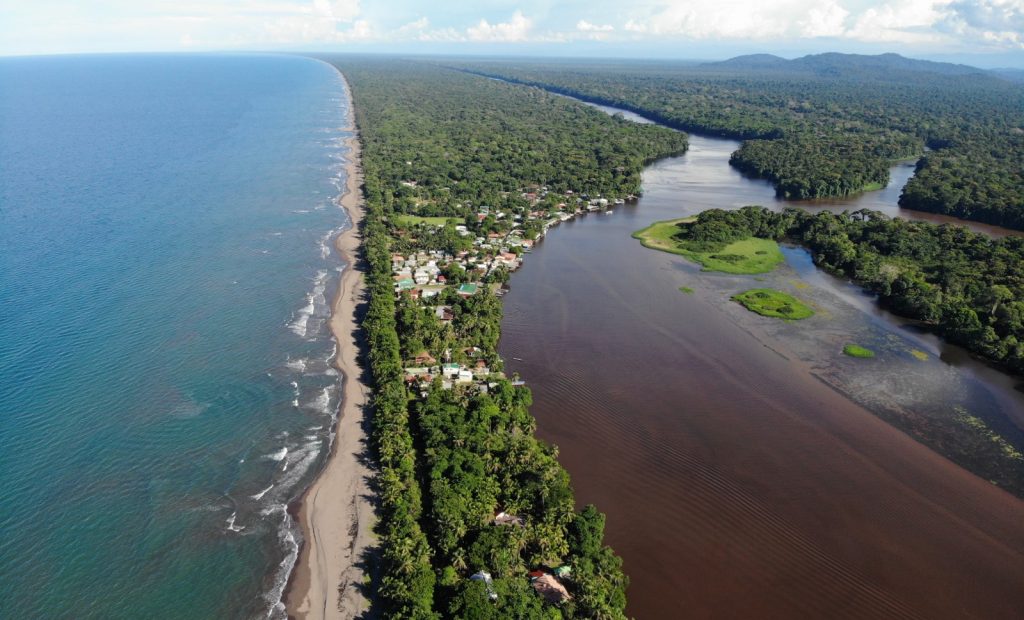 Tortuguero National Park covers about 20,000 hectares, was founded in 1975 and is located in the northeast of Costa Rica on the Caribbean coast. Its landscape, surrounded by dense rainforest and its location by the sea make this place truly unique and beautiful. There is a diversity of plants and animals here that can be found in few other spots in Costa Rica.
About half of Costa Rica's bird and reptile species live here. Sloths, iguanas, caimans, toucans, parrots, many species of monkeys, crocodiles, manatees and over 300 species of birds can be found here. The location between the Caribbean Sea and the Rio Suerte jungle river makes this spot a very special place. Here you can sunbathe on the beach and swim in the ocean in the afternoon and then walk a few meters over to the river side to watch the sun set behind the Rio Suerte.
The best thing to do here is to take a tour with a guide* who can tell you a lot about the plants and animals of the national park.
Explore the Wildlife at Tortuguero*
The reason for most tourists to come to Tortuguero is certainly to observe turtles laying eggs. This is a unique spectacle that can be seen most months of the year at night on the beach of Tortuguero. Why it is worthwhile to go to this remote sandbank on the Caribbean coast in the low season even without turtles, you will learn in this travel report:
★ Tortuguero - A must-see even in the off-season ★
Accommodation in Tortuguero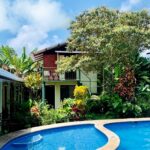 By the way, we spent the night in Tortuguero at Hotel La Casona*, which is a simple but still very cozy hostel near the beach. It also has a nice pool to cool down.
The amazing Hotel La Casona in Tortuguero*
Day 14: Return to San Jose after 2 weeks in Costa Rica
Today you will head back to San Jose to return the rental car and fly home. If you want to stay overnight in San Jose, we can recommend a great hotel on the outskirts of town, namely the Fauna Luxury Hostel*. The rooms are beautiful and spacious, there is a pool, table tennis and billiards and a good breakfast. The cheap hostel used to be a luxury hotel (hence the name) and now offers shared rooms and cheap double rooms.
Our cheap (former) luxury hotel in San Jose*
---
We hope you liked our Costa Rica itinerary 7 days to 2 weeks. Please leave us a comment if you have any questions.
Hey, wie hat Dir unser Beitrag gefallen?