The Tayrona National Park in the north of Colombia is highly praised in all travel guides and blogs. And it almost seems like it would be negligent to leave out the park on your itinerary through Colombia. Whether the Tayrona National Park is really worth the hype and what you should consider when visiting this highlight, we want to describe here in our travel report.
We are Sabrina and Andreas, two adventurous travelers who never miss an opportunity to discover the world. Whether by plane to distant countries or with our campervan Bruno, we just love to travel. We hope to give you helpful tips for your next trip on our blog.
Sabrina & Andreas
Globetrotters, Travelers, Adventurers
Instagram
Youtube
Where to Stay to visit National Park Tayrona?
We stayed in a brand new room with a huge terrace just outside of Palomino. So we were far from the road and right in nature. The Hotel Sexto Sentido* is run by 2 friendly French people and they also have a super cute dog.
cozy apartments
huge terrace with jungle view
close to Rio Palomino
delicious food
The Amazing Hotel Sexto Sentido | Check Availability*
What to Expect in Tayrona National Park?
In Tayrona National Park you will find some of the most beautiful beaches in Colombia. In addition, turquoise-blue water and a dense green jungle that shields the park from nearby civilization. But you can also expect 1699 other tourists who go to the park every day.
Hiking in Tayrona National Park Colombia
We actually thought that there are much more hiking trails in Tayrona National Park. There is a main trail that goes from the main entrance Zaino north past each of the beaches. But other than that, there are no winding paths through the jungle, nor is there a large network of trails like we experienced in Costa Rica in Manuel Antonio National Park or Corcovado National Park, for example.
Most people – and definitely the many Colombian tourists – come to the park to spend a great day at the beach. We saw many local tourists walking by with large coolers. The beaches are accordingly also very full.
Facts about Tayrona National Park
Entrance fee
The entrance fee to Tayrona Park is not that cheap, especially for foreigners. You currently pay 53.500 COP (about 14 Euro) for a day ticket per person.
The additional insurance
In addition to the ticket price you have to buy an accident insurance. You can deselect this option when buying online, but it will be checked when you enter the park and you will have to prove that you have this insurance. The cost is 3000 COP (0,80 Euro) per person.
Opening hours
The park is open daily between 8:00 am and 5:00 pm for day visitors. If you stay overnight in the park (at the campsites), you can of course walk to the beaches or through the park before and after this time. By the way, every year the park closes for a complete month so that nature can recover. Most of the time it is closed in February. But before your visit, check the park's website again.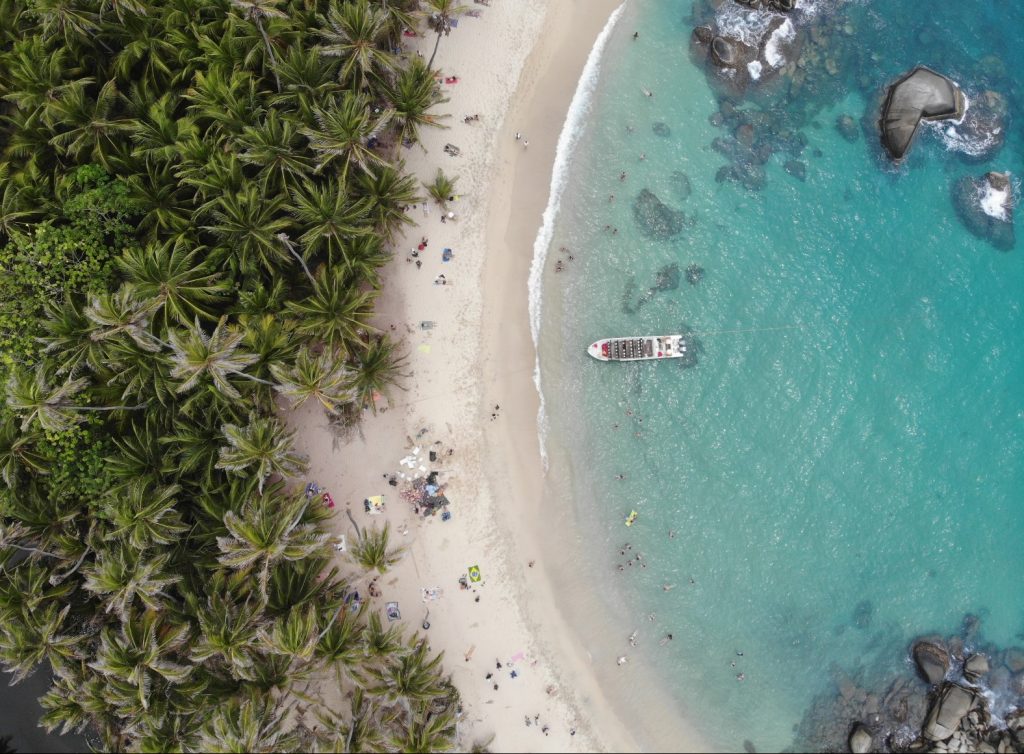 The Beaches of Tayrona National Park
There are many beaches in Tayrona National Park, but not all of them are open for swimming. Some of them are not even allowed to enter. Which beaches in Tayrona Park are the most beautiful ones and where you should go swimming, we tell you now.
Arrecife
From the start of the hike (if you take the shuttle from the entrance) you walk about an hour to Arrecifes beach. The beach itself is closed off by fences and may not be entered because of the strong current. Swimming is therefore forbidden. In passing you can take some nice photos and then just walk on to the next beach, where you can finally get into the water. The next beach is not long in coming. Unfortunately, I don't know the exact name, but the way there is very easy.
After the closed beach the path leads away from the sea and you walk through the forest again. At some point you will come to a campsite on the right, where there is also a signposted path to the beach pictured below. Here swimming is also forbidden and there are also very high waves. But many people still don't miss the fun and go into the water here. But you should be careful, because the current is very strong. So do not swim too far out.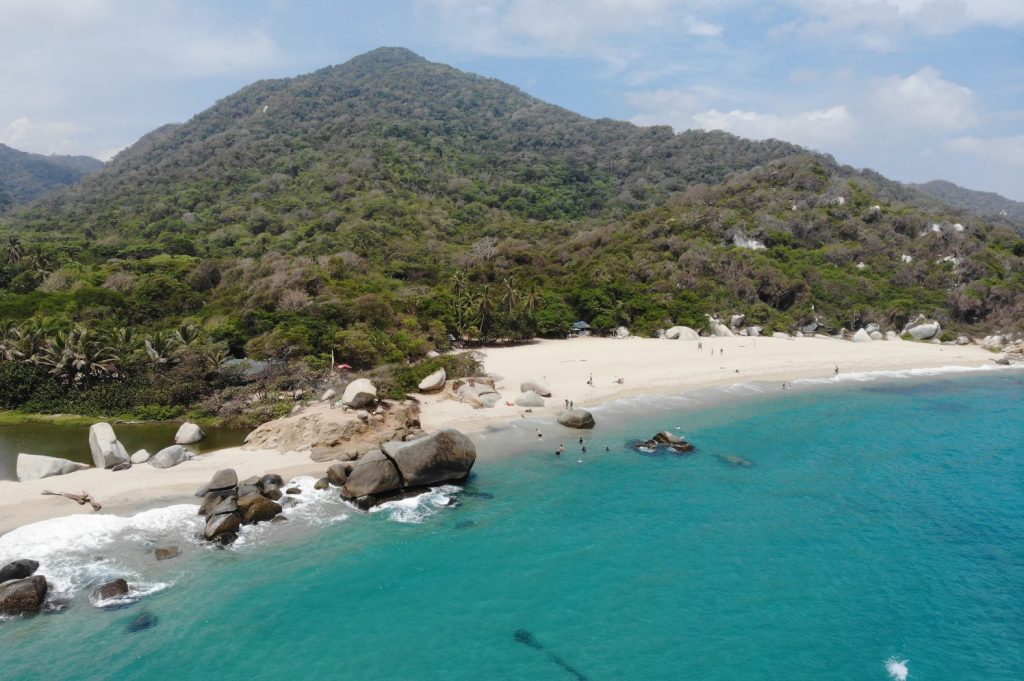 La Piscina
The name of this beach says it all here. La Piscina means swimming pool and at this beach you can finally jump into the cool water and enjoy the wonderful calm water. The beach is really fantastic and offshore rocks break the strong waves, so that the water is very calm… just like in a swimming pool. Despite the beauty of the beach, there aren't that many people around.
So if you want it a little quieter, then you should take a longer break here on the beach. Attention: There are frequent sightings of fire jellyfish in the water. They can be very painful, so you should be careful.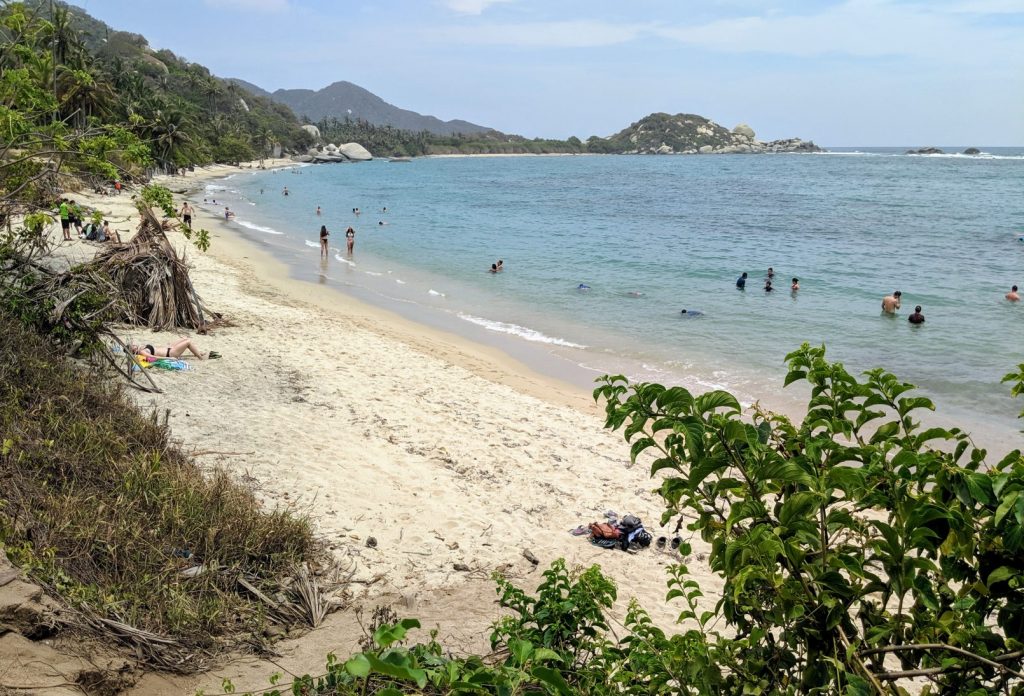 Cabo San Juan
One kilometer away from La Piscina is the main beach and certainly the most beautiful beach of the Tayrona National Park: Cabo San Juan.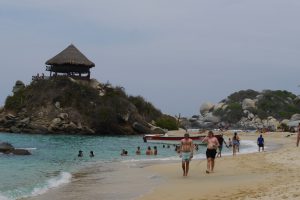 Most tourists (and also locals) walk many kilometers through the park just to get here. Accordingly, it is crowded here and you have to search a bit to find a free place in the golden sand.
Cabo San Juan consists of two bays, which are separated by a viewpoint perched on high rocks. There is a campground, a restaurant and some snack stands here. Prices are much higher than outside the park. You should therefore take provisions and water with you into the park.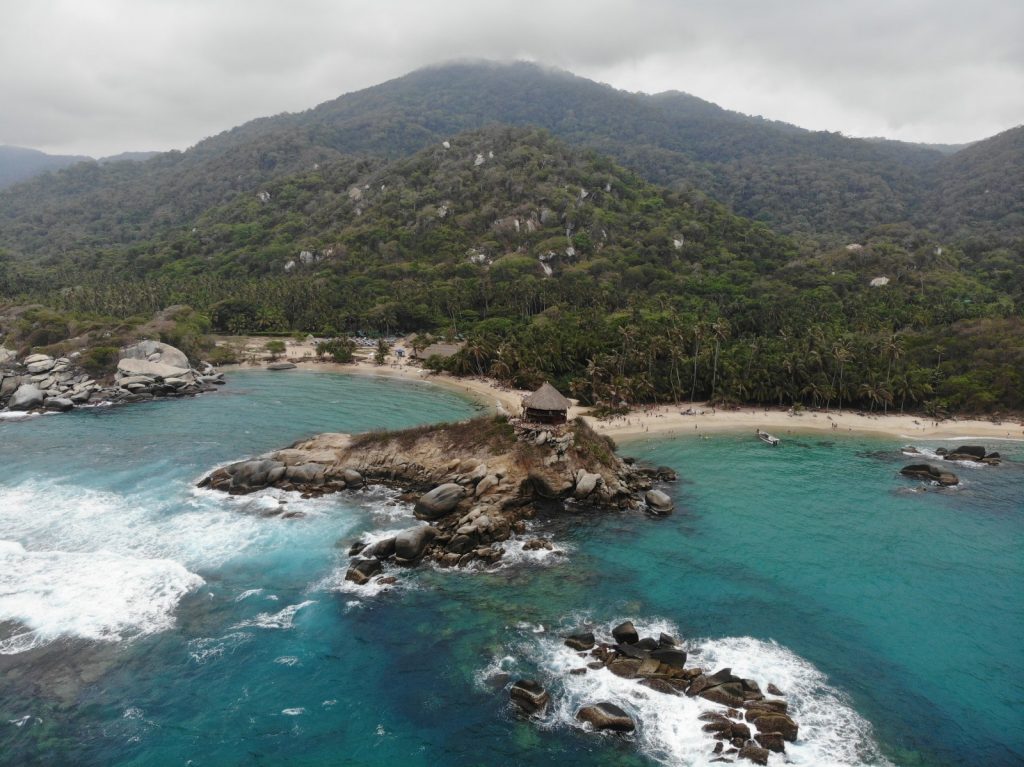 For us, this beach was the last on our trek through Tayrona National Park. Around 2:30 pm we started our way back. We were at the entrance right when the park opened and didn't spend hours on the beach. But since you still have to hike for miles back to the entrance, this distance was perfectly sufficient for us for a day trip.
Hiking further North
If you have more time or even want to spend the night in the park, then you can of course hike further north. There you will find more beaches and an old ruined town called Pueblito Chairama. Here are only a few tourists on the road and accordingly original and quiet it is here.
More articles about Colombia
Is it worth to visit Tayrona National Park?
Definitely yes! The park visit ended up being quite different for us than we thought it would be, but we still saw beautiful beaches and great nature. In a region of Colombia where not every beach is suitable for swimming (see Palomino), Tayrona National Park is therefore a real oasis. Just by the status as a national park, nature and also the animals are protected and to some extent preserved from human intervention.
Even though we walked much more in the park than we would have wanted to and were pretty exhausted at the end of the day, we can definitely recommend a visit to Tayrona National Park. There are a lot of people there and the entrance fees are also quite high, but the beaches are just too beautiful not to visit the park.
How to get to Tayrona National Park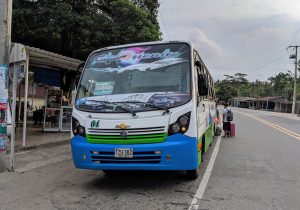 Getting to Tayrona National Park is really very easy. There is only one road that leads past the park and so you can get to the park either from Santa Marta or from the direction of Palomino. From Santa Marta a bus leaves from the Mercardo Publico and takes about an hour to Tayrona National Park. The cost is 10,000 COP (about 2.5 Euro). From Palomino you take the same bus (direction Santa Marta) and it takes almost an hour and you pay 8000 COP (2 Euro).
In general, you can also stop the bus somewhere on the road by hand signal. There are no fixed bus stops in Colombia anyway. Just tell the bus driver (or ticket seller) that you want to go to Tayrona Park (El Zaino). Normally he will call the stop. But you will certainly not be the only ones who get off here.
If you don't want do go there by yourself you can also to a tour to visit the beautiful Tayrona National park.
Tour to Tayrona National Park | Check Prices*
Our Tips
Here are some tips to make your visit to Tayrona National Park even more enjoyable.
#1 Which Entrance should I choose?
Especially if you only want to make a day trip to Tayrona National Park, we would recommend the entrance El Zaino. This one is closest to the beaches and campsites. When you buy your entrance tickets online (see the next section), select Taquilla Zaino for your ticket. This entrance is right on the main road (where the bus between Palomino and Santa Marta also passes), has some stores, souvenir vendors and also a small restaurant.
Take the Shuttle instead of Walking
From this entrance you can either walk in an hour to the start of the actual hike, which we would not recommend. Or you can take a small shuttle bus for 3000 COP (0,80 Euro) that will get you there in a few minutes. The road does lead through the jungle, but it's paved all the way and just way too boring to walk yourself. Besides, you still run enough in the park, so you should save your energy.
#2 Where do I buy the Entrance Tickets for Tayrona National Park?
The best way to buy tickets is to buy them in advance online at the official website of Tayrona National Park. If you arrive at the entrance without a ticket, you may not be allowed in, especially during the high season. It is sufficient to buy the tickets 1-2 days in advance on the internet and then show them on your cell phone. Also, bring your passport with you.
The website to buy tickets is: parquetayrona.com.co/

PS: On mobile devices you should switch to desktop mode, otherwise the site will not work properly!
Note: If you have an online ticket, there will be a separate queue on site. So you don't have to join the longer queue of people who still have to buy a ticket.
#3 Do I need a Yellow Fever Vaccination for Tayrona National Park?
Officially and theoretically yes, practically no! It is of course recommended and certainly generally advisable for a trip to the tropics, but during our visit neither we, nor anyone else around us was asked for a vaccination card or the yellow fever vaccination. However, inform yourself about necessary vaccinations at a tropical doctor or the Foreign Office.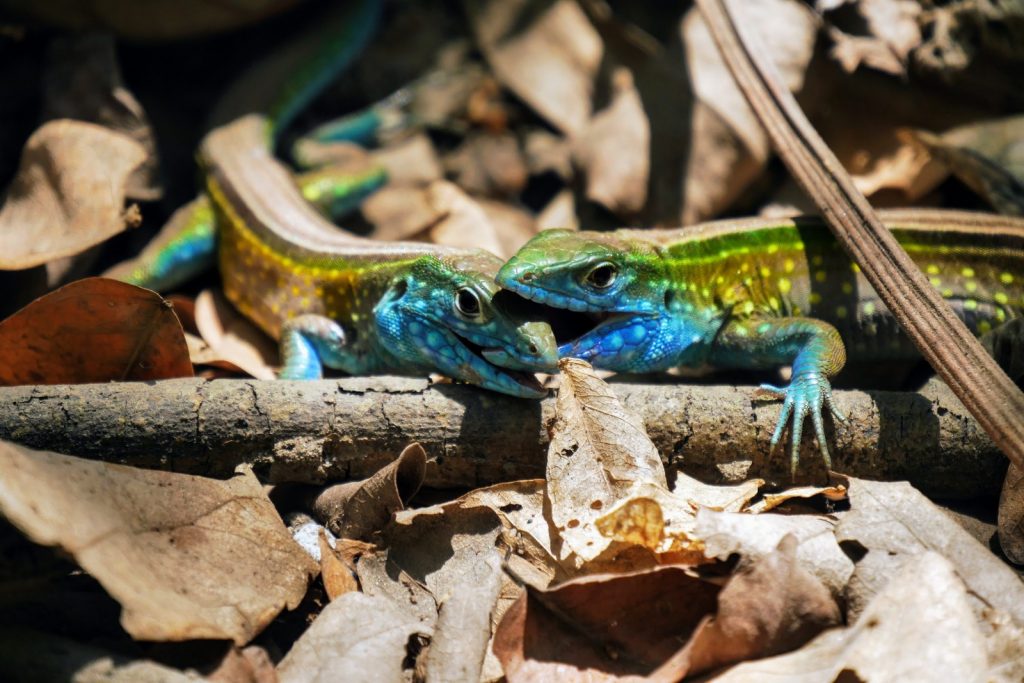 #4 Is there Food & Drinks to buy in the park?
At the main beach Cabo San Juan there is a real big restaurant and also some smaller stands selling snacks. In between there are also drinks to buy every now and then. Mostly delicious things like homemade lemonade and fresh coconuts. Because of the high prices you should take your own food into the park. But be careful: You are not allowed to take glass bottles or alcohol into the park. However, this was not controlled during our visit.
#5 Are Drones allowed in Tayrona National Park?
Officially, of course not, as in all national parks in Colombia. However, I took my drone with me and it was not controlled at the entrance, nor were there controls or chaperones inside the park. So if you fly prudently and in a controlled way, you can get really terrific drone shots in Tayrona National Park.
#6 What should you take with you on your Day Trip to Tayrona National Park?
Enough water and drinks
Sunscreen and good mosquito spray
Swimwear
A bath towel to lay you on the beach.
Cash to buy snacks or a coconut if needed.
---
Do you have any questions about your visit to Tayrona National Park? We would be very happy about a comment under our travel report.
Hey, wie hat Dir unser Beitrag gefallen?