What are the best things do to in Medellin Colombia? What are the must sees of the city? And is it even safe to travel to Medellin? Medellin was the first destination on our backpacking trip through Colombia and also the most beautiful big city we have seen so far on our journey through Central and South America. Medellin is a city of millions and the second largest city in Colombia, but we still felt very comfortable. And that although we actually do not like big cities. Too noisy, too crowded and too dirty are most of the big cities we get to know on our travels.
But Medellin is different, somehow more pedestrian-friendly and totally nice to explore with its many must sees and sights, like the Comuna 13 or the cable car floating over the city. We spent 4 days in Medellin and were thrilled with the must dos that Medellin has to offer. In this travelogue we would like to talk about our top 5 highlights in Medellin. In addition, we will give you a few tips on where to stay in Medellin and whether it is really still as dangerous in Medellin as our parents feared before our trip.
We are Sabrina and Andreas, two adventurous travelers who never miss an opportunity to discover the world. Whether by plane to distant countries or with our campervan Bruno, we just love to travel. We hope to give you helpful tips for your next trip on our blog.
Sabrina & Andreas
Globetrotters, Travelers, Adventurers
Instagram
Youtube
Where should you stay in Medellin?
In most blogs you read that you should stay in Poblado. This is where are the most hotels and also the most tourists. During our visit to Poblado, we were surprised how far this neighborhood is from the city center and the nearest metro station. Also, the Poblado did not impress us as much as we have read in many other blogs. Maybe we were in the wrong neighborhood. But nevertheless, we would not recommend the Poblado for your overnight stay in Medellin, but districts that are closer to the city center.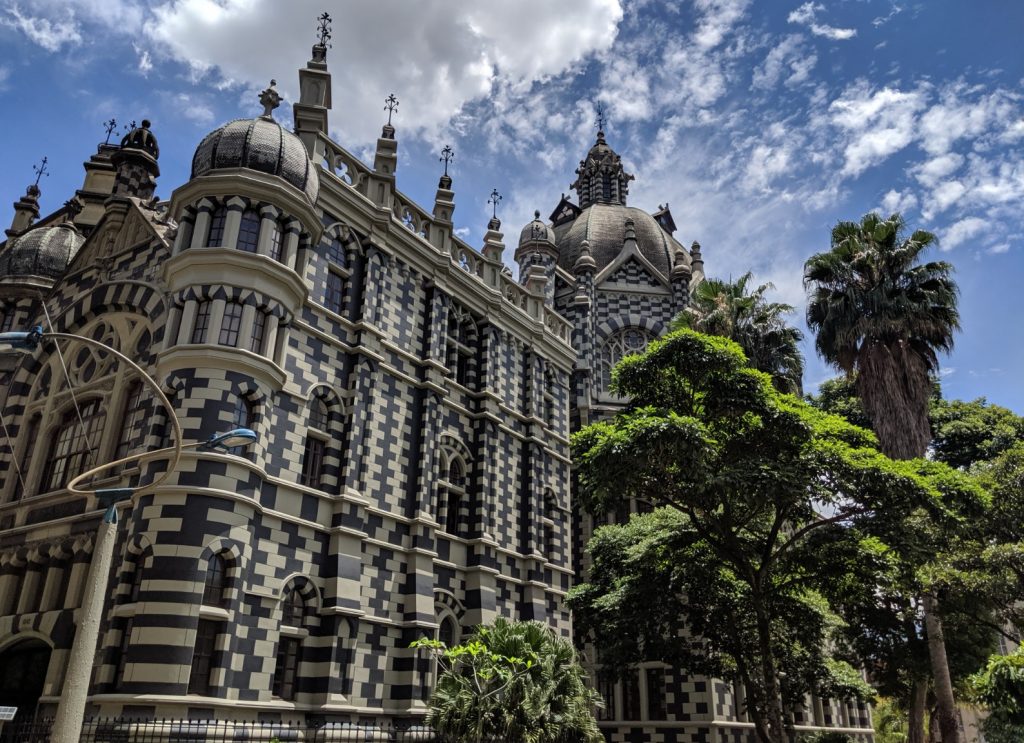 For example, we stayed in a small hostal in the Suramericana neighborhood in a normal residential area and were within 5 minutes of the metro. Then we only had to go 2 stops to get to the center. It was great to live in a residential area so close to the center among locals and not in the tourist district with all the other tourists.
We can therefore only recommend you to look for a nice hostal near the center, so that you are quickly everywhere and are not endlessly on the metro. Our hotel wasn't super luxurious, but it had super friendly staff and as we said, you were in the city very quickly. If you want to check it out, just click on the following link:
The Hotel Casa Natura at Booking.com*
How does the Metro Ride work in Medellin?
When I travel to big foreign cities, I always worry that I won't get the hang of riding the metro. Sounds weird, but it's like that. Many different lines, complicated ticketing systems and which train goes where anyway? In Medellin, however, it's all very simple.
There are only 2 metro lines (but they are overground trains and not underground subways), one of which runs east-west and the other north-south. Reading the metro map is therefore quite easy. The station for the city center is called San Antonio and is easily accessible with both lines, as it is the transfer station between the lines.
How to buy Tickets for the Metro in Medellin
This is also very easy. One ride costs 2550 Pesos (just under 0,70 Euro) and it doesn't matter how far you want to go. You are allowed to change the metro or to take a cable car, but you are not allowed to leave the stations. Then you have to buy a new ticket.
You buy the tickets in the small sales counters that are in every station. You just say how many rides you want and the employee saves them on a small plastic card. You then hold this card in front of the reader at the entrance gates and you are inside. It is important to know that the card must be inserted into the small slot in front of the reader when you redeem the last ride. The next time you have to get a new card.
By the way, you can download the Metro map as a PDF here: Medellin Metro Map
As already mentioned, your ticket is also valid for the cable car, if you change directly from the metro to it. This is valid for all cable cars except the last one, which goes up to Parque Arvi. This has to be paid separately and costs 6000 Pesos (approx. 1.80 €) per ride and person. If you want to know more about Metro in Medellin then I can recommend the following website: Medellinguru.com
How Safe is Medellin? A History Excursion
Many people think of drugs, cocaine, Pablo Escobar and kidnapping when they think of Colombia. So did our parents when we told them about our travel plans. And it's true of course, just a few years ago Colombia was dominated by gang warfare and murders were commonplace, especially in Medellin.
The History of the City
Especially in Comuna 13, there was statistically almost one murder per day in the 90s. Medellin was reportedly the city with the highest murder rate in the world as late as 1991, with a total of 7000 murders. Medellin, and especially Comuna 13, was completely in the hands of the Medellin Cartel. Constant deadly clashes between drug gangs, paramilitaries and security forces, social tensions and high unemployment brought the city to an extremely desolate state.
Even after the death of Pablo Escobar in 1993 and the resulting dissolution of the Medellin cartel, crime did not decrease. The unemployed hit men now engaged in bloody battles with the communist urban guerrillas. Even years after the end of the cartel, Medellin was still the city with the highest murder rate in the world.
The Situation Today
Only gradually did the situation in the city calm down, and the murder rate dropped significantly after the turn of the millennium. With a new mayor, a lot was invested in the city and things slowly started to look up. Proverbially also in Comuna 13, because in 2011 the famous escalator was inaugurated in Comuna 13. Since then, the living conditions of the people living there have improved enormously. It used to take forever to get from Comuna 13 to the city center, and it was also dangerous.
The many cable cars that have been hovering over the city's rooftops since 2007 have also made life better and safer for residents. Areas that were previously very remote have been quickly and safely connected to the city. Gradually Colombia, and especially Medellin due to the Narcos hype, became a tourist destination very interesting not only for backpackers, but also for families with children from the U.S. and Europe. The city today is a great combination for sight seeing, getting to know the history and also enjoy some night life by e.g. joining a pub crawl in Medellin.
How Dangerous is Medellin?
Nevertheless, Colombia today is still more unsafe than many other countries in South America. For many regions (especially the border region with Panama) there are still travel warnings issued by the German Foreign Office. These should always be studied before a trip to Colombia. We never felt unsafe on our round trip through Colombia and there were no dangerous situations. But especially in Medellin, we heard in advance that you should not show your valuables (such as cell phone and camera) in public, because this would provoke thefts.
One day, when I was playing around with my cell phone and taking lots of pictures at a square (Plaza Cisneros) in downtown Medellin, a young woman suddenly approached me. She spoke to me directly in English that I should not show my cell phone here so publicly, this would not be a safe place. Of course, I immediately put the phone away.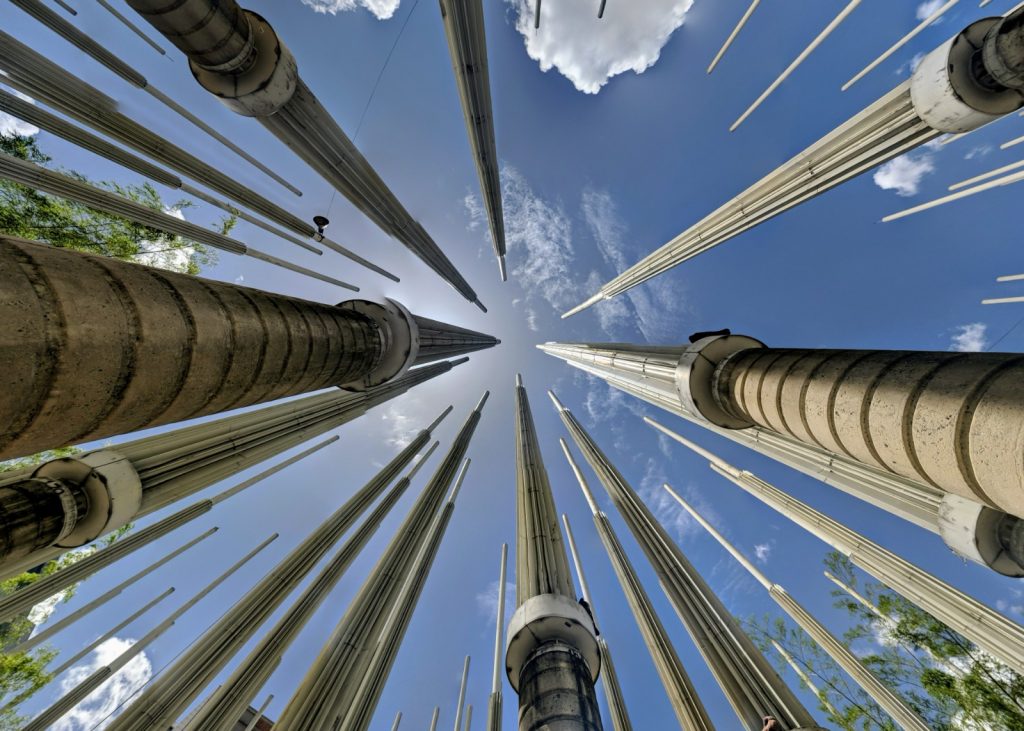 If already the locals warn you about thefts, then this illustrates quite clearly that you should take care of your things. But this is actually true for many big cities in the world. However, when you consider the past that the city and the entire country came from, the leap that Colombia has made is definitely remarkable. Twenty years ago, the inhabitants of Comuna 13 had to fear for their lives and lived in constant fear. Today, they sell Coca-Cola to tourists. What a huge change.
Things to do in Medellin
We have summarized our top 5 Medellin must dos in our travel report. Of course there are many more, but these 5 impressed us the most.
#1 Strolling through the City
Sounds mundane, but it's not at all. Medellin was the only big city in Latin America where I had fun just walking around the city for a day. Sabrina was not feeling well, so I went alone to the city center and walked around for 4-5 hours. As a rough plan, I had a map for one of the many walking tours offered in the city (you can download the map here and save it to your phone). I then simply walked the various sights in Medellin and have also discovered a lot of new and great things along the way.
For example, the small but nice souvenir market at Parque San Antonio or the fact that Colombians seem to love shoes and socks. Because everywhere in downtown Medellin there are stores that sell sneakers and the socks that go with them. Really funny! Medellin has a lot to offer in its city center (El Centro) and beyond: large squares, old churches, colonial buildings, modern museums, historic cafes and great architecture.
But the best thing, in my opinion, is that most of it can be explored by foot and Medellin really seems to be made for that. This is not only evidenced by the many walking tours offered here. Medellin also has many pedestrian zones, squares and areas where you can walk around.
The city seems to be really designed for people and not for cars. We found that really great! If you don't dare to walk alone or if you want to have additional information while walking through the city, you can join one of the many free walking tours.
These usually start several times a day and take you from sight to sight. They also tell you a lot about the history of the city. The only payment expected is a tip for the guide. A good provider is Real City Tours: Free Walking Tours at RealCityTours
#2 Parque Arvi
Our second Medellin must see is Parque Arvi. We would have never thought that in the middle of Medellin there is such a fierce nature. Alright, it's not in the middle of Medellin of course, you'll have to take a pretty long cable car ride. But the way is in any case the goal.
How do you get to Parque Arvi?
To get from downtown Medellin to Parque Arvi, you have to take line A north towards Niquia and get off at Acavedo. There you change to the cable car to Santa Domingo and use the same ticket. When you arrive at the terminus, you have to change the cable car again, but this time you have to buy a new ticket (6000 COP).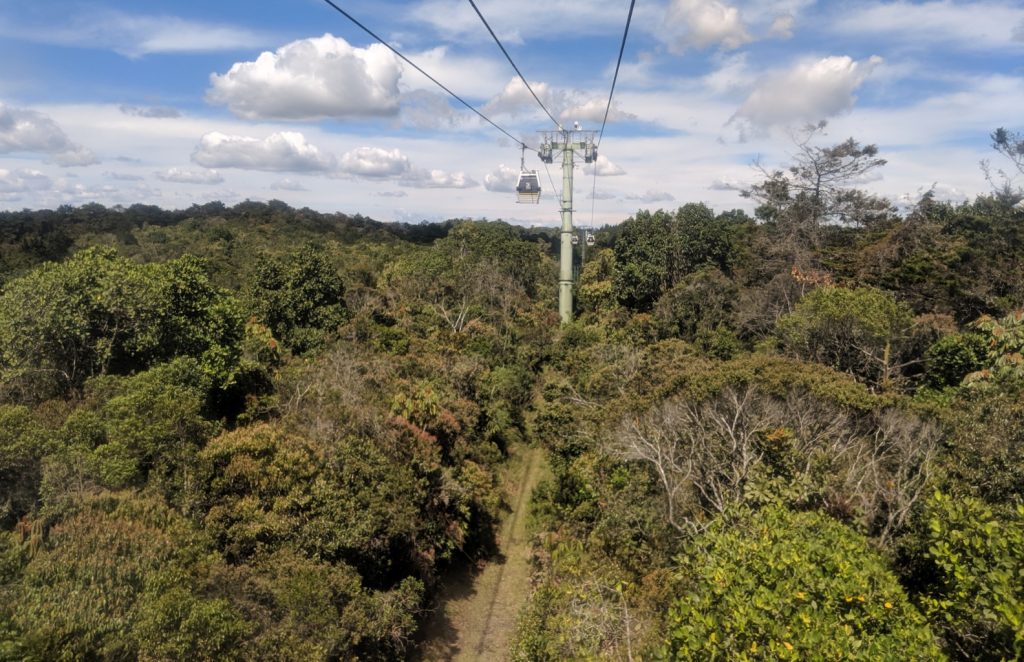 This last ride with the cable car takes almost 20 minutes and you float endlessly over the Arvi National Park and have a wonderful view over the treetops, which you have nowhere else. Simply phenomenal. Just for this hovering over the forest, the ticket and the relatively long journey is worth it. At the top, a small farmers' market awaits you and after a few hundred meters, the first hiking trail.
Since Sabrina was unfortunately still sick, we could not try any of the trails, but we would have loved to do that. Because also the climate was much cooler and more pleasant up there than in Medellin itself.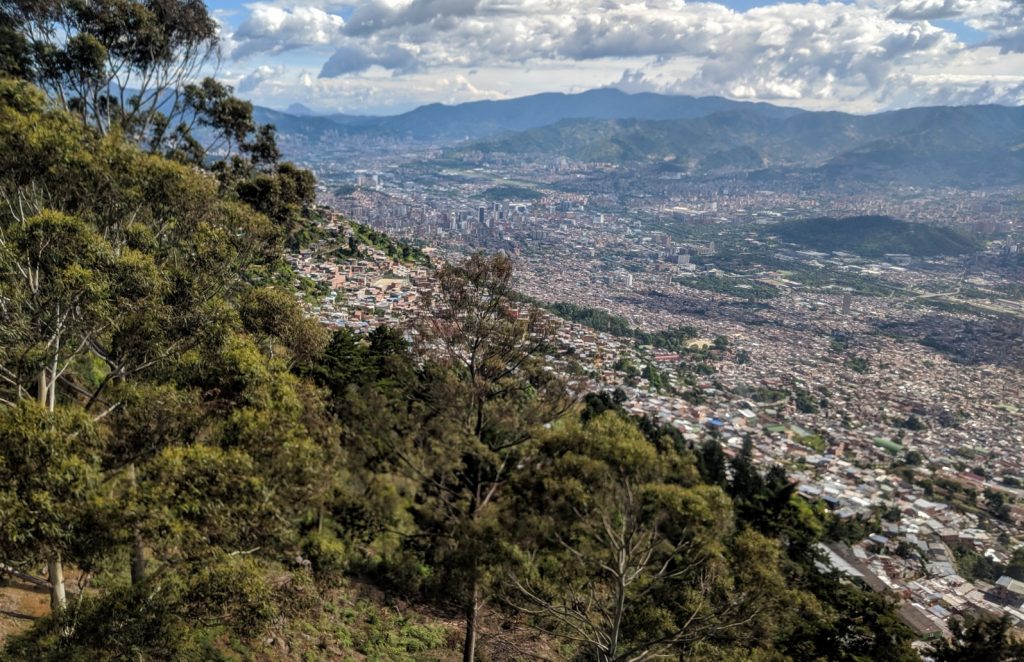 By the way, at the park you can also rent mountain bikes or join a tour to explore the park. We would recommend that you plan at least half a day to a full day at Parque Arvi during your visit to Medellin!
#3 Comuna 13
Comuna 13 was the most dangerous place in Medellin, if not all of Colombia, just 20 years ago. There were daily murders and the inhabitants could not be sure of their lives. Strolling through this neighborhood as a tourist was out of the question. And today? Masses of tourists in flip-flops and sunglasses roam Comuna 13 and take photos of the numerous graffiti scattered throughout the neighborhood. What a change of times.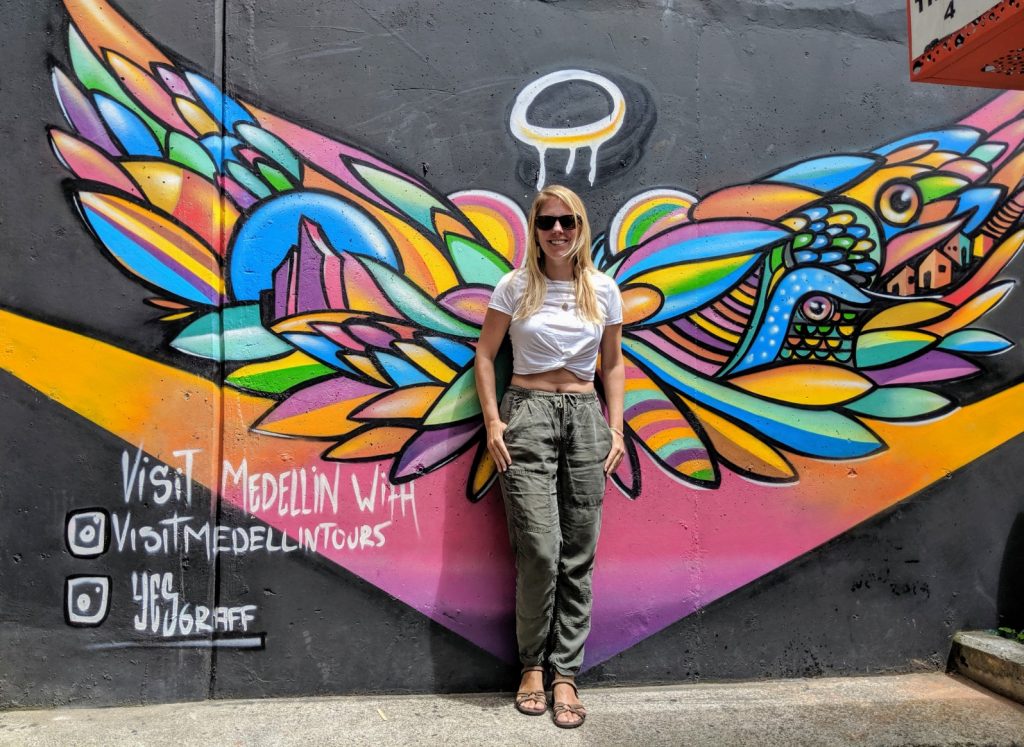 For us, Comuna 13 (pronounced trece) was one of the best things to do in Medellin. The colorful houses, the corrugated iron roofs, the narrow streets. And the confidence in the faces of the people that, despite the bad past, a better future lies ahead of them.
Medellin Must Do: What can you do in Comuna 13?
The Comuna 13 impressed us a lot and is a Medellin must do. But what is so special about this once most dangerous neighborhood of Medellin? It is, of course, the transformation that this district has undergone. With this history in mind, it is impossible to walk through the streets of this neighborhood unimpressed.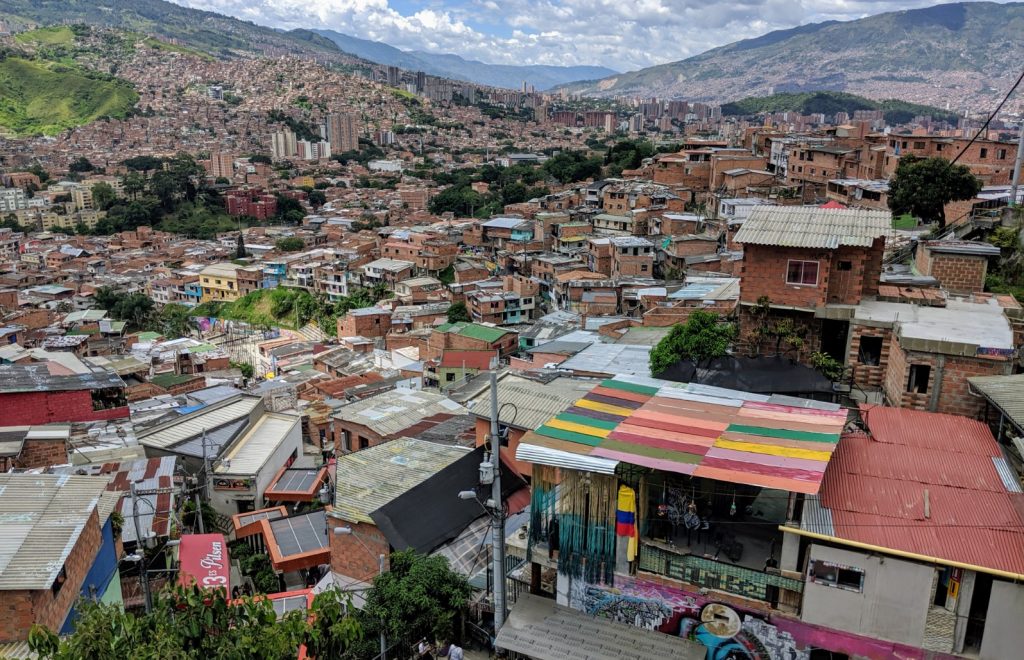 Secondly, there are the many artistic graffiti that can be seen everywhere and in front of which the many tourists are only too happy to be photographed. Thirdly, it is the escalator built in 2011, which, if you add up all the sections, is supposed to be the longest escalator in the world. Of course, it's not quite as impressive, since the almost 160 meters are not reached in one piece. Nevertheless, a special highlight in this quarter. But the escalator was not built for Instagram-crazy tourists, of course, but for the residents.
It's just totally interesting to climb the individual sections of the escalator, exploring each "floor" and enjoying some homemade lemonade along the way. On the top step of the escalator, the tourist area is particularly large and you have a fantastic view of the whole neighborhood and Medellin.
If you are also interested in Commune 13 you can book a tour with a local guide* here.
Graffiti Tour at Comuna 13 | Check Prices*
Do you want to know if you can stroll through Comuna 13 on your own and how to get to Comuna 13 if you are not on a tour?
Then read our separate travel report on the Comuna 13 in Medellin:
Comuna 13 was the most dangerous place in Medellin, if not in all of Colombia, 20 years ago (see the history section below). There were daily murders and the inhabitants could not be [...]
read more
#4 Riding the Cable Car
Sounds weird again, but just like that you get great views of the city as you pass by when riding the elevated train (metro), it's the same with the cable car. Only even more blatant. I have only seen something like this in La Paz in Bolivia, where there is also a comparable cable car above the city.
You fly with the cable car over the roofs of the city and have especially in the less affluent regions of the city views of colorful houses with corrugated iron huts and see the metropolis from an angle that you can have nowhere else.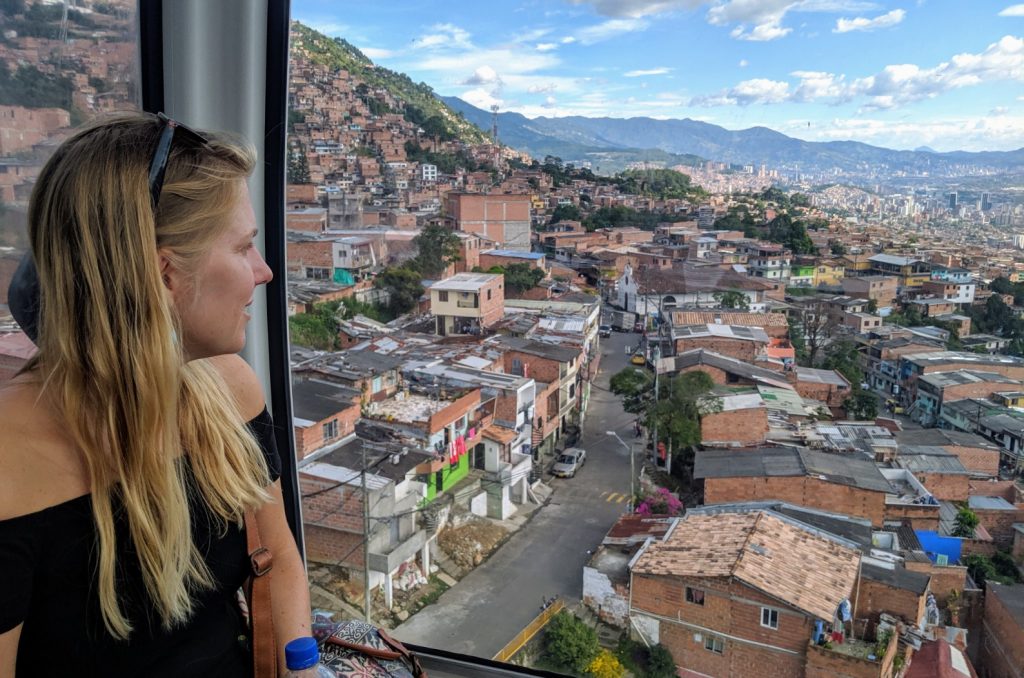 You should take the cable car even if you don't have a fixed destination. It is simply beautiful and you feel like you are on a skiing vacation, only without snow. This is especially true for the cable car that takes you to Parque Arvi. But you have already read enough about this in point 1 above.
#5 Day Trip to Guatape
If you are in Medellin, you should not miss this highlight. You can also do an overnight stay instead of just a day trip, because the drive is just about 2 hours each way, which makes it worthwhile for a day trip. When we saw the fantastic panorama of El Peñol, we were very annoyed that we had to drive back to Medellin on the same day.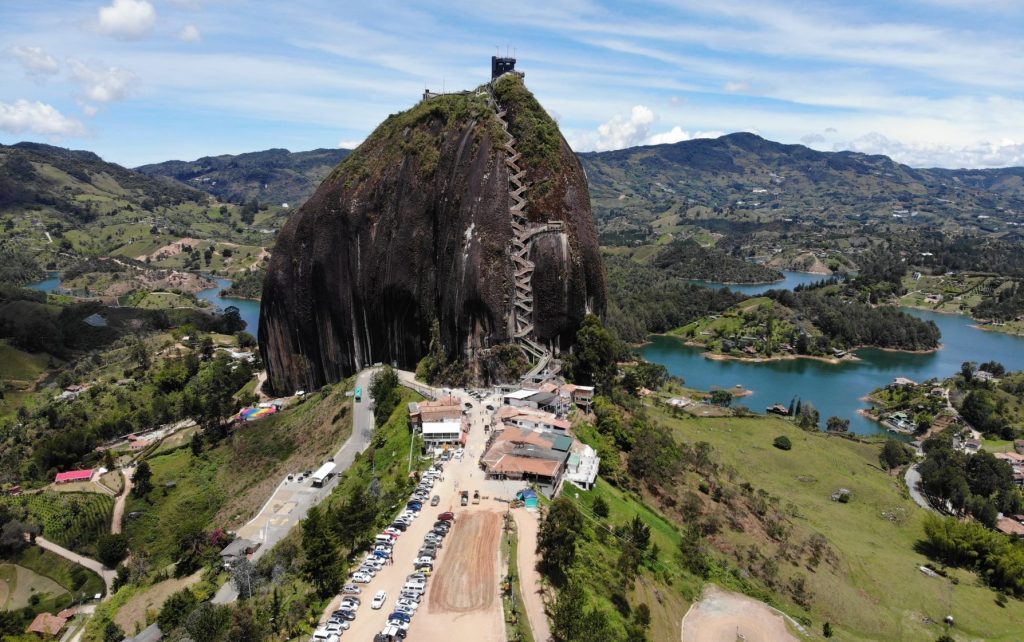 Guatape offers you three highlights: Once the village itself, which is quite touristy and therefore wasn't that great in our opinion. Then, of course, there is the famous rock El Peñol in the immediate vicinity of the village. And last but not least, the incredibly beautiful lake landscape that connects both places. This reservoir looks especially impressive from the rock El Peñol and would have been for us also the reason why we would have liked to hang in the area an overnight stay.
Daytrip to Guatape | Check Prices*
If you want to know more about our day trip from Medellin to Guatape, then read our travel report:
What are the best things to do in Guatapé Colombia? We read a lot about Guatapé and the mysterious rock El Penol that stretches up from a beautiful reservoir before our Colombia [...]
read more
---
Do you know of any other highlights and attractions in Medellin that should definitely be included in this trip report? Write us a comment!
Hey, wie hat Dir unser Beitrag gefallen?