Providencia Island in Colombia is a true paradise. If you thinking about visiting a small caribbean island in Colombia, two small islands always catch your eye: San Andres and Providencia Colombia. On photos these two islands look like a true paradise: green hills, dream beaches and Caribbean feeling. We visited the Caribbean island of Providencia for one week. And we can justifiably claim that Isla Providencia was the most beautiful and closest to paradise of all the places and islands we visited on our 111-day tour of Latin America. Below you find our ultimate guide to Providencia.
At the beginning we hesitated a little bit, because the journey to Providencia is not very easy… but that's what makes the island so charming. Also the prices on the island for accommodation, food etc. are a little bit higher than on the mainland. But in our opinion this is justified, because Isla Providencia is located far out in the Caribbean Sea.
In our travel report about Providencia Island we want to tell you about our experiences on our trip and also give you some tips. So that you know where the best beaches on Providencia are, where you should stay overnight and what you can do on the small island, we have prepared a guide for Providencia. Let's go!
We are Sabrina and Andreas, two adventurous travelers who never miss an opportunity to discover the world. Whether by plane to distant countries or with our campervan Bruno, we just love to travel. We hope to give you helpful tips for your next trip on our blog.
Sabrina & Andreas
Globetrotters, Travelers, Adventurers
Instagram
Youtube
What makes Providencia Island in Colombia a real paradise?
You may have read this statement in many blogs and across many islands or beaches in the world. Paradise! But what does it mean if it is used as inflationary as it is today? Probably we ourselves use this term too often. But at least Providencia was the only place in our entire almost 4-month journey for which we would really use this term. So, if we would ever consider to move to the Caribbean, we would move to Providencia Island.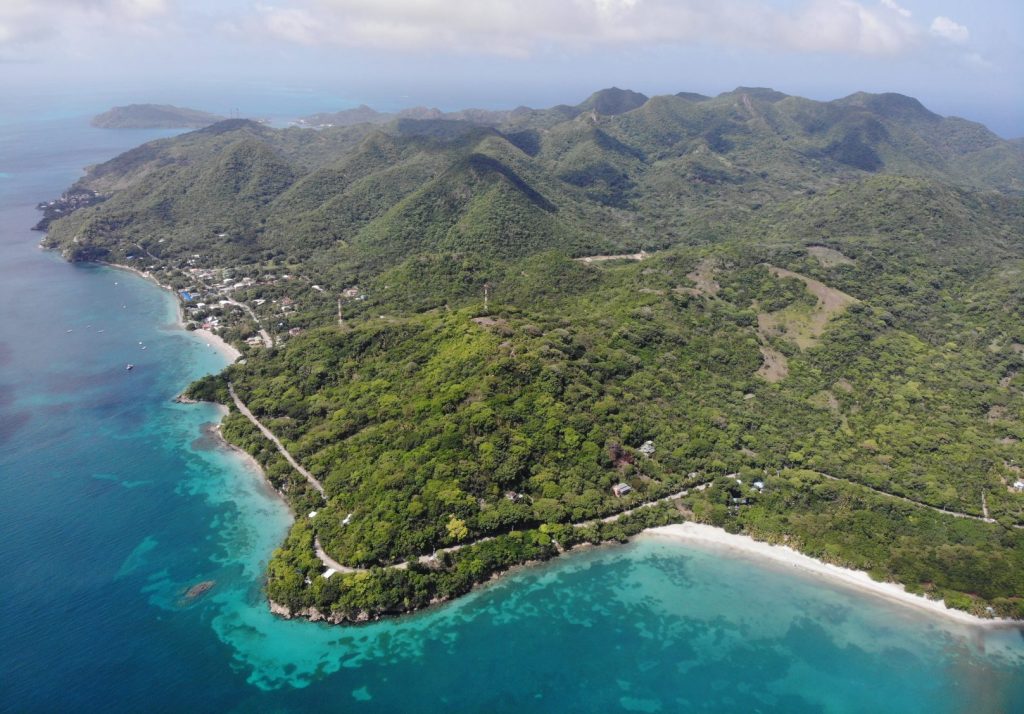 There are several reasons why we found Providencia Island so incredibly great. We would like to introduce the most important ones to you here:
#1 The Remoteness | Where is Providencia Island located?
Politically, San Andres and Providencia Island belong to Colombia. Geographically, the two islands are much closer to Costa Rica and Nicaragua than to the large South American country. One can clearly notice the Caribbean influences on the island, which are very similar to those in Tortuguero (Costa Rica) or Bocas del Toro (Panama).
There are many inhabitants on the island that speak the languages English and Creole. Knowledge of Spanish is (fortunately for us) not necessary on Providencia.
To get to Isla Providencia you have to board 2 different planes from Colombia or take a ferry instead of the second plane. Providencia is located several hundred kilometers away from the Colombian mainland. San Andres is approached very often from various Colombian cities, but most tourists stay there. Only a few fly on to Providencia. And that is a good thing!
During our scooter trips around the island we really saw only very few tourists and if, then apparently always the same ones. Providencia seems to be the secret tip in Colombia.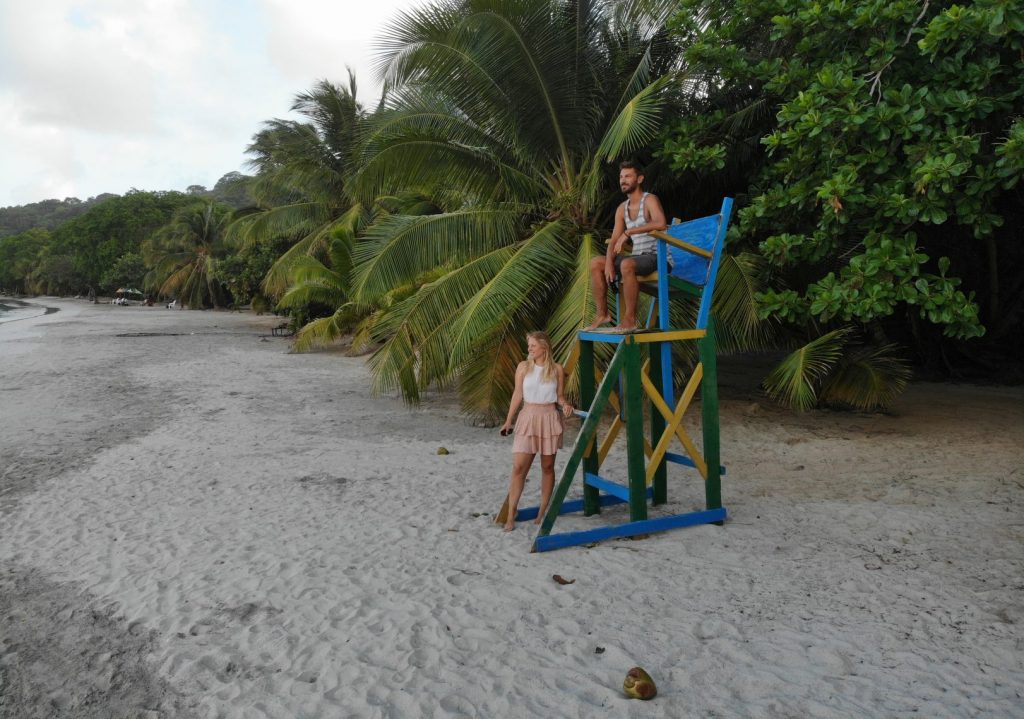 #2 Providencia is not Touristy
On Providencia Island, for example, there are no souvenir shops, no pushy sellers on the beach or tourist restaurants. Everything is totally original and authentic. One notices that the island was not built for tourists but that the local people simply accept one as a visitor for a certain time on their island.
We liked this and felt very comfortable. And even though we have already read from many places that they are supposed to be "not so touristy" (e.g. Isla Mujeres) or "untouristy". With Providencia this was true for the first time.
#3 The Amazing Nature | Little-Hawaii
Sabrina didn't agree with me until the end and it might be a bit strange, because we have never been to Hawaii before going to Providencia. BUT, Providencia Island reminds me totally of the hilly islands of Hawaii. At least the way I imagine it in my head.
I thought Providencia is more flat than many islands. But it is very mountainous or hilly. And all hills are completely covered with lush green trees. From top to bottom. That looks totally fantastic.
And it is also because the development of Providencia is concentrated on the ring road along the coast. In the interior of the island there is actually only nature. The best way to see this is from a boat by circumnavigating the island. Or of course with my drone. I have flown many batteries completely empty, because I could not get enough of the view from above.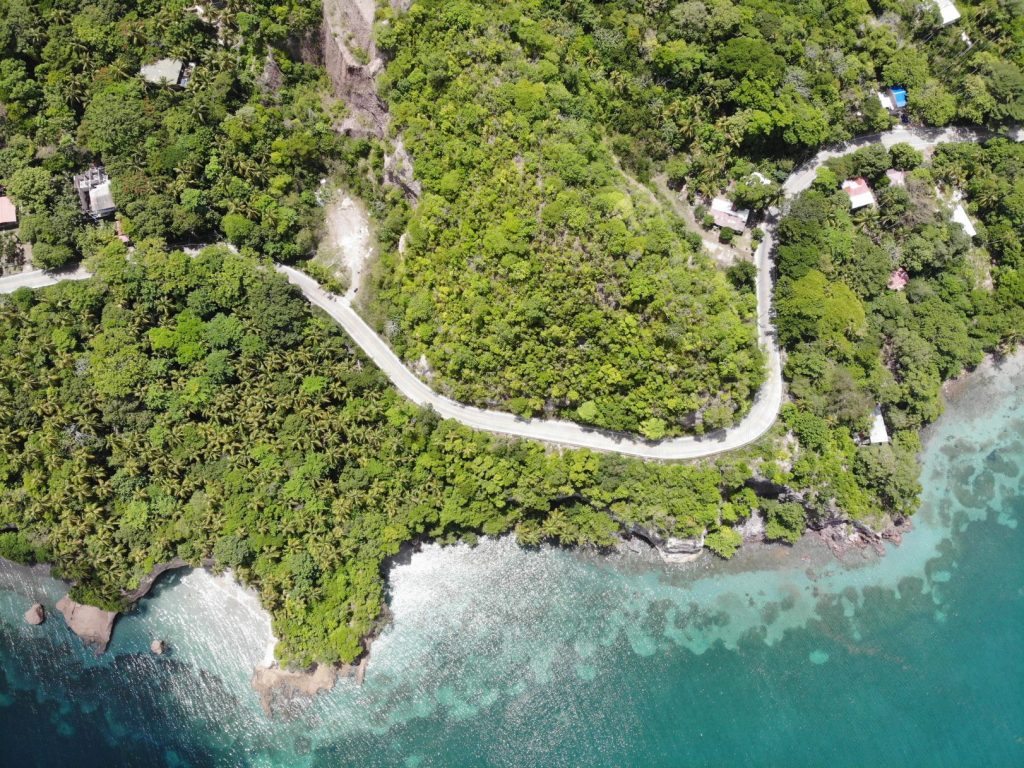 The nature on Providencia Island is still very untouched. There are only two official hiking trails that lead to the middle of the island. One of them is the hike on The Peak, which I will talk about later. During our stay, I would have wished that the interior of the island would be opened with more hiking paths, but this is probably also the price to pay when you fly to an island that is so little developed for tourism.
Prawn Migration
Another special feature on Providencia Island is the annual crab migration. Between May and July, thousands upon thousands of crabs migrate from the mountains within 2 weeks to lay their eggs. Afterwards they disappear into the mountains again. 1-2 weeks later the baby crabs hatch and follow their parents back to the mountains.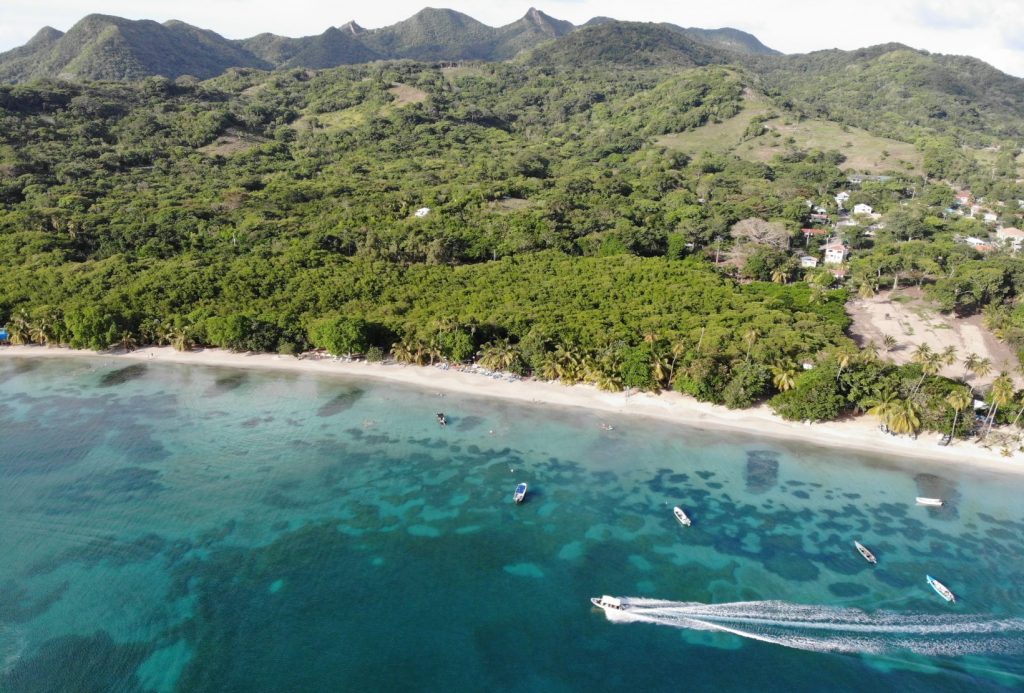 During this time a state of emergency prevails on Providencia. The roads are closed to protect the animals, because the crabs are really everywhere. It must be a crazy spectacle if you are lucky (or unlucky) to be there exactly at this time.
But if you think that the locals are protecting the crabs in a special way or are always watching out that they come back to the mountains safe and sound: You thought wrong. The black crabs are considered a delicacy on Providencia Island.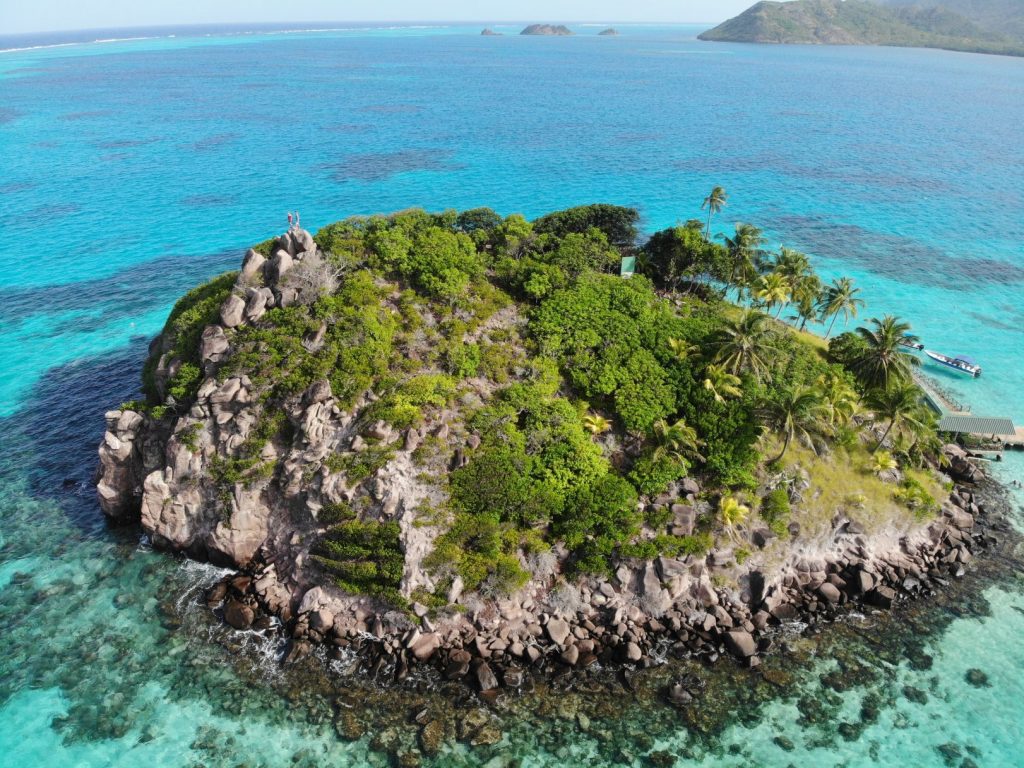 San Andres or Providencia Island? What's the Difference?
Before our trip we also asked ourselves if we should go to both islands or only to one of them. And if only one, then San Andres or Providencia Island?
But after we have seen both islands, we can make a judgement and explain the differences. Even if we only saw a small part of San Andres around the capital, we can say that we found the island much too touristy and full.
Of course, San Andres also has a beautiful nature and many great highlights like beautiful beaches to offer, but due to the easy accessibility, the island is completely overcrowded with, mostly Colombian, tourists. There is also the whole tourist-program from jet-skis, annoying beach vendors, huge hotels at the beach up to lined up umbrellas at the beach.
That was too much. For us, San Andres was not the Caribbean paradise it is often called. In our opinion, San Andres doesn't come close to Providencia Island in any way. If you want a paradisiacal island without many tourists and with beautiful nature, then fly to Providencia.
Conclusion
If you want to do duty-free shopping, travel cheap, jet ski and feast to your heart's content in various restaurants and ice cream parlours, then San Andres is the right place for you.
How to get to Providencia Island Colombias?
Getting to San Andres from mainland Colombia is not very difficult. From almost all major airports (Medellin, Bogota, Cartagena etc.) many airlines (also budget airlines) fly to San Andres. So you can get to the island from 25 € p.p. There is only one small airport on San Andres. So you can find a transfer connection (2-3 hours should be enough) if you don't want to spend time on San Andres. If you need to kill some more time, you can walk from San Andres airport to the nearby beach within 10 minutes. You don't need a taxi for that!
The complicated part of the journey is to get from San Andres to Providencia Island. But we will explain it to you now.
How to get from San Andres to Providencia
Roughly speaking, you have 2 possibilities to get from San Andres to Providencia Island. By ferry or by plane.
By Ferry from San Andres to Providencia Island
This is the cheaper of the two options, but also the most unsettling. We have heard from many travellers that the sea between San Andres and Providencia is often very restless, which can lead to very bumpy crossings. You will probably be given seasickness pills as standard and there is even a staff member on these ferries who is said to be solely responsible for collecting full vomit bags. As this reminded us too much of our Norway trip with the vomit ferry, this option was out of question for us. But we would like to explain to you how you can get to Providencia by ferry.
The ferry takes 3.5 hours to get from San Andres to Providencia Island and costs 380.000 COP (about 100 Euro) for the return trip.
Five times a week (Monday, Wednesday, Thursday, Friday & Sunday) you can thus set off on the journey at 8 am each time. The return trip to San Andres takes place on the same days at 14 o'clock.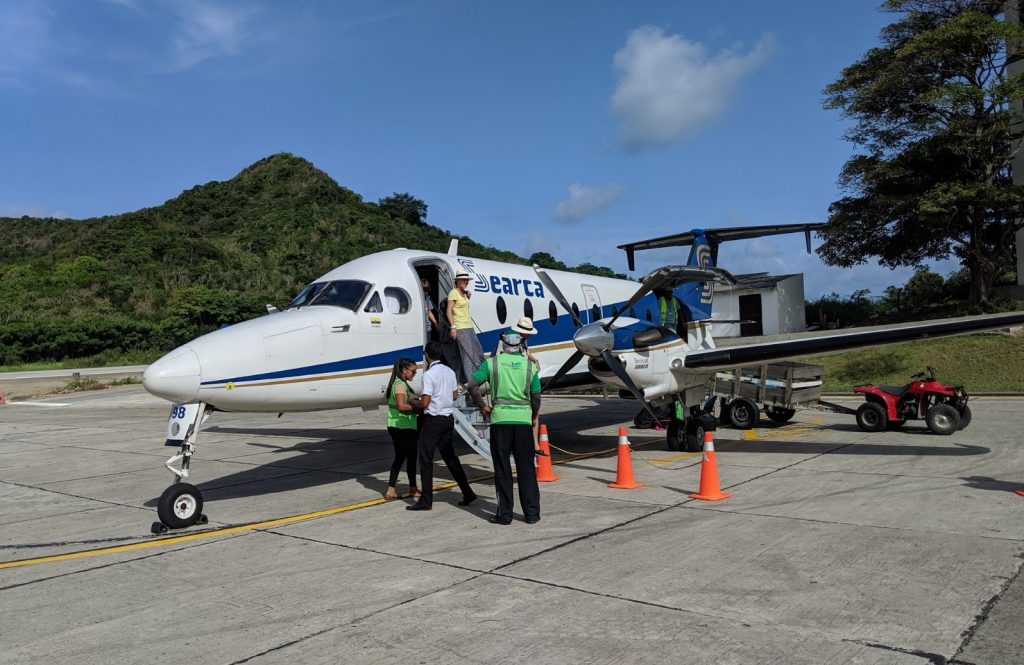 By Plane from San Andres to Providencia
There are 2 airlines where you can buy a ticket to Providencia online. One is Satena. But you have to book the tickets for this airline far in advance. We have therefore chosen the relatively new company San German Express, which charters aircraft from Searca. Here you can still get enough tickets a few days in advance.
Do you want more information on how to get to Providencia? Then read our separate travel report:
Where to stay on Isla Providencia?
Before our trip to Providencia we also scrolled for a long time through the quite manageable list of accommodations and asked ourselves in which part of the island we should stay overnight. There is hardly an accumulation of hotels at a certain place but they are almost evenly distributed over the island. Indeed, there is a main place on the island (Santa Isabel), but there is not at all the hotspot of the island. There is probably an accumulation of houses and supermarkets, but otherwise no reason to stay there directly.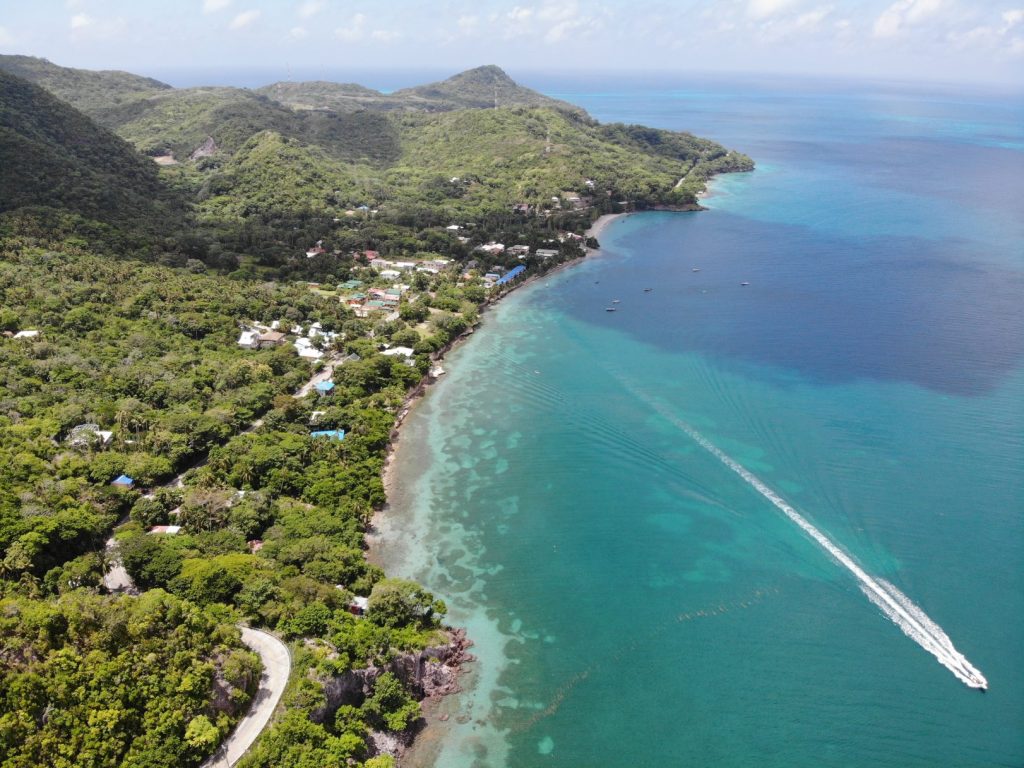 For many accommodations, the ratings said that they are far away from the next beach, or far away from the next restaurant or supermarket.
We thought about what would be the most important thing for us during our stay. The proximity to many supermarkets (of which there are not many anyway) or the proximity to a great beach? Relatively quickly we realized that we would probably spend more time relaxing on the beach than shopping in the supermarket.
Southwest Bay
So we started to look for hotels within walking distance of a beach and if possible not too far away from supermarkets. Because we wanted to cater for ourselves. Our choice fell on Southwest Bay (Bahia Suroeste) in the south of the island. In this small part of the island there is a beautiful beach, some smaller supermarkets and also restaurants. Furthermore, this part of the city is off the main road, which gives you even more peace and quiet.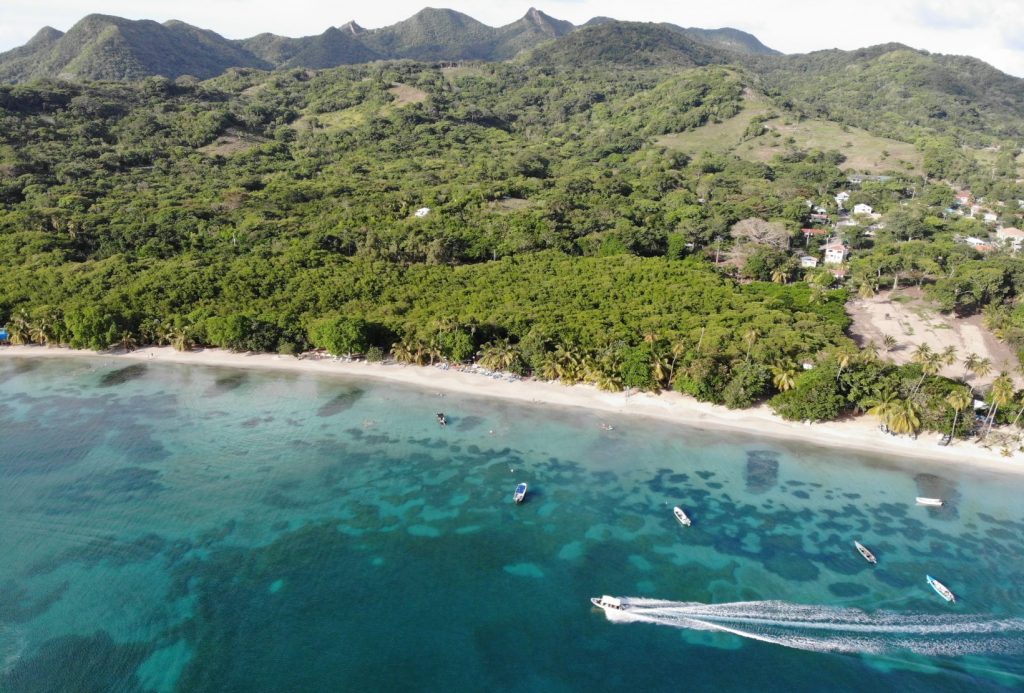 If you want to go to other parts of the island, you need a scooter anyway. But for the everyday things you have everything within walking distance and you can walk to the nearby beach.
Our Accommodation on Providencia Island Colombias
Our accommodation
Posada Miss Portia
*, where we stayed on Providencia, is within
walking distance of South West Beach
on a small side street.
The rooms have air conditioning, a terrace and there is even a communal kitchen with a free water dispenser. In addition, you can also rent scooters here directly to explore the island.
We felt very comfortable here and can only recommend this accommodation to you.
Posada Miss Portia on Providencia | Check Prices*
The Best Things To Do on Isla Providencia
The main thing to do on Providencia Island should of course be relaxing and lying on the beach. But if you want some action or want to get to know the island, there are a few other activities on Providencia that we have listed for you here.
Hiking on The Peak
The hike on The Peak is one of the highlights of Providencia and actually the only real hike on the island. You will hike to the highest point of the whole island and have a wonderful panoramic view of Providencia. We had already informed ourselves about the hike in advance and wanted to do it in any case. The Hike on The Peak is done relatively fast with 1,5 hours and so you have enough time to enjoy the view from the top.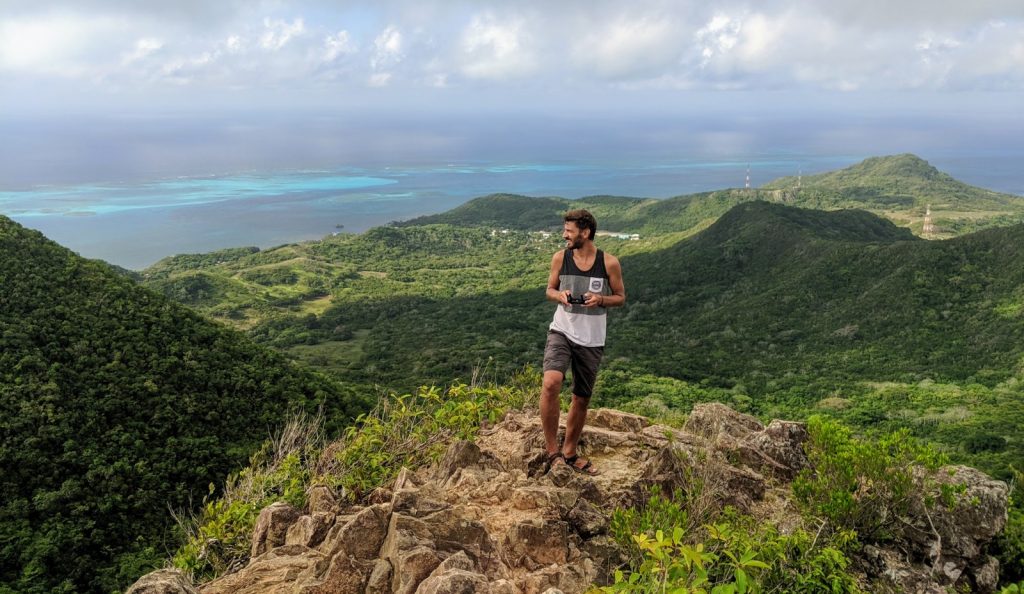 What is The Peak?
The Peak (sometimes called The Hill) is a hike to the highest mountain on the island of Providencia, which offers you one of the most spectacular views of the whole island. The trail is 7 kilometres long and is really well maintained, which is reflected in the wooden bridges and shelters scattered along the way. Even if a thunderstorm or heavy rain should surprise you, you can take shelter.
The way up to the top takes about 1.5 hours and is not really steep at first. Only later does it get really steep and you notice that you will probably soon have a pretty good view. Most of the time, one walks through dense forest, at the beginning even past meadows and fields and passes wonderful landscapes.
Read our blog post about the hike on The Peak:
Visit Santa Catalina Island
Santa Catalina is a small island at the northern end of Providencia and is only connected to the main island by a small pontoon bridge (Lover's Bridge). Therefore you can only get to Santa Catalina on foot. By scooter or car it is not possible to cross the bridge. Alternatively, you can of course cross over by boat or go on a guided tour by boat to some of the island's sights.
The pontoon bridge has certainly seen better days, but you will get to the other side of the bay quite safely. Once arrived, there are some restaurants and posadas (accommodations). On Santa Catalina there is only one way that leads alongside the southern end of the island. So you cannot walk around the island!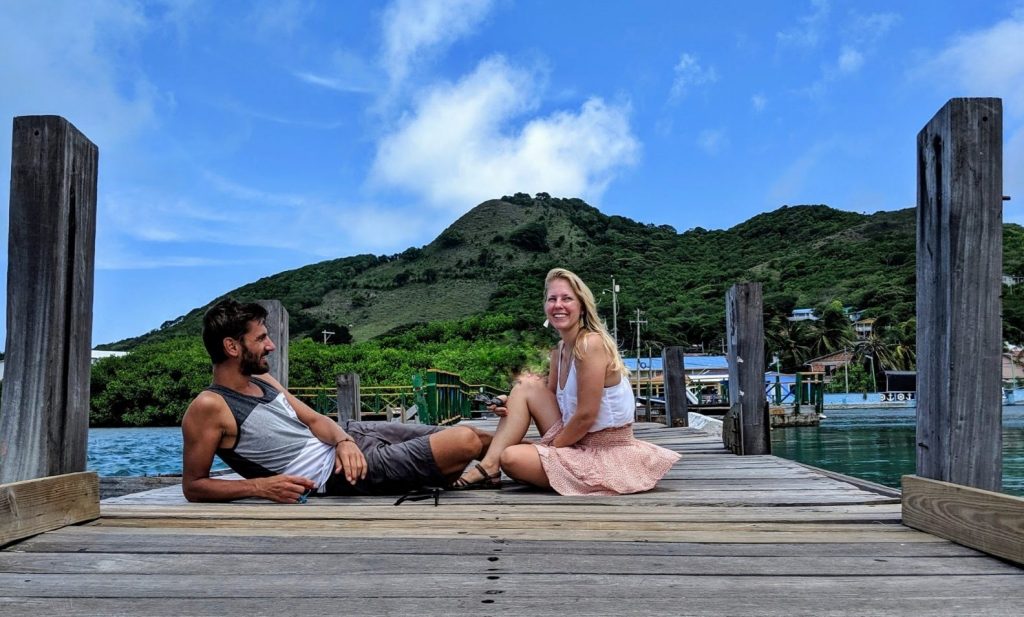 Fort Warwick
Turn right directly behind the bridge and after a few hundred meters you'll come to an old cannon. But it is not that spectacular. If you go back along the path and follow it to the end, you will come to Fort Warwick after climbing up some steps. Of course, this is not a real fort anymore, but rather some old stones and of course the obligatory cannon on top. But the fort offers a great view to the sea and the Providencia at the opposite side.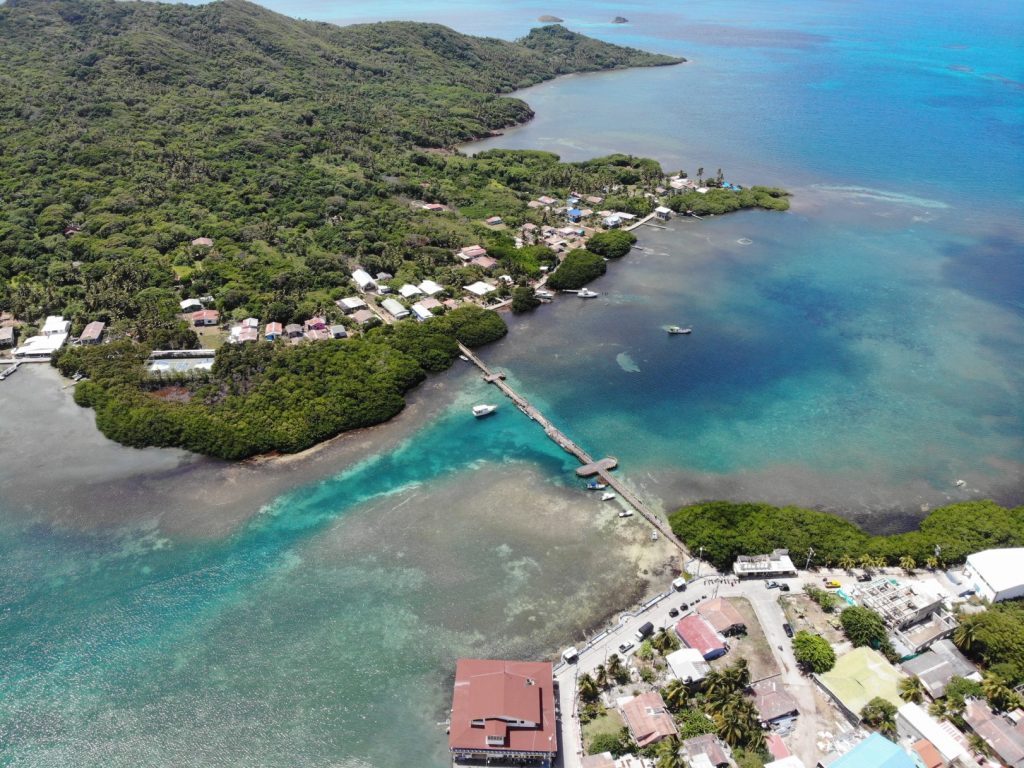 Fort Bay
If you walk a few more metres further, you get down to a small but fine beach, called Fort Bay. There you can snorkel, relax on the narrow beach and of course swim. From time to time, a guided boat tour passes by and there is a barbecue on the beach. Then it is indeed done with the quietness, but apart from that, this small beach is really very nice and offers a great cooling.
Supposedly there is a footpath that leads you further to Morgan's Head. This is a big rock which is said to look like the head of a famous pirate (Captain Morgan) from the sea. Unfortunately we didn't find a footpath there, but you can definitely get there by boat.
Go to Crab Cay by Kayak
Crab Cay was certainly one of the highlights of our Providencia trip. Crab Cay is a really very small stone island, located about 1 km from Providencia and can only be visited by boat or kayak. Alternatively it would be possible to swim over, but I would not advise this because of the strong current.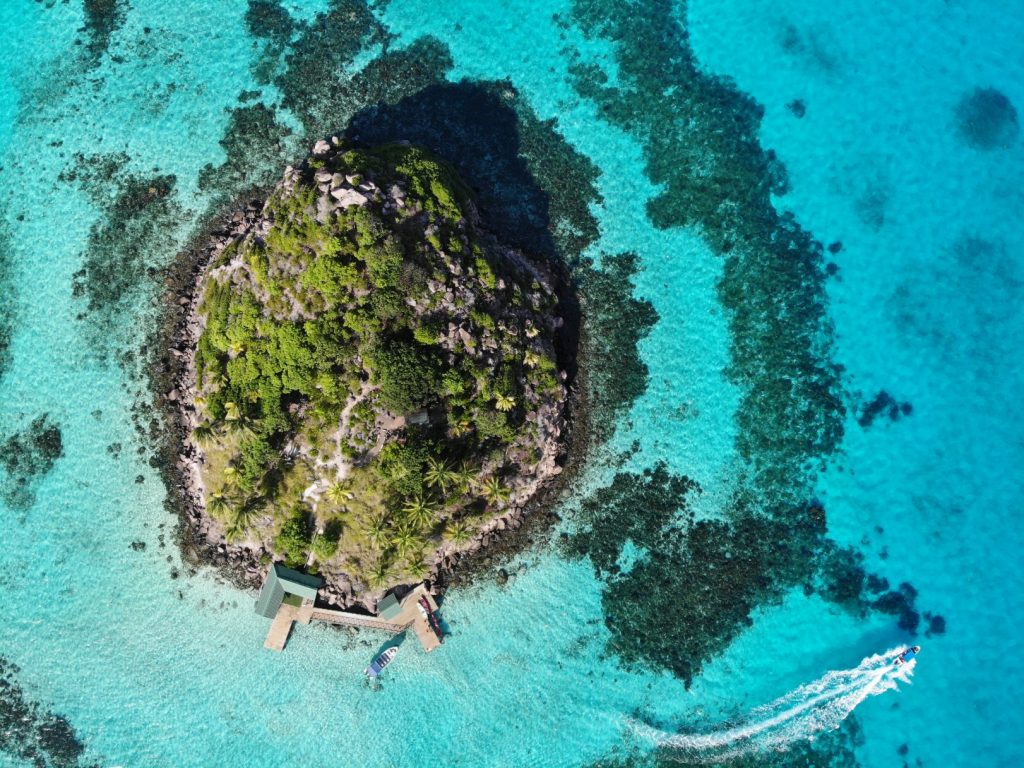 Even from a distance, the island looks spectacular as it is enthroned like a small stone pyramid in the middle of the turquoise blue sea. If you fly over the island with a drone, you will see countless shades of blue and it looks even more fantastic, as there is really nothing around Crab Cay except the beautiful blue water!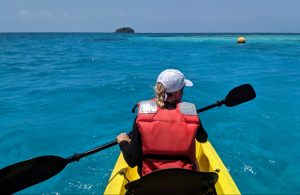 How to get to Crab Cay?
The easiest way to get to Crab Cay (Cayo Cangrejo) is certainly a motorboat, which you can hire directly from the Hotel Deep Blue (Google Maps Link). Depending on your negotiating skills you will pay 35.000 – 50.000 COP (approx. 9-12 €) per person for the return trip. If you are lucky you will also get a snorkeling equipment for free.
Alternatively you can rent a kayak and paddle there yourself. That's a lot of fun and is also quite fast. Also at the Hotel Deep Blue you can rent a kayak for about 30.000 COP (about 8 €) and be on Crab Cay in about 20-30 minutes. You should also make a small detour to the yellow buoy, which is located a few hundred meters to the right of Crab Cay. There you can attach your kayak and snorkel at the surrounding corals. The current is quite strong, but the different colorful fish and the great corals compensate for the little effort.
Want to know more about Crab Cay? Read our guide to Crab Cay.
Diving on Providencia
If you are in Providencia, then you should definitely go diving. The sea off the island is really beautiful and invites you to dive. Right in front of Providencia you will also find the third largest barrier reef in the world. During our two dives we visited among other things an old shipwreck, which is up to 22 meters below the water surface. Although the wreck cannot be visited from the inside, it is still a great attraction under water.
We also visited Manta Point (where there are mainly stingrays and no manta rays) and a place where thousands of tube eels live. These are small worm-like eels that live in the seabed and look out of the seabed like small plants. If you get too close to them they retreat back into the bottom in a flash. A very funny spectacle!
Our Recommendation for a Diving School
There are not so few diving schools on the island and many are located near Southwest Bay. Here is a list of good diving schools on Isla Providencia:
For our dive we have chosen a newcomer among the diving schools. At Anda Di Wata you get 2 dives for 230.000 COP per person (approx. 60 Euro) and the owners are a super nice Swiss-Colombian couple. They have very modern equipment and every diver even gets his own dive computer. I never had that before. We had a great day on the sea and could see the island from a totally different angle.
Snorkeling
Snorkeling is one of the top activities on Isla de Providencia. There are many great snorkeling spots on the island, some of which are accessible without a boat. The best place for snorkeling is certainly Crab Cay and the yellow buoy in the middle of the sea. How to get there you can read above.
Another good spot is Morgans Head or Fort Bay on Santa Catalina Island. You can get there on foot (Fort Bay) or best by boat on a guided boat tour (Morgans Head).
But you can also go snorkeling at Southwest Bay Beach. In our opinion the best way to do this is to walk to the left end of the beach and get into the water.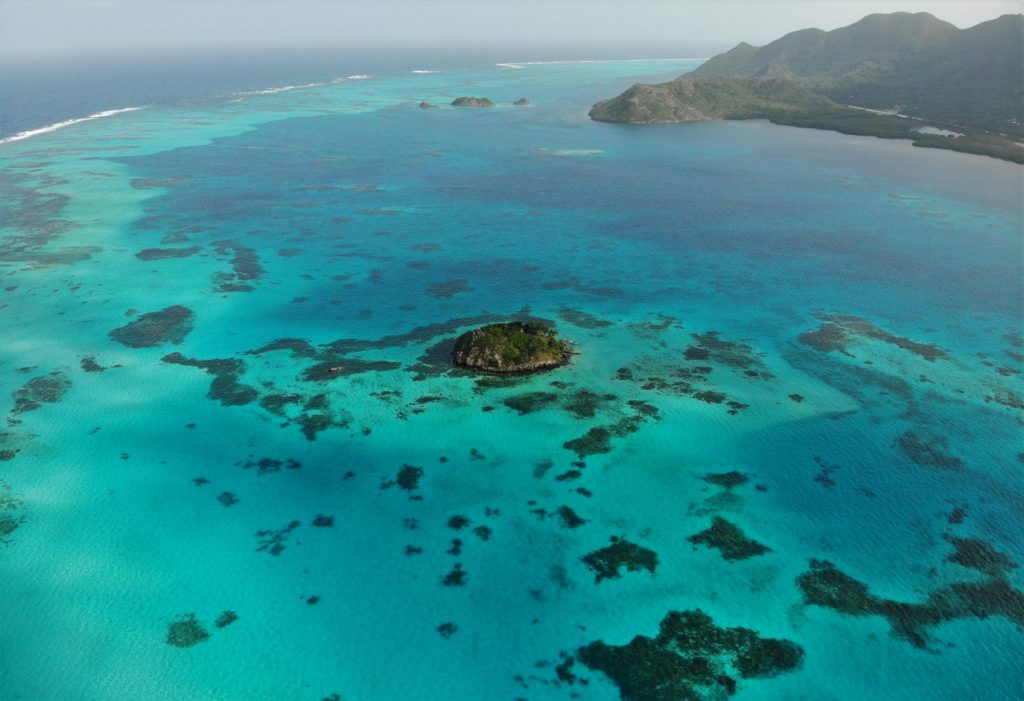 The Beaches of Isla Providencia
There are some really beautiful beaches in Providencia. The two biggest and also most beautiful beaches of Providencia are located in the south of the island: Southwest Bay and Manzanilla Beach. But also the other beaches that are spread over the island have of course their advantages.
Tips for all Beaches
At almost every beach there are many mosquitoes and small sand flies. The bites do not hurt very much, but are very annoying. Therefore you should definitely take mosquito spray with you to the beach.
South West Bay
In our opinion this is the most beautiful beach of Isla Providencia. And not only because we stayed within walking distance to this beach. The beach at the Souhwest Bay is several hundred meters long and lined with palm trees. There are several bars, restaurants and you can snorkel directly from the beach. The best way is to go to the very left end of the beach and swim alongside the cliffs there.
You can see some starfish and fish. At the left end of Southwest Bay Beach you are almost alone, as most of the other tourists continue to swim at the right side of the beach. Including some beach bars that sometimes turn up their music a little louder.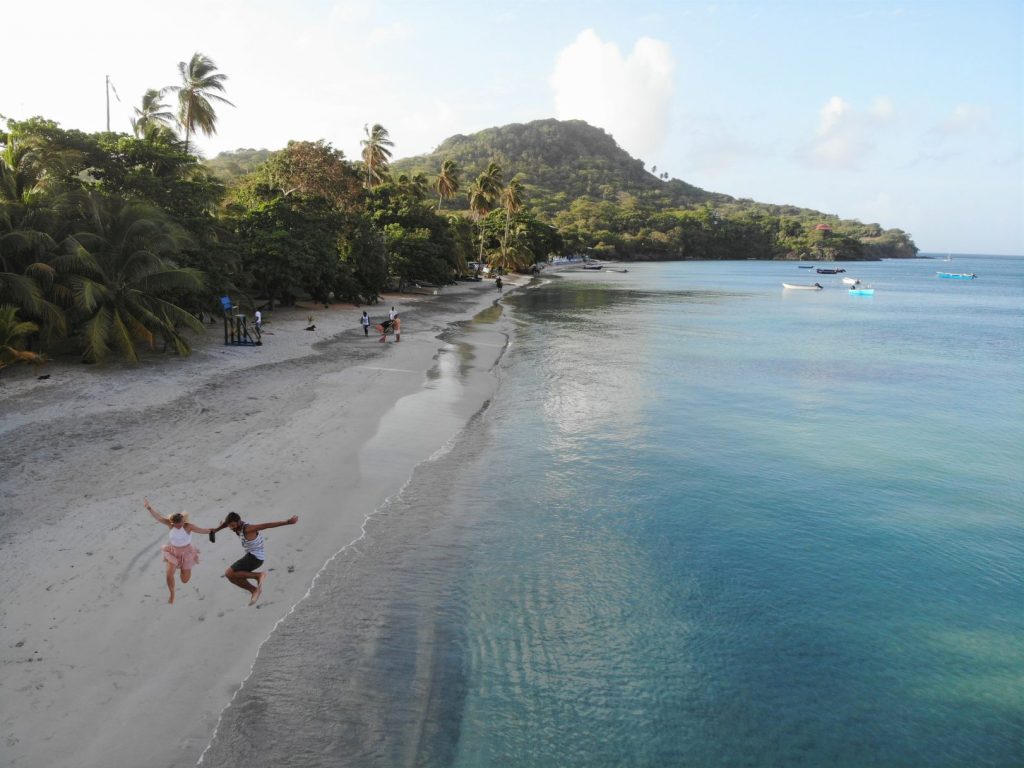 By the way, you can go by car or scooter directly to (and even onto) the beach. Some motorcyclists take advantage of this to jet over the whole beach. This is unfortunately a bit annoying.
South West Bay can be found here at Google Maps.
Manzanillo Bay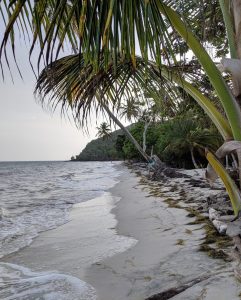 Also to the Manzanillo Beach (Manchaneel Beach), one can straight drive by car. Therefore, one has to take a side road shortly after the turn-off to the peak and follow it for a few kilometres up to the sea. Here, there is also a restaurant and swings suspended on palms with which one can swing to and fro over the water.
The beach is almost 300 metres long and is sometimes even used as a track for horse races.
You can find Manzanillo Bay here at Google Maps.
Almond Bay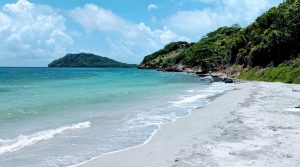 The beach at the Almond Bay is not really big and also quite far away from the road. Of course, this makes the beach very quiet, as the possible street noise is far away. From the road, where there are also a few parking lots (right next to a big plastic octopus), you have to walk another 350 meters downhill. Because of this fact and because the beach is not that spectacular, this was not our favourite beach on Providencia.
Almond Bay can be found here at Google Maps.
Fresh Water Bay
Fresh Water Bay is another beautiful and very long beach with some hotels, but unfortunately it's located directly at the main road. Nevertheless, the beach is very picturesque due to many rocks lying in the water and many shady palms. Therefore, this beach is very suitable for taking pictures.
Fresh Water Bay can be found here at Google Maps.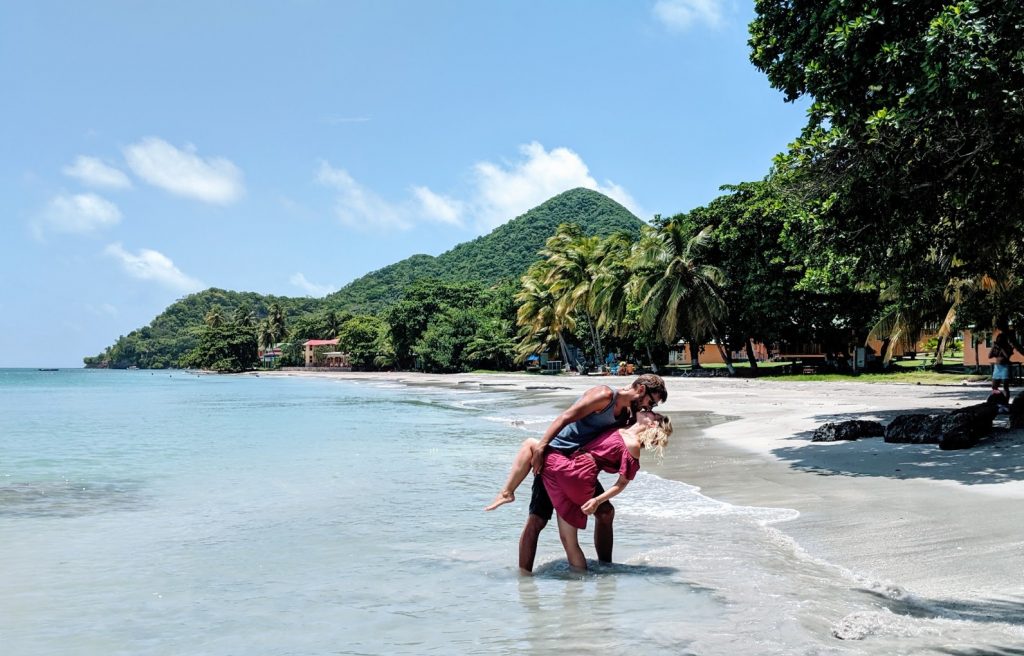 Pash Bay
Pash Beach is a really very small beach, which is also located directly at the road. There is a small pavilion and the beach is maybe 100 meters long. So it's not a beach where you drive to just to spend the day. But if you're going on a tour around the island anyway, you should definitely visit Pash Bay.
You can find Pash Bay here at Google Maps.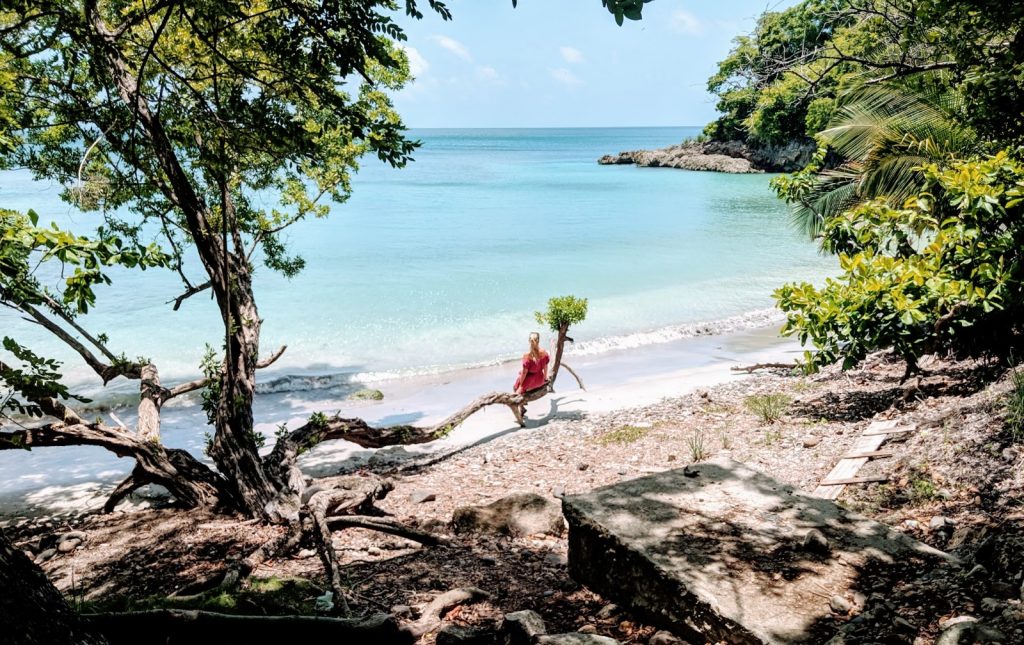 Fort Bay
This beach is located at Santa Catalina Island. To get here you have to walk over to Santa Catalina and turn left to the end of the path. Then you will inevitably come to this beach. It is also very small and borders directly on the dense green forest of the island. It's very quiet here, as Fort Bay is quite remote. You can also snorkel here very well.
Fort Bay can be found here at Google Maps.
Tipps on Isla Providencia Colombia
Taxis and Moto-Taxis
There are only a few taxis on the island and they are not so easy to recognize as taxis, as they do not have a special colour or similar. But at least the price is standard, no matter where you want to go on the island. You always pay 25.000 COP (about 6,50 Euro) per ride.
With mototaxis it is a little bit cheaper. You can usually stop any motorcycle on the road. The costs are 5000 COP (approx.1,50 Euro) per person and you can also take 2 persons on a moto-taxi. So you will sit (incl. driver) in threes on the motorcycle. A little bit strange, but you get used to it.
Cash Machines on Providencia
There are 2 ATMs on Providencia, both of which are located in Santa Isabel in the north of the island. During our visit there were no problems to get cash, as it is often the case in South America.
Fuel
Currently there is only one petrol station on Providencia, which is located just before the main town (Santa Isabel) on the western side of the island.
Rent a Scooter or Golf Cart on Isla de Providencia Colombia
A scooter will normally be your #1 transport on the small island. It is fun to cruise around the island and just stop wherever you want. If you don't make any stops, you can theoretically drive around the island in about 45 minutes. This shows how small the island actually is.
There are no helmets, by the way. So you should drive carefully. You pay about 80.000 COP (about 22 €) per day and you can sit on a scooter in pairs.
If this seems too dangerous to you or if there are several of you, then you can rent a golf cart. It can hold 4+ people and you can even carry luggage. For one day you pay about 160.000 COP (about 45 €).
Your accommodation will be very happy to help you if you want to rent a golf cart or a scooter. Most of the accommodations even have their own scooters, which makes things even easier.
Boat Trips from Isla Providencia Colombia
Partly you can read information on excursions to less known islands in the surroundings of Providencia like Roncador, Serrana and Serranilla. According to our research, however, these are between 100 and 400 km away from Providencia and therefore unfortunately not an option for a day trip. But if you have more time (and probably money), one of these deserted islands might be an option for you. Please ask your accommodation or the harbour for more information.
---
Do you have any questions about our Providencia Colombia post? Or do you have had a completely different experience on the dream island of the Caribbean? Please write us a comment!
Hey, wie hat Dir unser Beitrag gefallen?