You want to spend 3 weeks in Colombia? We have everything you need to know and the best things to do in our Colombia travel guide. Colombia has not been country of most backpackers for very long (unlike e.g. Costa Rica), since it was not safe to travel a few years ago. Nonetheless, Colombia has incredible nature, deserted Caribbean islands and vibrant cities. Since we only had 3 weeks in Colombia to travel around the country, we chose the highlights of northern Colombia for our travel route. You wouldn't believe it, but Colombia is a huge country in terms of area and it would take 2 months to just see all the highlights.
And since we wanted to take it a little easier, we didn't put too many things in our Colombia itinerary. We didn't want it to be to stressful, we wanted to experience this special country properly.
Since Sabrina loves beaches and sea vacations, we chose the Caribbean coast of Colombia and visited the most beautiful cities and islands. We would like to present our Colombia itinerary to you and, if possible, also describe optional or additional cities. You could also travel this itinerary if you have 4 or more weeks.
We hope you enjoy reading our Colombia travel guide!
We are Sabrina and Andreas, two adventurous travelers who never miss an opportunity to discover the world. Whether by plane to distant countries or with our campervan Bruno, we just love to travel. We hope to give you helpful tips for your next trip on our blog.
Sabrina & Andreas
Globetrotters, Travelers, Adventurers
Instagram
Youtube
Colombia as a Travel Destination
Colombia has not been on the tourist map of most backpackers for a long time. This is not surprising, given the threats of kidnapping and drug trafficking were common in Colombia not so long ago. However, the FARC guerrilla group has had successful peace negotiations with the government for several years, which has decisively promoted peace in the country.
Thus Colombia has been a very popular travel destination for many years, not only for backpackers, but also for families with small children or single travelers. This is understandable, because although Colombia has not yet been overrun by mass tourism, there are scenic and cultural highlights to be seen that do compete with other countries in South America.
The Diversity of the Landscape
White sandy beaches on the Caribbean coast, black beaches on the Pacific coast, a total of almost 3000 kilometers of coastline. There are the Andes with snowy peaks and still active volcanoes that can reach up to 6000 meters. In addition, the coffee growing regions in the evergreen mountains and the jungle on the Amazon. The country, at least three times larger than Germany with half as many inhabitants, offers a variety of activities and landscapes for beach lovers, hikers, mountaineers and adventurers.
You can relax in the sun on unspoilt Caribbean beaches and enjoy the lush vegetation after a one-hour bus ride in the mountains at 1000 meters (e.g. in Minca) in a significantly more pleasant climate.
Colombia has everything: from the Andes to the tropics, from the mountains to the jungle. There are chaotic metropolises and flourishing landscapes, completely untouristic Caribbean islands and beautiful colonial cities.
3 Weeks in Colombia Itinerary
In just under 3 weeks we traveled the west coast of Colombia and – apart from Medellin – always stayed on the Caribbean coast. We found the time for this itinerary more than sufficient and deliberately did not stress ourselves and sometimes stayed in one place for a few days longer. We were on Providencia e.g. almost one week. You could of course reduce the travel route a little bit and make the route in just under 2 weeks. Or add a few other places in the interior of the country.
We visited the following places during our 3 weeks in Colombia:
It doesn't even sound like much for 3 weeks in Colombia, but if you take it slow and enjoy the individual places, then that's a well-chosen time. But as I said, you can also do this round trip in 2 weeks.
Day 1-3: Medellin | The Pedestrian-Friendly City
Medellin was the first destination on our Colombia trip and at the same time the most beautiful city that we have seen in Latin America. Medellin is a city of over a million people and the second largest city in Colombia, but we still felt very comfortable. Even though we don't really like big cities.
Most of the big cities that we get to know on our travels are too loud, too crowded and too dirty. But Medellin is different, somehow more pedestrian-friendly and totally beautiful to explore with its many highlights such as the Comuna 13 or the cable car that hovers over the city.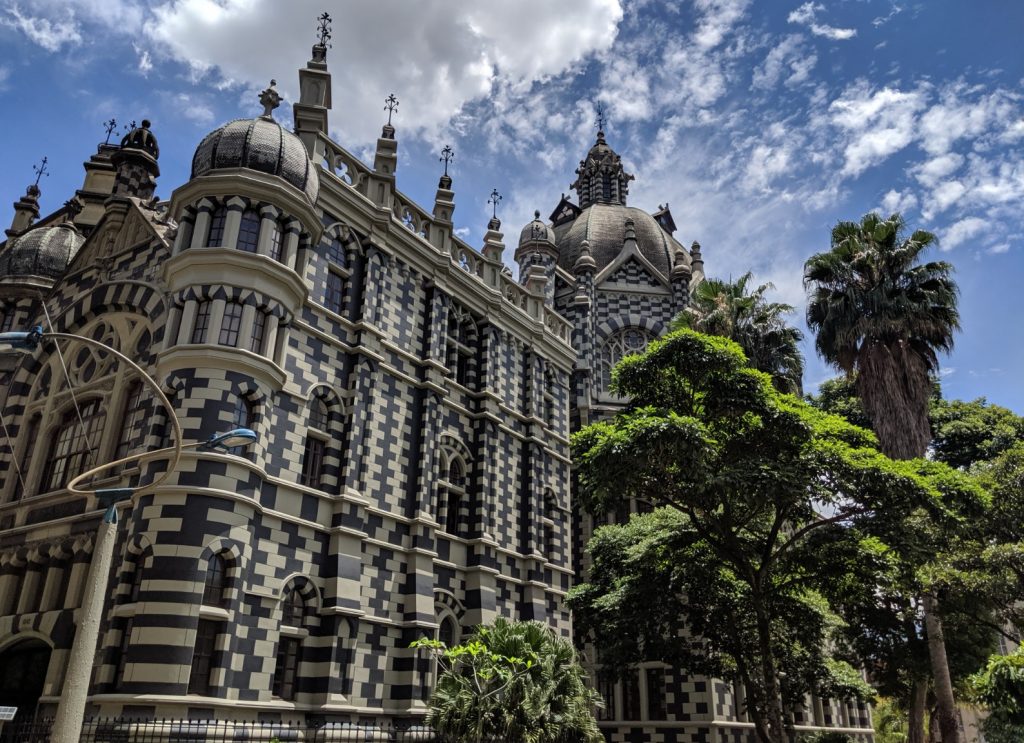 There is a lot to discover in the city and the best thing is, you don't have to take a tourist bus (which doesn't even exist) or drive back and forth to see everything. You can also just stroll through the city for a day and discover many great things.
There are many beautiful old buildings and of course the cable car that can be used to hover over the city and take an unusual bird's eye view. With it you can e.g. go directly to Parque Arvi, a nature park not far from the city center where you can hike and bike.
Parque Arvi
We never thought that there was such a great nature in the middle of Medellin. Well, of course it's not in the middle of Medellin, but you have to take the cable car up the mountain. But the ride with the cable is also absolutely amazing.
The ride with the cable car takes almost 20 minutes and you seem to float endlessly over the Arvi National Park and have a wonderful view of the treetops that you have nowhere else. Simply phenomenal. For this hovering over the forest alone, the ticket and the relatively long journey are worthwhile.
Once at the top you will find a small farmers market and after a few hundred meters the first hiking trail. Since Sabrina was unfortunately sick, we could not try any of the hiking trails, but we would have loved to do it. Because the climate up there was also much cooler and more pleasant than in Medellin itself.
Comuna 13 in Medellin
Comuna 13 was the most dangerous place in Medellin, if not the whole of Colombia, 20 years ago (see the history section below). There were daily murders and the residents could not be sure of their lives. Strolling through this district as a tourist (and even on your own without a tour guide) was out of the question.
And today? Tourists in flip-flops and sunglasses streak through Comuna 13 and take photos of the numerous graffiti that is spread across the entire district. What a change of time.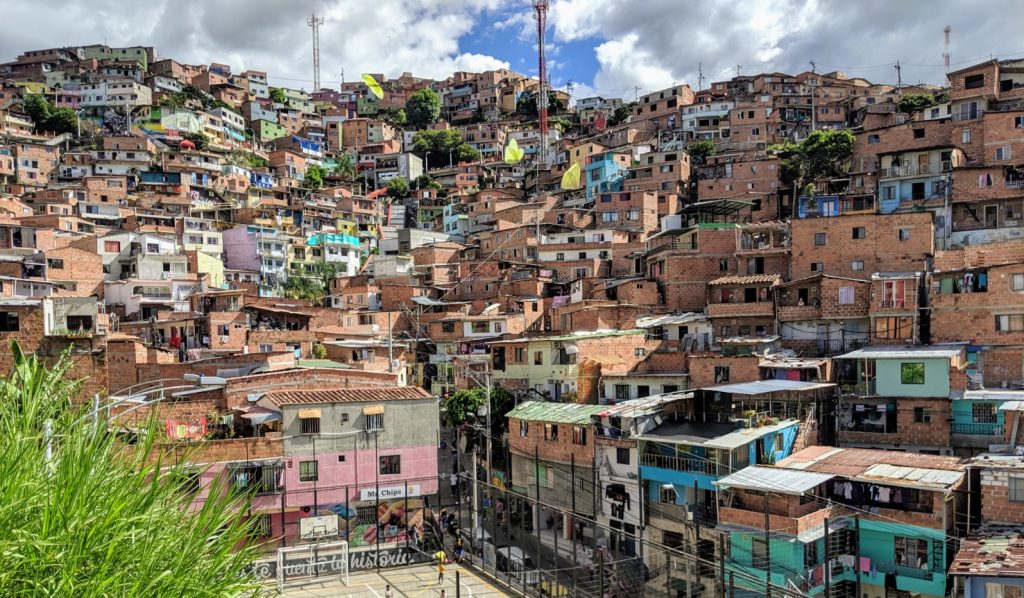 For us, the Comuna 13 (pronounced: trece) was one of the highlights of Medellin. The colorful houses, the corrugated iron roofs, the narrow streets. And the confidence in people's faces that despite the bad past, there is a better future ahead of them.
Comuna 13 is built on a steep hill. To get from the lower end of the quarter to the upper one you had to climb a lot of stairs. The newly built escalator made the residents much more agile and easier to get to the city center. The economy and living together in Comuna 13 have also been improved enormously.
If you are also interested in visiting Comuna 13 you can book a tour with a local guide* here.
Graffiti Tour at Comuna 13 | Check Prices*
Day Trip to Guatape
Another highlight can be found just around 2 hours away by bus from Medellin. We read a lot before our Colombia trip of Guatape and the mysterious rock that stretches out of a beautiful reservoir. It just looked too fantastic not to go there.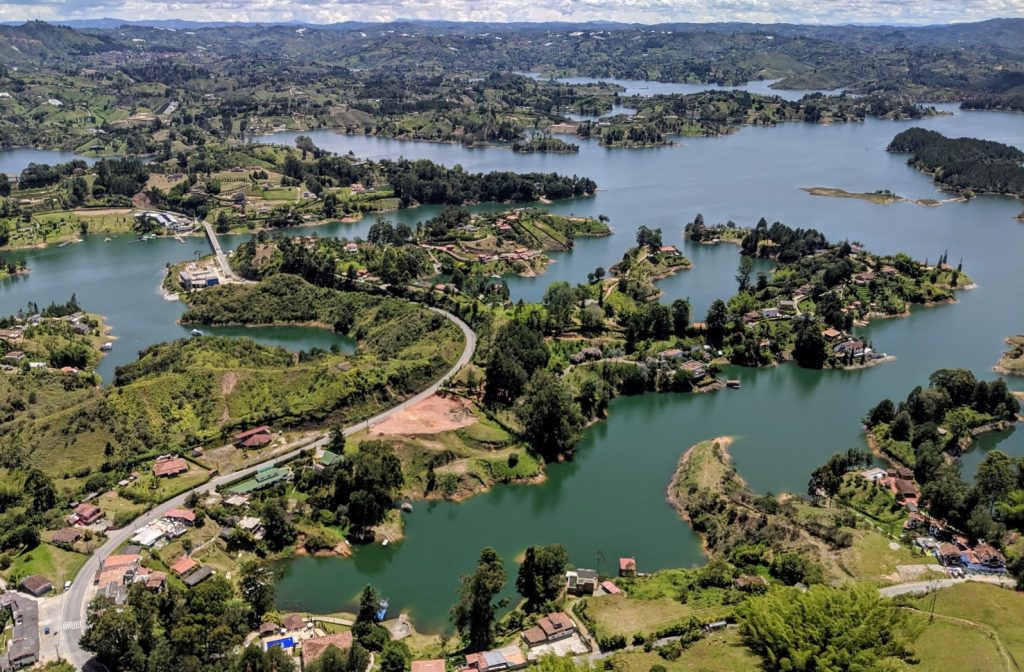 Guatape offers three Highlights: The village itself, which is quite touristy and therefore, in our opinion, was not that great. Then of course there is the famous rock El Peñol in the immediate vicinity of the village. And last but not least, the incredibly beautiful lake landscape that connects both places. This reservoir looks particularly impressive from the rock El Peñol and would have been the reason why we would have liked to spend the night in the area. Waking up in the morning with such a view must be terrific.
Day Trip to Guatape | Check Prices*
Optional: Whale Watching in the Region of Chocó
This is a stop in Colombia that we actually planned to do because we wanted to finally see whales in our lives. You can see them at certain times of the year. Choco is also the only state in Colombia that lies on both the Caribbean and the Pacific Seas. In El Valle you can watch whales particularly well, sometimes even directly from the beach.
In addition, the region is completely authentic and also covered by dense jungle, so that you can take walks through the jungle and boat trips over jungle rivers.
The best time to see whales here is by the way from July to November. There are cheap flights from Medellin and Cartagena.

Day 5-12: Providencia | Caribbean Paradise Island
On the fifth day our Colombia itinerary took us to a small, green island. Providencia lies far out in the Caribbean Sea and is much closer to Costa Rica or Nicaragua than to Colombia, to which it belongs politically.
We spent a week on the Caribbean island of Providencia. And we can rightly say that Providencia was the most beautiful of all places and islands and came closest to paradise.
At first we hesitated a bit because the journey to Providencia is not that easy … but that is what makes the island so charming. The prices on the island for overnight stays, food, etc. are slightly higher than on the mainland. But in our opinion this is justified, because Providencia is far out in the Caribbean Sea.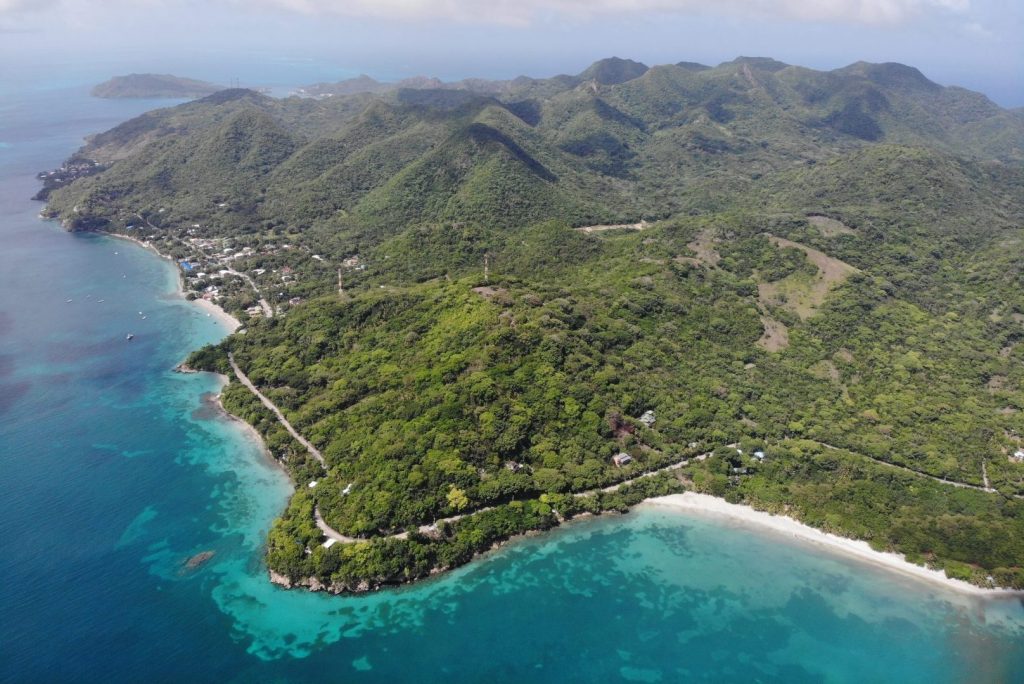 Providencia is the Paradise
You can read the following statements in many blogs and about many islands or beaches around the world: Paradise! But what does that mean when it is used as inflationarily as it is today? We probably use this term too often, too. But at least Providencia was the only place on our entire almost 4-month trip for which we would really use that term.
On Providencia we spent a lot of time on the beautiful beaches, but we were also diving, snorkeling and hiking on the highest mountain on the island, The Peak. You can rent a scooter or a golf cart on the island. The tour around the island that only lasts a maximum of 45 minutes, you won't meet many other tourists either. And if so, always the same ones.
Providencia is wonderfully untouristic. Most of the tourists who go to this region are remain on the main island of San Andres. This island is much easier and cheaper to reach. There is also a completely different vibe there, which cannot be compared to Providencia. There are no souvenir shops, no tourist restaurants on Providencia and there is only one "big" street that leads around the island.
If you want to relax for a few days and dive, hike, canoe and lie on the beach on a paradise island in the Caribbean, then you should fly to Providencia.
Day 13-16: Cartagena | Colonial Tourist Town
The next stop on our Colombia itinerary is arguably the most touristic city in the country. It is also considered the most beautiful city in Colombia with its almost 400 year old colonial buildings in pastel colors, with colorful flowers that rise up to the numerous balconies, their perfectly preserved churches and cathedrals.
Cartagena de Indias in Colombia is one of the highlights of the South American country and is visited by millions of tourists every year. The city is probably the most famous in Colombia, both among backpackers and normal tourists.
And of course there is a reason: The old town of Cartagena is one of the most beautiful in Colombia. But the city on the Caribbean Sea has more to offer, e.g. the student quarter Getsemani. All of this means that you can of course never stroll through the narrow streets alone. We want to tell you whether this is so bad and why the city is still worth a visit.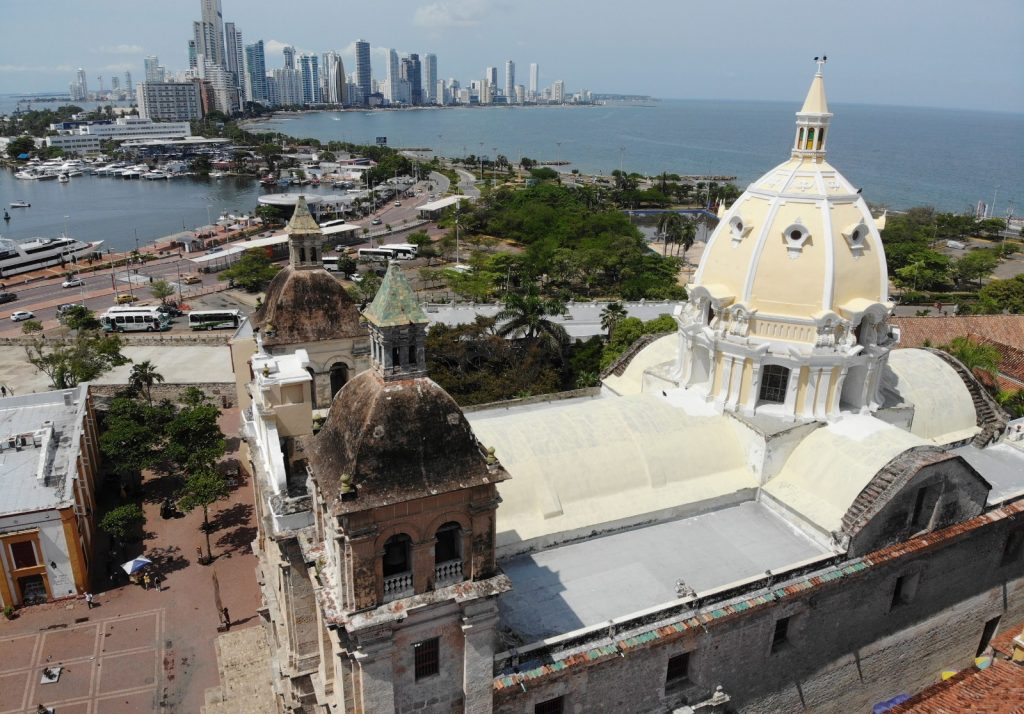 Cartagena Old Town
The old town of Cartagena is the jewel of the coastal metropolis. When one speaks of Cartagena, one usually means the old town (Centro Historico) and not the entire city… and especially not the new center with its modern skyscrapers. The old town is completely surrounded by a 13 km long city wall (Las Murallas), which was built in the 16th century to protect it from the famous pirate Sir Francis Drake. However, it took 200 years for the city wall to be completed.
The old town of Cartagena is a UNESCO World Heritage Site and consists of many small streets with brightly painted facades and cobblestones. We liked it very much in the old town of Cartagena and you can take really nice photos here. But after a day it was all a bit too much for us. Too many tourists, too many souvenirs, just too much hustle and bustle.
We liked the student district Getsemani a lot more than the old town. There are just as colorful, restored facades with huge, colorful plants that cover half the walls of the house. At every second corner, walls are painted or window frames are repainted. The neighborhood is dressing up for tourists. You notice that everywhere.
Cartagena has a variety of cheap hotels and restaurants for every taste. We really enjoyed our time in Cartagena, but after a few days we were happy to be on the road again towards nature and tranquility.
Day 17- 19: Palomino | River Tubing Between Jungle and Ocean
Palomino is a small village in northern Colombia on the La Guajira peninsula. The village is about 90 kilometers from Santa Marta and has just under 2,000 inhabitants. Backpackers in particular come here and if you want to go to the nearby Tayrona National Park, Palomino is a good starting point. But Palomino is also very well known for river tubing.
Palomino River Tubing
The main attraction and highlight in Palomino is definitely river tubing. This means you float on old rubber tires along the river to the sea. We had already done this in Semuc Champey in Guatemala and therefore knew about what to expect.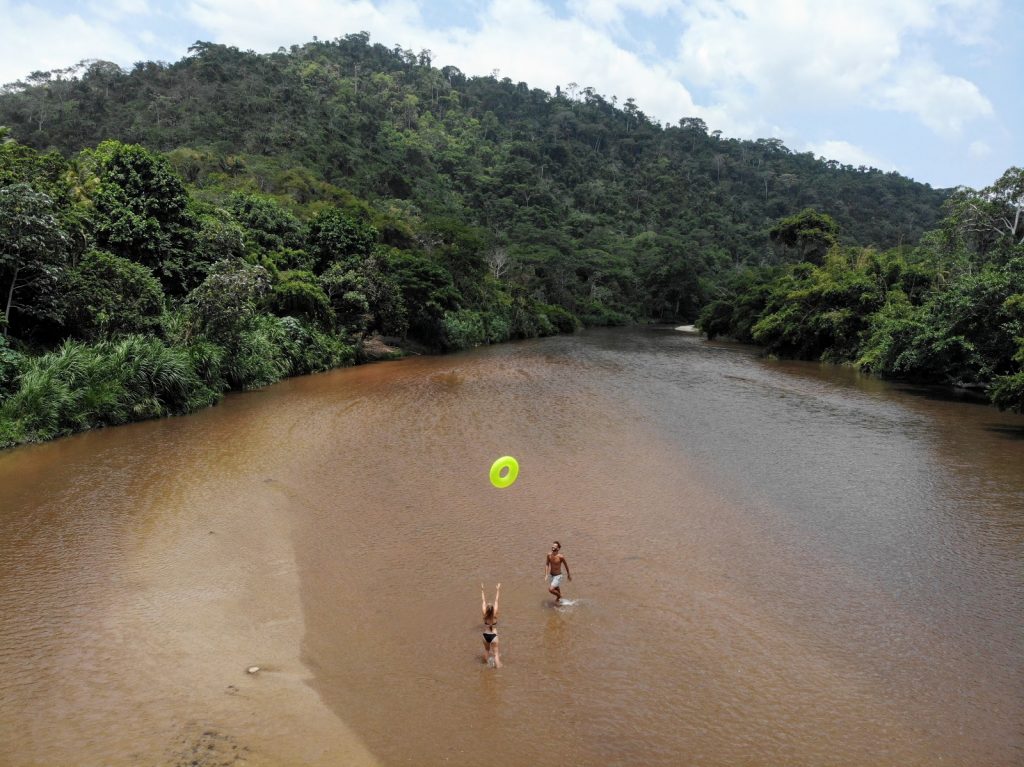 You can book this trip anywhere in Palomino and also directly in your hotel. The providers and prices don't really differ. The only difference could be whether you are in a group or e.g. only travel as a couple. If you want to float on the river alone (with a guide), you should clarify this beforehand and select your provider accordingly. Otherwise it may be that you are traveling in a group of 4-8 people.
Palomino was just a wonderful and peaceful oasis and we spent a lot of time on the terrace of our great hotel room and simply watched nature. It is very untouristic here and you can tell that the time here runs a little slower than elsewhere.
A big highlight in the region is the Tayrona National Park. It is just over an hour's bus ride from Palomino and offers beautiful beaches and great hiking trails through the jungle. You can visit this park as a day trip from Palomino and then relax in the hotel again.
Palomino Beach
The beach in Palomino is said to be one of the most beautiful in Colombia, but we cannot fully confirm this. It is miles long, lined with palm trees and in the background you can see the mountains of the Sierra Nevada. But the waves on the beach are extremely strong, which makes swimming in the sea impossible. It would be almost life-threatening to go swimming here. But the beach in Palomino is very suitable for walks on the beach.
If you want to go swimming, we would recommend the Rio Palomino. It is not very deep, but it is enough to splash around.
Day 20-22: Minca | Relaxing in the Mountains
Minca in Colombia was the last stop on our Colombia itinerary on our great trip through Latin America. The small town is hidden in the mountains of the Sierra Nevada, in some distance from the lively coastal town of Santa Marta. When we put together our Colombia itinerary, this place almost inevitably came on our highlight list. Because Minca is conveniently located on the Caribbean coast next to 2 of the biggest highlights of Colombia, the Tayrona National Park and the colorful colonial city of Cartagena.
We were very happy that we chose Minca as the end of our Colombia trip, because we had a wonderful rest in the small town and could just let our minds wander. Something you normally do on the beach. But we had plenty of that on our trip, and so the experience of nature was just good for us.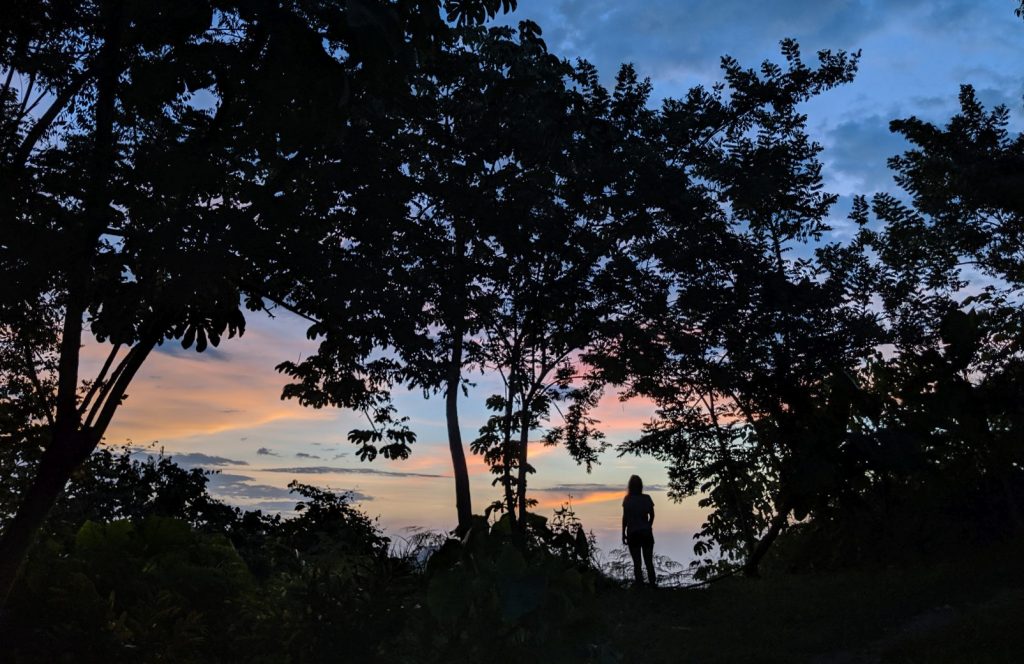 Minca is simply a complete contrast to the rest of the touristic environment, which is mostly near the sea or at least in the lowlands. Minca itself is at just under 650 meters (the higher-lying accommodations are even at 1000 meters!) Only 45 kilometers from the coast. The highest peaks of the Sierra Nevada de Santa Marta even reach almost 6000 meters, making them the highest mountains in all of Colombia.
In Minca you can hike beautiful trails, let your mind wander and enjoy nature. Minca is also the gateway for hikes in the Ciudad Perdida. We did not have the Lost City on our route, but if multi-day hikes through the jungle are your thing, you should find out more.
Mincas tourism is booming! There is not only the largest hammock in the world, but also great hikes, coffee farms, waterfalls and mototaxi rides on mogul slopes through the jungle.
More Things To Do in Colombia?
Unfortunately we only had 3 weeks, but if you have more time we have a few suggestions for you.
You could either drive further north from the Santa Marta region to the La Guajira peninsula, e.g. to Punta Gallinas. There you will experience the deserted north of Colombia with a lot of desert and dunes. Or you can head towards the Andes to the outdoor hotspot San Gil and then on to Bogota.
Further Highlights in Colombia, for which we unfortunately had no more time on our tour are as follows (seen clockwise):
San Gil: Here you can practice many sports such as: paragliding, rafting, abseiling, etc.
Sierra Nevada del Cocuy: Hiking in wonderful nature
Villa de Leyva: An original village that is still spared from tourism
Bogota: the vibrant capital.
Cocora Valley: The valley of the 60 meter high wax palms
Tatacoa-Desert: Red-brown desert landscape in the hinterland of Bogota
Caño Cristales: River in rainbow colors
Leticia: On the border with Brazil you can take an Amazon tour
San Cipriano: Small village that can only be reached by Handcar
Nuquí: from here you can watch whales and float on a river through the jungle.
Is It Safe to Travel In Colombia?
Of course, many people in Colombia think directly of drugs, cocaine, Pablo Escobar and kidnappings. So did our parents when we told them about our travel plans. And of course it's true, a few years ago Colombia was dominated by gang wars and murders, especially in Medellin, occured very often.
The History of the Drug Cartel
In Medellin's Comuna 13 district in particular, there was almost one murder per day in the 90s. Medellin was reportedly still the city with the highest murder rate in the world in 1991 and had a total of 7,000 murders.
Colombia, and especially Medellin, was entirely in the hands of the Medellin cartel. Constant, deadly clashes between drug gangs, paramilitaries and security forces, social tensions and high unemployment brought Colombia into an extremely desolate state.
Even after Pablo Escobar's death in 1993 and the associated dissolution of the Medellin cartel, crime did not go down. The unemployed contract killers were among others in Medellin bloody battles with the communist city guerrillas. Years after the cartel ended, Medellin was still the city with the highest murder rate in the world.
The situation in Colombia today
Gradually, the situation in Colombia (and especially in Medellin) calmed down significantly after the turn of the millennium. With a new mayor, a lot was invested in Medellin (and also in the rest of Colombia) and things were slowly going up. Proverbially also in Comuna 13 in Medellin, because in 2011 the famous escalator was inaugurated in Comuna 13. Since then, the living conditions of the people living there have improved enormously. After 50 years of drug and guerrilla warfare, peace in Colombia finally arrived.
Today Colombia has become a tourist destination that is not only very interesting for backpackers, but also for families with children from the USA and Europe. But of course there are still dangerous regions that should not be carelessly traveled by backpackers. One example is the border region to Panama, which is why it is still not possible to cross the border to Panama safely by car or bus.
In any case, inform yourself beforehand on the on the website of your government for current travel information.
Pickpocketing in Colombia
Of course, there are pickpockets and robberies in the larger cities. You shouldn't necessarily show your valuables (cell phone, jewelry) around openly when walking through the streets. But that actually applies to most major cities in the world.
In Medellin I was e.g. pointed out by a local woman not to show my cell phone so openly, because something like this would be dangerous. This was while I was taking photos on a large square in the city center with my cell phone. Of course I packed my cell phone away immediately and looked around, startled.
It has to be mentioned, however, that nothing happened to us on our entire trip through Colombia and that we never got into any dangerous situations.
---
Do you have more questions about our Colombia itinerary? Please leave us a comment!
Hey, wie hat Dir unser Beitrag gefallen?