Wreck diving Coron is one of the special highlights of the Philippine island. There are many shipwrecks from the 2nd World War on Coron, which are located here just off the coast. Almost nowhere in the world is such a large density of wrecks that are easy to explore while snorkeling or diving. A total of 10 Japanese warships from the Pacific battles of World War 2 lie here from the time Japan occupied the Philippines.
Within a very short time, the Japanese warships that had retreated to the coast of Coron (or Busuanga) were destroyed by the American forces. The fact that the boats were so close to the coast is nowadays a blessing for adventurous people like us, despite the macabre aftertaste.
We are Sabrina and Andreas, two adventurous travelers who never miss an opportunity to discover the world. Whether by plane to distant countries or with our campervan Bruno, we just love to travel. We hope to give you helpful tips for your next trip on our blog.
Sabrina & Andreas
Globetrotters, Travelers, Adventurers
Instagram
Youtube
The Story of the Coron Shipwrecks
On September 24, 1944, a US bomber squadron spotted a number of Japanese supply fleet hiding among the Coron islands and blew them up in no time. At the time, it was the farthest attack ever made by a U.S. aircraft carrier. The aircraft moved 340 miles away in the attack and some did not make the long return trip.
However, some were also shot down by the Japanese fleet in Coron Bay. Due to this targeted shooting down by the Americans, nowadays there are well preserved wrecks of gunboats, supply ships and also airplanes on the seabed, up to 200 meters long, covered with colorful corals and good to explore while diving.
Where are the Coron shipwrecks?
Most of the shipwrecks are located just off Coron Town in Coron Bay, making them very easy to reach from the harbor. Only 2 shipwrecks are not located in Coron Bay and are therefore rarely visited during wreck diving. You can, however, especially with an organized private diving tour clarify this in advance with your guide and drive to the shipwrecks to which you want to dive.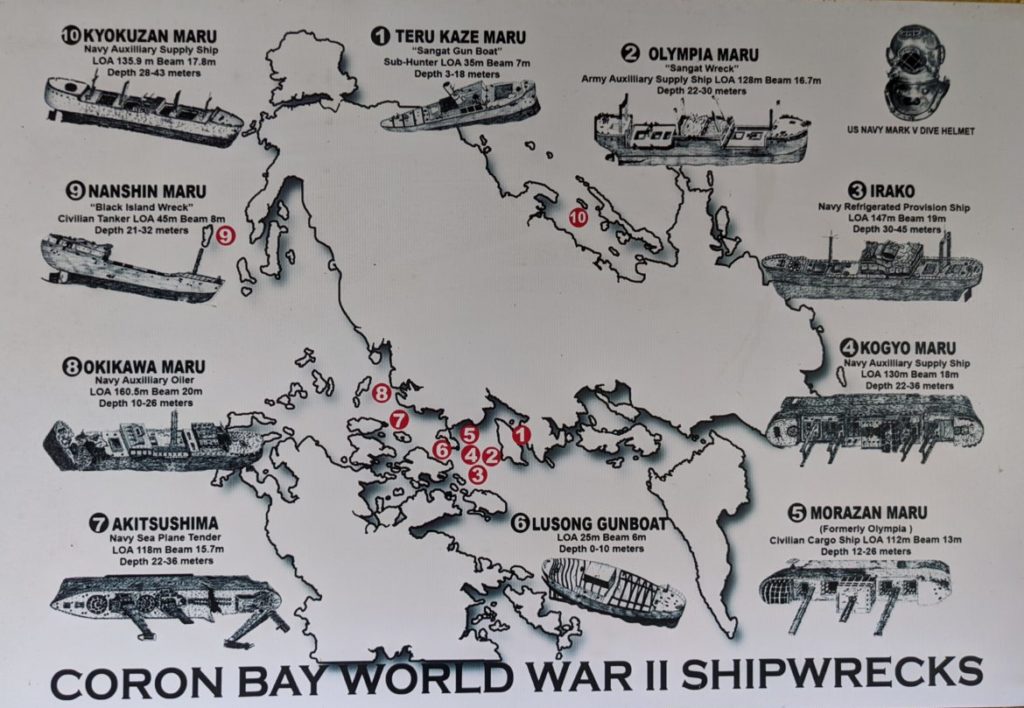 Which Shipwrecks are in Coron?
Do you want to know which wrecks you can discover while wreck diving in Coron? Here is a list of all shipwrecks in Coron:
Irako
Irako is one of the most beautiful wrecks in the Philippines and is still largely intact. It lies between 30-45 meters deep and is 125 meters long. Due to the many entry points on the ship, diving in is very easy. However, due to its depth, this ship can only be accessed by PADI Advanced Open Water divers.
Required dive level
Definitely the most exciting wreck in Coron, but due to the depth and strong current you will have to earn your dive here.
Akitsushima
This is a 118m seaplane carrier lying on the sandy bottom of the sea off Coron at a depth of 22-36m. Here you can view schools of batfish and barracuda as well as an impressive anti-aircraft gun. As a normal PADI Open Water Diver you will not be able to go here, because it is too deep.
Required Dive Level
You should be quite experienced and have dived some wrecks before to avoid problems.
Kogyo
This freighter is about 140 m long and lies at 22-34 m depth in the ocean. The large holds are full of construction materials, an old cement mixer and a bulldozer. There are rusted anti-aircraft weapons on deck, and the wreck is heavily overgrown with coral, so there is a lot of interesting stuff to see here.
Required Dive Level
Since the wreck is not super deep, it is easily accessible even for novice divers.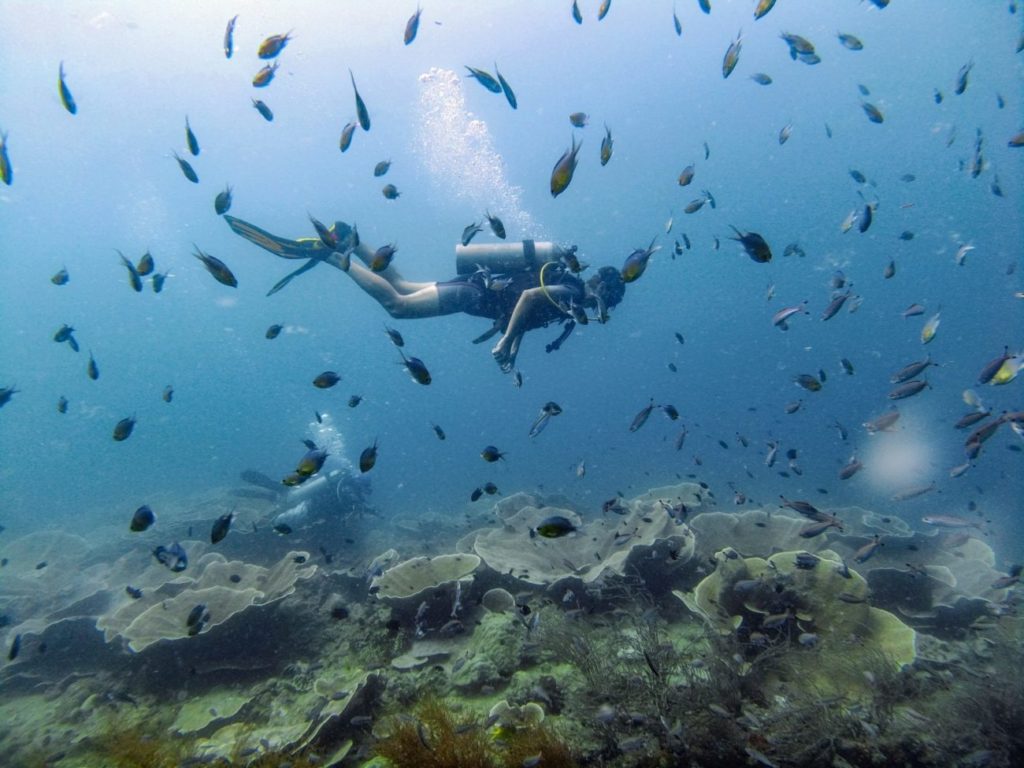 Okikawa
This 170m long tanker is the biggest and most popular wreck in Coron Bay. It is completely covered with the most colorful corals. The wreck has sunk upright to the seabed, with the main deck at about 12 meters deep, making it very easy to access even for non-advanced divers. There are many different ways to dive into the wreck and explore the ship's interior.
Required Dive Level
The currents can be very strong here, so you should be an experienced diver to dive here.
Morazan
This wreck was built in England in 1908 and captured by the Japanese in Shanghai in 1941. It has a very shallow depth of only 14 to 25 meters, making it easily accessible for beginners. Also, the shipwreck is good for practice for wreck divers as there are four very large holds that you can enter and exit in different ways. You can swim through the entire ship from front to back, which makes this wreck very popular in Coron.
Required Dive Level
There are many ways to dive through the wreck here, which makes it very interesting for experienced divers. However, the easy entry into the hold makes it very suitable for beginners as well.
Kogyo Maru
The Kogyo is one of the most beautiful wrecks of Coron and at the time of its destruction it was loaded with construction materials for a nearby runway. Inside you can marvel at many well-preserved machines and construction materials, such as cement bags and cement mixers. There are also many hard and soft corals and many barracudas. The ship, built in 1927 in Osaka, is 130 meters long and lies between 16 and 34 meters deep.
Required Diving Level
Even as a less experienced diver you should have few problems at Kogyo Wreck.
Olympia
The Olympia is a very popular shipwreck in Coron Bay because it sank upright and lies between 22 and 30 meters deep. Inside, the wreck is not quite as impressive as the other shipwrecks in the area. However, since the hold is very easy to access, the ship is often used as training for the more difficult wrecks.
Required Dive Level
The current is rather weak so even inexperienced divers should have no problems here.
Lusong
This gunboat is located near the Irako wreck and is very popular with snorkelers and freedivers, as it lies no more than 10 meters below the sea surface. Here you can see with luck turtles and definitely some corals. As a diver you don't necessarily have to go to this wreck and should rather concentrate on the deeper lying shipwrecks.
Required Dive Level
Since it is just below the surface, it is suitable for beginners or snorkelers.
Teru Kaze
This wreck is also called East Tangat and lies at a depth of 3-18 meters, making it accessible to normal open water divers. There is no clear entry point into the ship here, but outside the ship there are many metal structures that you can swim around.
Required Dive Level
The wreck is very easy to dive and reachable even for beginners.
Nanshin
The Nanshin is a 45 meter long civilian tanker and lies at 21-32 meters depth. It is very easy to dive and is home to a variety of colorful fish and corals.
Required Dive Level
The Nanshin is perfect for beginners and you can dive here very well. However, due to the depth, you cannot get here as an Open Water Diver.
Do I have to be a certified diver to go wreck diving?
For almost all shipwrecks – except the Lusong Gunboat – you must have at least a PADI Open Water Diver certification. But even with this you can only dive to 3 shipwrecks in Coron, namely Okikawa, Morazan, Teru Kaze. Since all other wrecks are more than 20 meters deep, you can only dive here as a PADI Advanced Open Water Diver.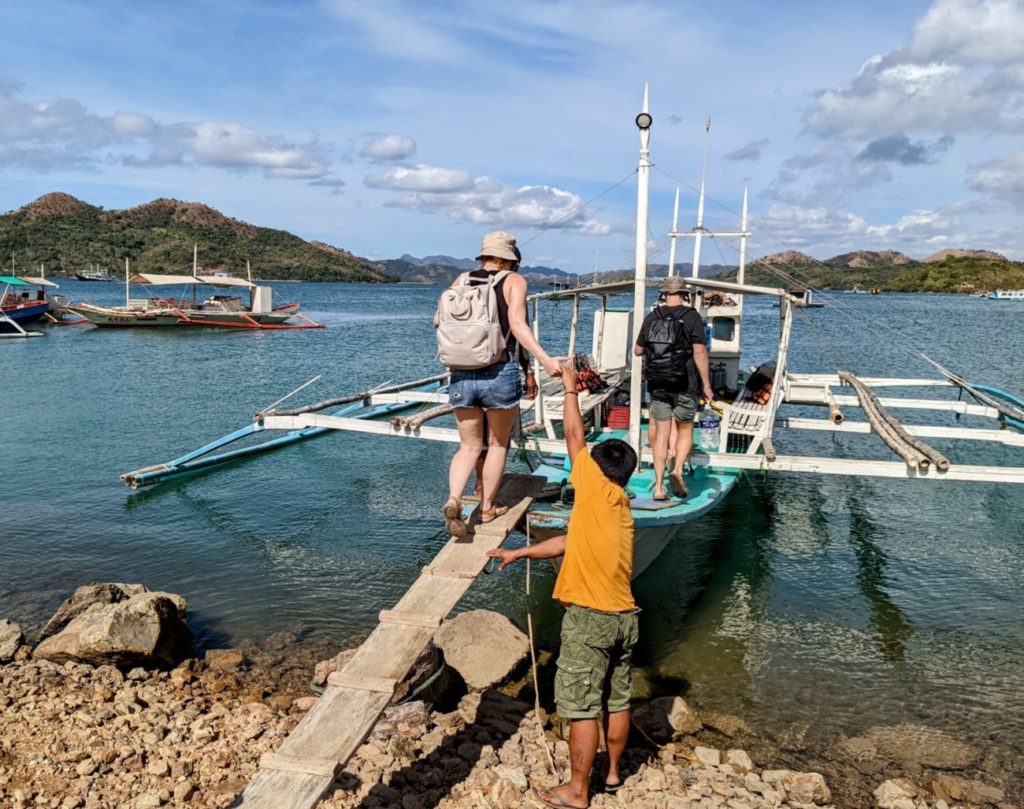 Where to book Wreck Diving in Coron?
In order to apply for your S-Pass, we would recommend you to book your dive in Coron in advance. We can recommend you the following provider*, where you can book online and cancel without any problems 24h before.
Accommodation in Coron
La Natura Resort 
La Natura Resort in Coron consists of a beautiful garden-like complex located a bit away from the hustle and bustle of Coron Town. You are in the middle of nature and far away from other tourists or the noise of the city. You wouldn't expect it, but the owners have built a wonderful resort here that you can't even imagine from the outside. 
There is a large pool, a lovingly landscaped garden and the spacious cabins are equipped with large bed and ceiling fan.
large pool with whirlpool
lovingly landscaped garden
away from the noisy hustle and bustle of the city
WLAN & breakfast included
La Natura Resort | Check Availability*
Hey, wie hat Dir unser Beitrag gefallen?