What are the best things to do in South Norway? On a road trip through Norway, there are many different highlights that you should definitely head for. And most of them are even located in Southern Norway and can be easily explored within 14 days in a road trip. We present you here the, in our opinion, best things to do in southern Norway and if you are interested you can have a look at our travelogue for a 2 weeks road trip through Norway, how to connect these points best.
We are Sabrina and Andreas, two adventurous travelers who never miss an opportunity to discover the world. Whether by plane to distant countries or with our campervan Bruno, we just love to travel. We hope to give you helpful tips for your next trip on our blog.
Sabrina & Andreas
Globetrotters, Travelers, Adventurers
Instagram
Youtube
#1 Kjeragbolten
One of the most beautiful Norway sights is this small round rock. Kjeragbolten is one OF THE PHOTOS you should have in your luggage as a Norway vacationer when you come back home. Only the bravest dare to climb onto the small rock next to which it goes hundreds of meters steeply down to have a photo taken of themselves there. I have not dared during our visit, unfortunately, because it has poured that day and the wind blew us strongly around the nose.
And I am a risk taker and I like to climb, but this was too risky for me. I felt already too weakened and on this small stone there is also nothing where you can hold on. But the hike to Kjeragbolten should definitely be part of your mandatory program, even if the hike is very exhausting. Not even in good weather. If you want to read more about the hike and our hardships, then take a look at our travel report:
#2 Trolltunga
Trolltunga is the typical Instagram photo from Norway and therefore number 2 of our Norway Highlights. And Trolltunga is also one of the biggest highlights in southern Norway. Accordingly, it is also crowded there. If you don't start hiking at 6 a.m., you'll have to stand in line for a photo at the famous Troll Tongue.
Yes you heard right: You will have to queue up for a photo. For example, I waited 45 minutes for my turn, and that was still short. Not long after I had my photo in the box, the line was a good twice as long.
The hike is also very exhausting, even if you can save the first 4 kilometers by an expensive parking lot. In total, we walked 22 km and were about, 10 hours on the road. But such a great photo you have to "buy" through many meters of altitude and of course many other hikers on the route. Where you can best park your car at Trolltunga and how we liked the hike, you can read in our travelogue:
Trolltuna Norway | All you need to know
Accommodation in Odda 
We recommend you to spend 1-2 nights in Odda, depending on what you want to do there. In Odda you have two options. On the one hand you can stay at the campsite, on the other hand in a hotel. We have selected the two best options for you.
Camping in Odda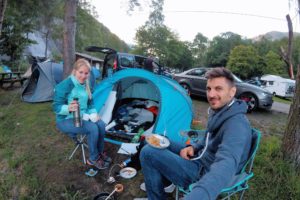 We spent the night in Odda at the local campground (Trolltunga Camping*), which is also not far from the city center. The place is usually very crowded by numerous Trolltunga tourists, but is therefore very picturesque directly on the lake Sandvinvatnet.
But you should be here early to get a free place. We were able to get one of the last tent sites with lake view. The campground also rents cabins and small rooms.
Camping in Odda | Trolltunga Camping*
Comfortable Apartments for Relaxation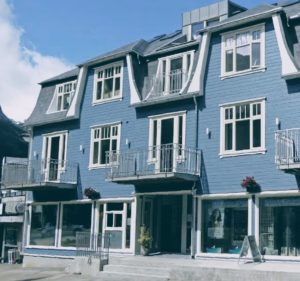 If you want to relax after the strenuous hikes we can recommend you The Blue House*. The apartments are located in a 100 year old and elaborately restored house. Here you come in and just feel at home. The small apartments are equipped with everything you need, so you can take care of yourself there.
#3 Pulpit Rock
Pulpit Rock or Preikestolen is one of the best things to do in south norway. It is rather easy to reach, which is why it can be climbed even by rather untalented hikers. Also, a scene of the last Mission Impossible part with Tom Cruise was filmed here. All this leads to the fact that the Preikestolen is very well visited. But in return you have an incredibly beautiful view, which of course you have to share with many others.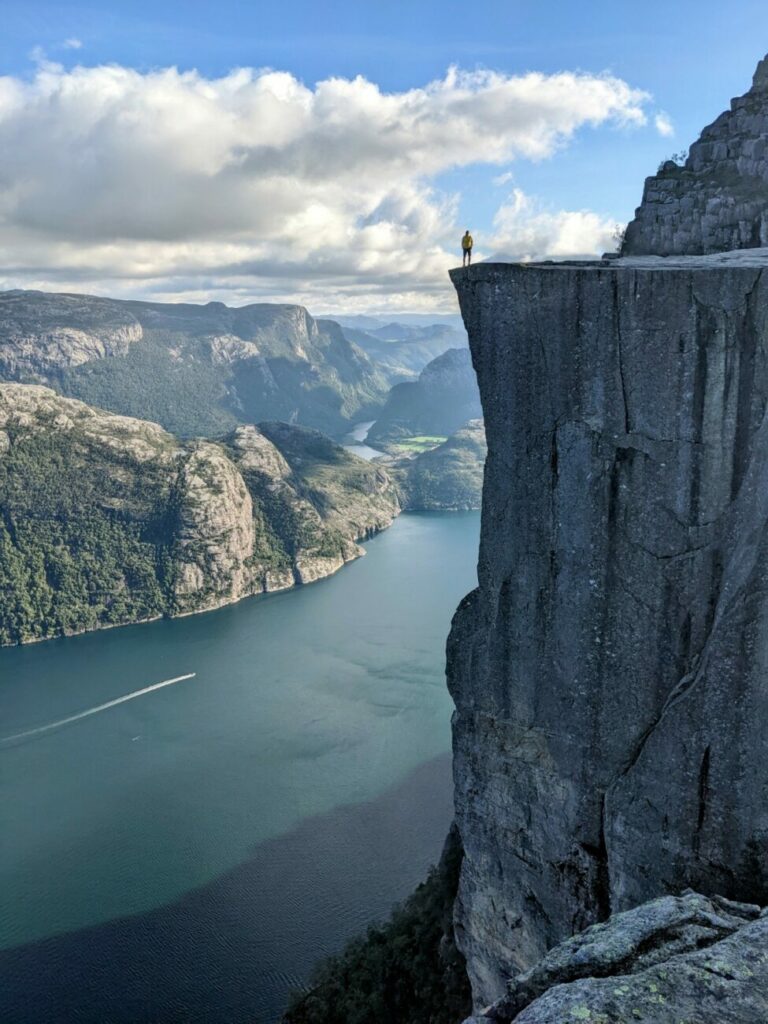 Even it was very crowded we really liked the hike to the Pulpit Rock. The hike is very diverse and also easy to walk with your dog. And the view from the pulpit rock is just amazing.
You can read everything you need to know about the hike to the pulpit rock here: Pulpit Rock Norway | The Complete Guide
#4 Naeroyfjord
The Naeroyfjord is considered to be the narrowest fjord in the world and is probably an integral part of every round trip through Norway. The more it surprised us that there is actually no place or no real viewpoint directly at the fjord.
But since we didn't want to make an expensive boat trip through the fjord, we chose a small hiking trail to see the fjord from a different perspective. Namely the Rimstigen ( link to Google Maps)!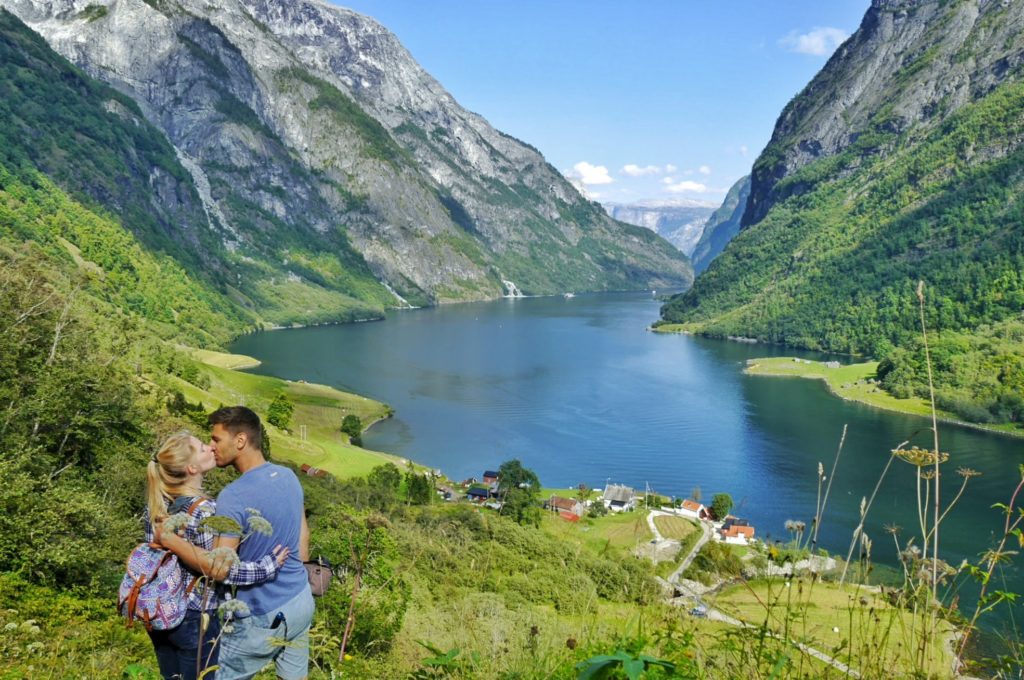 To get there, just drive past the boat dock on your left and then keep going straight, even though it looks like you're not allowed to drive along there at all. After a few kilometers you have to park on the side of the road as best you can. From there it goes more or less steeply up the mountain with very nice views of the fjord. You don't have to walk all the way to the top, because the most beautiful views of the narrowest fjord in Norway arise anyway from the road.
Hotel Recommendation at Naeroyfjord
Stalheim Hotel | Mountain Hotel with Panoramic View
Stalheim Hotel is located on a mountain and far from the Naeroyfjord and offers a wonderful view into the Nærøy valley. Right next to the hotel runs the famous serpentine road Stalheimskleiva and the nature around the hotel is just beautiful. There is Wi-Fi here, free parking and breakfast is also included. Unfortunately, it's not cheap, but the view definitely makes up for it.
Stalheim Hotel | Check Prices*
#5 Geirangerfjord
The Geirangerfjord is certainly one of the best Norway highlights in the south. The fjord is also best viewed from one of the numerous viewpoints, all located on the approach to the fjord. For the place itself is relatively small and has not really much to offer. There is usually also a huge cruise ship in the harbor and pollutes the beautiful surroundings with its constantly running diesel engine. But if you want to have an insanely beautiful view of the Geirangerfjord, we can recommend 2 points:
Dalsnibba
Here you drive up a paid serpentine road and have an incredibly beautiful view from the top and can look in good weather at 1500 meters height for kilometers into nature. The drive up costs 15 € per car, but only from there you get a 360° view of the Geirangerfjord and the surrounding mountains. Here you can find Dalsnibba on Google Maps.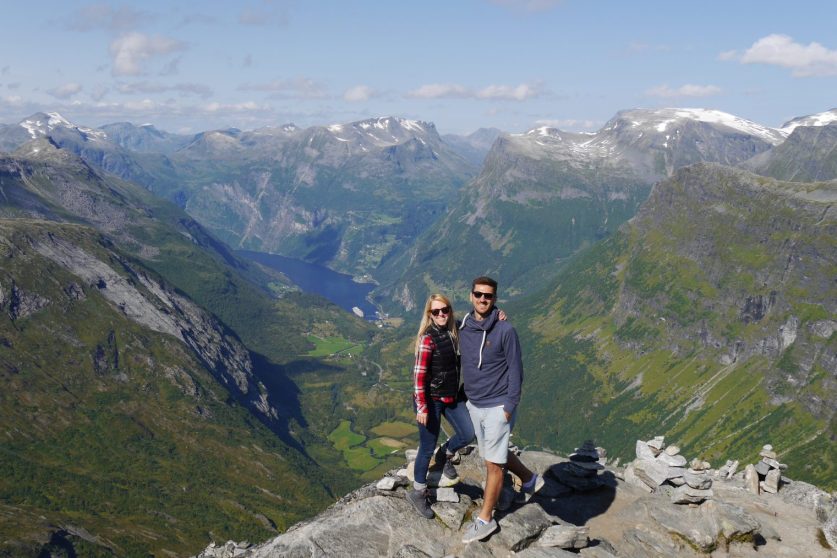 Photo Tip: Parking lot on the access road to the Geirangerfjord
If you take a little break at the parking lot just before Geirangerfjord (as hundreds of others do every day) and fight your way into a parking spot next to all the tour buses, there is a secret photo spot where you can take a really great picture.
You have to go left past the toilets at this viewpoint and then keep left again until you get to the precipice. There the photographer has to stand. The person you want to photograph has to walk along the precipice (be careful!) until just before the fence. You will get a photo like this one: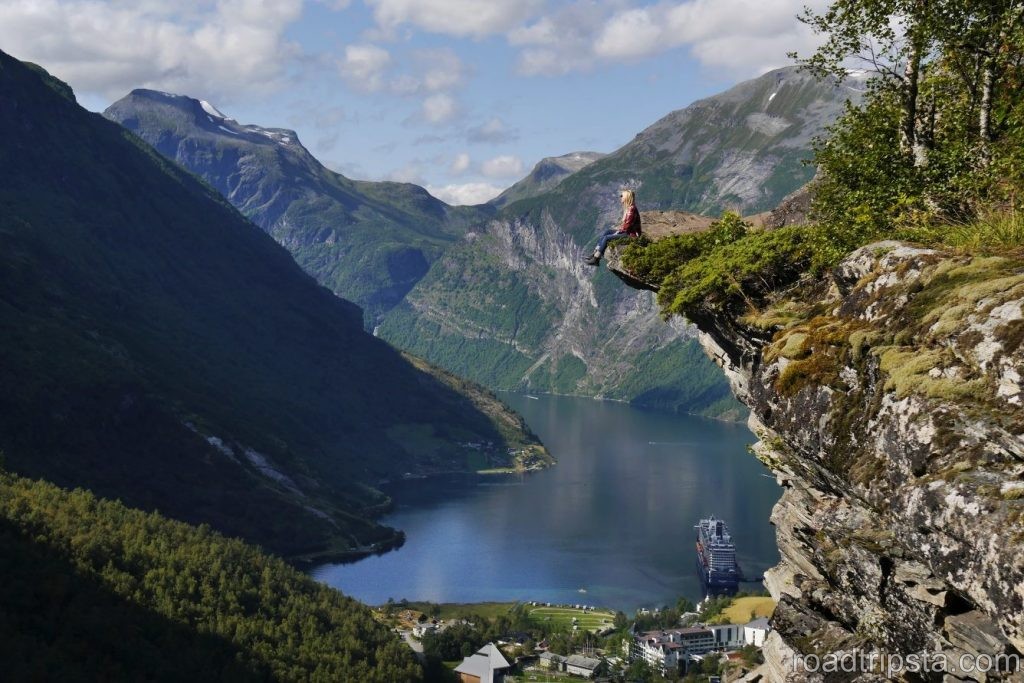 Spend the night with a view of the Geirangerfjord
Who could imagine anything better than just enjoying the view of the Geirangerfjord for hours? You sleep here in a cozy little cabin with a well-equipped kitchen. You can spend the evening on the terrace and just enjoy this amazing view.
Cozy cabin at the Geirangerfjord at Booking*
#6 Knutshoe
Knutshoe was our personal Norway highlight of our whole round trip. It is quite unknown and you meet very few other tourists here, because right next door is a much more famous sight of southern Norway: namely the Besseggen. Since we like to be among ourselves and we are rather looking for the peace and quiet in nature and less crowds, we chose Knutshoe, which is also much easier to reach.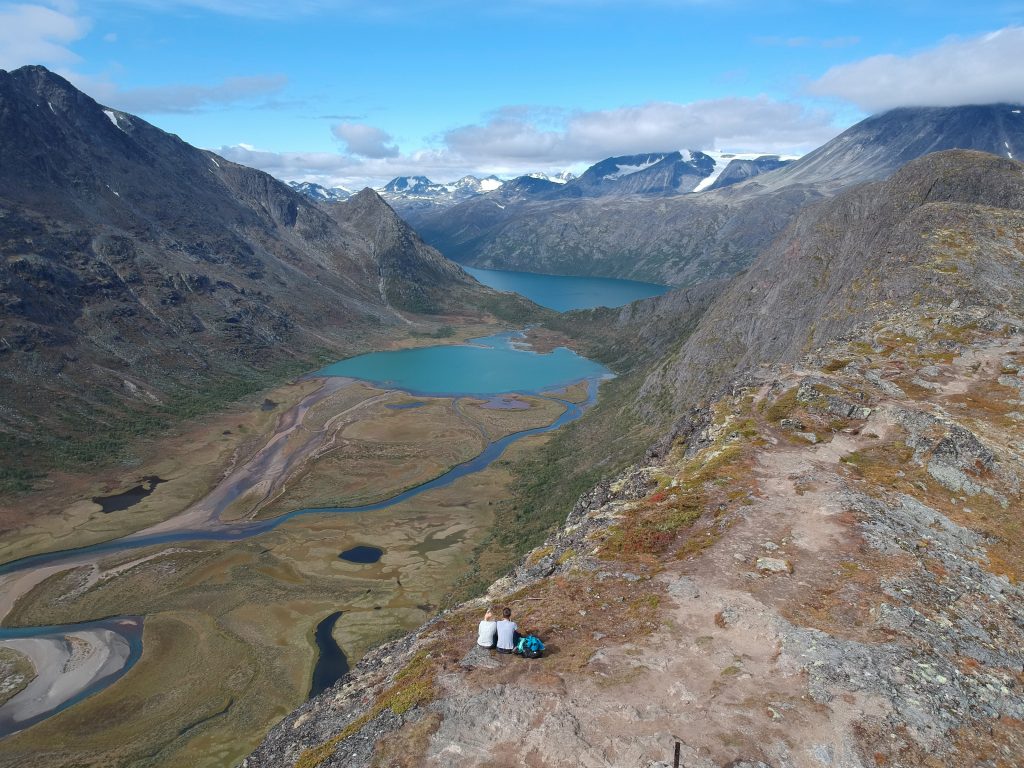 You don't have to board a boat and you can even park for free and start hiking right away. The view you have from the top is at least as spectacular as from nearby Besseggen (which you can even see from the top). And you don't have to share this view with anyone, if you're lucky. On our total 8-hour hike, we only encountered 2 other hikers. Otherwise, we were alone with nature. You can not believe how we enjoyed that and the fabulous panorama.
Stay in a Traditional Norwegian Wooden House with Modern Rooms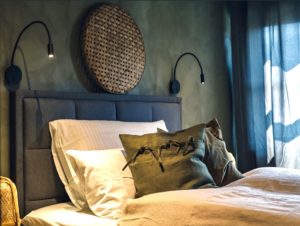 In Vågåmo, you can really enjoy yourself at the SOV Lodge*. From the outside, the accommodation is rather inconspicuous, like a normal Norwegian wooden lodge. But the interior is just a beautiful mix of modern and traditional. In addition, there is a super delicious breakfast. Feel free to plan your next 2-3 nights here.
Modern and traditional overnight in Vågåmo*
Learn more about the Knutshoe hike in our Knutshoe trip report:
---
What do you think are the best things to do in south norway? Leave us a comment and tell us about your personal Norway highlights.
Hey, wie hat Dir unser Beitrag gefallen?