Stokksnes beach and Vestrahorn mountain in the south of Iceland are among the most beautiful sights and should definitely be on your itinerary during your tour of Iceland. The sand here is pitch black and in a complete contrast to the poison green grassy hills that grow on it. Where you can park, whether Stokksnes charges admission and what are the best tips for photos you will now learn in our travelogue.
We are Sabrina and Andreas, two adventurous travelers who never miss an opportunity to discover the world. Whether by plane to distant countries or with our campervan Bruno, we just love to travel. We hope to give you helpful tips for your next trip on our blog.
Sabrina & Andreas
Globetrotters, Travelers, Adventurers
Instagram
Youtube
Vestrahorn Mountain
Mount Vestrahorn on the Stokksnes peninsula in southeastern Iceland is one of the most breathtaking mountains in the country. With peaks rising up to 454 meters, steep cliffs rising on the sides of a stunning lagoon and black sand beaches all around, it is a special treat for any nature lover. It is mostly made of gabbro (which is very rare in Iceland), a plutonic magma rock and is almost 11 million years old.
Vestrahorn mountain is a bit off the beaten path and less touristy than many other Icelandic mountains, which is why it is popular with many photographers.
There are almost endless photo spots here and the view of Vestrahorn mountain varies greatly depending on the season and weather.
The Vestrahorn mountain is located a few kilometers away from the beach from which most people take photos, but is therefore also the background of almost all photos.
Car Rental at the Iceland Specialist with Years of Know-How:
Northbound.is
compares all Icelandic car rental providers
specialized in Iceland roundtrips and the highlands
specialized insurances for the rough Iceland available
free cancellation up to 48h before start of rental period
normal rental cars, campervans, motorhomes, SUV (also with roof tent) & off-road vehicles available
Find The Best Prices for Iceland Rental Cars at northbound.is*
Stokksnes Beach
Stokksnes is the beach you see in every photo. It consists of extremely fine and pitch black sand and you almost feel like you are in the Caribbean. On this very large beach, there are a lot of smaller hills that are covered with poison green grass, creating a perfect contrast to the black sand.
You can walk around Stokkksnes beach and take great photos. Best of course with the Vestrahorn mountain in the background.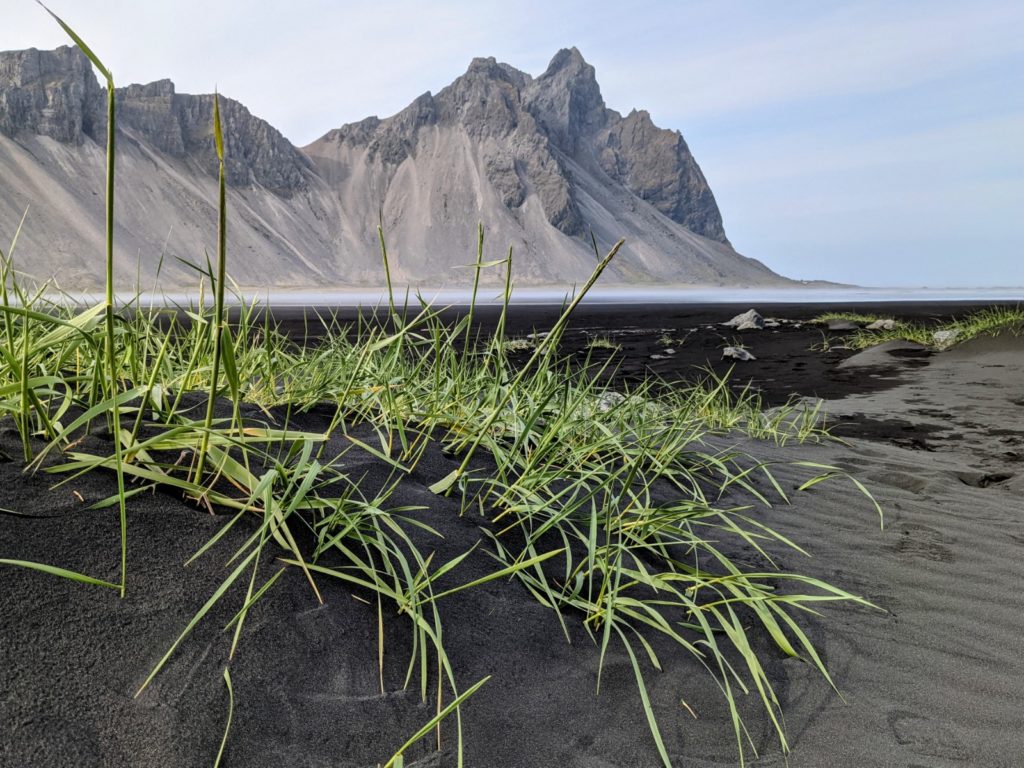 Stokksnes Peninsula also has an interesting history dating back to the 9th century, as the peninsula was one of the first settlements in the country. It was also an important base for the British Army during World War II.
Even today, a NATO radar station stands at the tip of the peninsula.
Hiking & Other Activities at Stokksnes Iceland
The main activity is, of course, taking beautiful photos. But there are also several hiking trails on the site that will take you around Stokksnes beach or even Vestrahorn mountain.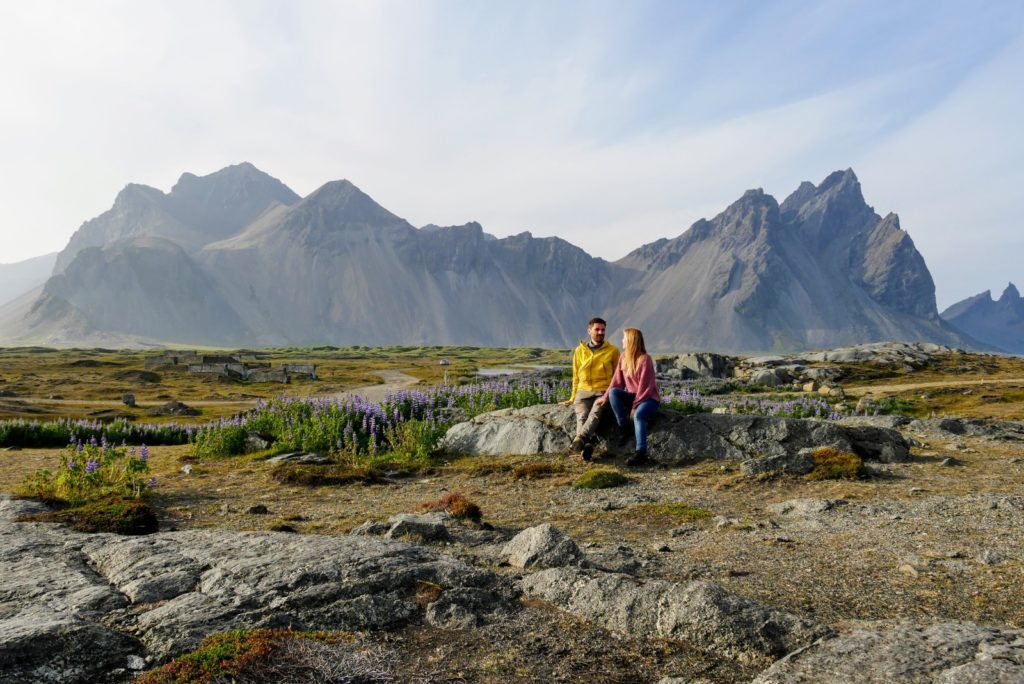 Right next to the cafe, where you also pay the entrance fee, is an old Viking village that was once built for a movie that was never made. We didn't find it that interesting, so we didn't go there.
If you drive the road to the very end, you will come to the coast where sometimes sea seals can be seen. Otherwise the coast is not very interesting. So if you don't have much time, you can concentrate on the black beach.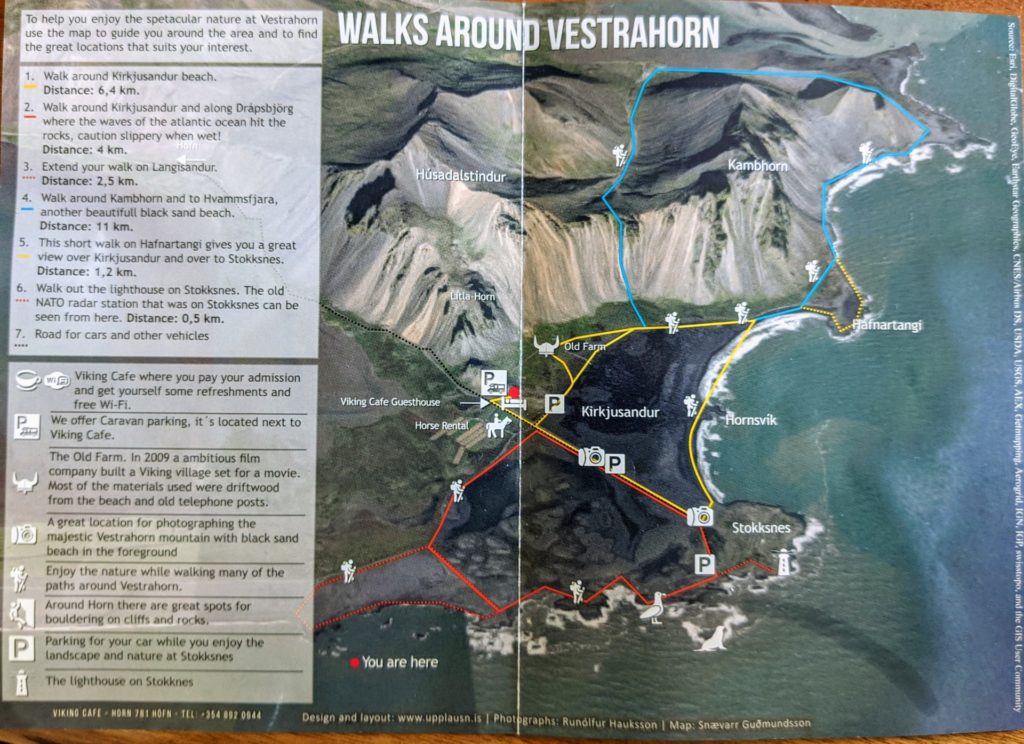 Parking & Entrance Fees
To get to Stokksnes beach you have to leave the ring road a bit east of Höfn and only one hour away from the glacier lagoon Jökulsárlón and turn onto a small side road to get to the Viking Cafe (Google Maps link).
There you will need to buy your tickets either at the Viking Cafe or at a vending machine for 900 ISK p.p. (approx. 7 $). It is not possible to walk to the beach for free, because the whole area is private property.
Then you drive through a barrier and along the Stokksnes beach. There is no real parking lot anymore, but there are several possibilities to stop at the side of the road to take pictures. If you follow the road to the end, you will come to the NATO radar station and a little to the right of it to the parking lot where you can get to the coastal section with the seals.
Tips for the Best Photos
The best photos can be taken here without wind, because then the mountain Vestrahorn is beautifully reflected in the water. The best point for photos – if you have little time – is in our opinion here directly at the grass hills (Google Maps link).
There is no parking lot, but you can park your rental car right on the side of the road and walk onto the beach.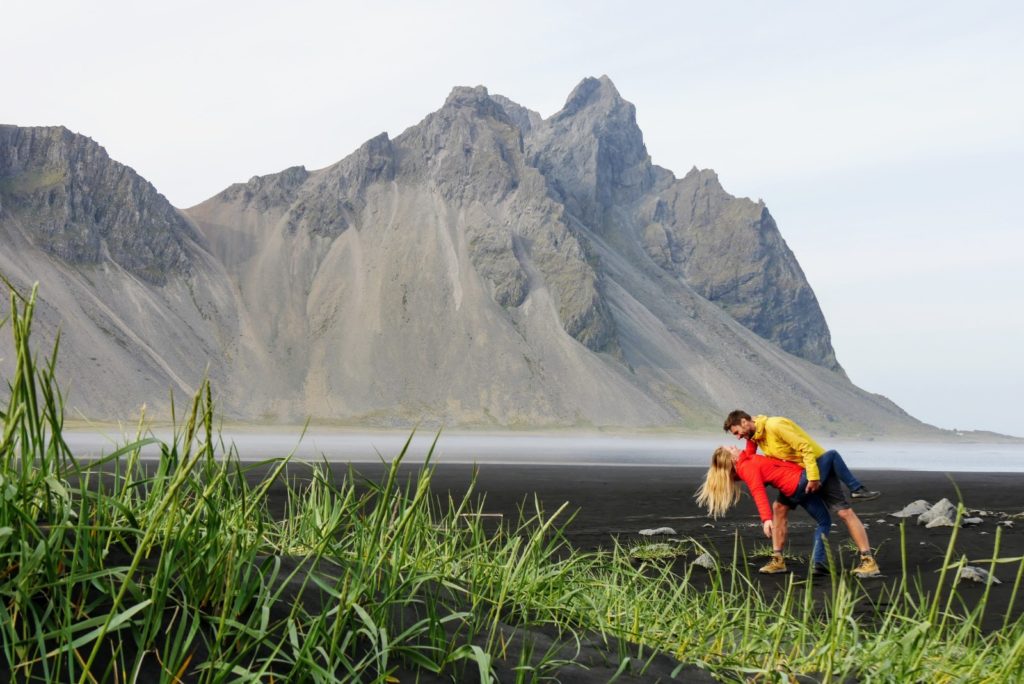 Drones in Stokksnes
It is also allowed to fly with your drone here (which is relatively unusual for Iceland) and so you also get very great aerial shots of this beautiful beach without needing a permit or anything else.
What else you have to consider when flying a drone in Iceland you can read here: Flying a Drone in Iceland | Drone Laws & Tips 2021
Hey, wie hat Dir unser Beitrag gefallen?