The Saturnia Hot Springs are probably the most beautiful and impressive thermal baths we have ever seen. Thousands of tourists are attracted to this small town in the south of Tuscany every year to take a relaxing bath in the hot springs and, of course, to take a photo or two. Saturnia, or rather the thermal bath Cascate del Mulino are really very instagramable and a photographic highlight in Tuscany. In our travelogue, we'll tell you how to get here, what the difference is between Cascate del Mulino and Saturnia, and what to look out for when visiting the thermal spa.
We are Sabrina and Andreas, two adventurous travelers who never miss an opportunity to discover the world. Whether by plane to distant countries or with our campervan Bruno, we just love to travel. We hope to give you helpful tips for your next trip on our blog.
Sabrina & Andreas
Globetrotters, Travelers, Adventurers
Instagram
Youtube
Saturnia Hot Springs | Cascate del Mulino Thermal Baths
First of all, a clarification of terms is necessary here: We are describing here one of, or the most famous thermal spring in Tuscany, located in the town of Saturnia. This thermal spring is called Cascate del Mulino.
There is another thermal spring in the vicinity, but unlike Cascate del Mulino, there is a charge for it: Terme Di Saturnia. This is a paid thermal bath/swimming pool that has nothing to do with the free Cascate del Mulino.
Here again a small summary:
Saturnia: town where the thermal springs are located
Terme Di Saturnia: Free thermal bath in Saturnia
Cascate del Mulino: Free thermal spring in Saturnia
However, since the name Saturnia has become generally accepted for the free Cascate del Mulino spring, we will continue to use it synonymously. The name is only important for the journey, because you have to follow the right road signs. But more about that later.
Cascate del Mulino
The thermal spring Cascate del Mulino is a publicly accessible thermal spring from which 37 degrees warm water flows. This sulfurous water comes from the slopes of nearby Monte Amiata. There, rainwater seeps down to a depth of 200 meters and accumulates sulfur.
30 kilometers further on, the water comes to the surface in the town of Saturnia and 800 liters of water per second pour down a small waterfall (hence the name Cascata – Ital. for waterfall) into the Cascate del Mulino. The thermal spring looks so picturesque and beautiful that you could think it was artificially created, but here everything is completely natural.
Over the millennia, natural sinter terraces (limestone pools) have formed, in which you can nowadays bathe wonderfully. The wonderfully warm water not only looks very inviting with its turquoise blue color, it is also very good for the skin with its high content of calcium, magnesium & sulfur.
We really enjoyed spending a few hours here and just relaxing in the warm and bubbling water.
Caution: Small red worms in the water
If you bathe in the pools, you will probably also make acquaintance with many small worms cavorting in the water. These are mosquito larvae that have chosen the hot springs as their habitat. They just like it warm, too. The worms may look a bit disgusting at first sight, but they are totally harmless and won't hurt you.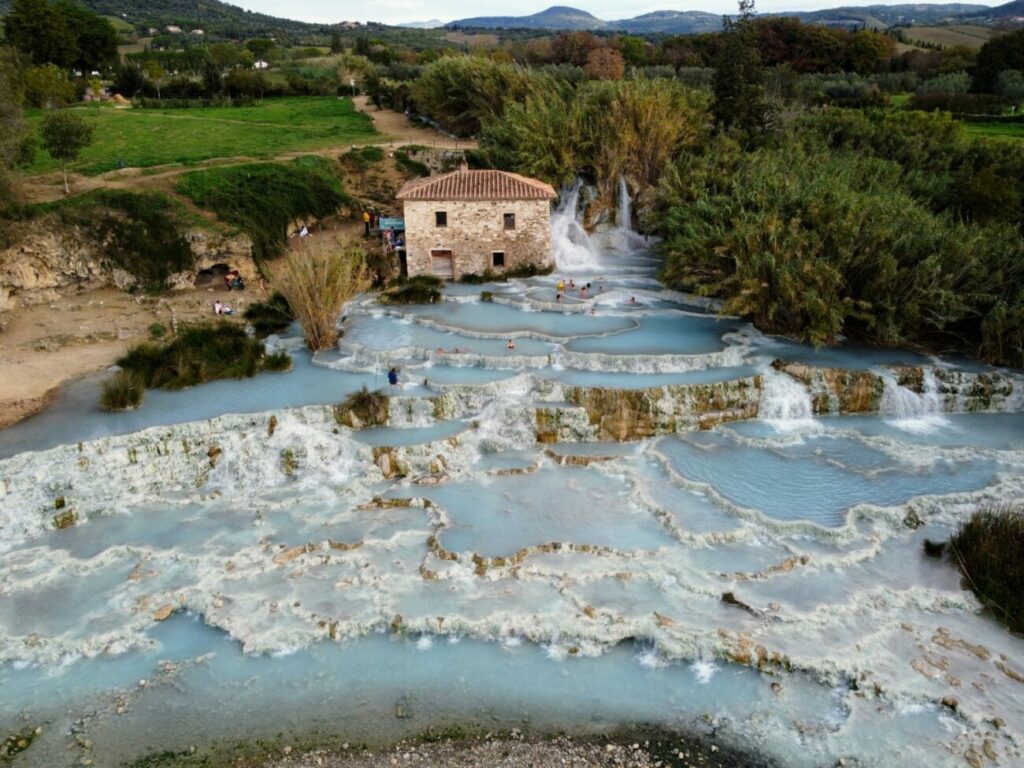 Saturnia | How to get there?
If you want to go to the hot springs Cascate del Mulino it is important to follow the right signs. From a greater distance you can follow the signs in the direction of Saturnia.
However, when you get close to the small town it is important to follow the signs to Cascate del Mulino and not to Saturnia itself or to the Terme Termi di Saturnia, for which you have to pay. Otherwise you will end up in the wrong place
You can find the paid parking lot here on Google Maps.
Accommodation Recommendation for Saturnia
In Tuscany there are beautiful hotels and also in Saturnia there is an accommodation that we would like to recommend to you: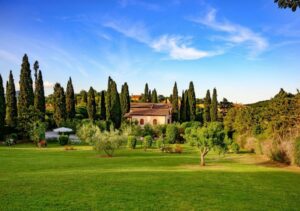 B&B Villa Giulia in Saturnia
– Located directly in the town of Saturnia only 1.5km away from the hot spring
– free & rich breakfast
– in a park like area
B&B Villa Giulia | Check Prices*
Saturnia | Entrance Fees & Opening Hours
Fortunately, the thermal springs Cascate del Mulino are completely free. Therefore, there are no opening hours, but you can enjoy the hot water here 365 days a year from morning to night (and if you like even at night).
Terme di Saturnia (the paid alternative)
If you want to visit a real swimming pool, which is also fed by the sulfur water of the hot spring of Saturnia, then you should go to the Terme di Saturnia. This is a normal swimming pool and has nothing to do with the hot spring Cascate del Mulino.
You can get tickets from 19 € on the official website.
Tips for Visiting Saturnia
Changing Rooms & Toilets
Since the Cascate del Mulino hot spring is completely free, there are no amenities here either. So there are no changing rooms and no toilets either. You have to change with a towel around your waist and go to the toilet in the hotel.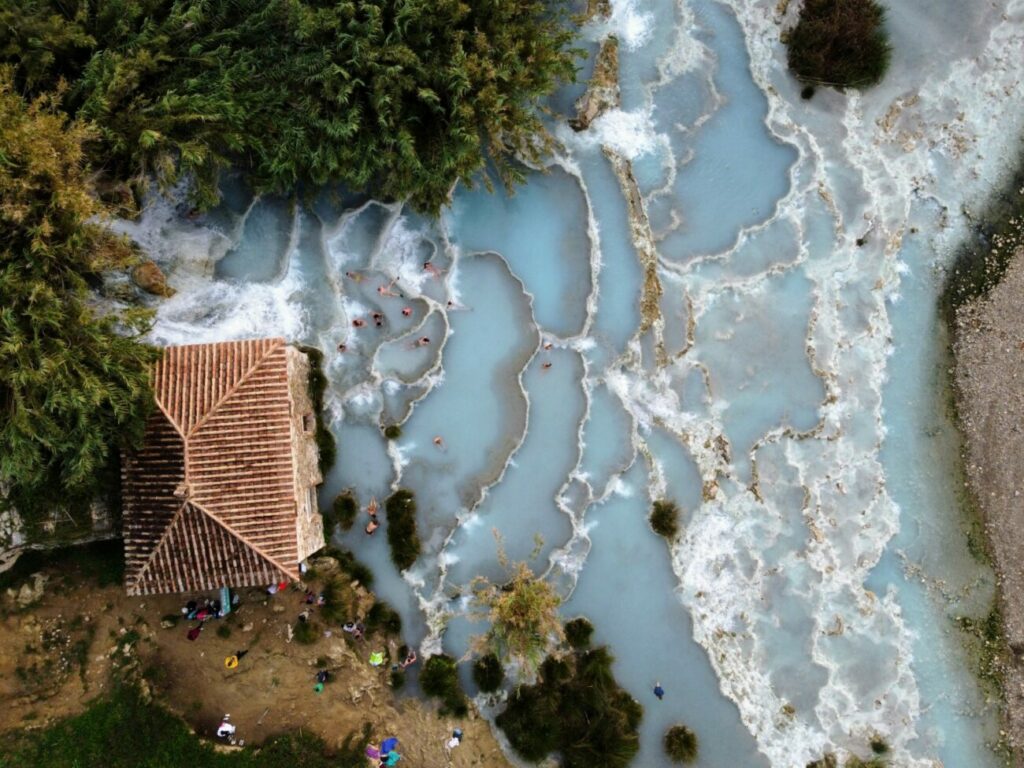 Best Time to visit Saturnia
Since the thermal spring is free of charge and also has no fixed opening hours, you can travel here all year round. We find it most beautiful when the water has a strong temperature difference with the air. We were at the spring in early November and really loved it.
In summer, when temperatures can easily reach 30 degrees, the temperature difference is of course not so big. Still, it's fun in the summer, of course. But it will also be much more crowded than in the off-season.
No matter if you want to go to Saturnia in summer or in winter, you should come in the early morning or in the evening. Then you still have the opportunity to be relatively undisturbed.
Tips for Undisturbed Bathing
You will never be alone at the hot springs of Saturnia, unless you come in the middle of the night. But there is a little secret tip if you want to be a little more undisturbed. Just follow the spring a few meters in the direction of the road.
There the water flows in a stream about 1 meter wide to the waterfall and here you can swim just as well, but are with a little luck alone. You can find the place here on Google Maps.
Parking at Cascate del Mulino
There is a large paid parking lot just 200 meters from the entrance to the hot spring. Here you can park all day for 2 Euro per hour and the parking lot is even guarded.
Attention: Only cars and motorcycles are allowed to park here, for campervans and motorhomes the parking lot is forbidden! More about this in the next section.
Parking with a Campervan at Saturnia Italy
As written above, it is unfortunately forbidden to park in the official parking lot with anything other than a car. So with a camper van or motorhome you will have problems to find a parking place. There are no other official parking possibilities on the whole road before and after the hot springs. There are only a few parking options that you can find in the Park4Night app.
If you want an official pitch or parking lot then there is a real campsite about 2 km away from the hot springs, which costs from 16€/day. You can also park only 4 hours for 8 euros. You can find the campground here on Google Maps.
Hey, wie hat Dir unser Beitrag gefallen?