The small town of Paleokastritsa is one of the most beautiful places on the Greek island of Corfu. Although Paleokastritsa is quite touristy, it is worth visiting or even booking accommodation here, because you can discover and do a lot. In Paleokastritsa you can discover several small bays and beaches within walking distance, go snorkeling, rent SUP or pedal boats and just spend the whole day at the blue sparkling sea. What are the best things to do and best beaches of Paleokastritsa you can read in our report.
We are Sabrina and Andreas, two adventurous travelers who never miss an opportunity to discover the world. Whether by plane to distant countries or with our campervan Bruno, we just love to travel. We hope to give you helpful tips for your next trip on our blog.
Sabrina & Andreas
Globetrotters, Travelers, Adventurers
Instagram
Youtube
Where is Paleokastritsa located on Corfu?
Paleokastritsa is a popular place on the west coast of Corfu. The region consists of two peninsulas with many bays, which can be reached partly by foot, but also partly only by boat. Paleokastritsa has no village center. Rather, the accommodations, taverns and stores are distributed along the main street lined with cypresses and olive trees, so that the actually touristy place has a relaxed atmosphere.
The crystal clear waters along the coast of Paleokastritsa are ideal for swimming or water sports. There are also caves to be discovered along the jagged rocks. Thus, although the place is so small, it has a lot to offer.
Hotel Recommendation in Paleokastritsa
Angels Pools Studio and Apartments on Corfu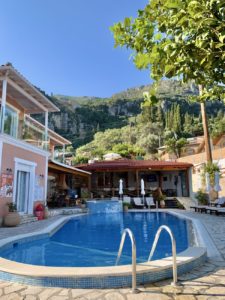 In this charming accommodation* in Paleokastritsa you will stay in beautiful apartments with a great pool and view of the mountains.
Even though the town of Paleokastritsa is rather touristy, you have your peace and quiet here and do not get much of the hustle and bustle on the main beaches. Nevertheless, the accommodation is super central and restaurants, supermarkets and the many beautiful bays of the place are within walking distance.
cozy apartments
great pool with view to the mountains
restaurant and bar
central location
Angels Pools Studios and Apartments | Check Availability*
Things To Do in Paleokastritsa
Our starting point was Paleokastritsa in the northwest of the island. The place is quite touristy, which is especially noticeable when visiting the main beaches. Nevertheless, we felt very comfortable in Paleokastritsa, because you can do a lot even without a vehicle.
There are several bays with crystal clear water to discover, viewpoints on the rocky west coast, an enchanting little monastery and lots of water sports. Also stores for strolling, restaurant and supermarkets can be found on the main street.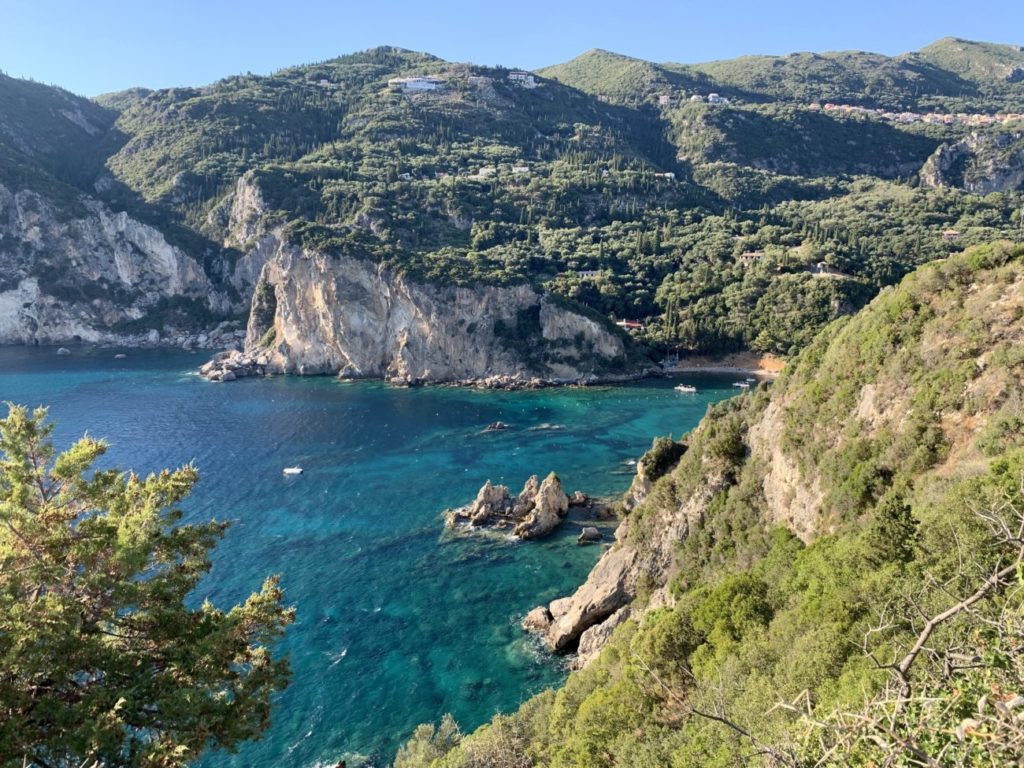 Paleokastritsa Beach and Bays
In Paleokastritsa you can discover a lot in walking distance, so that you can spend several days without leaving the place. Of course, the beautiful beaches and bays are the main attraction in Paleoastritsa.
Agia Triada Beach
Agia Triada Beach is probably the beach most likely to attract tourists. There are two modern beach clubs on this beautiful pebble beach. The beach is lined with sun beds and umbrellas. You will get your drink brought to your lounger, have changing rooms and showers available.
The beach itself is beautiful and the water is just perfectly turquoise and clear. But that's exactly why it's really crowded. If you want to experience the beach in peace, a visit in the early morning or evening is recommended.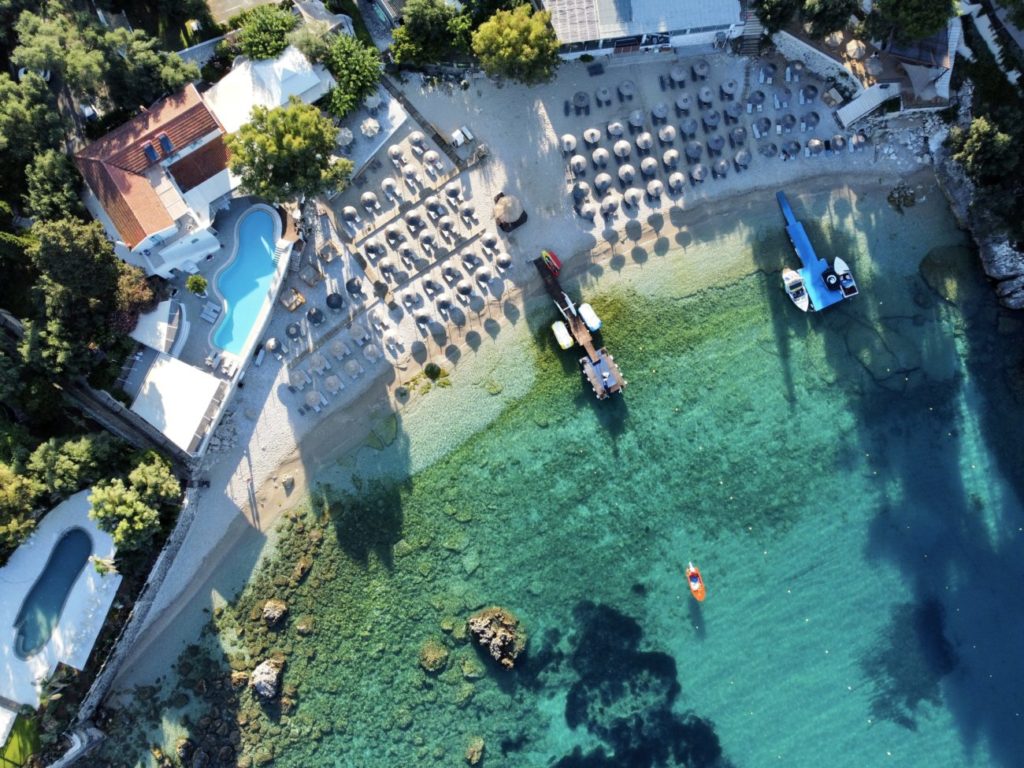 Spiros Beach
We discovered Spiros Beach rather by chance. A small inconspicuous staircase along the main road leads down to this small hidden beach. The bay is very narrow, so there is only room for a few people. But there are also some things to discover under water. So pack your snorkel gear to check out the underwater world here.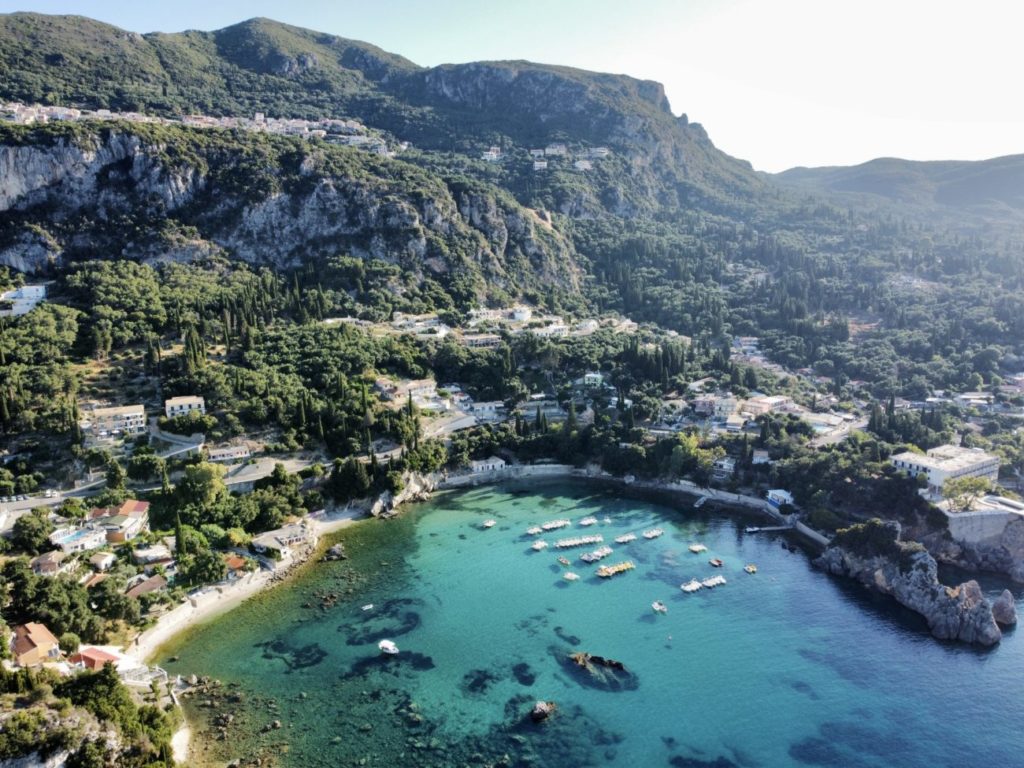 Small Beach at the Harbor
Also at the harbor of Paleokastritsa you will find a small beach, which is also rather less visited. Here you have a little peace from other tourists but must live with the arriving and departing boats. Most of the boats that can be rented for boat tours are located here. For this you will also find here rather a sand instead of pebble beach.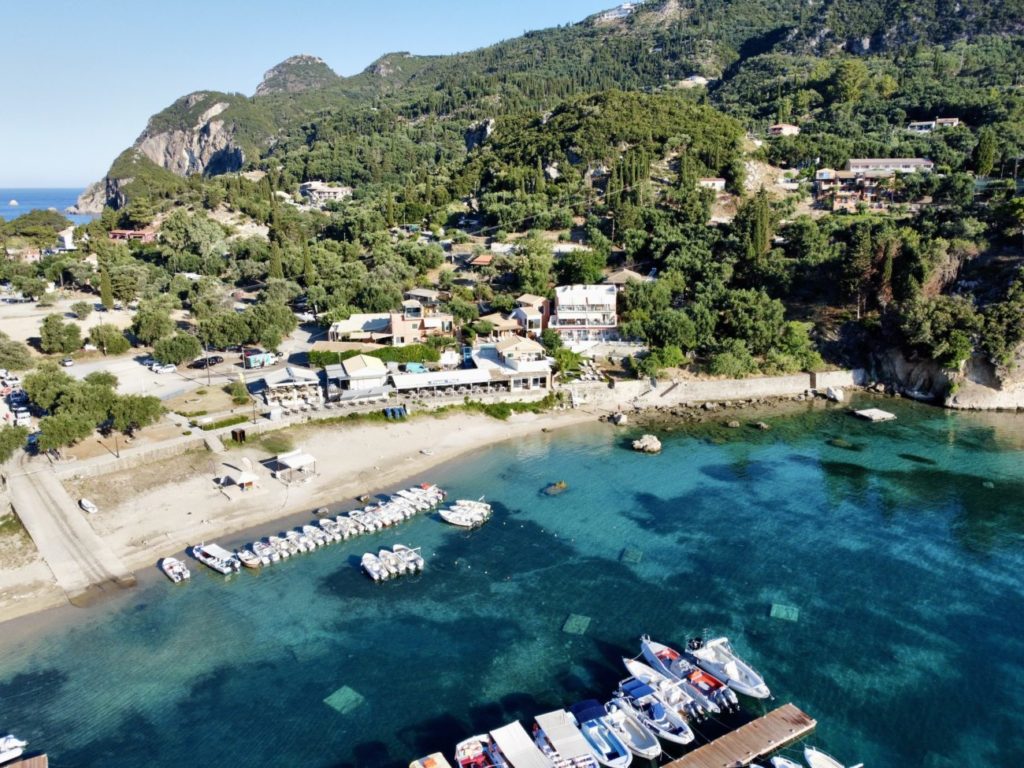 Agios Spiridon
This is the second main beach in Paleokastritsa which is clearly designed for tourists. There is a beach club and a wide range of water sports. Whether standup paddle, pedal boat or boat tours. Here you are offered everything you can do on the water and the bay is a good starting point for a boat tour to visit some caves.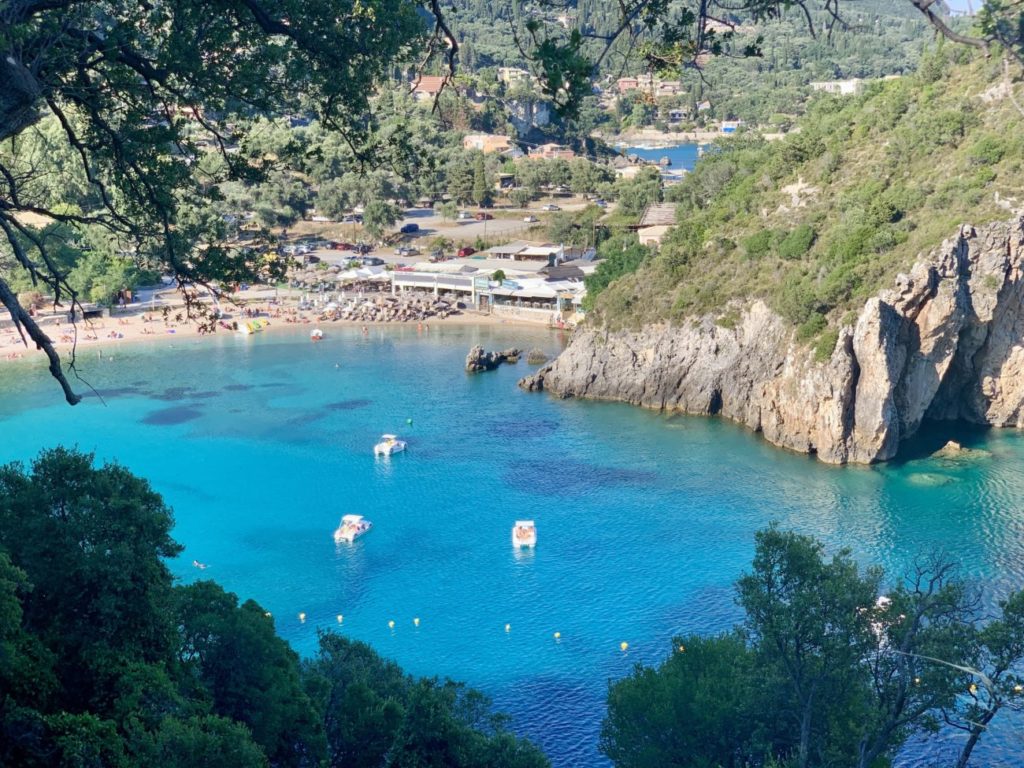 Agios Petros Beach
Agios Petros Beach is located right next to Agios Spiridon Beach, but it is much smaller. From here you can reach the stores and restaurants just as well as from Agios Spiridon. Just look where you like it best and spread out your beach towel.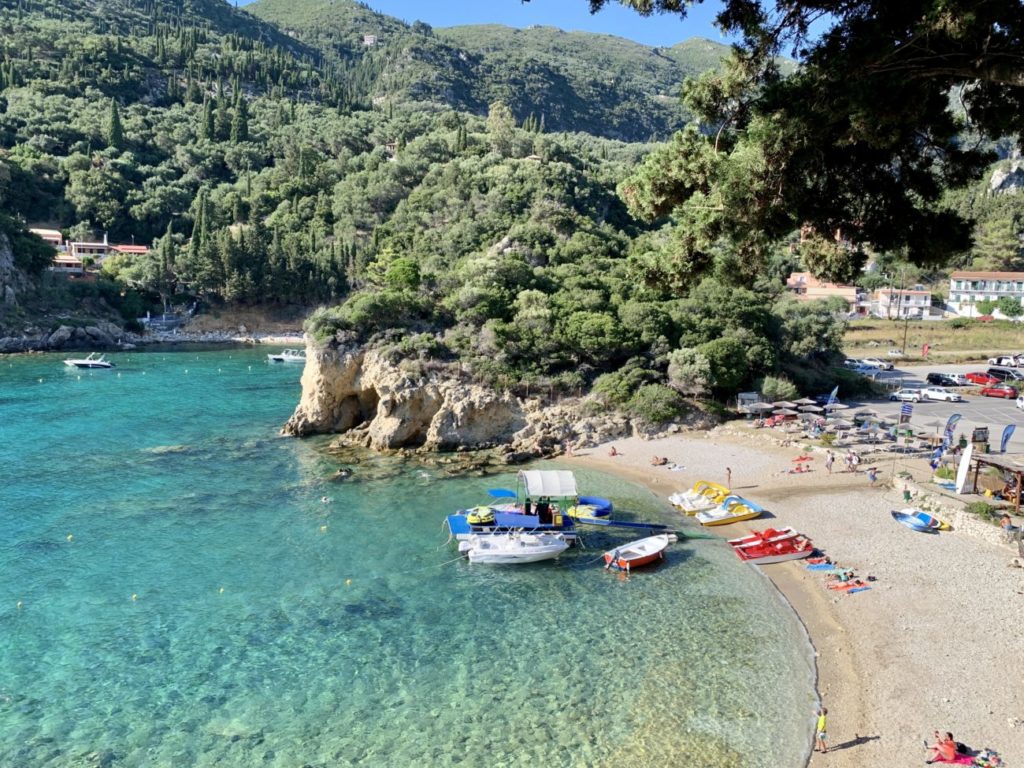 Ampelaki Beach
Ampelaki Beach is hidden behind the Agios Petros Beach. Just follow the path around the rocks and you are at the small Ampelaki Beach. Here you can also rent some umbrellas, sunbeds, small boats, pedal boats and SUPs.
We rented a pedal boat here once and SUPs again later. These cost 10 euros per hour. We had a lot of fun exploring the bay and jumping into the crystal clear water again and again.
Caves in Paleokastritsa Corfu
If you take a boat tour in Paleokastritsa or go by SUP or canoe, you will see beautiful grottos and caves along the rocky coast again and again. To this, different tours are offered at the different beaches or also at the main road, which lead you to the cave and partly also into the caves.
The most famous is the Blue Eye Cave. At the foot of the sandstone cliffs you can snorkel in the bright blue water of the caves and discover the great underwater world.
Paleokastritsa Monastery
If you have spent enough time at the sea and need a little change you can visit the small monastery on the hill in Paleokastritsa. We didn't really know what to expect there and were totally surprised how beautiful it is.
The small monastery is incredibly beautifully landscaped and colorful flowers bloom everywhere. At every corner there is a beautiful photo spot to discover.
Admission: free of charge
Opening hours: 7 a.m.-1 p.m. and 3 p.m.-8 p.m. daily
Viewpoints
When you visit the monastery on the hill in Paleokastritsa, you should also visit the viewpoints. You can get to the first viewpoint by going through a small metal gate to the right of the monastery. The gate is a bit overgrown and at first we were not sure if this is the right way. But is it. Just follow the path to the end.
The second viewpoint is a bit behind the restaurant. Follow the path to the right of the restaurant. At the end of the path there is a small trail that you have to follow. At the end you will come to a viewpoint of the beautiful cliffs and bays. Both paths are also listed in the app maps.me.
Day Trip by Motorboat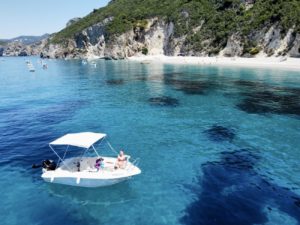 One of our absolute highlights on Corfu was a day trip by motorboat. In Greece, you are allowed to rent a motorboat with up to 30 km/h even without a license.
The whole thing is expensive fun, but also a unique experience and worth every penny. We paid for the boat in the high season 120 Euros for the whole day (9.00-18.00 clock) plus 25 Euros for gasoline.
With the boat you can go to different beaches and bays, drop anchor and just relax on the boat or jump into the water again and again. The day was just gorgeous and we do not want to miss this great experience.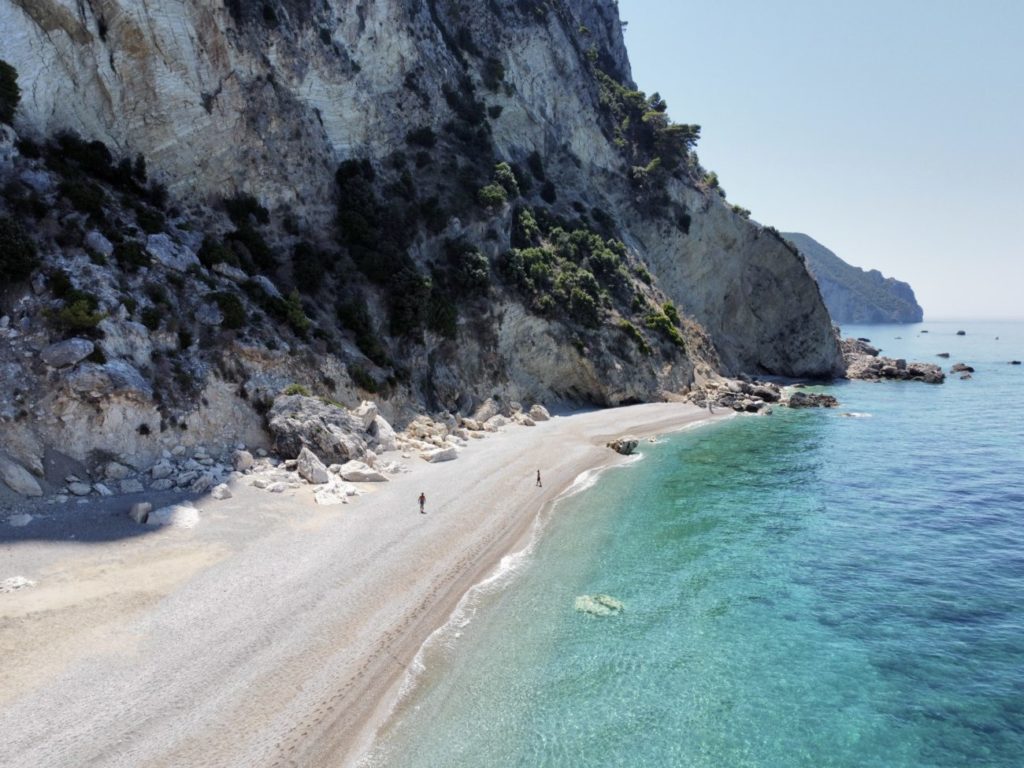 ---
Have you been to Paleokastritsa Corfu? If so, write us a comment what you liked best there.
Hey, wie hat Dir unser Beitrag gefallen?