An 10 days Iceland itinerary is perfect to circumnavigate Iceland once along the Ring Road and visit the most beautiful sights in the different regions. You will discover wonderful waterfalls, glittering ice chunks on a pitch-black beach, drive through the lonely East Fjords, marvel at whales in Husavik and even make a small detour into the highlands.
This Iceland road trip will be one you will never forget. So get ready for an incredible adventure in Iceland.
We are Sabrina and Andreas, two adventurous travelers who never miss an opportunity to discover the world. Whether by plane to distant countries or with our campervan Bruno, we just love to travel. We hope to give you helpful tips for your next trip on our blog.
Sabrina & Andreas
Globetrotters, Travelers, Adventurers
Instagram
Youtube
10 Days Iceland Itinerary – Overview
| Travel Day | Route / Highlight | Kilometer / Driving Time |
| --- | --- | --- |
| Day 1 | Reykjavik to Vik | 190 km / 2,5 h |
| Day 2 | Jökulsárlon Glacier Lagoon | 190 km / 2,5 h |
| Day 3 | Eastfjords Day 1 | 230 km / 3 h |
| Day 4 | Eastfjords Day 2 | 280 km / 4 h |
| Day 5 | Stuðlagil Canyon | 150 km / 2 h |
| Day 6 | Húsavík Whalewatching | 150 km / 1.5 h |
| Day 7 | Mývatn See | 60 km / 1 h |
| Day 8 | Goðafoss & Drive up F-Road F35 | 200 km / 2.5 h |
| Day 9 | Kerlingafjöll & Hveradalir | 200 km / 4 h |
| Day 10 | Golden Circle & Blue Lagoon | 180 km / 3 h |
Where should I Book my Rental Car for Iceland?
A specialized price comparison site for car rental in Iceland is northbound.is*. There you can find everything from normal small cars to SUVs with roof tent to large SUVs and motorhomes.
With both portals one can cancel all cars up to 48 hours before beginning of renting free of charge. Especially in times of Covid, this is an important factor.
Rental cars from the Iceland specialist with years of know-how:

Northbound.is
compares all Icelandic car rental providers
specialized in Iceland roundtrips and the highlands
specialized insurances for the rough Iceland available91
free cancellation up to 48h before start of rental period
normal rental cars, campervans, motorhomes, SUV (also with roof tent) & off-road vehicles available
Check the lowest Prices at northbound.is*
Summary of our Iceland 10 Days Itinerary
Our Iceland 10 days itinerary is based on a classic Iceland round trip along the ring road with a complete circumnavigation of the island. Because there is no other way. There are only 2 roads besides the ring road that completely cross Iceland (the highland roads F26 & F35) and all other routes only lead to the highlands and mostly on the same way back (like Laki) or are parallel roads or even detours.
For our Iceland road trip we tried to take the highlights along the ring road.
You can follow the same route or you can change or add some parts or just get inspired. For example, you should add the wonderful Westfjords to your road trip if you have a few more days.
It doesn't matter if you drive the Iceland route clockwise or counterclockwise. You should rather orientate yourself on the weather and the opening hours of the highland roads, which are mostly located in the south and east of Iceland.
We travelled to Iceland during summer because this is the perfect time to visit the highlands. But also in summer you should be prepared for different weather. So make sure to have all the necessary clothing and accessories on your Iceland summer packing list.
If you got more or less time in Iceland Read also:
Iceland Itinerary 7 Days – Exploring Iceland South
Iceland 14 Day Itinerary – Ring Road and Highlands
Day 1 from Reykjavik to Vik
On the first day of your 10 days in Iceland you pick up your rental car and buy some provisions. You can take a look at the capital of Iceland on this first day and stroll a bit through the streets of Reykjavik if you need some time to arrive and acclimatize. The capital doesn't have super much to offer though and you'll have seen the most important things in a few hours.
Therefore, we would rather recommend you to focus on the nature highlights of Iceland and thus head directly into the nature towards the east. Today's destination will be the town of Vik. On the way you can visit the spectacular waterfalls Seljalandsfoss, Glufrafoss and Skógafoss and the beach Reynisfjara in the south of the island.
Seljalandsfoss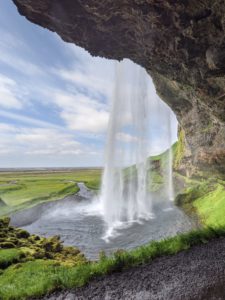 This waterfall is one of the most famous ones in Iceland and is famous for the fact that you can also get behind the waterfall, giving you a great photo perspective.
Seljalandsfoss is located directly at the turnoff towards Þórsmörk (where, by the way, you can only get with a super jeep on a guided tour* ) not far from the ring road.
The waterfall plunges 66 meters into the depths and is fed by the Eyjafjallajökull glacier, which spectacularly paralyzed air traffic throughout Europe in 2010. By the way, a visit is especially charming in the evening, as the sun is then wonderfully positioned when you stand behind the waterfall.
Glufrafoss
Glufrafoss (or Gljúfrabúi) is only a few hundred meters away and you should bring rubber boots and a rain jacket. You have to walk through a small canyon directly through the water to get to the waterfall.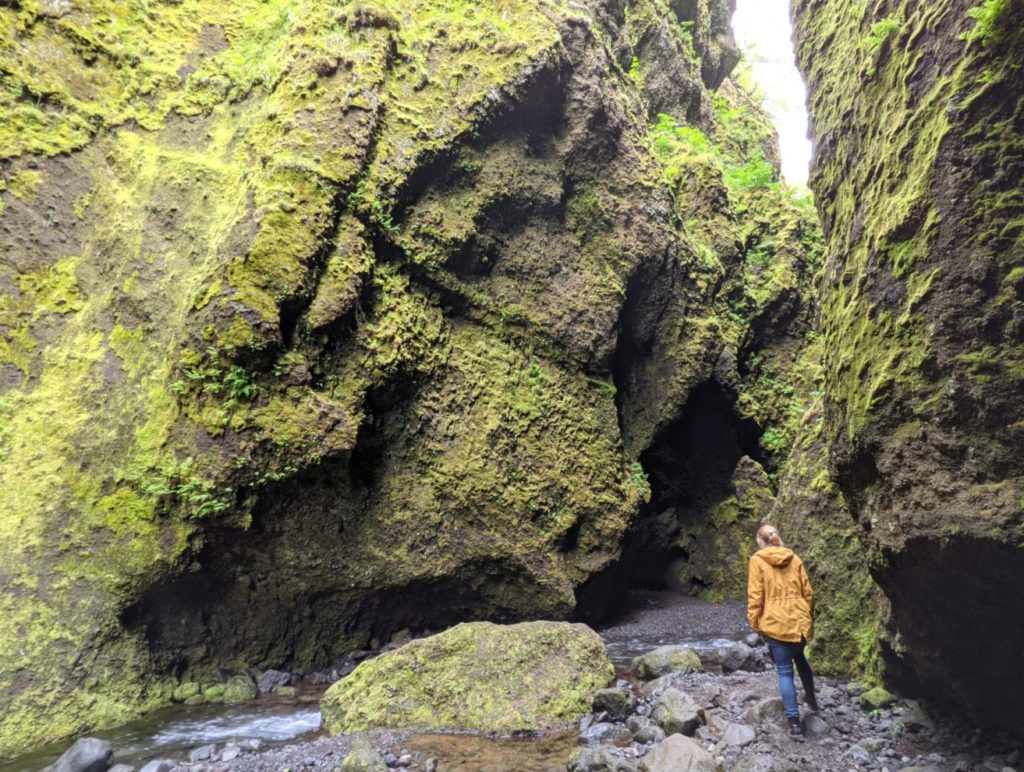 Here the way to the waterfall is really the goal. The waterfall itself isn't even that spectacular, but the gorge you have to go through is super adventurous and it's fun to hop from rock to rock to get through the gorge on dry feet.
Skógafoss
Skógafoss is a must-do on your Iceland road trip. The special thing about this waterfall is that you can walk to the bottom of Skógafoss and get really great shots.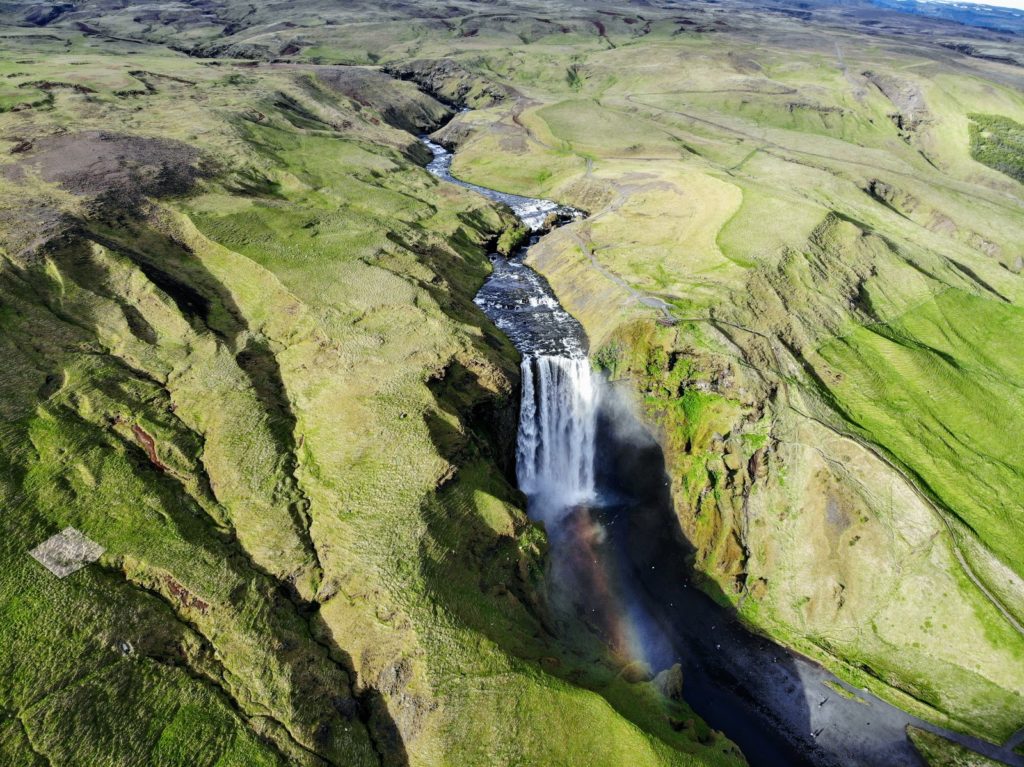 The Skógafoss pours on a width of 25 meters up to 60 meters into the depth and offers particularly great photo motives, if you go close or zoom in with the camera.
You can climb a metal staircase on the right side of Skogafoss to the top and see the waterfall from a completely different perspective. You should definitely make this small effort, because from up there starts a very special hike.
Fimmvörðuhál's hike
East of the waterfall the famous trekking trail Fimmvörðuháls leads up to the pass Fimmvörðuháls and further to Þórsmörk. This hike is with 25 km length very exhausting.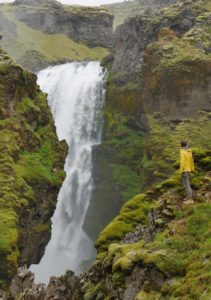 The hike is usually done in 2 days, because it is very strenuous. The destination is the camping site of Þórsmörk from where you can get back to the ring road by bus. You can also do the hike in one day, either by being very fast or by walking only to the middle of the hike, to the Fimmvoerduhals huts (about 8km), and then turning back.
Or you do like we do and just walk a few kilometers or as far as you can get and then turn around. The hike along the river Skoga is really beautiful and the further you walk the less people you will meet.
Dyrhólaey
About 13 km before Vik the road 218 turns right and brings you to the peninsula Dyrhólaey. The peninsula consists of an impressive rock plateau, which offers a spectacular cliff towards the sea, where thousands of birds (e.g. terns and puffins) breed. The way to the top, where there is also an old lighthouse, is very steep and leads you in serpentines to the top. But even with a normal car equipped with some driving skills you should have no problems.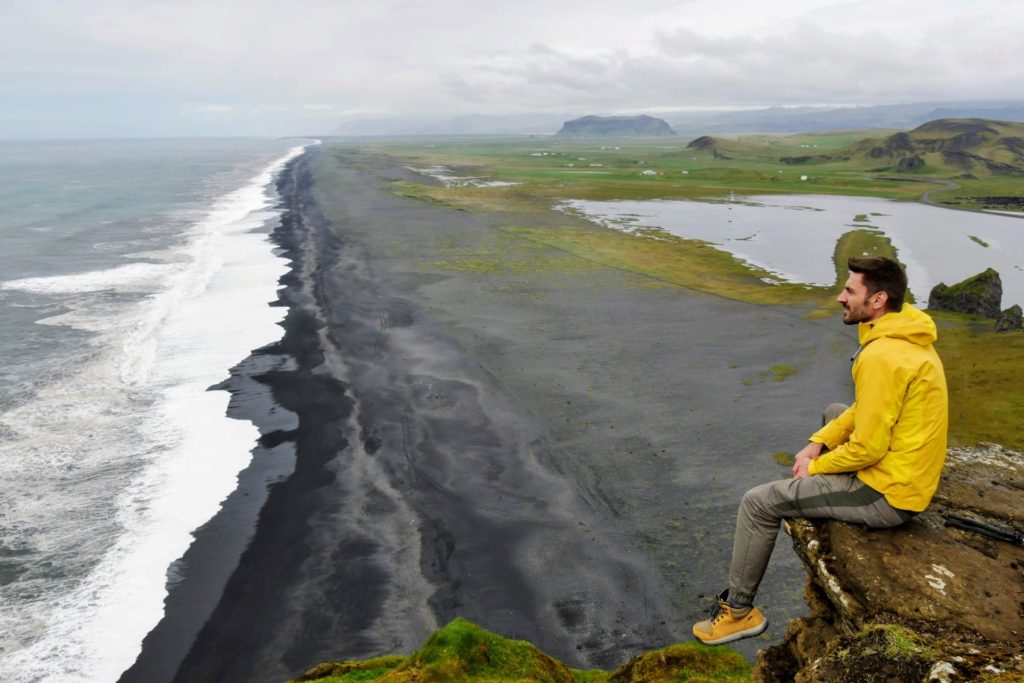 When you reach the top, you have a view of the black beach for miles to the west. On the other side of the plateau you can see all the way to the rock needles of Vik (Reynisdrangar) and you can also see a rock gate right at the foot of the plateau, through which even boats sometimes pass.
All in all, a wonderful view and a trip that is definitely worth it. When you go back down you can drive a bit further towards the beach, but in our opinion this is not really necessary.
Reynisfjara Basalt Columns
Just a few kilometers before Vik the road 215 turns off and brings you again to a black lava beach, where this time spectacular basalt columns are waiting for you. Directly at the sea and next to a big cave (Hálsanefshellir Cave) hundreds of columns, some of them 30 meters high, are waiting to be admired and climbed.
The nearby parking lot is, as everywhere in Iceland, free of charge and sufficiently large. You walk only a few minutes and then come to the pebble beach, where you can take great photos of you on the basalt columns. But be careful, you will not be alone here. The place is always very crowded and it is not easy to find a place where you can take an undisturbed photo.
And again, be careful: the waves can be very treacherous and generally have an extremely strong current. A few years ago, an Asian tourist was even pulled into the sea here and drowned. So never turn your back to the waves!
Route info
You will drive the whole time along the ring road and pass many waterfalls and other sights.
Driving distance: 190 km
Driving time: 2,5 hours
Highlights on the way: Seljalandsfoss, Skogafoss, Dyrhólaey peninsula, Reynisfjara beach
Overnight stay
On this day you can stay overnight near Vik. You can either go to a camping site or book into a nice hotel.
Recommendation for a camping site
The camping site is idyllically located and offers tent sites and also wooden cabins with a little more comfort.
Recommendation for Hotels in Vik
Budget hotel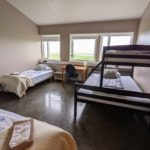 We stayed at this wonderful little hotel that has recently been modernized. You're within walking distance of the famous basalt columns at Black Beach Reynisfjara. There is free breakfast in the form of coffee, cookies and cereals and you only pay about 50 Euro per night here. We felt very comfortable here.
Luxury Hotel with all the Bells & Whistles
Hotel Vík í Mýrdal has super fancy rooms and everything you can think of. Starting at 140€ per night.
Day 2 | Jökulsárlon Glacier Lagoon & Diamond Beach
On day 2 of the Iceland 10 days itinerary you will drive the ring road further east and after some time you will inevitably pass the largest and most famous glacier lake in Iceland: Jökulsárlon. It is located between Skaftafell National Park and Höfn and with its 284 meters it is the deepest lake in Iceland. Jökulsárlon is known for the icebergs floating on it, which can be up to 30 meters high.
On the shore of the lake there are many skuas and also seals to see. By the way, there is another glacial lake nearby, the much smaller and more remote Fjallsárlón, with smaller icebergs. There are much fewer tourists on the road and you can enjoy a little more peace and quiet.
You can book boat trips on the Jökulsárlon or even take a hike on the glacier tongue. Of course, this is not possible on your own, but only as part of a guided tour. This is best booked with the provider GetYourGuide*.
Directly opposite and within walking distance is Diamond Beach. A sandy beach with black lava sand and blue glittering ice chunks that float on the water and partly lie on the beach. The sight is really unique.
What else you can do at the glacier lagoon, where to park and more travel tips you can read in our travelogue to the glacier lagoon & Diamond Beach.
| Activities | Price p.P. | Tickets |
| --- | --- | --- |
| Crystal Ice Cave Day Tour | from 155 € | Book now* |
| From Reykjavik: Jökulsárlón Glacier Lagoon Full-Day Trip | from 160 € | Book now* |
| Jökulsárlón Glacier Lagoon & Boat Tour from Reykjavik | from 200 € | Book now* |
Route info
Today you will drive from your hotel near Kirkjubæjarklaustur to the glacier lagoon.
Driving distance: 190 km
Travel time: 2,5 hours
Highlights on the way: Glacier lagoon and Diamond Beach
Overnight Stay
There are not many hotels in the immediate vicinity of Glacier Lagoon, and many are quite expensive. But we would definitely recommend you to stop here for the night, because the area is just too beautiful and everything can look completely different every day. So you should take the opportunity and visit the lagoon on two consecutive days.
On both of our visits to the glacier lagoon, we stayed at Skyrhúsid Guesthouse, which is only 10 minutes away. You are super fast at Diamond Beach and still sleep a bit away from the ring road.
Large shared kitchen
Lovingly furnished rooms
located off the ring road
10 minutes to Diamond Beach and the Jökulsárlón glacier lagoon
Double room from 80 Euro
Skyrhúsid Guest House | Check Rates*
Camping
If you want to stay overnight in a tent, you have to drive to Höfn. There you can stay in wooden huts or in your own tent. (Camping Höfn at Google Maps)
Day 3 | East Fjords #1
Today you can drive along the East Fjords of Iceland and stop at the numerous sights. The ring road leads here partly directly along the coast and offers a really wonderful view of the spectacular landscape of Iceland. Along the way, there are always parking lots that offer the opportunity to stop and marvel. Of course, you won't pass many villages. But you see super many sheep, cliffs and the most wondrous rock formations. Nature really shows its unusual and impressive side here.
The most beautiful highlights at the East Fjords Iceland are among others the following:
Stokksness
Stokksness is a headland at the foot of the Vestrahorn. To visit the beautiful beach, you have to pay 800 ISK per person at the Viking Cafe. The friendly woman at the cafe gives you a map and explains what to see. There is also a Viking village nearby. This is a backdrop for a movie (which was probably never filmed), which is unfortunately not really kept up and therefore no longer looks so good. Of course, this does not detract from the landscape around it.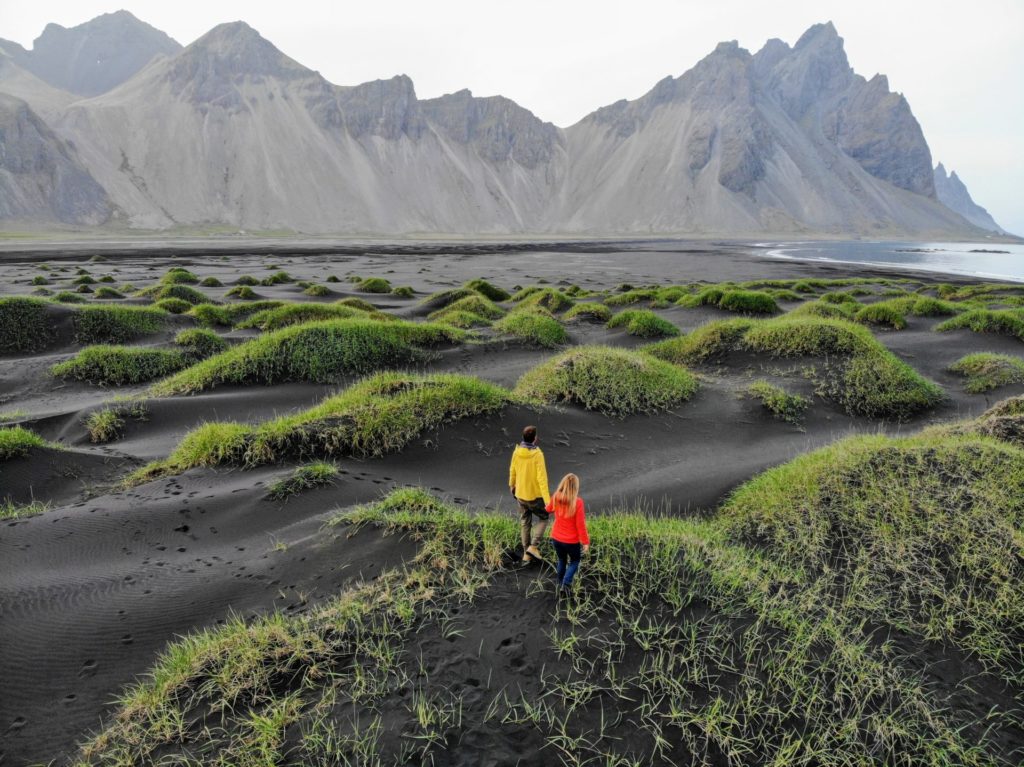 The sand on this peninsula is pitch black and as fine as on a sandy beach in the Caribbean. In addition, grass hills grow here on the sand, which give the whole area a special sight. The special thing on every photo that you shoot here is the mountain Vestrahorn, which is located at the beginning of this peninsula and offers a majestic view.
The combination of jet black sandy beach, green overgrown hills and the intimidating looking Mount Vestrahorn in the background is pretty awesome. For us, one of the top destinations in Iceland.
Höfn
Höfn, a small town with about 1,600 inhabitants, is the main town of the municipality of Hornafjörður and bewitches you with its small harbor and colorful houses. In addition to a small local museum dedicated to the long history of the municipality, a maritime museum and also a glacier museum invite you to visit. It is well worth taking a short walk along the harbor in the town.
The Golden Valley
The Golden Valley is an insider tip not far from the Ring Road (link to Google Maps). You don't have to drive along a highland road here, but it feels quite like one. You should not drive this route with a normal rental car.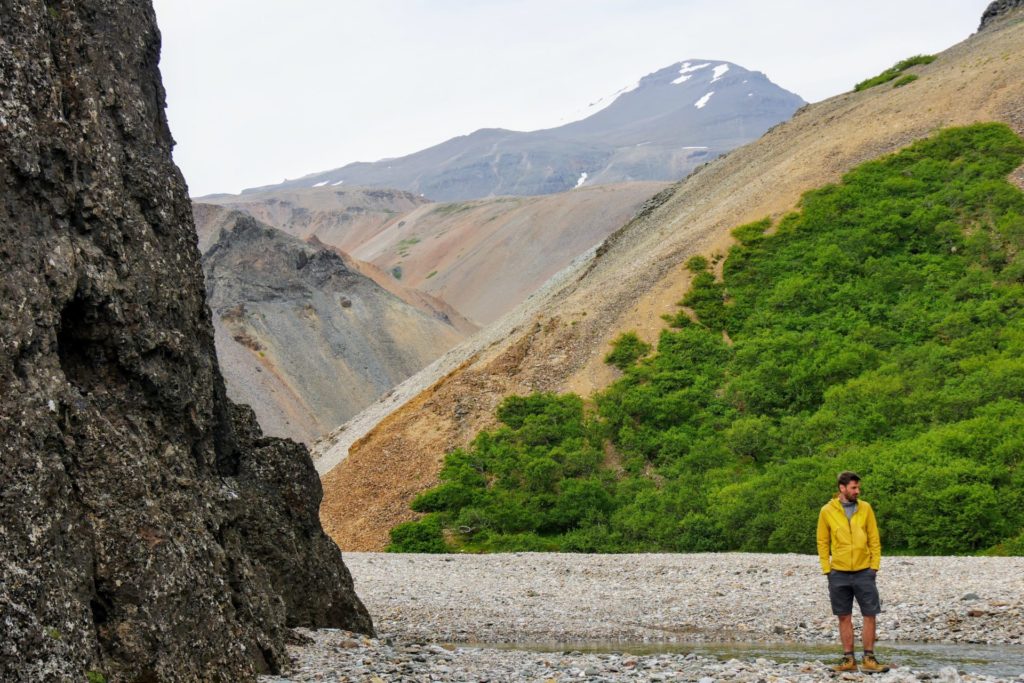 The golden valley is, as the name suggests, a valley with colorful shimmering mountains waiting for you. You walk all the time over thick pebbles and the mountains around you enchant with bright colors and loop left and right again and again, so that you do not know how far you can still walk here.
The mountains are not really golden, but the experience of walking through this narrow gorge, seeing the steep hills around you and being completely alone is very cool.
If you go here, you will probably be all alone: a real insider tip.
Hoffellsjökull Glacier
Less than 10 minutes off Iceland's ring road is the Hoffellsjökull glacier, part of the Vatnajökull National Park area. You can get to the glacier easily with a four-wheel drive car. Otherwise, you can also park your car less than 4 km from the glacier and walk the rest. There are several hiking trails on site. Near the glacier there is also a nice hot pot (geothermal pools) where you can warm up for 500 ISK.
Route info
Today you will head towards the eastern fjords of Iceland. Before that you will pass an Icelandic highlight (Stokksness) and an insider tip (Golden Valley).
Distance: 230 km
Travel time: 3 hours
Highlights on the way: Stokksness and Golden Valley
Overnight stay
In this area there are not many accommodations, the more beautiful that we found such a special nice one. The Eyjar Fishing Lodge is actually a hotel, which many anglers use. But also as a normal tourist you can stay here and have a wonderful scenery from the huge living room windows and can relax in the evening in the whirlpool.
Eyjar Fishing Lodge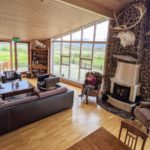 -Huge cozy living room
-Whirpool
-own restaurant
-in the middle of nature
-Double room from 80 Euro
Eyjar Fishing Lodge | Check Prices*
Day 4 | East Fjords #2
Today the itinerary continues through the East Fjords of Iceland. However, the main itinerary moves away from the actual fjords a bit and goes more inland. If you don't plan to visit the Westfjords on the other side of the island, feel free to plan a little detour here. Unfortunately, there is no road that leads along the East Fjords as in the West Fjords, but you can take detours towards the sea via roads 953 or 92.
If you have less time, just follow our suggested route and enjoy the highlights along the way.
Öxi Road
You'll have to backtrack a bit on the Ring Road to take the fabulous Öxi Road. The small detour is worth it, because the road feels like a highland road and awaits you with spectacular views.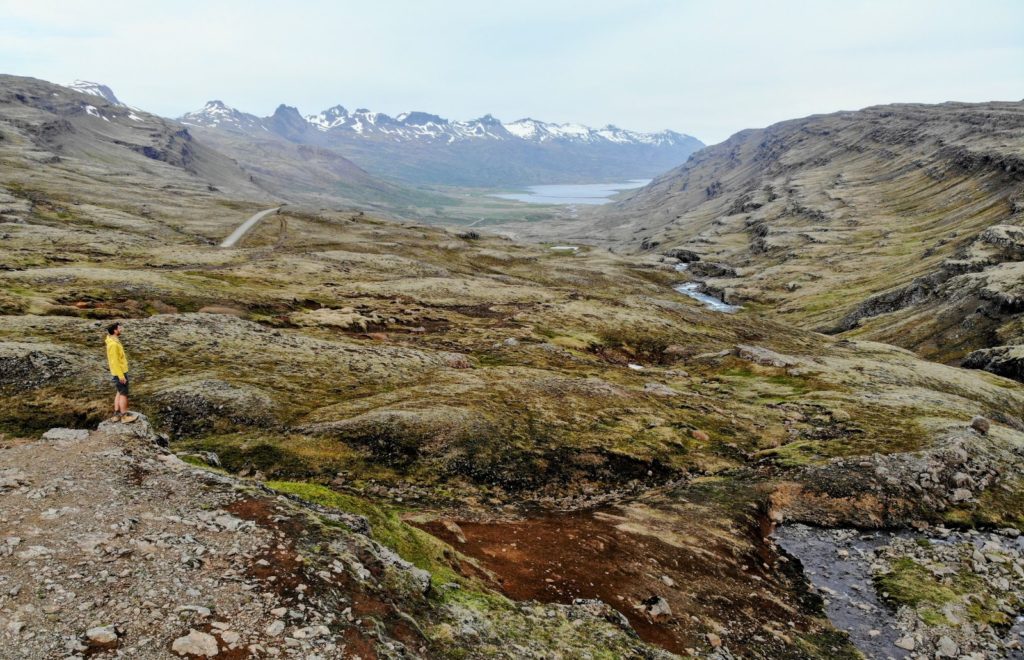 The Öxi Road is actually no longer an insider tip, because we met many other tourists there, also many with normal rental cars. Who is in the southeast of Iceland, should drive this small side road in any case, because it offers so much more than the almost parallel ring road.
You drive here on gravel roads, but at the beginning (coming from the south) up a steep serpentine road. Once at the top, a phenomenal view of the valley stretching for miles in front of you and the waterfall next to you reveals itself. Simply fantastic!
In the further course you drive along a wildly flowing river, which knows how to shine with some smaller waterfalls. Later on the road gets wilder and wilder and invites you to numerous photo stops.
Hengifoss waterfall
Shortly before Egilsstadir you turn left onto road 931 and drive towards Hengifoss. The relatively large parking lot of the waterfall was already well attended when we arrived and next to a food truck is the entrance to the steep path to the top. This waterfall is probably not the most beautiful in Iceland, but at least one of the highest. From the parking lot you need about 1h for the steep climb to the waterfall.
The path would have actually gone a little further, but was closed at our time because of falling rocks. But even from where we were standing, about 1km from the waterfall, you had a great view of the red layers that run through the back wall of the waterfall. By the way, these were formed by oxidized lava layers, which were formed in the last millennia.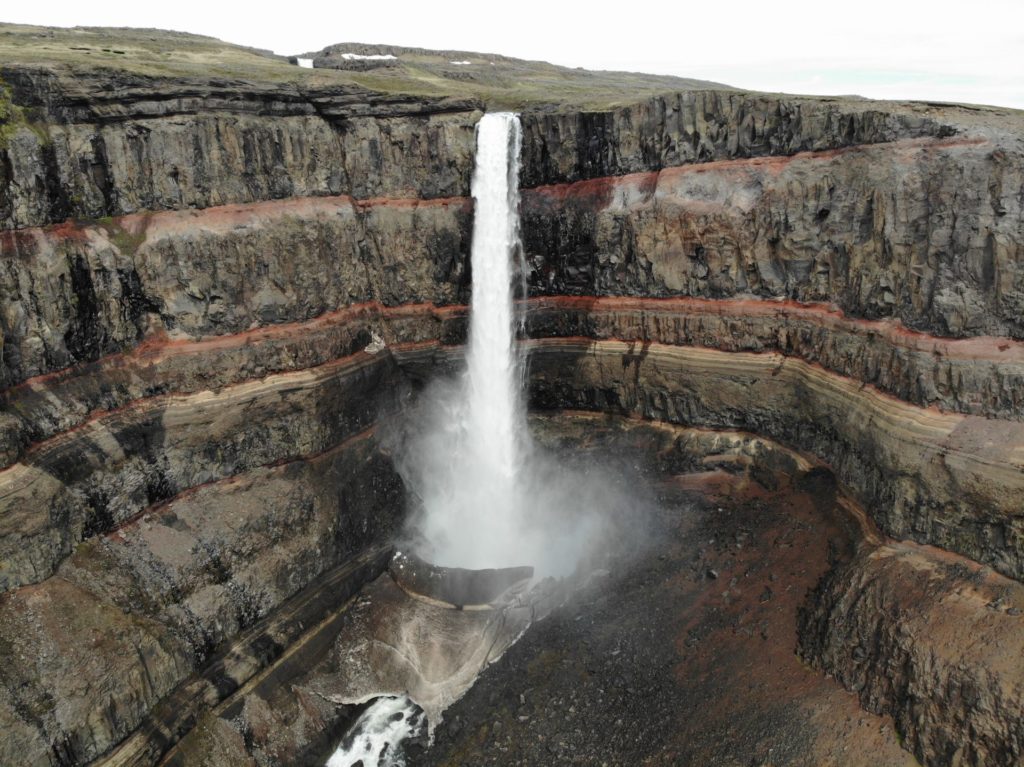 Waterfall Circle
From Hengifoss you drive south on road 910 to another insider tip in Iceland, the Waterfall Circle. The road is asphalted throughout and therefore also passable for normal rental cars without four-wheel drive. First you wind your way up narrow serpentines and then it goes straight ahead for kilometers.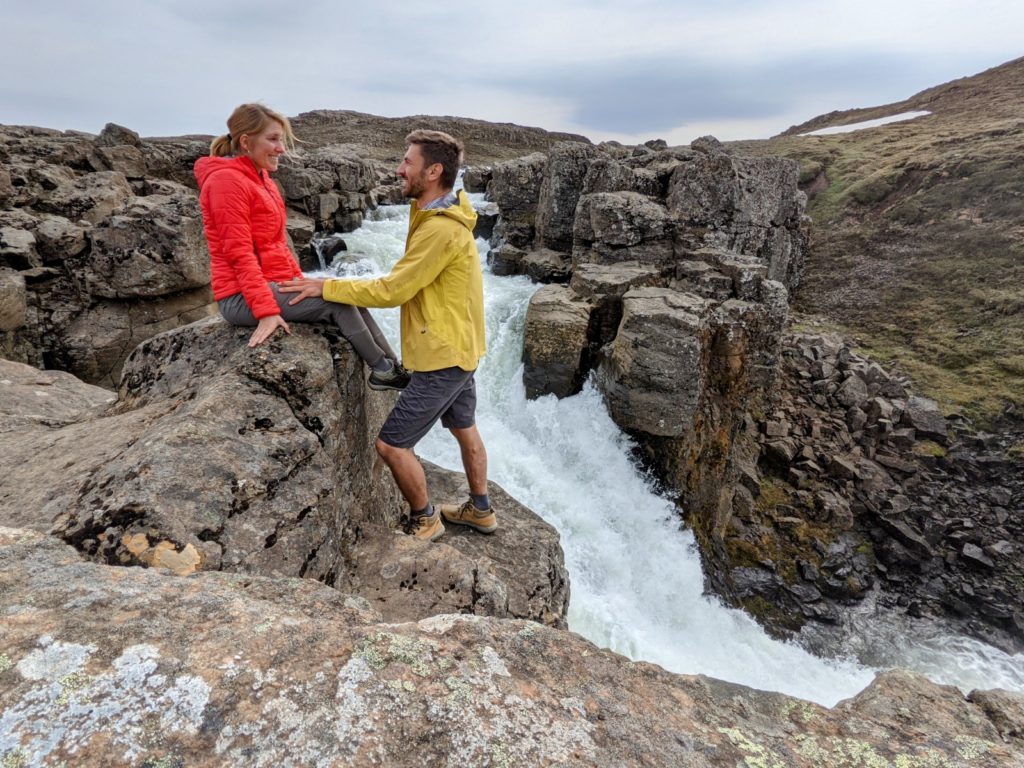 The Waterfall Circle is a great loop trail where you encounter several waterfalls. What we didn't know was that there was also a hotel in the middle of nature, the Laugarfell Highland Hostel. Not even Google knew this lonely hostel. Right next to it is also a hot pot, but the entrance fee is 1500 ISK, so we limited ourselves to the hike to the waterfalls.
The hike itself is very special, because you hardly meet other people and the paths are hardly trodden. During our hike, the river that accompanied us was still partially covered by large snowfields and the waterfalls on the hike became larger and larger. We did not go the hike completely, because we lacked the time for it, but some kilometers we went up to a large waterfall and from there the same way back.
If you have time, you will walk the almost 8 km in 2-3 hours as a round trip. Really one of the most beautiful hikes on our Iceland trip, because you don't often hike so secluded and close to nature.
Route info
We continue in the direction of the East Fjords. Today another insider tip is waiting for you, the Waterfall Circle. If you like to hike in peace and solitude, then this is the right place for you.
Distance: 280 km
Travel time: 4 hours
Highlights on the way: Öxi Road and Waterfall Circle
Overnight Stay
Egilsstadir is a nice little town that reminded us quite a bit of Norway. Our hotel recommendation is by a lake with a beautiful view of nature.
Skipalaekur Guesthouse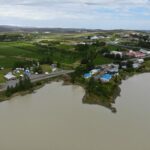 -Situated a bit outside
-Common kitchen
-Right next to a cozy campsite
-Double room from 90 Euro
Skipalaekur Guesthouse | check prices*
Beautiful campsite
With a view to the sea you can stay on a green meadow at the campsite Sólbrekka in Mjóafjörður. Per person you pay 1200 ISK.
You can get more information here.
Day 5 | Stuðlagil Canyon
Studlagil Canyon is a canyon not far from Egilsstadir with impressive basalt column formations. You can hike right down to the bottom of the canyon. By the way, the name Studlagil also means basalt column canyon in Icelandic and there are said to be the largest number of basalt columns in Iceland.
Basalt columns are formed when lava cools down and the cooled lava contracts into crystal shapes. The resulting columns are mostly vertical, but here in the canyon horizontal ones also occur. Most of the columns have a hexagonal shape (with 6 sides), but there are also basalt columns with 4 or 5 sides.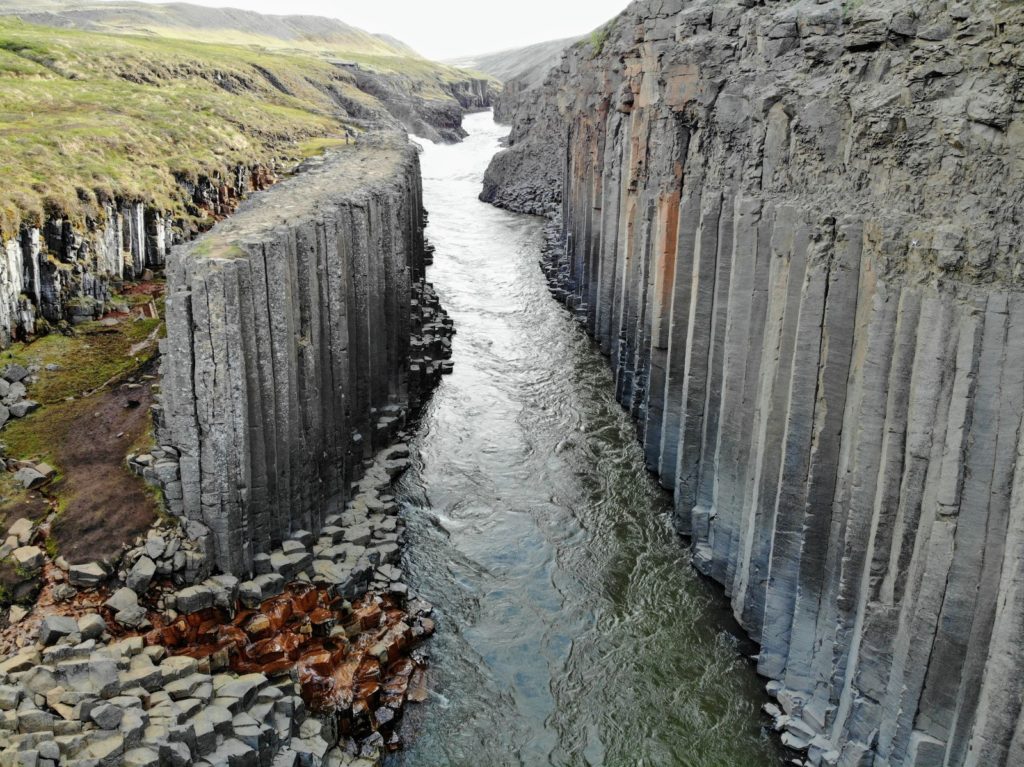 By the way, the river at the bottom of the gorge used to carry much more water here, but when the Kárahnjúkar dam was built in 2007, most of the water has been diverted through an underground tunnel to power a power plant.
You drive just a few kilometers off the ring road onto a gravel road and then have to choose between 2 parking lots. If you have little time and no desire to hike, then you continue straight until you get to this parking lot (Google Maps link).
Here you park at a small campground with toilet. You can walk down 240 steps on a steep metal staircase and then you can look down on the gorge from a small viewing platform about 50 meters above the ground. You can't get further down into the gorge.
If you really want to descend into the canyon and hike around, you have to drive to a parking lot that branches off the road a few miles earlier (Google Maps link). From this parking lot you can continue on a somewhat rugged road for about 2 km until you get to the 2nd parking lot. From there it is another 2 km to walk for which you need about 30 minutes.
Once at the canyon, you can walk down to the water and admire the canyon from all directions.
Route info
From Egilsstadir it is not a long drive to the canyon. There you will walk for a few hours before you continue to your nearby hotel.
Driving distance: 150 km
Travel time: 2 hours
Highlights on the way: Stuðlagil Canyon
Overnight Stay
You will spend the night about 1 hour away from Studlagil Canyon in a cozy guesthouse.
Fjalladyrd Guesthouse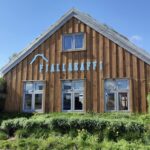 -cozy wooden cabins
-Breakfast included
-very quiet location
Fjalladyrd Guesthouse | Check Prices*
Day 6 | Húsavík – Whale Watching in Iceland
Dettifoss
Before you get to Husavik you should turn onto road 864. This is a real gravel road and will shake you up, but you will pass the impressive waterfall Dettifoss on the way.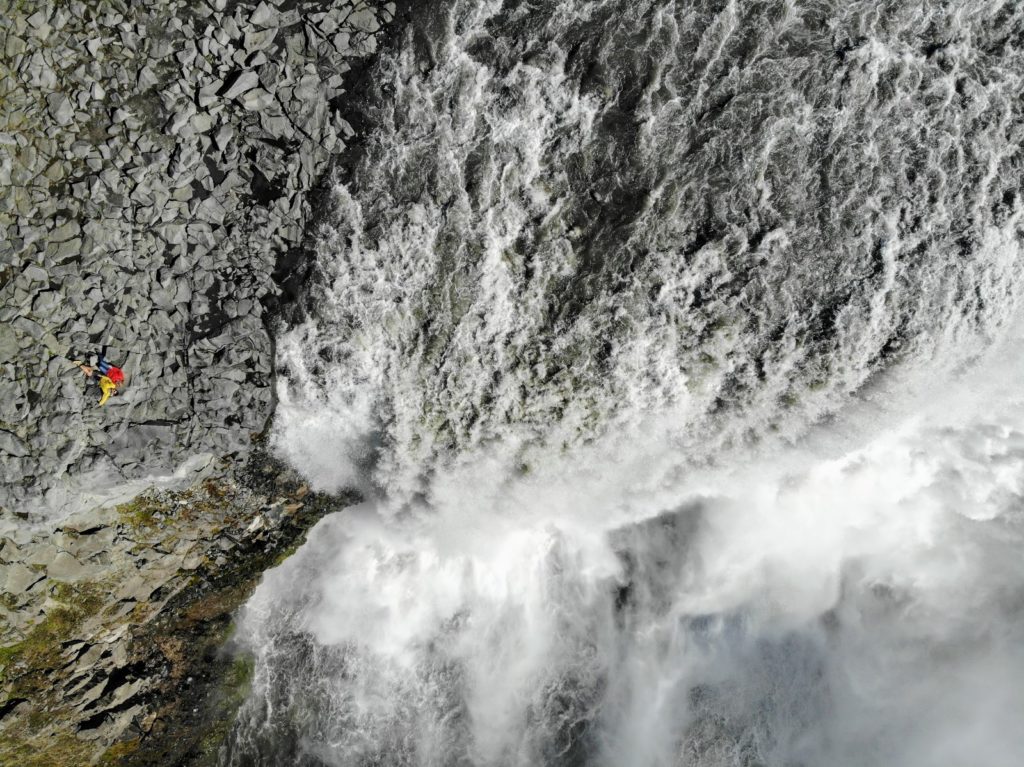 The Dettifoss pours from a height of 44 meters into the gorge and is the most powerful waterfall in Europe. We dared to come within a few meters of the roaring, marveled at the masses of water and take beautiful photos with the drone.
You can get super close here, because there is no barrier. For us, the most beautiful and impressive waterfall in Iceland.
On to Husavik
You then continue north and end up in the coastal town of Husavik. Húsavík is the capital of whale watching tours in Iceland. Almost all the whale watching tours you can do in Iceland start in this small town.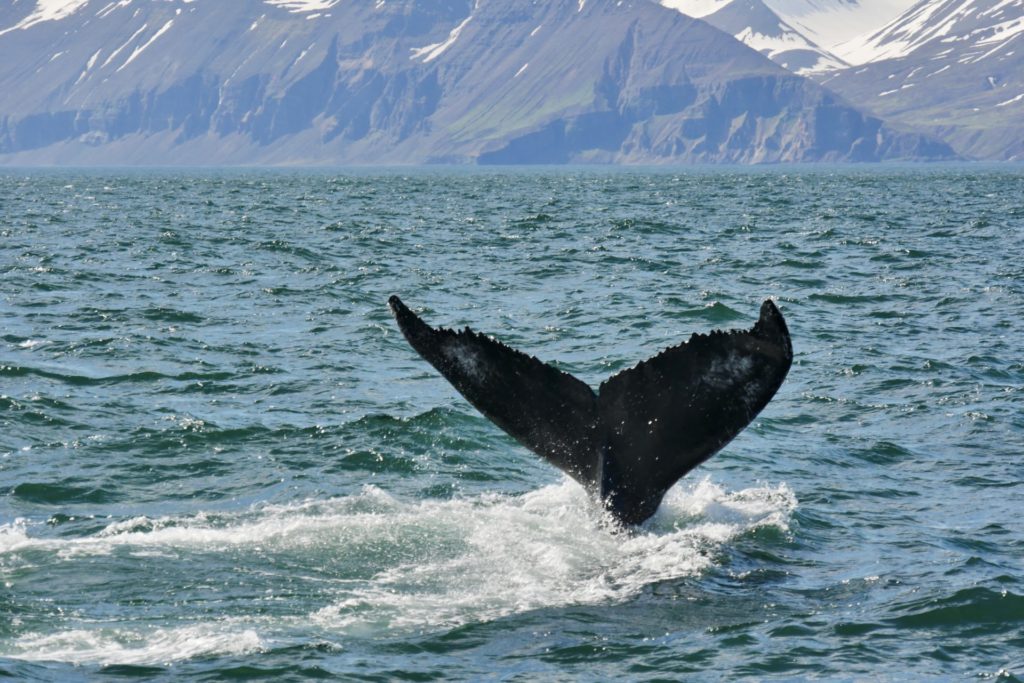 The perfect conditions for whales in Skjälfandi Bay allow for a really good success rate of almost 98% on whale watching tours in Húsavík, at least that's what the operators say. Mainly minke whales, humpback whales and sperm whales can be observed in Húsavík. With a little luck also orcas and rare blue whales.
Even if you are lucky enough to see the great animals from land, you should book an organized tour. You can take a speedboat out to sea or a slower sailing ship, which is better for the animals. You can book your whale watching tours with GetYourGuide.com*.
On such a tour you will be on the water for about 3 hours and you should book the tickets online in advance. On the sea it gets really cold thanks to the wind, even if the sun is shining like during our visit. However, your provider will give you a thick seasuit that will keep you super warm. On the way back you get cocoa and a cinnamon bun.
There is of course no guarantee that you will see a whale, but in the summer months you can almost count on it. Some operators will also give you a free ticket for the next day if you don't see any whales.
We saw a humpback whale several times during our trip and quite close to our boat. A very special experience to see such a big animal so close.
Route info
Today we will go to Husavik. On the way you will see the impressive Dettifoss. Unfortunately you have to drive over a very bumpy gravel road. But it is worth it!
Distance: 150 km
Travel time: 1,5 hours
Highlights on the way: Dettifoss, whales
Roundtrip Iceland 10 days: Overnight Stay Husavik
We chose our own wooden hut between Husavik and Myvatn. The cabins are extremely secluded at the end of a long valley and about 30 minutes from the main road. Super secluded, but also super beautiful.
is located in a valley far away from the ring road
Own wooden cabin with own kitchen and toilet
idyllically situated on a farm
Wooden cabin for 2 from 120 Euro
Laxárdalur Cabin | Check Availability*
Do you prefer camping?
If you prefer camping, you can stay at the Husavik campground(Google Maps link) for 1500 ISK per person.
Day 7 | Mývatn
Today you drive straight to Lake Mývatn (Icelandic for mosquito lake). There are really a lot of mosquitoes here, but also many other things to marvel at. The lake is the fourth largest in Iceland and is of volcanic origin. The whole area around the lake is still volcanically active today, as the border between the Eurasian and the American continental plate also runs here.
You can drive around the lake today and take in the numerous sights. You won't be in the car much, so you'll have plenty of time to take pictures and enjoy the surroundings. The sights we list here can be experienced clockwise around the lake.
Thermal Caves
There are several caves near Lake Myvatn that are filled with hot thermal water and are theoretically suitable for swimming. However, we would not recommend this as there is no information about the water quality.
There are two smaller caves called Stóragjá. Here warm thermal water has collected and through small openings in the cave you can also look inside.
Much more exciting is the Grjotagja cave nearby. It is much bigger and you can walk in and look at the clear and turquoise water.
Geothermal Area Hverir
This thermal area reminds a little bit of the Hveradalir geothermal area and can be found not far from the lake. Here hot steam comes out of the earth in numerous places and also small sulfur volcanoes can be observed here.
All quite impressive, if there had not been this really stormy wind during our visit, because of which we also did not stay long there. but normally you can spend 1-2 hours here.
Höfði
This is a small forest area with direct connection to the lake. The special, apart from the beautiful walks through the forest, are the unusually shaped rocks, which are here numerous in the sea.
You can reach them after about 15 minutes from the small parking lot.
One hour is enough to experience this place.
Lake Myvatn
The lake itself is not that spectacular and there are not really many points from which you have a nice view of Lake Myvatn. So the highlight of Myvatn is rather the sights around it (see above) than the lake itself. However, there is a small viewpoint on the northwestern shore that offers nice views of the lake (Google Maps link).
Myvatn Nature Baths
If you want to relax from your exhausting trip, we can recommend the Mývatn Nature Baths*. These are comparable to the Blue Lagoon* near Reykjavik, but usually not so crowded.
| Activity | Price p.P. | Tickets |
| --- | --- | --- |
| Myvatn Nature Bath | from 45 € | Book now* |
Route info
You drive once around the lake and don't sit in the car very much. The more time you have for other things.
Driving distance: 60 km
Driving time: 1 hour
Highlights on the way: Lake Myvatn, thermal area, caves
Accommodation
Only 6 km from the Mývatn natural baths is the Fosshótel Mývatn. Here you can have breakfast, rent bicycles, and it starts from 120€ per night in a double room.
Fosshótel Mývatn at Booking.com*
Day 8 | Goðafoss & Drive to the Highland Road F35
The twelfth day of the Iceland road trip is a driving day on the way to the highlands. But before that you will have a look at one of the most breathtaking waterfalls in Iceland – Godafoss.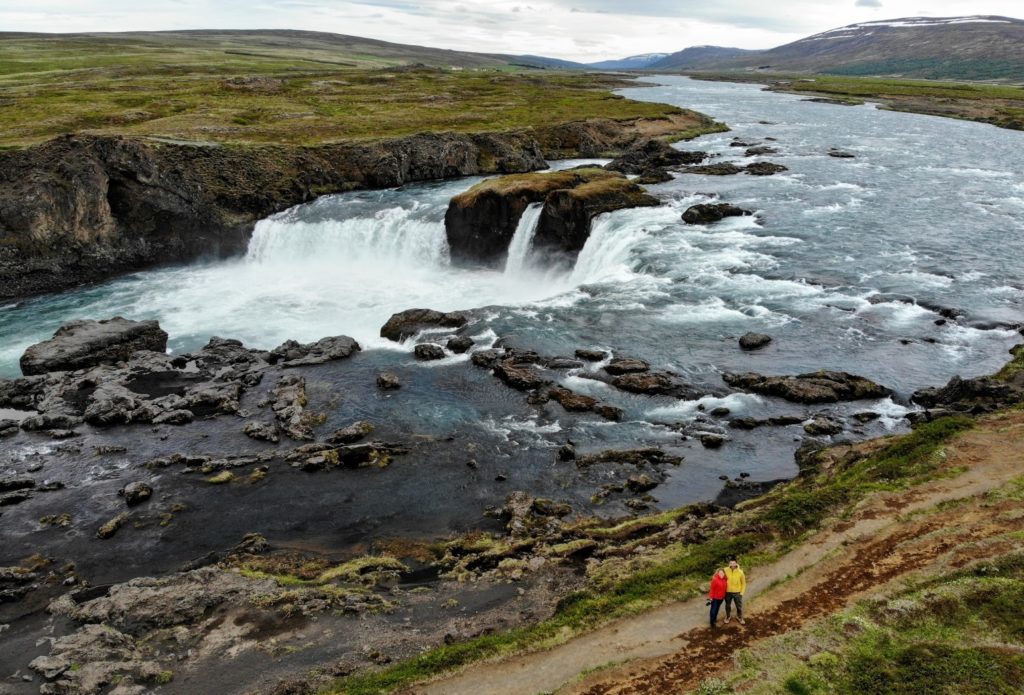 Godafoss waterfall is located not far from the ring road and is one of the most famous waterfalls in Iceland. The water of the Skjálfandafljót River, which rises hundreds of kilometers away in the Icelandic highlands, plunges about 11 meters in a large arc over a width of almost 160 meters. Since 2020, this waterfall has even been protected as a nature reserve.
Godafoss is not very high, but it has a considerable width. And also the gorge, in which he has dug in his further course is very impressive. The area around the waterfall is well developed for tourism, which is why we were surprised that we hardly met any other tourists here. But maybe it was due to the late hour, because we were here just before 9 pm.
There are some paths around the waterfall and along the gorge on which you can get down to the riverbed and admire the waterfall and the river from all perspectives. There is also a footbridge over the river, so that you can easily get to the other side.
When you have seen enough of the waterfall, you continue towards the highland road F35 – the Kjölur. On the way you will pass the waterfall Fosslaug. There is also a natural hot spring where you can bathe in 40 degree hot water.
We have found a suitable accommodation for your Iceland route below, so that you can start the next day well-rested in the direction of Kerligarfjöll.
Route info
Today is a driving day, but still there is at least one special waterfall on the program, the Godafoss.
Driving distance: 200 km
Driving time: 2,5 hour
Highlights on the route: Godafoss
Accommodation
You should spend the night near the F35 today, so that you don't have to drive so far on the way to Kerlingafjöll the next day.
Bólstaðarhlíð Guesthouse
near the F35
situated on a farm from 1825
generously equipped rooms
Shared kitchen
Bólstaðarhlíð Guesthouse at Booking.com*
Day 9 | Kerlingafjöll & Hveradalir
Highland
The F-35 highland road is probably the easiest of the F roads to drive on in all of Iceland. There are no fords and the surface is relatively easy to drive with your 4WD vehicle. Nevertheless, it is an adventure to fight your way on this track towards the highlands and here you can discover an absolute highlight of your Iceland route.
Hveravellir
On day 13 of the Iceland road trip you will head back to the highlands. Your first major stop on the F35 should be the geothermal area Hveravellir.
You can find some typical features of high temperature areas in Hveravellir. For example, there are hot water springs, such as Bláhver (Blue Spring) surrounded by sinter terraces, fumaroles, and the hissing Solfatare Öskurhöll (Roaring Hill).
In general, Hveravellir is a large steaming field with boardwalks leading across it. From all kinds of cracks, holes, small streams and from the meadows steam escapes in fumaroles or bubbles water. You can wander around here for hours and be enchanted by the area.
There is also a hot tub where you can take a bath. In addition, there are showers that you can use after your bath.
We found Hveravellir not very exciting and for the fact that one must pay here even entrance and/or parking fees, it is actually not particularly enough. It's good that after a few kilometers one of Iceland's most gnarly areas begins.

Kerlingarfjöll is the highlight on the F35 and you should not miss it at all. It is one of the most surreal and at the same time most beautiful places in Iceland. You can experience a landscape that no human being can imagine. These colors, this smell, these temperatures. This place is unique in Iceland.
There are many hot springs, it steams and hisses at every corner. And there are many hiking trails here to discover.
The F35 that leads here is very good to drive the first half of the way, so you can jet along the track at 80-90 km/h max. After the halfway point, however, the track becomes quite adventurous and you can only drive 30-40 km/h in places and even slower in stretches.
The landscape is quite desert-like and gray to reddish brown. After about 2.5 hours you pass the Kerlingarfjöll Mountain Resort and from there it goes steeply uphill to the parking lot for the geothermal area. The route does not become more difficult, but much steeper and more challenging.
Arrived in the thermal area it is just fantastic and better than you see it on pictures. It bubbles everywhere, clouds of mist waft around and it smells sulfurously of rotten eggs. From the actual visitor parking lot, it's only a few feet until you have a view of the entire area. If you then go down a few more steps, you are right in the middle of it and can wander through the area on several fixed paths.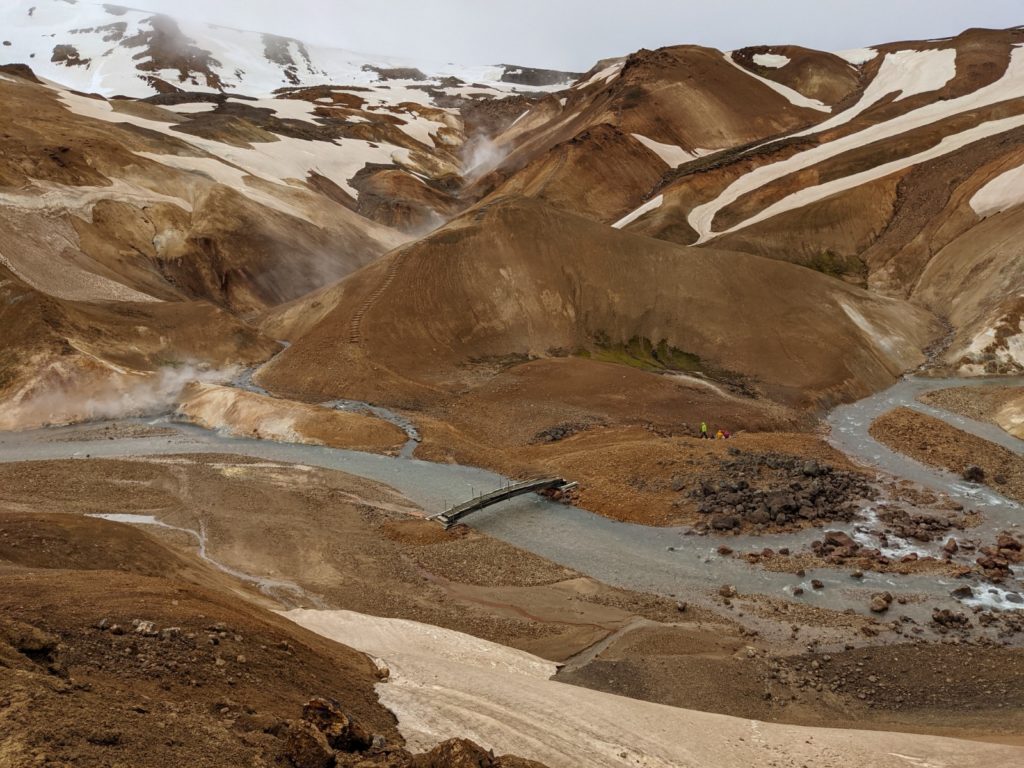 Small bridges have been built and steps carved into the mountains to make the hike as pleasant as possible. And so that people do not trample nature unnecessarily.
You can't get enough of it here and you won't be able to get out of your amazement. Kerlingarfjöll is unique!
If you want to know more about the journey and have more travel tips for the geothermal area Kerlingarfjöll, then read our travel report to Kerlingarfjöll.
Route info
The journey goes over the adventurous Kjölur, the F35. The dusty road is not easy to drive, but you will drive from north to south through the highlands and experience Iceland from a completely different perspective.
Driving distance: 200 km
Driving time: 4 hours
Highlights on the way: Kerlingafjöll & Hveradalir
Overnight Stay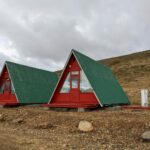 There is a nice hotel on site in Kerlingarfjöll that you should take advantage of, especially if you haven't had enough of this wonderful place and want to do another hike the next day. It's not cheap, but it's located right in the Icelandic highlands.
You won't find any luxury here, but the nature compensates for the high price of 200€ per night.
Kerlingarfjöll Mountain Resort at Booking.com*
If you don't want to spend so much, you have to go back to the campsite in Hveravellir or alternatively further south to the Golden Circle. Here we can recommend the following hotel:
Efra-Sel Hostel at the Golden Circle
The Efra-Sel Hostel is not far from the F35 directly in the Golden Circle and is a good end point for your highland trip via the F35 and at the same time a great starting point for the visit of the Golden Circle the next day.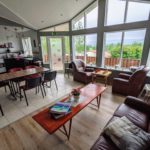 -directly at the Golden Circle
-with own whirlpool
-large shared kitchen
-nicely equipped bathrooms
Efra-Sel Hostel | Check Availability*
Day 10 | Golden Circle & Blue Lagoon
The 10 days Iceland round trip is slowly coming to an end. But still, one more, albeit touristy, highlight is waiting for you. The Golden Circle is one of the most famous sights in Iceland and belongs to almost every Iceland road trip. But what is the Golden Circle anyway?
The route of the Golden Circle is neither a circle nor is it golden here. But you get to see 3 top sights within a few hours or kilometers. Accordingly, there are many more tourists on the road, because you can also visit the Golden Circle in Iceland as a day tourist from Reykjavik.
In our opinion, you can see everything at the Golden Circle in half a day, so we planned a visit to the Blue Lagoon for the afternoon.
Thingvellir National Park
The first highlight of the Golden Circle is Thingvellir. This is the most important historical place in Iceland and is located in the Thingvellir National Park of the same name. Over 1000 years ago, the first parliamentary assembly in history took place here. 4000 people gathered in Thingvellir in the year 930 to discuss new laws and moderate disputes.
But the geology of the place is also very worth seeing, because in Thingvellir National Park the rifts between the Eurasian and the American continental plates are visible and you can virtually walk between the continents.
Thingvellir National Park is also home to Iceland's largest lake (Thingvallavatn), which is surrounded by a total of four active volcanoes.
Strokkur Geyser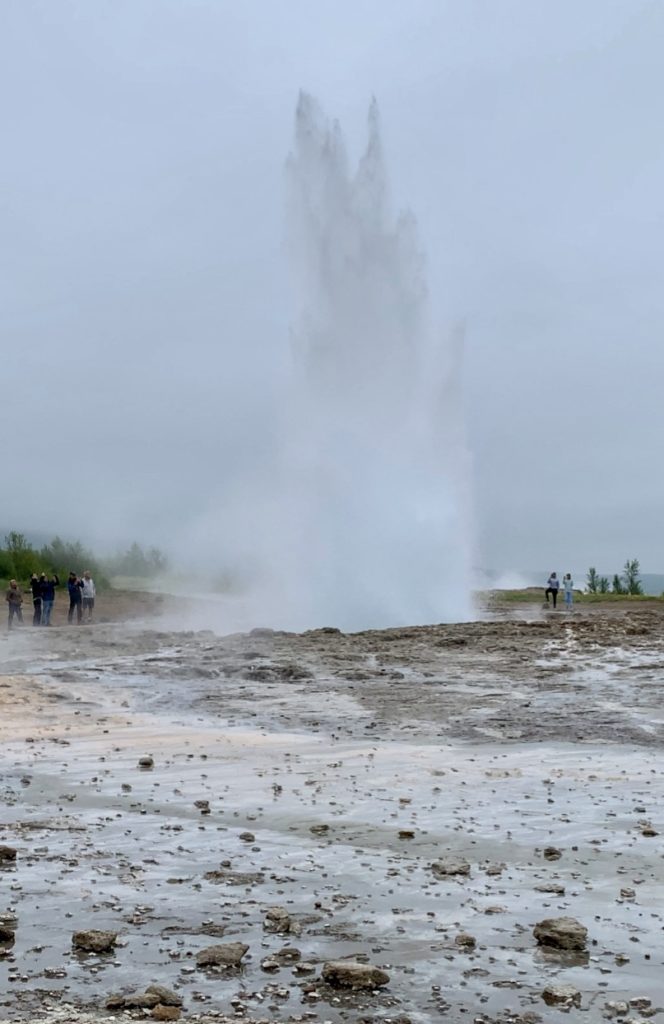 Strokkur is the most active and temporally reliable geyser in the world. Every few minutes it shoots a fountain of water several meters high into the air. Right next to it, by the way, is the geyser "Geysir". Read correctly! Here stands the namesake of all other geysers in the world, but unfortunately it is no longer active today.
The area around the geysers is a large geothermal area. Everywhere it bubbles out of the earth and there are signs posted that you should be careful because the steam shoots out of the earth at almost 100 degrees.
The highlight of the area is the geyser Strokkur, which erupts every 8-10 minutes and shoots a steam and water fountain about 25 meters into the air. All the time tens of tourists stand at the barrier of the geyser and wait with drawn cell phones for the next eruption.
Further back you can climb a hill from which you have a good overview of the whole area. In addition to the large parking lot for visitors, there is a restaurant and a visitor center with a souvenir store.
Gullfoss Waterfall
The Gullfoss at the Golden Circle is Iceland's most visited waterfall. The water masses plunge from a height of 30 meters in several stages into the depth and cause a deafening noise. You should pay attention to waterproof clothes if you want to get close to the waterfall! There is a large parking lot for visitors, where you will also find a souvenir store, and a smaller parking lot (marked "for coaches") where you can park closer to the waterfall.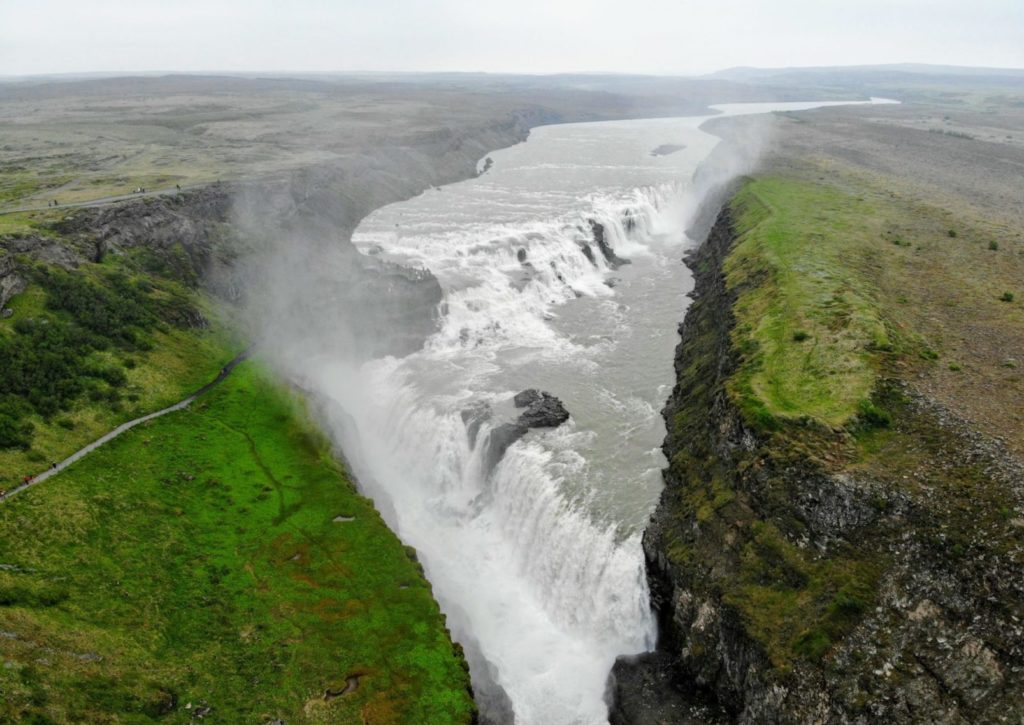 You can get pretty close to the waterfall and from the right angle you can also see a big rainbow in the spray. For us, one of the most beautiful and definitely the biggest waterfalls in Iceland.
| Activity | Price p.P. | Tickets |
| --- | --- | --- |
| From Reykjavik: Golden Circle Full-Day Tour with Kerid Crater | from 65 € | Book now* |
| Golden Circle and Glacier Snowmobile Tour | from 240 € | Book now* |
| Golden Circle & Blue Lagoon Small-Group Tour | from 199 € | Book now* |
Blue Lagoon
If you are tired from all the photographing and tired from sightseeing, you can relax in the nearby Blue Lagoon. If you're flying home in the evening or the next morning, this spa is conveniently located near the airport and is the perfect way to end your Iceland road trip. It's only a 30-minute drive from here to Keflevik Airport, so you can make the most of the last few hours before your flight.
The Blue Lagoon is a swimming pool that is fed with 40 degree hot water from a geothermal spring. The water here is light-blue and offers a strong contrast to the black lava rock that surrounds the lagoon. The entrance fee is not cheap with just under 45 Euro, but for that you also get a lot on offer.
There is a free drink, a free face mask and you also get free towels here. The Blue Lagoon is always very crowded, but since the area is very spacious, it gets lost very quickly and you don't get the feeling that it's really crowded.
The tickets should be booked a few days in advance, and you also have to choose a certain time when booking.
Tickets are available on the official website or also at GetYourGuide*. We recommend booking through GetYourGuide*, because they often still have tickets for the same day, while they are already fully booked on the official website.
Route info
Today, the rental car tour will take you around the Golden Circle and thus over completely paved roads. So you don't have to think about avoiding the next pothole. Instead, you will again meet many more other tourists and even entire tour buses.
Driving distance: about 180 km
Travel time: approx. 3 hours
Highlights on the way: Gullfoss, Thingvellir National Park, Geysir, Blue Lagoon
Accommodation
Nice hotel in walking distance to Gullfoss waterfall
At Hotel Gullfoss you have Wi-Fi, breakfast and really nice rooms. In addition, you can reach the Gullfoss waterfall in a short hike. From 150€ for a double room.
The Hotel Gullfoss at Booking.com*
Your own Wooden Cabin in a quiet Environment
Would you like to have your own wooden cabin with a garden and a great view? Then Eyvindartunga Farm Cottages are the right choice for you.
The Eyvindartunga Farm Cottages at Booking.com*
Hotel near the Airport
If you fly back the next morning, you can stay in the following nice hotel near the airport:
---
Need more travel planning tips for your Iceland road trip? We have compiled valuable travel tips in a separate article:
---
Do you have any questions about the stops on our Iceland 10 Days round trip? How did you like our round trip Iceland 10 days? Write us a comment under our Iceland travel report.