Hiking through the Hveradalir geothermal area in Kerlingarfjoll is one of the most incredible experiences you can have in the highlands of Iceland. Here everything bubbles and steams and the colors are really like it looks on the photos. Simply spectacular. There are a few geothermal areas in Iceland and many in the world, but something like Kerlingarfjöll is truly unique. Getting to Hveradalir is not that easy and you should pick the right rental car.
If you don't have a rental car for Iceland yet, read our guide to booking a rental car or look directly at what we think is the best rental car provider for northbound.is*.
We are Sabrina and Andreas, two adventurous travelers who never miss an opportunity to discover the world. Whether by plane to distant countries or with our campervan Bruno, we just love to travel. We hope to give you helpful tips for your next trip on our blog.
Sabrina & Andreas
Globetrotters, Travelers, Adventurers
Instagram
Youtube
Car Rental at the Iceland Specialist with Years of Know-How:
Northbound.is
compares all Icelandic car rental providers
specialized in Iceland roundtrips and the highlands
specialized insurances for the rough Iceland available
free cancellation up to 48h before start of rental period
normal rental cars, campervans, motorhomes, SUV (also with roof tent) & off-road vehicles available
Find The Best Prices for Iceland Rental Cars at northbound.is*
What to consider when traveling to Kerlingarfjöll, what you can do on site and what other tips we have for you can be read in our travel report to the geothermal area Hveradalir in Kerlingarfjöll.
Kerlingarfjöll and Hveradalir Geothermal Area
Kerlingarfjöll is a 150 km² volcanic mountain range in the highlands of Iceland. In the middle of this mountain range is the small but beautiful geothermal area Hveradalir where it steams everywhere, mud pools boil and the mountains glow orange-brown. Everywhere hot steam comes out of the earth like from small vents and the contrast of the white steam to the orange mountains around it is really fantastic.
Kerlingarfjoll is – of course – Icelandic and a combination of the words Kerling, which means something like old woman and the fjöll, which simply means mountain. According to the old legend, a female troll walked through this area and when the sun rose she turned to stone. From some mountain tops you can still see her body transformed into a stone pillar.
Since this mountain massif lies at an altitude of over 1000 meters, it can still snow here in summer and you will see snow fields everywhere. The temperatures are also correspondingly low. Everywhere in the geothermal area you have the smell of sulfur in your nose. Often it really stinks. There are several hiking trails that are professionally built, even small bridges are stretched over streams. So you will not get your feet wet.
There are also steps built into the hills, so hiking is pretty easy and you don't trample the landscape. Many trails are built here, so you can hike for hours and get so many different perspectives on this amazing area.
Kerlingarfjoll or Hveradalir Geothermal Area – What's the difference?
Often the two are used synonymously and if you ask local people for directions, you'll get there no matter which name you use. But as described above, Kerlingarfjöll refers to the entire mountain range and Hveradalir to the geothermal area you will walk through during your visit.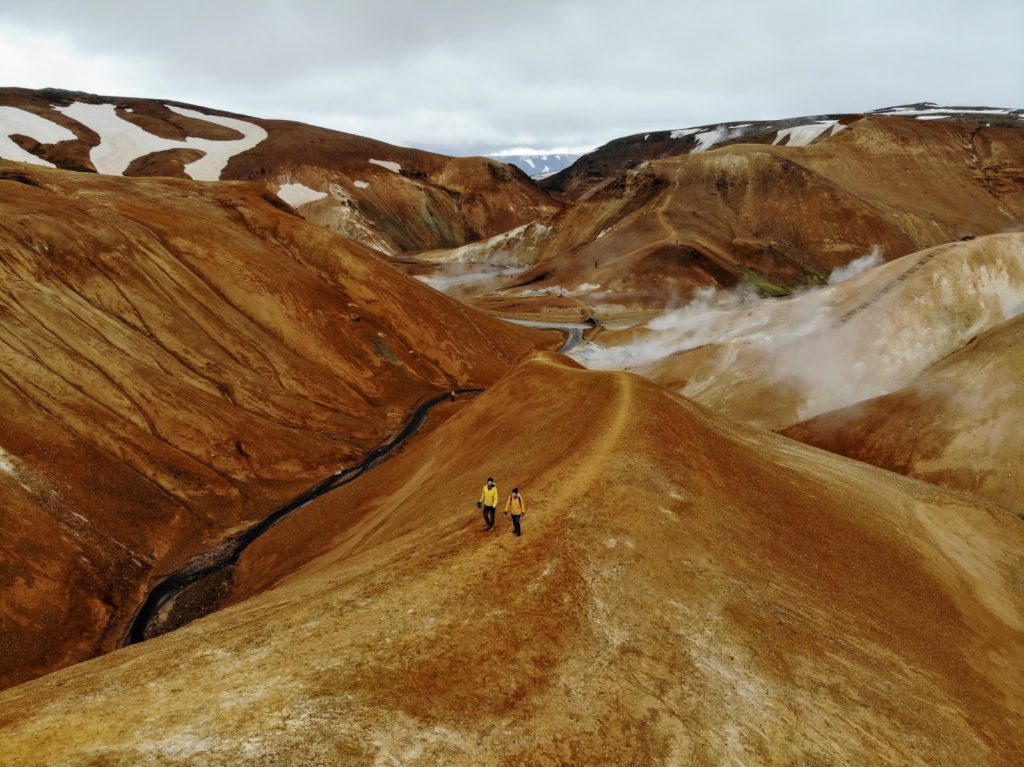 Kerlingarfjöll – How to get there
Since Kerlingarfjöll and the Hveradalir Geothermal Area are both located in the highlands of Iceland, getting there is not as easy as you might think, because the thermal area is very far away from the ring road. Much further than other highland highlights like Laki Crater.
In any case, you have to drive along the highland road F35, which is also called Kjolur or Kjalvegur. This highland road connects Blönduós in the north of Iceland with the Gulfoss waterfall at the Golden Circle in the south of the island. The F35 is not a very adventurous highland road, because it is relatively easy to drive and there are no fords – river crossings – on this stretch. Nevertheless, it is a gravel road and you should be very attentive every second.
If you come from the north, the road is still very good to drive at the beginning, 80-90km/h are no problem for experienced drivers. In the later course, the road becomes more difficult to drive, often you can only drive 30-40km / h. In some parts you have to drive the F35 at walking speed.
In general you have to be careful. There can always be a larger stone blocking the lane or cause damage to your rental car.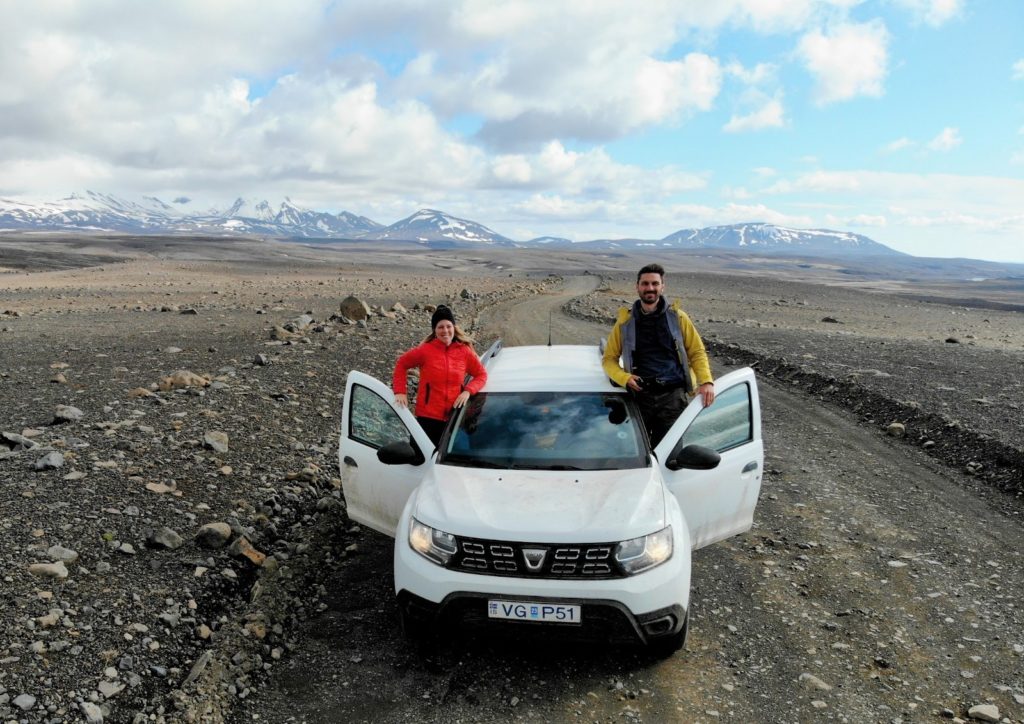 The last part up from Kerlingarfjöll Mountain Resort is again very adventurous, you should have a stable car and also good driving skills, because you often have to avoid larger rocks. But also for smaller off-road vehicles like a Suzuki Jimney this route is doable.
There are different ways to get to Kerlingarfjöll, which we want to introduce to you in the following.
Arrival by Bus
There is a daily bus service that runs from Reykjavik via Gulfoss, Kerlingarfjöll to the town of Akureyri in the north. The bus runs from mid-June to early September.
Since the bus leaves only once a day, it is not possible to make a day trip with the bus. You have to stay overnight at Kerlingarfjöll.
Prices and further information you get on www.sba.is.
Arrival by Rental Car
The easiest way is of course to rent a car. You can reach the geothermal area very well via the highland road F35 from the north as well as from the south. It took us about 2.5h from the turn of the ring road in the north to Kerlingarfjöll. Exactly as long as Google Maps had predicted us.
Car for Kerlingarfjoll – Normal Rental Car or Off-Road Vehicle (4×4)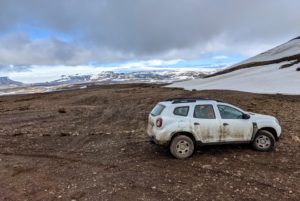 In any case, you need a four-wheel drive car for the trip to the hveradalir geothermal area, because the approach is only possible via the F35 and F-roads may only be driven by off-road vehicles.
Here, however, a simple SUV like the Dacia Duster will suffice. What you should consider when renting a car in any case you can read in our Iceland rental car guide 2021.
Hike the last bit or drive straight up?
When you arrive at Kerlingarfjöll Mountain Resort*, you can either park there and hike to the geothermal area, or you can continue driving steeply uphill to get directly to Hveradalir. We would definitely recommend to drive the last part, because you save 10 km round trip.
You have to drive up to the mountain resort instead of parking there. The last part of the road is marked as "off road vehicles only", but in our opinion the road is not much worse than before.
You drive some more kilometers and then you can park directly in front of the geothermal area. By the way, on Google Maps this point is called "Hot Springs", so you can also just let your navigation system guide you.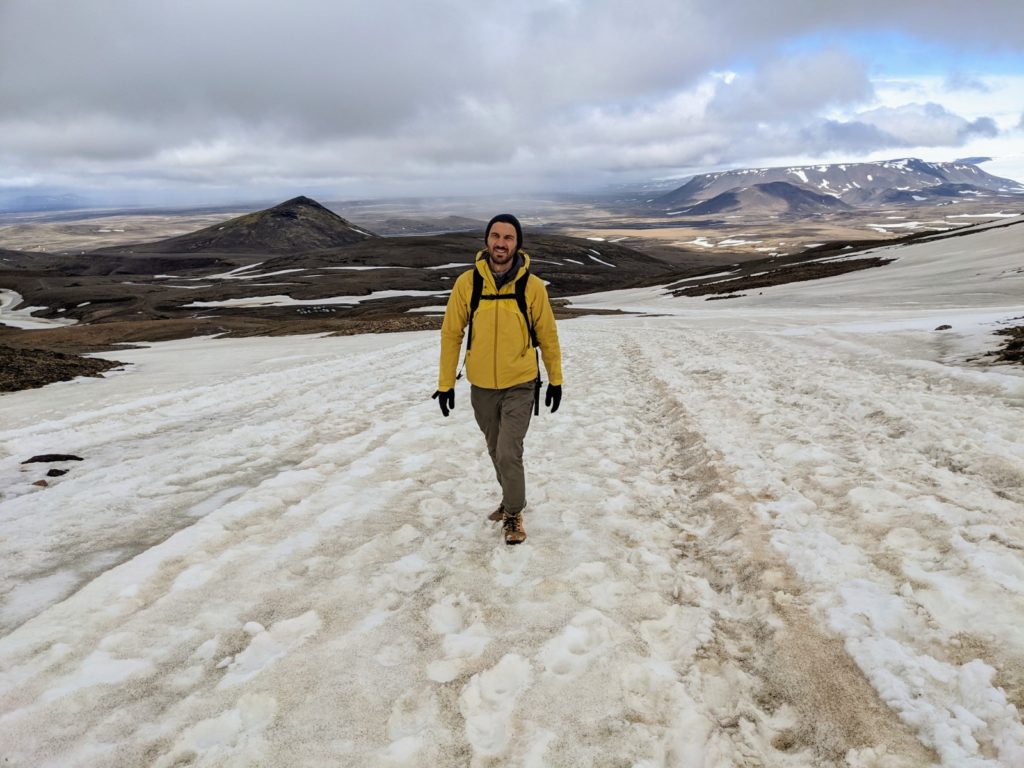 Kerlingarfjoll as a Day Trip?!
We think that is definitely possible, because we have also done it. You can get to the hveradalir geothermal area either from the north or from the south via the F35. The distance measured from the ring road is about the same for both. If you leave early in the morning, you have a few hours in the Hveradalir geothermal area before you have to drive back. So especially in summer during the midnight sun it is no problem to visit Kerlingarfjöll in one day.
Kerlingarfjöll – What you should know!
Here are some important travel tips for your trip to Kerlingarfjöll in the highlands.
Is it worth it?
We think definitely YES! For us, Kerlingarfjöll was one of the highlights of all of Iceland and the area was spectacular like few others in Iceland and indeed the world. If you have an 4×4 vehicle as a rental car and want to experience an adventure then you should not miss this sight.
Hveradalir Geothermal Area Iceland | Do I have to pay anything here?
No, the visit is completely free for you. As mostly in Iceland, parking is free and also the geothermal area itself does not cost any entrance fee.
Accomodation at Kerlingarfjöll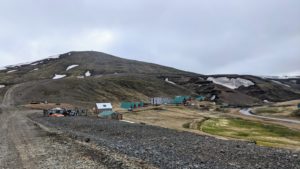 The only possibility to stay overnight in the hveradalir geothermal area is the Kerlingarfjöll Mountain Resort. There are 10 cabins, a hotel with 20 double rooms and a camping site directly at the river.
If you want to stay in the cabins, you should make your reservation a few months in advance. Under COVID conditions it is not so crowded here, but in normal years the resort is booked up very early.
The mountain resort costs just over 200 Euro for a double room including breakfast, but for that there is probably no more remote and amazing area to stay in Iceland.
Kerlingarfjöll Mountain Resort | Check Availability*
Staying overnight near the ring road?
If you want to have it a little cheaper and more comfortable, then you should either stay in the south or in the north on the Ring Road. We have linked two recommended hotels for you in the following:
Hotel in the North
Hlín Guesthouse in Varmahlid

Close to the ring road in the north
Nevertheless secluded and quiet
fantastic view from the room
Common kitchen for free use
Hlín Guesthouse Resort | Check Availability*
Hotel in the South
Náttúra Yurtel in Haukadalur
You will spend the night in a traditional yurt
Close to the Golden Circle
unique location in the nature
Náttúra Yurtel | Check Availability*
Tips for a pleasant stay
Dress warmly
The hveradalir geothermal area is located at an altitude of over 1000 meters and even in summer it is very cold and there can still be snow. So be prepared by having a hat and gloves in your luggage. Also a long underpants can not hurt.
Also, the weather can change very quickly, like everywhere in Iceland. Even if the weather forecast predicts good weather, you should be prepared for anything.
Leave early enough
The drive to Kerlingarfjöll can be long and you want to have enough time to hike and take pictures. So you should leave early in the morning from your hotel on the ring road.
Fill up the tank
On the way there is no gas station and of course no supermarkets. You should – as for every trip to the highlands – fill up your tank and have enough supplies with you.
Hveravellir Thermal Area
About an hour north of Kerlingarfjöll there is another geothermal area which sounds very similar but looks very different: Hveravellir. You can find it here on Google Maps.
We also visited this area on our way back and unfortunately we were a bit disappointed. Compared to Kerlingarfjöll, this is unfortunately not very spectacular. Here are indeed nice paths laid out and it bubbles and smokes quite a lot. But the area is much smaller and actually even costs parking fees.
In our opinion, it is not worth it for this area to take the strenuous drive over the F35 and if you have little time you can also confidently skip Hveravellir.
Our Experience at the Hveradalir Geothermal Area
Our drive on the F35 started very easy at first, we could drive relatively fast and without any problems. About halfway, the track became really violent, so that we could only drive 30-40 km/h and sometimes even slower. But you could see in many places that the track is constantly being optimized and repaired. That is also necessary in this area, because nothing is asphalted here and the distance should be passable not only with super jeeps.
When we arrived at Kerlingarfjöll Mountain Resort we had to drive up a very steep road, which was no problem for our Dacia Duster. Nevertheless, we had to drive very slowly, because one drove over very sharp stones and I had already slit a tire at the Laki crater.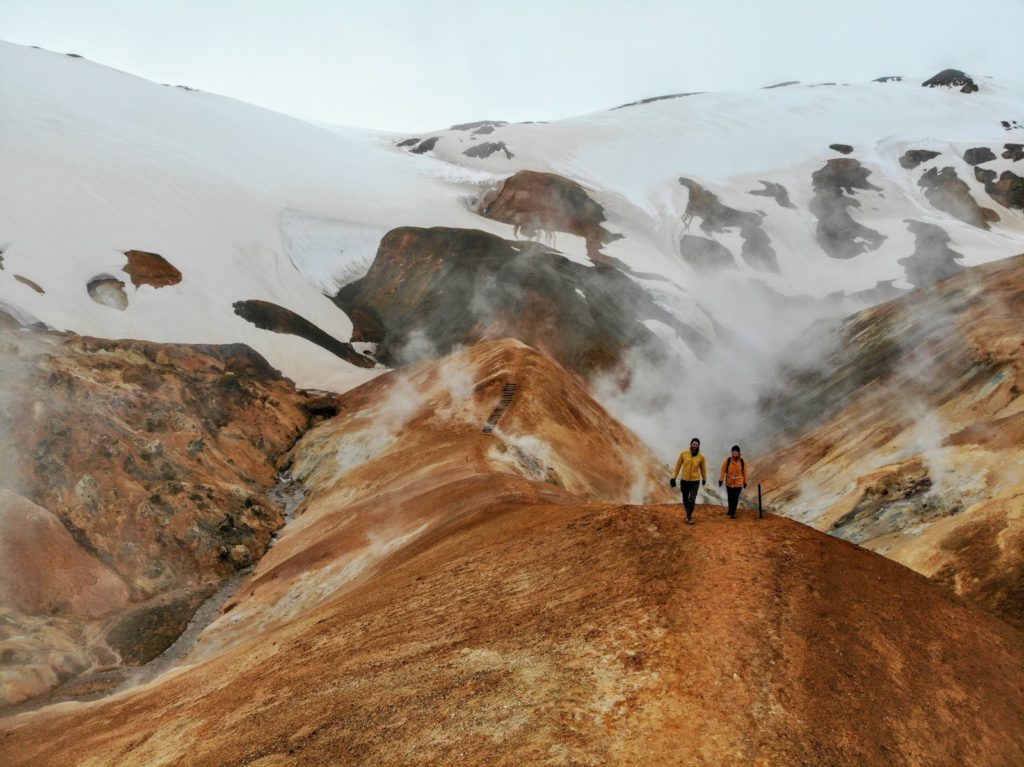 Arrived at the top at over 1000 meters, the very last piece of the trail was closed off and we were directed to a small parking lot where we parked our car. Still about 2 km we went steeply uphill and over 2 large snowfields (and that at the end of June), which were also the reason why the route was still closed to cars. With our Dacia Duster we would never have come over here!
Kerlingafjöll itself was an incredible experience. Everywhere it steamed from the earth and the earth was colored reddish brown to sulfur yellow. Unfortunately, the weather got worse, so we tried to take the best possible photos between rain and strong wind and in the short rain breaks also to let the drone rise.
But that worked out quite well and my drone defied the raindrops and always came back to me in one piece and then provided me with spectacular aerial shots.
After a few hours we went back and drove past the small geothermal area Hveravellir. This was not so exciting, because compared to Kerlingafjöll it was rather boring. In addition, the parking lot should even cost money here. But since there was not much going on, we did not have to pay anything, which of course made us very happy.
We walked briefly over the paths laid out with wooden boards and marveled at some steaming springs. But since we were still too flashed by Kerlingarfjöll, we did not stay long, but made our way back.
---
Do you still have questions about a road trip to Kerlingarfjöll or general questions about the highlands in Iceland? Feel free to write us a comment!
Hey, wie hat Dir unser Beitrag gefallen?