We have the ultimate guide on how to rent a car in Iceland for you. When we planned our round trip through Iceland, we asked ourselves directly whether we need a rental car for the Iceland vacation and if so, which rental car it should be for our road trip through Iceland?
The prices in Iceland are generally very high – much higher than in continental Europe – and of course this also applies to rental cars. Therefore, it is important to find the rental car that is best equipped for your purpose.
Of course it makes a difference if you only want to drive the Ring Road or the Golden Circle in Iceland or if you also dare to drive into the highlands with its F-Roads. This also includes the question whether you absolutely need an off-road vehicle with 4×4 or whether a cheaper small car is sufficient.
And especially if you want to drive into the highlands of Iceland, it is important to find the right 4×4 car, because the choice and also the price differences are huge.
We are Sabrina and Andreas, two adventurous travelers who never miss an opportunity to discover the world. Whether by plane to distant countries or with our campervan Bruno, we just love to travel. We hope to give you helpful tips for your next trip on our blog.
Sabrina & Andreas
Globetrotters, Travelers, Adventurers
Instagram
Youtube
Do I need a Rental Car in Iceland?
Iceland is an island, but not as small as you think. If you want to drive around Iceland on the ring road – which leads once around the island – you need about 15 hours… and that without any break.
So the distances are rather long. In addition, the public transportation network is rather poorly developed. That's why every Icelander has a car. There is a bus network on the island, but even that is not perfectly developed. How you can still explore the island by bus you will learn in the next chapter.
If you are only spending a few days on Iceland, you can also explore the island with guided day tours or even multi-day tours with a guide*. A good starting point for this is of course Reykjavik.
The most flexible way to stay on Iceland is with a rental car. If you plan a road trip on Iceland you can set your own pace and decide according to your own interests which highlights and sights on Iceland you visit.
Travelling by Bus through Iceland
If you want to leave the capital Reykjavik, you have to rely on intercity buses. These are offered by several companies, none of which covers the entire island. Furthermore, bus travel in Iceland is not as cheap as one might think. From 2 persons it is almost worthwhile to take a rental car.
But if you still want to travel by bus in Iceland, we have compiled a list of the most important operators of intercity buses in Iceland:
Day Trips & Day Excursions by Bus in Iceland
Many tourists who don't want to book a rental car stay in their accommodation in Reykjavik and do day trips by bus. This is offered by many companies, of which we would like to list a few:
Renting a Car in Iceland – Small car or SUV?
Many people ask themselves this question when they want to book a rental car in Iceland: Is a small car enough or do I need a proper SUV or all-terrain vehicle for a road trip in Iceland?
The answer is quite simple: If you only want to stay on the ring road (the road that goes once around the island) then (at least in summer) a small car is enough for your Iceland round trip. The whole ring road is asphalted, two lanes and well built. Therefore, there is no reason to invest in an expensive SUV or off-road vehicle.
In winter (when snowstorms sweep over the island) it may make sense to invest in a larger car. Winter tires are usually included automatically with most providers. However, it is best to check this when you make your booking so that you do not incur unexpected costs.
If you are traveling with 4 or 5 people, have a lot of luggage or simply want to travel more comfortably, then a larger car makes sense. In this case, however, it does not have to be an off-road vehicle or all-wheel drive vehicle (4×4). Because these cost a considerable surcharge.
If you plan to go to the highlands of Iceland and drive on the so called F-Roads, then you will need a 4×4. More about this in the next section.
Which Rental Car for the Highlands in Iceland?
Highlands in Iceland means the area that is located in the interior of the island and is mostly only accessible via so-called F-Roads. F-Roads are almost without exception unpaved roads on which potholes, sand, dirt and sharp stones can be found. Most of the time there are also fords to cross. These are rivers or brooks, which one must drive through (ford). In most cases there are no bridges over these rivers.
It is therefore indispensable and mostly mandatory to have a 4×4 vehicle. Signs in front of these roads inform you that you are not allowed to drive with normal cars (with two-wheel drive) here. And also the rental car companies do not allow you to drive a normal rental car here. If you do, your insurance coverage will be voided and you may be subject to significant fines.
When booking your rental car in Iceland, you must make sure that it is approved for the F-Roads or for the highlands. Car rental providers based in Iceland, such as Northbound.is* have an extra category for such cars, which makes it very easy for you to book such a rental car online. In addition, always check the terms and conditions of the local provider to see whether the respective car is approved for highland roads.
Rental Cars in Iceland at northbound.is*
Two Categories of All-Terrain Vehicles for the Highlands in Iceland
Roughly speaking, there are 2 categories of highland-capable rental cars in Iceland: proper off-road vehicles and basic SUVs. These differ greatly in off-road capability, comfort and price.
Real Off-Road Vehicles
By this I mean high-priced models from Landrover and Jeep as proper off-road vehicles. I call these "real off-road vehicles" because they are really made for off-road use. They usually offer an off-road reduction and a selectable 4×4 drive. Most of them also have a high ground clearance and fording depth. This is important when driving through rivers and on unpaved roads.
Among the off-road vehicles as rental cars in Iceland we include:
Landrover Discovery
Landrover Defender
Toyota Landcruiser
Toyota Hilux
Mitsubishi Pajero
These are some of the best off-road cars you can rent in Iceland. And with these cars you should be able to master most of the highland roads and fords. Often these off-road vehicles have a so-called snorkel (a high air intake at the front of the engine), which allows you to drive through very deep rivers (50 cm to 1 meter).
Nevertheless, there are rivers or fords that you cannot cross even with these off-road vehicles. It is not possible to say in advance which ones exactly are possible to cross, because it changes depending on the weather conditions and the time of day. So it's best to ask the local rangers or other drivers coming your way.
But if you can't get through a ford with such an off-road vehicle, then you need a so-called super jeep. But you can't rent one by yourself. You only have the possibility to go on an organized tour in such a huge car. In return, you will get to areas where no normal car can go and you will drive through rivers that have a depth of more than 1 meter.
City SUVs
By city SUVs I mean all 4×4 drive cars that look like an off-road vehicle, but aren't really one. The best definition is probably to say that they are all cars that people drive to the supermarket in Germany. Such cars are a bit higher, look a bit more robust and of course have 4×4 drive.
But nobody in Iceland will think they are a real off-road vehicle. Nevertheless, you will see them everywhere in Iceland and they are also allowed for F-roads and the highlands.
Typical examples of these city SUVs are:
Dacia Duster
Suzuki Jimny
Suzuki (Grand) Vitara
KIA Sportage
Toyota RAV4
A city SUV like this is many times cheaper than a proper off-roader and often costs half, if not a quarter, of what you'd have to fork out for a Land Rover.
For most, therefore, the choice will fall on one of the two most popular four-wheel drive rental cars in Iceland: The Dacia Duster or the Suzuki Jimny.
While both are in the lower price range, they can definitely be described as solid 4×4 drive vehicles. True off-roaders will smile at you and many will say that they would never drive a Duster or a Jimny through Iceland. But in our opinion, both cars are quite capable of getting you safely through the highlands. You still have to be careful on the rough highland roads and especially when fording rivers!
If you can't see how deep a ford is, then you should wait until someone else passes for you to see if you can get through without any problems. Or you have to put on a pair of shorts and walk through yourself. If you can get through without getting your shorts wet, then the car should be able to get through. Nevertheless, always be careful and turn back in case of doubt!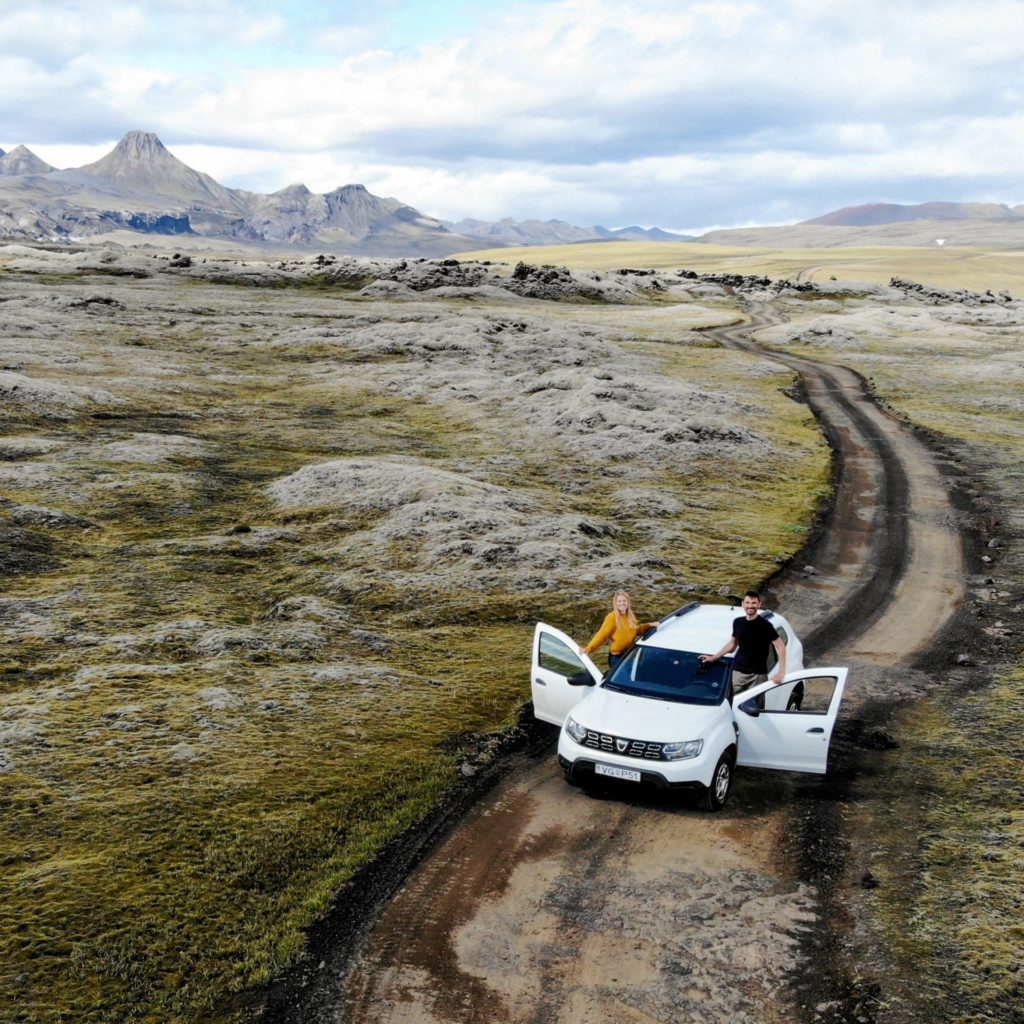 Our Recommendation for an SUV in Iceland
In our opinion, the rental car with the best value for money for Iceland is the Dacia Duster. This is by no means the best all-terrain vehicle on the market, but it is inexpensive to rent and masters most roads and also smaller fords with flying colors.
In addition, it is suitable for 4 people and you can get from A to B very comfortably. At larger fords (deep rivers) you have to turn around, but for a car that also makes deep river crossings possible, you have to pay easily 3-4 times the price.
So the Dacia Duster is a very good compromise and definitely recommended as a rental car for Iceland.
What is important for an off-road vehicle with 4×4 in Iceland?
No matter if you drive an SUV or a 4×4, there are two things that are especially important when driving through the highlands.
Ground clearance: This depends on how much distance there is between the underbody of the car and the road. This is important when driving over rocky ground.
The fording depth: This means how deep your car can be under water before it gets damaged. This first affects the air intake, which is usually located directly behind the radiator grille. However, there may also be important electronic parts at the bottom of the car that can be damaged if the water is too deep.
Both points are of course much better with a real off-road vehicle than with an SUV, but as said before: For simple highland roads (F-Roads) also a simple SUV (e.g. Dacia Duster) should be sufficient.
The really deep and raging rivers you can forget with such a car of course. But for that you need not only a good car, but also a lot of experience and skill. It's better to leave that to the professionals.
What Insurances do I need when renting a Car in Iceland?
The car rental companies in Iceland offer you a lot of insurances, most of which you already know from other places in the world … but some of them are only available here in Iceland. Here we explain the most important insurances for your car rental round trip through Iceland:
Collision Damage Waiver (CDW).
The CDW or SCDW (Super Collision Damage Waiver) is the liability limitation for rental cars in Iceland. This is comparable to that in other countries. The amount of the CDW describes the deductible you have to pay if you have an accident. This amount is also blocked as a deposit on your credit card.
For example, if your CDW is 2000 Euro, then you are liable for a maximum of 2000 Euro for any damage you cause to the car that is also covered by the insurance. Crossing rivers, for example, is not covered by most insurances. If something happens to you, you are liable for the full amount of the damage. In the worst case up to the new price of the car.
Gravel Protection (GP)
This is the protection against stone chip damage to the body and windshield. Given the road conditions in Iceland, this insurance is definitely recommended.
Theft Protection (TP)
This insurance protects you in case of theft of the car. In our opinion you can save this insurance. The theft rate for rental cars in Iceland is not very high and therefore the probability that you will have to claim this insurance is rather low.
Sand & Ash Damage Waiver (SAAP/SADW)
In our opinion, this protection against sand and ash storms is not necessary in Iceland. Sand and ash storms do occur in Iceland, but they are very rare and usually well predictable. If such a storm is predicted, then you should not even start with the rental car or drive in the opposite direction. So you can save this insurance.
Platinum Cover bei Lotus Car Rental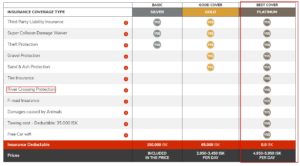 Lotus Car Rental (bookable via northbound.is*) is currently the only provider in Iceland where you can take out additional insurance to be covered when crossing rivers (fords).
You have to buy the quite expensive Platinum Cover insurance, then you have besides all the above mentioned insurances also the River Crossing Protection included. This protects you against damage that can happen to your rental car due to water during river crossings.
Where should I book my Rental Car for Iceland?
By far the best price comparison website for rental cars in Iceland is northbound.is*. There you can find everything from normal small cars to SUVs with roof tent to large off-road vehicles.
One can cancel all cars up to 48 hours before beginning of renting free of charge. Especially in times of Covid, this is an important factor.
Rental Cars in Iceland at northbound.is*
How much does a Rental Car cost in Iceland?
As already mentioned, car rentals in Iceland cost a lot more than in Europe. Also it is important to book you car at least several weeks in advance. The more cars are already booked the higher the price gets. You have to calculate with the following prices for a car:
A small car (e.g. Toyota Aygo) costs per week:
An SUV (e.g. Dacia Duster) costs per week:
400-500 €
700-900 € (with roof tent)
A real off-road vehicle (e.g. Jeep) with 4×4 for Iceland costs per week:
The prices include the cheapest selectable insurance. If you want an all-round protection, then you pay accordingly more.
Make a Round Trip through Iceland with a Campervan (or roof tent)
There are plenty of campsites in Iceland (here is an overview) and there are also wooden cabins at most campsites in Iceland where you can spend the night. However, these are limited in availability, which is why you are more flexible with a campervan or a rooftop tent.
In Iceland you are not allowed to stay overnight in the wilderness (like in Norway), but with a campervan or a rental car with a roof tent you can always find a free place on a campground and can therefore decide very spontaneously to stay somewhere. And if you need a little more comfort, you can of course always book a fancy hotel.
Roughly speaking, there are two categories of campervans to rent in Iceland: On the one hand there is the normal campervan, where you sleep in the car and on the other hand there is a rental car with a roof tent, where you sleep on top of the car in a tent.
Campervan in Iceland
In a campervan you sleep in the car, where there is a mattress and sometimes also a cooking facility or a toilet. Campervans in Iceland are usually not available for rent as a four-wheel drive vehicle, which means that the highlands are unfortunately closed to you.
SUV with Roof Tent
A roof tent is a large tent that is attached to the roof rail of the rental car. You climb a ladder to get into it, you have a lot of space and it is even comfortable, because there is also a mattress in the roof tent. We have already made road trips with roof tent in Tanzania and in Argentina and are totally enthusiastic about the system. It is really much more comfortable than in a normal tent on the ground and totally practical, because the "assembly" of the tent takes only a few minutes.
Since the roof tent has no effect on the car underneath and even SUVs can be equipped with it, you can also go to the highlands with an SUV with roof tent and settle down at any campsite there. In case of very heavy rain or strong wind the roof tent has of course some disadvantages. But in the worst case you can always retreat to the inside of the car or to a hotel*.
---
Do you have any other questions about renting a car for an Iceland tour? Then write us a comment.
Hey, wie hat Dir unser Beitrag gefallen?