The Grand Cenote Tulum is only one of many cenotes in the region, but for us it was the most beautiful Tulum sight. The Grand Cenote is additionally one of the easiest to reach cenotes in the area around Tulum. Since our accommodation provided us with free bicycles, we did not have to think long and rode by bike to the Grand Cenote, just outside of Tulum.
We spent a few days in Tulum and actually didn't feel that comfortable at all. Why we did not find Tulum so great and why we found the Grand Cenote nevertheless really great you can read in our travel report.
We are Sabrina and Andreas, two adventurous travelers who never miss an opportunity to discover the world. Whether by plane to distant countries or with our campervan Bruno, we just love to travel. We hope to give you helpful tips for your next trip on our blog.
Sabrina & Andreas
Globetrotters, Travelers, Adventurers
Instagram
Youtube
Info about Tulum
Tulum is a relatively small and touristy place at the Mexican Rivera Maya. The town is just under 2 hours from its big brother Cancun and about an hour from Playa del Carmen. Tulum is located on the beautiful blue Caribbean Sea and has many great beaches to offer, but they all suffer from the massive algae plague (Sargassum) that has been going on for over a year almost everywhere in the Caribbean.
This makes the beaches in Tulum unswimmable at the moment. There are tons of algae on the beaches and also the sea is covered with a wide carpet of algae on the shore. Relaxed swimming or sunbathing on the beach is actually out of the question. This is a pity, because the beaches in Tulum are otherwise really fantastic.
The Mayan Ruins
Another highlight and perhaps the biggest Tulum sight are the Mayan ruins*. These are located directly at the sea and are visited daily by thousands of tourists. We did not visit the ruins, but just flew over them with our drone. We found the ruins not so exhilarating during our research and therefore limited ourselves to some aerial photos. You don't always have to go in everywhere.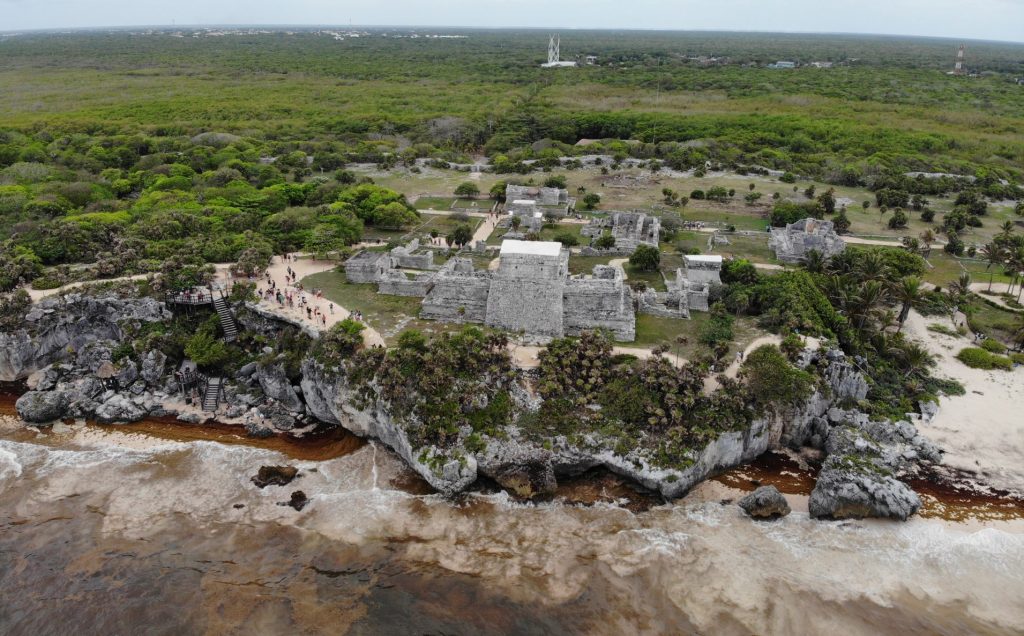 There are also many cenotes in the area around Tulum. The biggest and in our opinion the most beautiful and spectacular cenote of Tulum is the Grand Cenote.
Hotel Recommendation in Tulum
The Amazing Hotel LiveTulum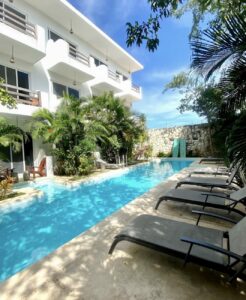 In this charming accommodation* in Tulum you will stay in beautiful and comfortable rooms with a great pool.
From the rooms you have a great view overlooking a gorgeous oasis of a backyard. Also there are little nooks and curated space to rest.
cozy apartments
great pool
bike rental
central location
Hotel LiveTulum | Check Availability*
How do you get to the Grand Cenote Tulum?
Most people will certainly join a guided tour* or drive there with a rental car. But it is also quite easy to go to the Grand Cenote by bike. All you have to do is follow the main road through Tulum and after passing the exit to the Mayan ruins, continue for a few more kilometers.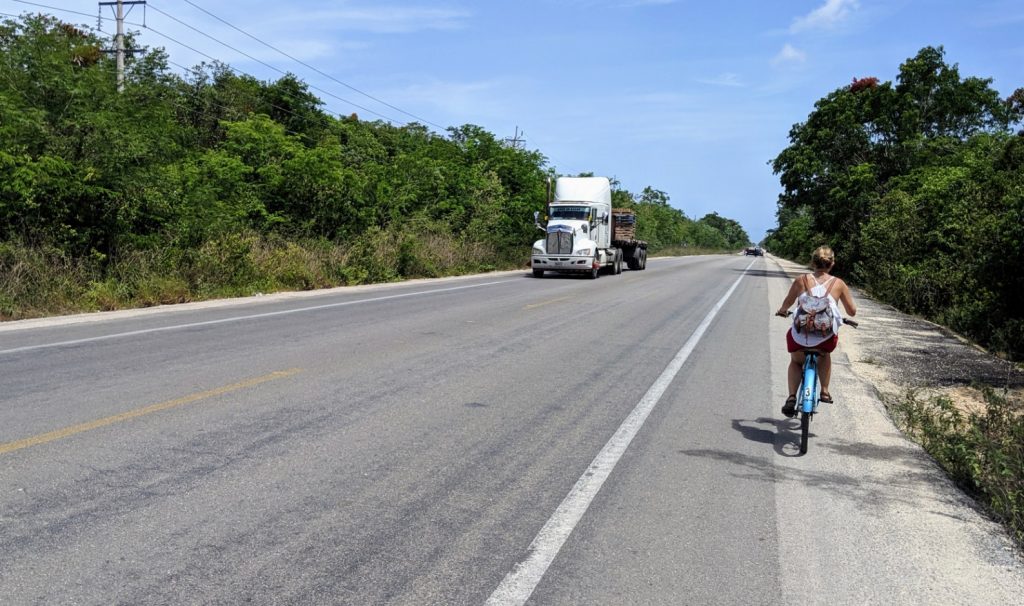 You can find the exact location here on Google Maps. The Gran Cenote is about 5 kilometers away from the center of Tulum. By car you need about 10 minutes, by bike about 30 minutes. The last kilometers are on a rather long and monotonous highway-like road.
If you are on your bike, you will be constantly overtaken by passing trucks and buses. So the ride is definitely not relaxing. But it is doable, if you don't start too late. Because in the midday heat you do not want to be on the bike. There are plenty of parking spaces and parking for bicycles on site. If you plan to visit some more places around Tulum you can also rent a car in Tulum.
Info about the Grand Cenote Tulum
The Cenote is open from 8-17 o'clock and you have to pay 180 Mexican Pesos (approx. 9 Euro) for the entrance. Interestingly, you are informed directly at the entrance that you can only enter once with your entrance ticket. So it is not possible to go back to the car if you forgot something.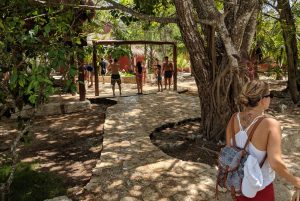 There are no changing rooms in the cenote, but there are toilets and showers. Everyone who wants to enter the cenote must have showered completely beforehand.
Directly in the Gran Cenote there are lockers that can be rented for 30 pesos (about 1.50 Euro). The lockers are quite spacious, so that two backpacks fit comfortably in there. Unfortunately, there are no food stalls or a restaurant in the Gran Cenote. So you have to bring your own food if you want to spend the day here and not starve.
The special thing about the Gran Cenote in Tulum
The cenote is not completely inside a cave, like many cenotes in Valladolid. The Grand Cenote in Tulum is relatively open and and also very crowded if you are not here early in the morning. The tourist buses start arriving at about 10:30 am. Before that time it is relatively quiet and you can use this time well to explore the cenote and take photos.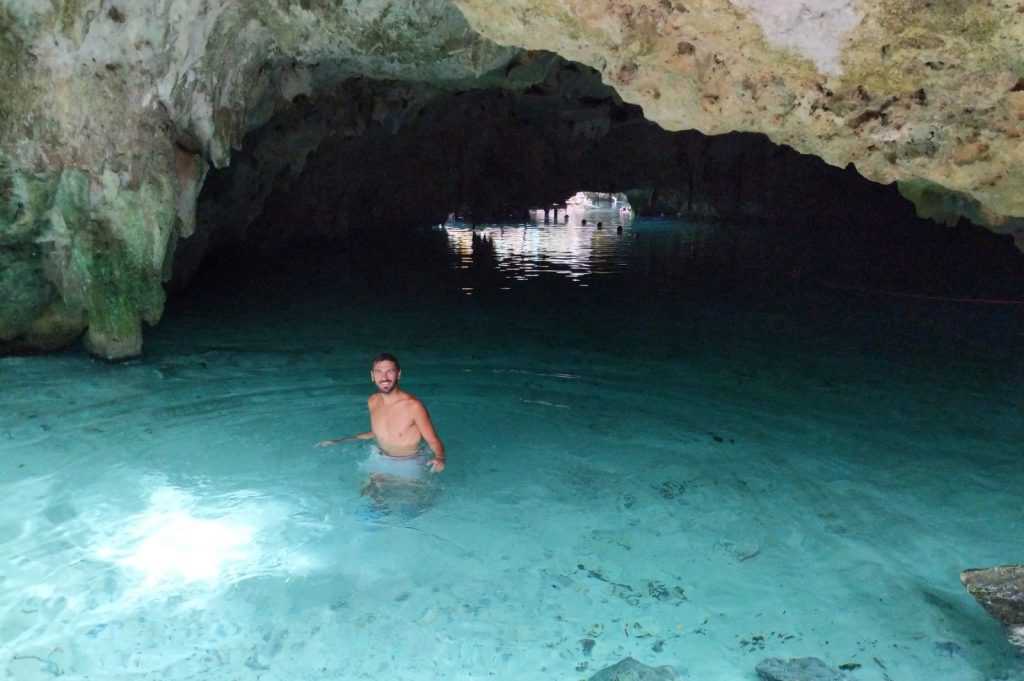 But the special feature is that there are two entrances to the cenote and they are connected by an underground cave. In addition, turtles swim around everywhere and this partly directly between the tourists. So you can swim or snorkel next to numerous turtles through the crystal clear water of the cenote. A wonderful experience. You should therefore take your snorkel mask with you or rent one on site.
The turtles also have their own area where they can retreat if they feel too disturbed by the many tourists. The Grand Cenote also has its own sunbathing area. Just like you know it from an outdoor pool. So far no other cenote we visited in Mexico had that. So you can't just swim in the cenote, take a few pictures and then have to drive back. You can spend the whole day there, soaking in the sun, and if you sweat too much, hop back into the cenote for a quick cool down.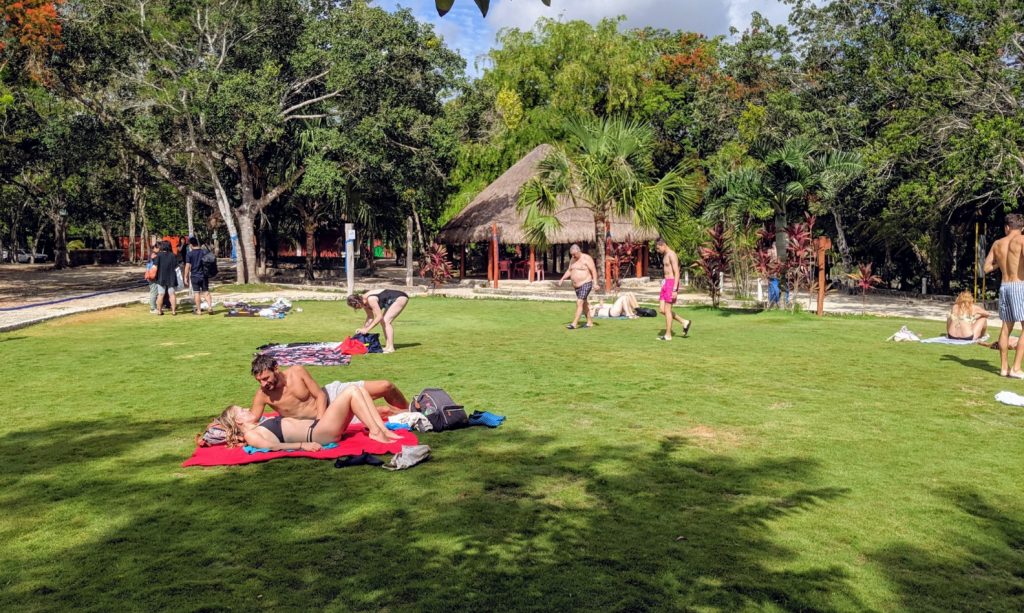 Our Conclusion about the Gran Cenote Tulum
We honestly didn't like Tulum that much. It might have been because of the bad weather or because the beaches in Tulum were full of sea grass and algae. It was therefore not possible to swim in the sea. Also we found Tulum itself as a city not that interesting.
There is no real city center, but only a long main street with many restaurants, stores and hotels. But everything else is very far apart and so there is no real city character. Especially if your own hotel is also a bit outside.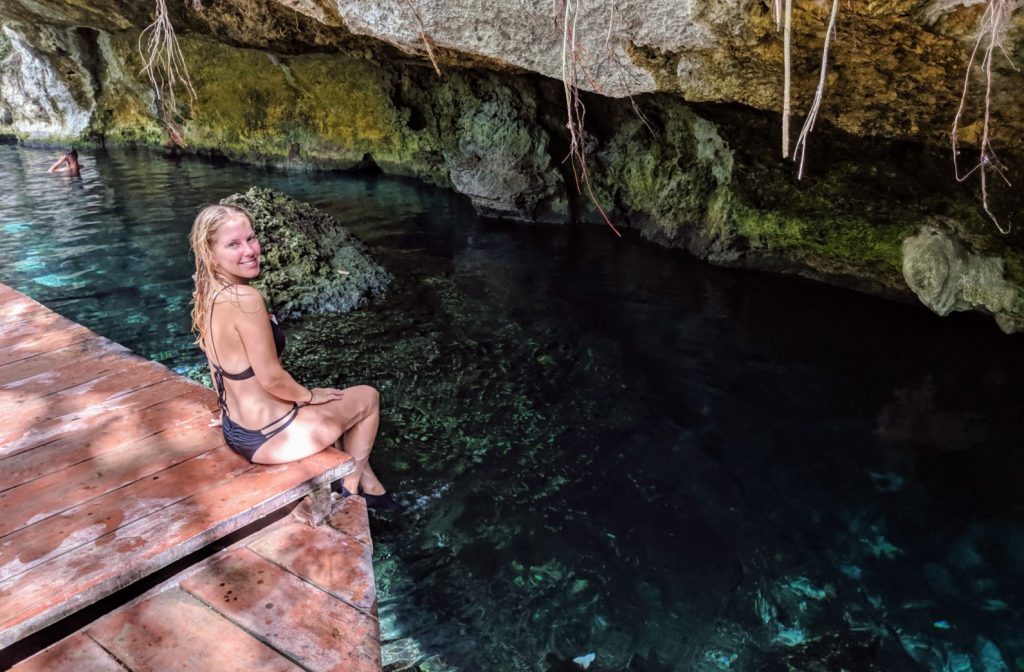 But the Grand Cenote compensated us for all that. It was our first real cenote in Mexico and for us the most beautiful in Tulum. Having also visited some cenotes in Valladolid, we have to say that the Grand Cenote is also one of the most spectacular in Mexico. Swimming through the narrow cave of the cenote, together with many fish and turtles, was really amazing.
Hey, wie hat Dir unser Beitrag gefallen?