Flying drones in Norway has been one of the coolest flying experiences I've had with my little multicopter so far. There is probably no other country that is so spectacular and at the same time so well suited to take great aerial photos there with your own drone. On our first trip to Norway I had my first drone with me (the DJI Spark) and it was also the first vacation ever where I took a drone with me. I didn't know much about rules and laws and where you can fly and where it's better not to.
I had informed myself in advance and inquired where it is probably allowed and where it is forbidden to fly, but I was on the spot also much too busy to operate my small DJI drone properly and was afraid of too much wind, too close trees or other things in the environment. But since Norway is too beautiful a country not to take your drone with you, I've summarized the current laws and regulations here and also have a few tips on flying drones in Norway to make it easier for you.
At the same time, however, a restriction, because despite extensive research by me applies: Drone laws can change regularly and also the local restrictions may be different than shown here. Please check if there are any special prohibitions in your area and if not, please ask again.
We are Sabrina and Andreas, two adventurous travelers who never miss an opportunity to discover the world. Whether by plane to distant countries or with our campervan Bruno, we just love to travel. We hope to give you helpful tips for your next trip on our blog.
Sabrina & Andreas
Globetrotters, Travelers, Adventurers
Instagram
Youtube
Which drone for Norway?
Even though we still had our old DJI Spark with us on our first Norway vacation, I now have a newer drone and would highly recommend that to you as well. I disassembled my good old Spark on our Argentina road trip and had to spontaneously buy a new one in Costa Rica.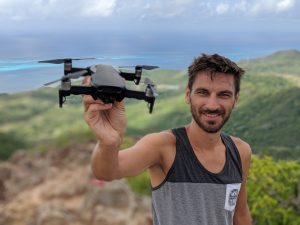 It became the DJI Mavic Air, which is the perfect travel drone for me. Because it is light (just under 500g with battery) and space-saving foldable and thus takes up little space in your luggage. At the same time, it has a good range (up to 3 kilometers in FCC mode) and a realistic flight time of up to 17 minutes. This is perfect if you want to reach more distant destinations.
Of course, you should always follow the local laws and rules. In addition, the Mavic Air also has great flight modes included, so that the drone can follow you automatically (Folllow-Me), or fly in a circle around you (Circle). Also included is a good gimbal, so the footage always stays totally steady and stabilized no matter how excited you are flying around.
Norway Drone Laws
Drone laws in Norway (and also in Lofoten Islands) are similar to those in Germany and tend to be slightly less restrictive than here. Even though the EU Drone Regulation will also come into force in Norway from 2021. If you only want to fly your drone for private purposes and have no commercial intentions, then you can fly your drone without any further requirements. You also don't need any registration or insurance. 
What are commercial intentions when flying drones?
Unfortunately, this topic is not so easy to answer. Even German authorities are not in complete agreement on this topic. Clearly private are recordings that you only want to hang up in your living room at home. But even if you want to insert the recordings on your blog, and there are advertising links or the like on it, this can be interpreted as commercial use.
The same applies to recordings that you publish on Youtube. Even if you don't make any money with your Youtube videos, Youtube itself definitely does. As you can see, it's not easy to answer this unambiguously, but from my layman's opinion I don't think this question is really relevant for hobby pilots if you don't want to sell the recordings or make money with them as a professional photographer.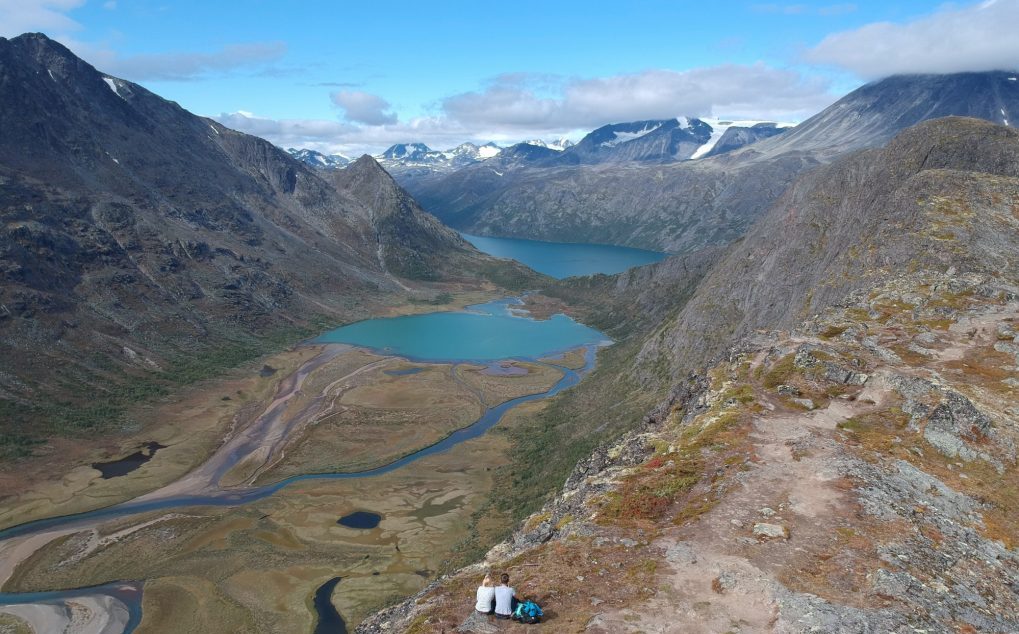 Here are the most important drone laws for private use in Norway:
Am I allowed to fly my drone privately?
Yes
Do I need to register my drone?
No
Max. Fligth Height
120 Meter
Labelling necessary
No
Insurance necessary
No
Distance
* to airports: 5 kilometer
* to persons, buildings, cars: 150 Meter
These laws or drone rules sound quite understandable at first and you might think that it would be no problem to fly a drone in Norway. But unfortunately there are other local restrictions that make flying your drone in Norway a bit more difficult.
No-fly Zones at Norway's Landmarks
Listening to the drone laws above, you would think you can actually fly your drone around anywhere in Norway. But in addition to the legal requirements, there are, of course, their own regulations at individual local landmarks. For example, it is generally forbidden to fly a drone at the hot spots in southern Norway (Trolltunga, Preikestolen, etc.). You will find "No Drone" signs everywhere, prohibiting you from flying your drone at these locations.
No-Fly Zones in Norway
The following places in Norway are so-called no-fly zones. This means that it is forbidden to fly your drone here.
All national parks in Norway (There are a lot of them, check Wikipedia)

Trolltunga

Preikestolen

Besseggen
Kjeragbolten
Oslo in general is a difficult place for drone pilots. More info at Visit Oslo
To what extent these local regulations really apply as laws or whether these are simply indications, I can not answer of course. Of course many people also do not adhere to it and let rise their drone despite prohibition signs. Often, the areas are so extensive that drone pilots can also retreat to more remote corners, and you can not even make out where the drone actually comes from.
It is up to you whether you follow the laws and rules in Norway regarding the use of drones or whether you fly anyway even if it is prohibited. In any case, you should respect other people (and their safety) and not fly too close over their heads. The same goes for animals in Norway, of course.
Flying Drones in Norway | My Experiences
Norway is really a huge country and there are so many spectacular landscapes that there is hardly a place where you don't want to unpack your drone. If you are not at the hotspots or top sights, you will also have no problems flying with your drone. Apart from the most visited sights, other tourists are rarely to be found and so you have plenty of space and peace to make great drone shots without disturbing other people or nature.
This is what happened to us, for example, at one of the highlights of our Norway trip, the Knutshoe. Here we met only 2 other people on the entire 8-hour hike and so we did not even ask ourselves whether we could disturb other people with our drone . In general, you can say that away from the major tourist highlights it is rather easy to let a drone rise, because there are hardly other people it could disturb.
At the hotspots like Trolltunga it is unfortunately forbidden as described above and also understandable, because there are so many other tourists on the road that someone always feels disturbed. Of course, there are still enough hobby pilots at such places who do not follow the rules. Since there are no watchdogs running around in such places to keep an eye on such things, this can of course not be prevented completely. So it is up to you whether you keep to these rules.
So far I have always kept to the motto: Try not to disturb or even endanger other people or animals. We have always done well with this on our Norway round trip (and also on our other trips). If you want to know more about our Norway road trip, then read our travelogue about our 2 weeks in Norway:
Drone on a Plane: Carry-on or checked Baggage?
If you don't want to go to Norway by car, but take the plane, then you should follow the airlines' guidelines regarding the transport of drones. Actually, all airlines that allow drones on board stipulate that drones and especially the batteries belong in the carry-on luggage and may not be packed in the checked luggage or suitcase.
Apart from that, I would always recommend transporting valuables such as cameras, drones, etc., in your carry-on luggage anyway. Because checked baggage can get lost. But you always have your carry-on luggage with you! If you want to be absolutely sure, then you should take the batteries out of the drone and pack them in so-called Lipo bags pack. These are special storage bags for lithium-ion batteries, which also protect the batteries from leakage and short circuits.
---
Do you have any questions about flying drones in Norway or have you found any mistakes in my explanations? Then feel free to write me a comment.
Hey, wie hat Dir unser Beitrag gefallen?