Caye Caulker or Ambergris Caye? In Belize the choice is not easy when you have to decide for one of the islands. Both Caye Caulker and Ambergris Caye have their advantages and disadvantages. In this travelogue we want to talk about both islands and help you to decide. We visited both islands in Belize for several days during our trip through Latin America and can therefore report well on our experiences.
We are Sabrina and Andreas, two adventurous travelers who never miss an opportunity to discover the world. Whether by plane to distant countries or with our campervan Bruno, we just love to travel. We hope to give you helpful tips for your next trip on our blog.
Sabrina & Andreas
Globetrotters, Travelers, Adventurers
Instagram
Youtube
Caye Caulker
If you are a backpacker in Belize, you will almost inevitably end up on the island of Caye Caulker, which is located in the Caribbean Sea off Belize. Caye Caulker is considered the backpacker's paradise and has some highlights and sights to offer on land and also on water.
The touristy developed part of the island is really not very big, which is why the island can be circumnavigated very well by foot. That's why there are no cars on the island, but many people drive around on small golf carts. We found this very annoying, because first of all it is not necessary at all because of the small size of the island and secondly there are no asphalted roads, only sandy paths. So as a pedestrian you are always in the way of the golf carts.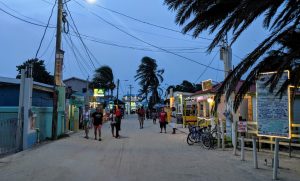 There are no real roads on Caye Caulker and that's a big part of the atmosphere here. You really walk on sand all the time. No matter where you are. And if it has rained then there are no brown mud puddles, but light beige puddles. Still gets your feet wet, but looks much nicer. No question, Caye Caulker is very touristy.
And yes, there are also many tourists in the backpacker age. So many 20-30 year olds. But here is by far no party atmosphere. At least we didn't notice any. There are no discos or big bars, except for the Lazy Lizzard at The Split.
The Split
The so-called Split is the only "beach" on Caye Caulker. But actually it is not a real beach, because you cannot go directly from the sand into the water. You have to climb down a ladder or stairs to get into the water. That's not so bad, though. The Lazy Lizard is a pretty cool bar where you can very well spend the whole day.
We had a great time on Caye Caulker and even though we had a lot of rain, we weren't in a bad mood. The relaxed and easy atmosphere of the island is just contagious.
➤Advantages Caye Caulker
The Island feels like an Island
Since the island is so small and you could even walk around the entire island, it really feels like you're on an island. This is not the case on Caye Ambergris. On Caye Caulker the sand and the sea are always present. Everything is built up, but the atmosphere is really relaxed.
There are no Roads on Caye Caulker
In fact, there are no paved roads on the island and therefore no cars. Quite in contrast to Caye Ambergris.
You can watch Seahorses
There is actually a seahorse sanctuary on Caye Caulker. At the Hotel Iguana Reef Inn there is a small area in the sea where the little creatures are safe and like to stay. There you can watch them and take good pictures. In addition, there are a lot of pelicans in front of the hotel and stingrays swimming in the sea. Even if you don't stay at the hotel, you can come here for free!
➤ Disadvantages Caye Caulker
There is no real Beach on Caye Caulker
It is true that the entire island is surrounded by sand. But it's all not a beach to lie down and go swimming. There are boats anchored everywhere, or seaweed lying in the sand. Apart from The Split, there is nowhere to lie comfortably by the water.
There are not many Stores and Restaurants
There are only a few bars, restaurants and supermarkets. Which is certainly also due to the size of the island. But actually, this is also an advantage again.
Hotel Recommendation on Caye Caulker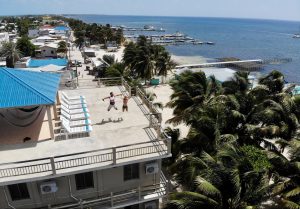 Check out our hotel* here, where we stayed in Caye Caulker. There is a roof terrace with a view of the sea and the whole island and at the same time you are in the middle of the action.
The rooms are very modern, you have air conditioning and a private bathroom. Although the room itself has no window, but the private bathroom has one and that was totally enough for us.
Caye Caulker Beach Hotel at Booking.com*
Ambergris Caye
Caye Ambergris in Belize has a beautiful side with the big highlights of the island, the Secret Beach and the offshore coral reefs. On the other hand, the main town of Ambergris, San Pedro, is less beautiful. It stinks of exhaust fumes, everywhere you can hear the rattle of golf carts and it feels like everything is even more expensive than in the rest of Belize. Nevertheless, we find the island very worth seeing and do not regret having been there.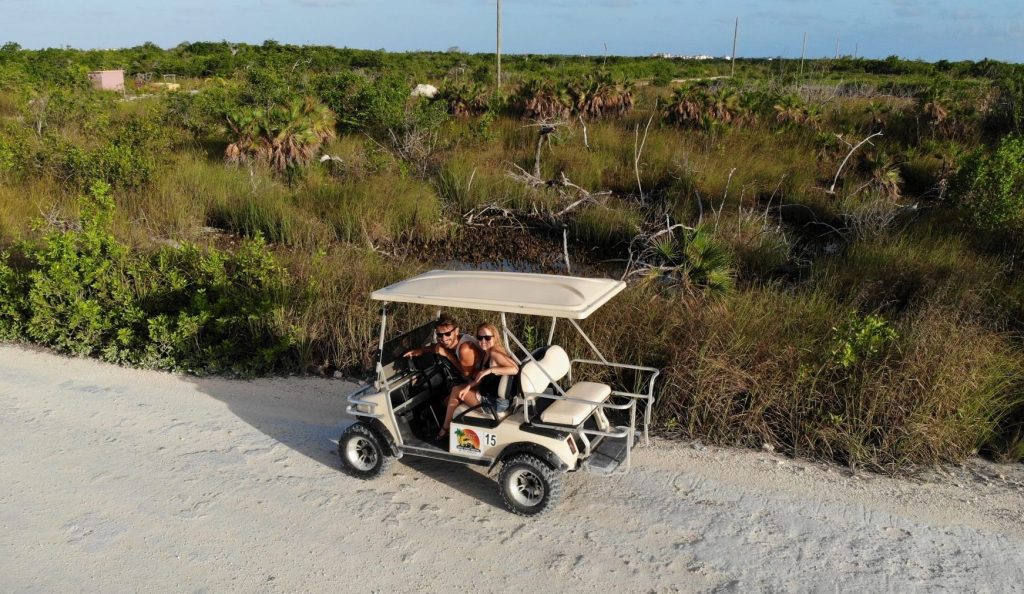 San Pedro
San Pedro is the bustling center of Caye Ambergris. In fact, it is a small town where many cars and especially golf carts drive through the area. Accordingly, the main streets in the town are crowded, noisy and stuffy. If you want to stay in a central but quiet location in San Pedro, we recommend you to stay on the side of the lagoon. From here you are in a few minutes in the middle of the action between stores, supermarkets and restaurants and at the same time it is quiet and relaxed on the lagoon side.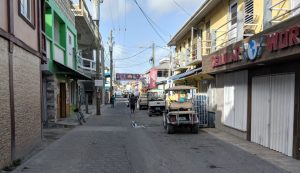 We had read before that Ambergris should be much louder and busier than Caye Caulker and that there should be much more parties here than on the sister island. We can't really confirm that. Also on Caye Caulker we have seen many party-seeking young people and found it not much less bustling. Sure, on Caye Ambergris there are real streets and many cars. You don't have that on Caye Caulker. But if you live on the right side of the island or are outside of the city core, we found it almost as relaxing and laid back here as Caye Caulker.
The Secret Beach on Caye Ambergris
Our biggest highlight of Caye Ambergris was a very special beach, the Secret Beach. From what we read in advance, we were not that impressed by Secret Beach. Quite far away from San Pedro and also quite crowded it should be. But when we went there the first time we were totally flashed! This was really the most beautiful beach we had seen in Belize so far.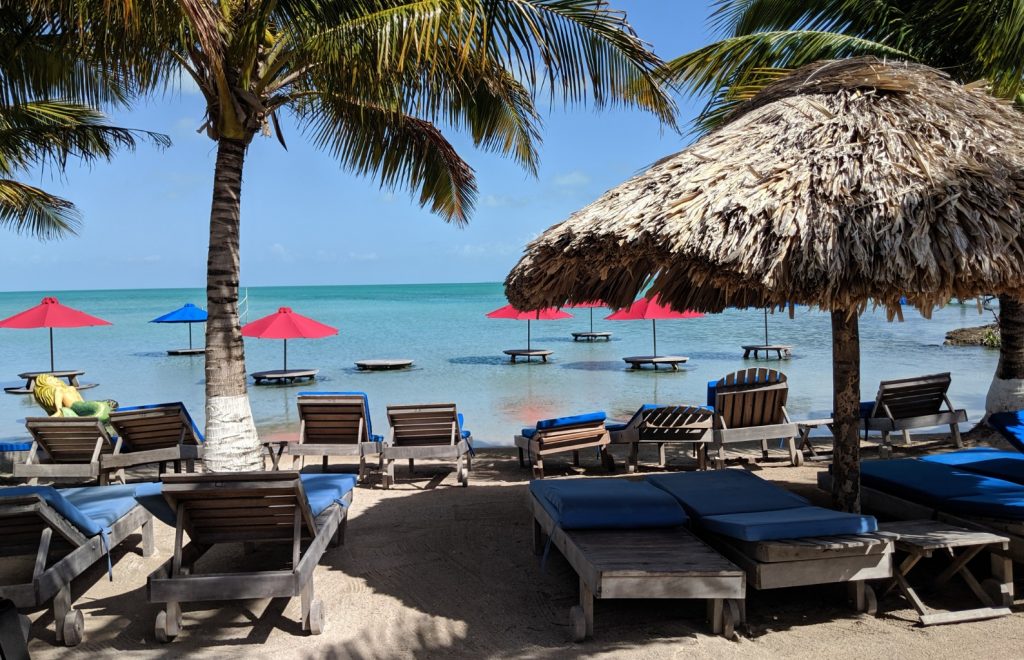 We felt pretty comfortable on Caye Ambergris and had a great time. The many golf carts and the traffic are a bit annoying, but if you stay on the right side of the island, it's only half as bad. Also, Secret Beach, which we think is the most beautiful beach in Belize, makes up for it. This beach is really dreamlike Caribbean and we could have gone there much more often.
➤Advantages Ambergris Caye
There is much more Infrastructure
This of course comes with the size of the island. There are ATMs, huge supermarkets and many restaurants. This is the advantage of a small town over an island.
There is the Secret Beach
This is definitely the dream beach of Ambergris Caye and for us also the most beautiful beach in Belize. The beach is far away from downtown and also not very lonely. But simply beautiful!
➤ Disadvantages Ambergris Caye
It is Loud and Crowded
There are a hell of a lot of cars and golf carts here and Ambergris Caye feels much more like a small town. Exhaust fumes everywhere and you can't walk around without shoes because there is not sand everywhere (like on Caye Caulker), but asphalt.
Many Roads and Cars
A very well developed system of one-way streets runs through the city center and you just can't stroll around the island in peace, because there are no sidewalks either.
There is simply no Island Feeling
Since the island is much larger than Caye Caulker and you can't always see the ocean, you sometimes forget that you are on an island. That was missing on Caye Ambergris from the atmosphere.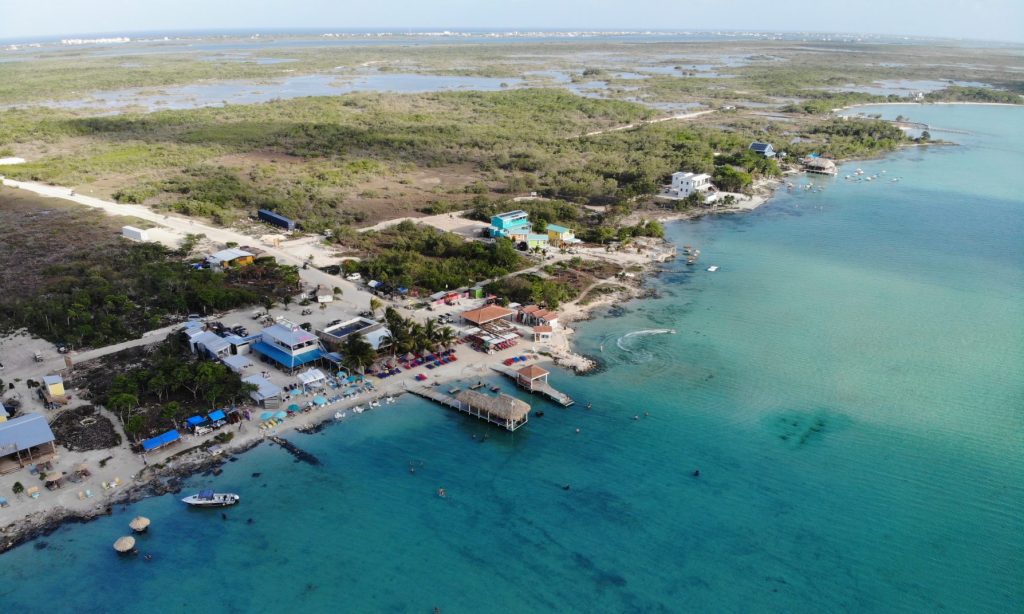 Hotel Recommendation on Ambergris Caye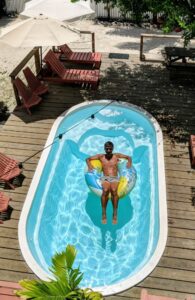 We stayed at the beautiful, small hotel Ambergris Sunset. The small, family-run hotel is located directly on the lagoon. During the day, the small pool provides a cooling and in the evening you can watch the sunset over the lagoon and the mangroves from the roof terrace. We were also provided with free bicycles. This was very convenient on Caye Ambergris.
Check out our hotel* here that we stayed at in Caye Ambergris. There is a rooftop terrace overlooking the sunset, a small pool and it is on the quiet side of Ambergris. In addition, there are free bikes and for an average of 50 euros/night in double rooms.
To Hotel Ambergris Sunset at Booking.com*
Caye Caulker or Ambergris Caye? Our Conclusion
Our actual answer is: both! We visited both cayes and although both are very different, both Caye Caulker and Caye Ambergris are worth visiting. On Caye Caulker you have the real island feeling. Since the island is very narrow, you can walk from one side to the other very quickly. In addition, all the roads, not only the ones directly on the water, are covered with sand.
So in theory you can walk barefoot all the time. Souvenirs are sold here from stalls in the sand and not in real stores. Going to Ambergris Caye is like going to a small town, but it still has its charms. If you stay on the right side of San Pedro (west coast) then you can have your peace and quiet here. Besides, it never gets boring here. There are enough restaurants, bars and other activities.
Conclusion
If you have time for both islands, then visit both.
If you only have time for one island and want an island that feels like one and no small town traffic jam, then go to Caye Caulker.
---
Read here our travel reports to Caye Caulker and Ambergris Caye:
---
Would you make a different decision? Didn't you like either island at all or do you have a question about our travel report? Feel free to write us a comment or an email.
Hey, wie hat Dir unser Beitrag gefallen?